Never thought I'd see this day, but I'm heading to San Fran for work and I decided I need to sell my rig. All suspension fabrication and installation completed at The Truck Shop in Miramar. The sound system was done at San Diego Car Stereo.
This truck is in great shape and as you will see below is set up very nicely.
I'm probably forgetting a couple things and I'll add them as needed. I am not parting anything out.
Please PM me with any questions/offers.
SOLD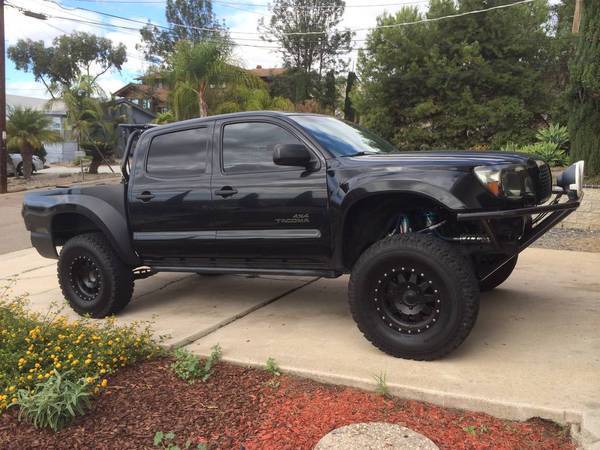 Specs
2010 Black Sand Pearl
Double Cab, TRD Offroad, 4x4
4.0L V6 Automatic
61,XXX miles on the odometer...it's still my DD to work but I've been using the gf's car
Clean title, no accidents
Front
13.5in travel
Built Right Fab 3.5in over long travel kit
Total Chaos LT 4WD 4340 axles
King 2.5x8in Remote Reservoir coilovers
King 2.5x8in Remote Reservoir triple bypasses
Cab mount chop
Shock tower cross bracing above and below the mounts
Total Chaos dual 2.5" shock hoop system
Total Chaos coil bucket shock tower gussets
Total Chaos spindle gussets
Clevis mount limit straps
Rear
17in travel
Deaver F70 leafsprings
Rear frame chopped and gussetted to accomodate custom traditional style shackles
King 2.5x16in Piggyback Reservoir triple bypasses
Rad Flo 2in hydro bump stops
1.5in wheel spacers
Powdercoated bolt in one piece bedcage, spare tire carrier, and lightrack
Body

The Truck Shop front bumper
Glassworks 3" over front fenders and bedsides
Boxed frame
Frame cross braces all around
Driveshaft catch strap
Welded rock sliders
Audio
Pioneer 3200BT head unit
JL Audio
-XD 700/5 amplifier mounted under passenger seat
-Stealthbox w/ dual 10w1v2 subwoofers
-C2-690tx 3-way speakers
-C2-525x coaxials
Interior stuff
Wet Okole seat covers front and back
Weathertech
floor liners
Blue/White LED dash guage swap
White interior LED lighting by csjumper
Comms
Uniden Pro520XL CB radio w/ 3 foot Wilson antenna
PA speaker mounted in engine bay
Kenwood TM-281A ham radio w/ 2M whip
Lighting
2 5,000K HID headlights
2 Euro Beam HELLA 4000 Rallyes converted to 3000K HID on front bumper
1 Pencil Beam HELLA 4000 Rallye converted to 3000K HID on front bumper
4 CSI Brute Series HIDs on rear lightrack
2 Rigid Industries Dually rear facing dust lights
Wheels and Tires
16x8 Method Racing 301
BFG T/A KO LT295/75R16 (approx 20k miles on the tires)
Spare is same as other wheels/tires
Performance
URD
Mass Air Flow Sensor Calibrator
12" resonator and Wicked Flow Max muffler 18SC250, dumped forward of the rear axle, stock piping
Other
Viper Security system
Craftsman 2 ton jack with desert skid mounted under spare tire