Well, I am planning an off road adventure, and need to keep my gear dry. I really like how the
bakflip G2 tonneau
cover looks and works, but I don't want to spend the $700+ on it. So, I decided I could create my own that would work until I can afford it... Here it is... I used 1" ridged foam board reinforced with 1" aluminum channel. The whole project cost around $100 and took about 5 hours (not counting the 5 trips to the hardware store). I included a write-up in case anyone is interested in how I did it...
Before and After: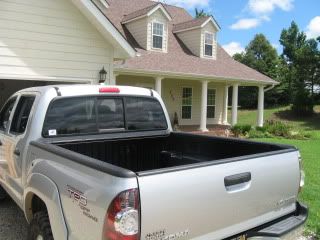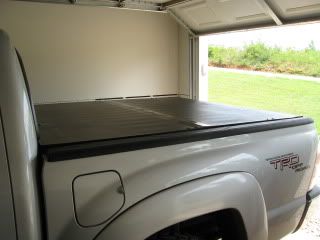 Cut the pieces 57 1/8" x 30 3/4":
This will allow them to rest inside the bed cap on the rails:
Trace around the funky bed shape and cut with a razor blade: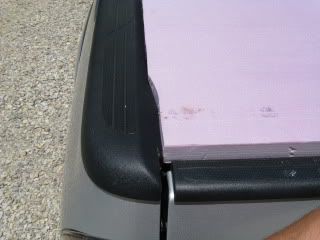 As you can see, it needs to be reinforced: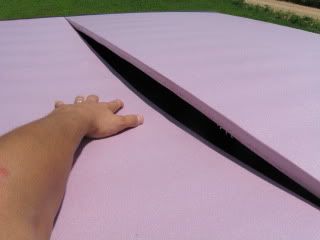 Glue on 1" aluminum channel with foam board adhesive.
Tape is to temporarily hold it while it dries:
Test fit:
It is now much sturdier:
To make it hinge lay the pieces next to each other and
use gorilla tape (or other strong tape) to make the hinge: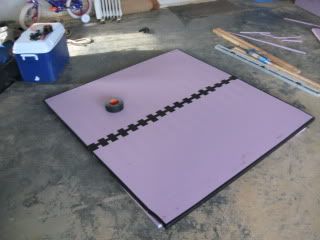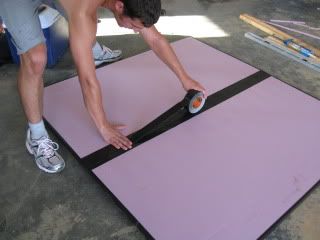 Fold the cover over and tape the other side of the hinge: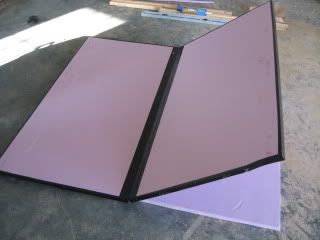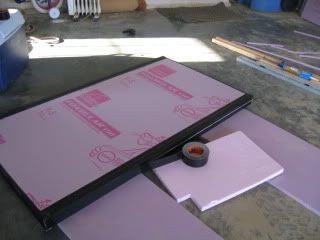 Test Fit then add hardware:
I used 4 of these to latch it down to the rails: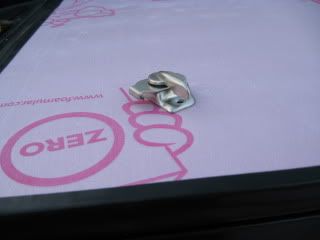 And 2 of these to secure it at the front of the bed.
On the left is the original and on the right is how I modified it: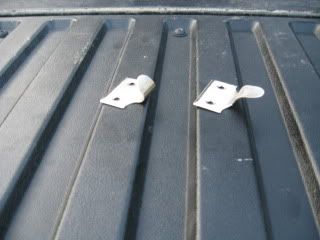 Set it in place to determine where to mount.
I had to get 1 1/2" screws and fender washers to mount: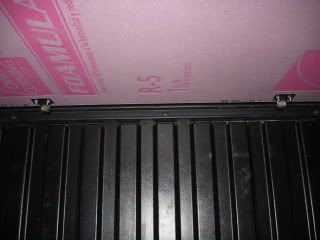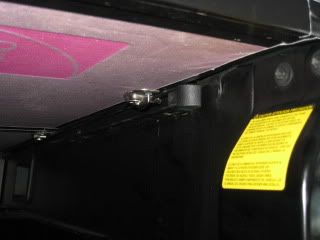 Try it out: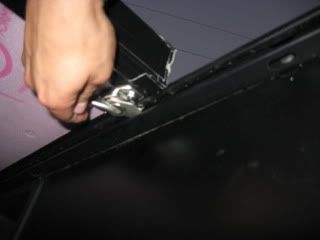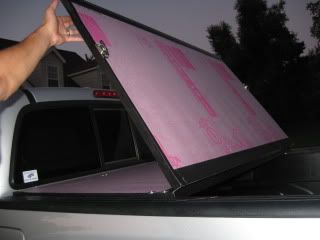 Paint it black (use paint that will not melt the foam!):
Add weather stripping and you're done!: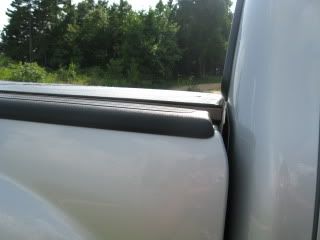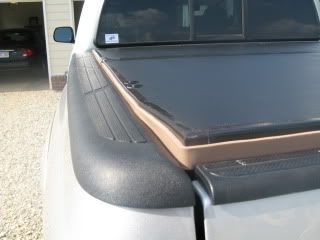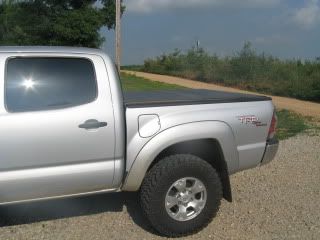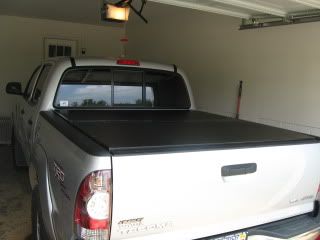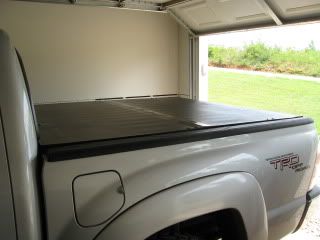 EDIT:
Okay! It has been several weeks, and over 3000 miles since I've made this thing... It is time for a review...
First off, this was meant to be a temporary cover used only for camping or other needs, not for everyday use, but, I must say that it would probably be fine with everyday use. Having said that, all this thing did is make me want to buy the bakflip cover even more... I will probably do that next spring when I get my tax return money.
I will start by listing the good:
1. While it is not 100% water tight, it did keep my gear dry in HEAVY rains. I put a 5x7 tarp down in my bed and placed my gear on top of that so any water that did get in would run down the sides of the bed and under the tarp.
2. It looks good! I am actually shocked at how well it turned out!
3. It is VERY easy to put on and take off... Only about 30 seconds to remove or install!
4. There is a lot of satisfaction in knowing you made it yourself... (I'm sure there are more good things, but that is all I can think of for now)
Now for the bad (not really that bad, just things I wish I would have done sooner or different):
1. When I first made it, the heat made the tape start to come unglued... I went to
Lowes
and bought some special glue that is weatherproof and works on foam (see pictures following this review) I put a small bead of glue at the seams of the tape and it has held it down great since (over 2500 miles with the glue).
2. After I got the glue on there I had to paint it... I wish I had gone with the Krylon H2O black paint for the 2nd coat also, (that paint worked and looked great on the foam). But, instead I let the salesman talk me into a different flat black paint... It was supposed to be good on the foam, but it ended up causing the foam to melt SLIGHTLY in some places... It really isn't bad, but just a regret that I have. NOTE: I RECOMEND USING
KRYLON H2O
SPRAY PAINT!!!
3. The last foot of the foam was not supported since the bed rails don't extend all the way to the tailgate, and I noticed the back would move up and down when driving at high speeds. I used some leftover aluminum channel to make supports for it near the tailgate (see pictures).
Final Thoughts...
Overall I am very happy with it and would do it again. If I wanted it to be more permanent I would probably wrap all 4 sides in the aluminum channel, not just the long sides. Several people have recommended various covers for the foam, but I like the way the foam looks. I looked into covering it with vinyl and had a hard time finding pieces that were big enough to cover the whole thing with one piece... I found one site that has the marine grade vinyl large enough to do this....
http://www.seattlefabrics.com/vinyl.html
People have recommended using different materials also, such as wood or plastic, or metal, but the reason I chose the foam is because it is VERY easy to work with and shape. I would definitely use the foam again.
I am looking forward to seeing any pictures if anyone else has tried this... I'm sure others will modify it to their liking...
Now for the pictures:
This is the glue I used where the tape meets the foam. The cover is a little dirty, but you will get the idea:
Here is the support I made for the last foot. I taped the top of the angle so there won't be any sharp edges, and I used the bolts that are already in the truck to hold them: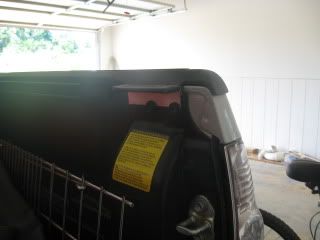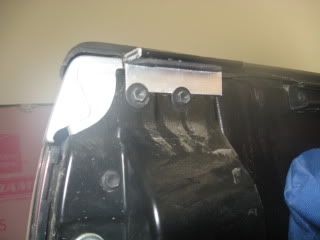 As stated earlier, I have had this thing on for over 3000 miles with no problems. The only time I was concerned about it is when we were driving through a storm that had very strong gusts of wind coming at the truck from the side... But It held up good. I drove across the country from Arkansas to Colorado and back without any problems... Here is a link to another post I made with pictures from the trip (note the
tonneau cover
).
http://www.tacomaworld.com/forum/off...-pictures.html