Greetings-
In the next week or two I will be purchasing or ordering a 2010 or 2011 Toyota Tacoma Double Cab. I am leaning in the direction of a Long Bed TRD Sport Extra Value Package with
JBL
Audio as the short bed really makes no sense to me for a truck- it's not long enough to sleep in, put a dirt bike in with the tailgate up, and plywood and 2x4's will stick out 3' from the back. Within 250 miles of me, I can find no 2010 Double Cab Long Bed models in stock and available so this leaves me with the option of purchasing a new 2011. I am going to be having the dealer do some aftermarket upgrades at the time of purchase. My uses are going to be primarily wheeling and off-road excursioning in areas similar to Tahoe & Moab and traveling and camping either with just the rig with a shell or towing a pop-up trailer. I don't plan on buying another vehicle for quite a while, and this is going to be my only off-road rig.
My 4x background includes '68 Bronco with 351W built for competitive mud-bog & extreme trailing, '66 Bronco basically stock, 2x '85 Broncos with mild builds, '85 Toyota SR5 Extended Cab built for desert, until recently '76 CJ-5 mild build, and currently '79 FSJ Cherokee basically stock with big tires (probably for sale at a good price). I haven't really ever owned an independent front-suspension 4x.
I have a few questions that I need help clearing up and/or clarifying please.
Correct me if I'm wrong. The differences between the short bed and the long bed double cab in the sport package are bed length, availability of standard transmission, Automatic Limited-Slip Differential vs. Electronically Controlled Locking Rear Differential, and Active Traction Control.
Correct me if I'm wrong. The differences between the TRD Sport Extra Value Package (available on Long Bed) and the TRD Off-Road Package (available on Short Bed) are Tire & Wheel Size, Shock Absorbers, Engine Skid plate, Front Tow Hooks, Active Traction Control, and some cosmetics.
There are no real differences of any note between 2010's and 2011's?
Toyota offers 3 sizes of fender flares- 2-wheel drive, stock 4-wheel drive, and the third and largest is on both TRD packages?
I am a bit confused on this and Toyota's descriptions. Are the Toyota Automatic Limited-Slip Differential and Electronically Controlled Locking Rear Differential both internal, mechanical L/S's in the diffs? The Electronically Controlled Locking Rear Differential- is it actually a locker or a L/S, and basically, it goes from open diff to a locked diff? How durable are either compared to aftermarket? VSC and A-Trac are a form of brake control to control wheel spin- correct? Are they really worth it if one knows how to drive off-road?
I am going to have a lift installed. I am probably going to be running 33x12.5 though I really would like to run 35x12.5. It seems pretty basic and common to do a 3" lift and run 33's. I will probably be running a
ToyTec
Ultimate Lift
http://www.toyteclifts.com/index.php...mart&Itemid=72
with the Dakar Leaf Springs. The other option is the OME 3". However, on the ARB site they don't actually show a complete kit. They are comparable products? Are the Light Racing UCA's that ToyTec offers a best bet for the price? Essentially, they'll just make the front end work better and last longer with the lift- correct?
I am very intrigued by a few facets of these two trucks- granted, both of them are G1 Tacos.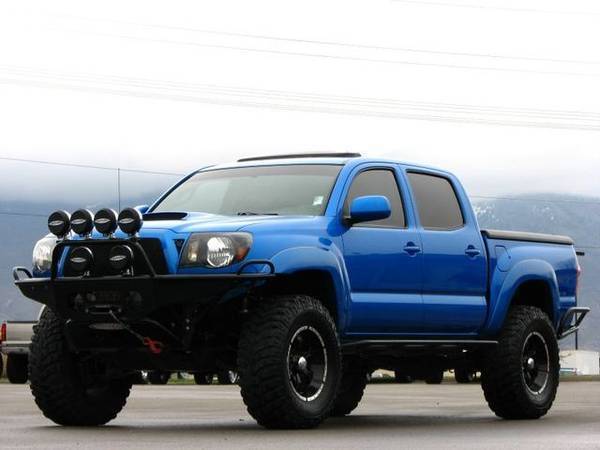 They are both running 35's, though the first has a 3" lift and the second has a 6" lift. It seems as if 6" lifts are hugely more of a hassle and hugely more expensive. Is it possible to stuff 35's under a Tacoma with a 3" lift? From what I can figure, Bushwhacker is the only company that makes larger fender flares, but they don't offer much more room. Will 35's run with them? How well will Toyota Drive-Trains hold up to 35's? Also, 33's aren't much larger than stock tires- how much power is lost with 33's? How much power is lost with 35's? Would I be better off re-gearing for 33's? I would guess that I would definitely have to re-gear for 35's. What backspacing and offset are you running for 33's and for 35's for no or the least amount of rub?
Both of the two above rigs are running
All-Pro
Front & Rear Tube/Desert Style Bumpers. I really dig them. Avid and Badlands both offer similar products. However, all of the listed companies only make them for G1 Tacomas. Does anyone make complete Tube/Desert Style Bumpers and not just Light/Push Bars for G2 Tacomas? I am also going to need a Class III or IV receiver hitch.
Speaking of All-Pro, how are there Skid Plates? Would they be a good option or does someone make better underbody protection?
I plan on having dealer installed TRD Cat-Back Exhaust and TRD Supercharger. From what I've read, this is a good combination with no real problems and does help power quite a bit for towing and off-road performance. I am possibly planning on installing a
URD
Pulley as well for a bit more boost. Would this be recommended? Also, I have read mention of some URD electronics for controlling engine electronics for the supercharger and engine? What exactly is it and what does it do?
Also at time of purchase, I am going to have the dealer install a Webasto Sunroof- I'm thinking of a single panel as on the double panel, the front portion doesn't slide open- correct? Does anyone make a vertical sliding rear window for Tacomas similar to the one that comes on Tundras?
Does anyone have any thoughts on the TRD Bead-Lock Wheels? Are they real Bead-Locks or just wheels with rock-rings/cosmetics?
What is the weight capacity of the Toyota Factory Roof Rack option? Is it compatible with Yakima or Thule products (preferably Yakima because I have a ton of Yakima accessories)? Would I be better off going with Yakima towers and crossbars?
Final question- what price are you getting your 2010 and 2011 Double-Cabs out the door for from the dealer?
Thank you very much in advance for your assistance in buying and building my truck-
COOP