Well, with the wet weather upon us, I was wondering if many of you with the 2009 or newer Tacomas (equiped with TRAC and AUTO LSD) have 'two wheeled' using AUTO LSD... which is the limited slip TRAC system without any engine output regulation?
2WD Tacos (or 4WD Tacos in H2) have THREE traction choices:
A) TRAC ON (standard mode) 'TRACTION CONTROL' a limited slip with engine regulation.
B) AUTO LSD or "TRAC OFF MODE" (press the VSC OFF switch to engage) limited slip without any engine regulation.
C) "VSC OFF MODE" (while stopped, press and hold-in the VSC OFF switch for several seconds) to have an open differential with no TRACTION CONTROL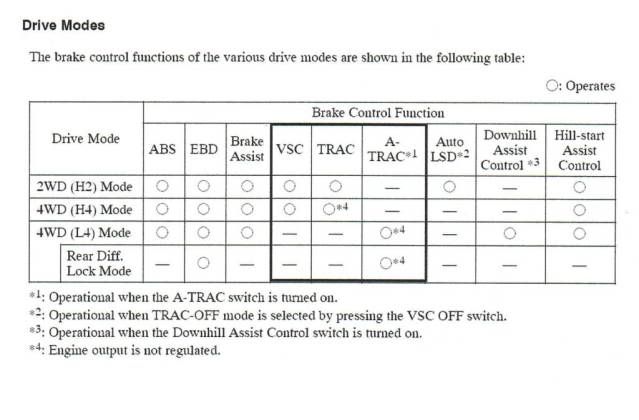 I have found AUTO LSD to work like a 'Posi-Traction' differential, providing strong torque to both rear tires when both have equal traction. If one tire is on solid ground and the other isn't, then instead of the loose tire spinning, it is braked and torque goes to the traction tire so you can move.
For those without 4WD, the AUTO LSD is the next best thing to having a locking rear differential to help you move.
Have you used AUTO LSD, and what did you discover?