1st, Thanks to
w8n4mud
(
link to his post & pic
) and
chris4x4
(
link to his post & pic
) for their Posts about the best location for the horns.
From another "Satoshi Horn" Tread,
Here
You can also see my Satoshi Grill Separate Letter Emblem Write-Up,
Here
Also added My
Backspacing/Offset Drawings
in the "Wheel & Tires" forum
And my only use for
Plastidip
, so far
Standard Disclaimer: Don't damage your vehicle, I'm not responsible.
This Write-Up is just how I did it.
Please Post any questions here, rather than PM Me.
After looking it over, I saw that I could reroute the Horn/Temp Sensor Harness.
This is a very easy mod, with the exception of fitting your finger where they don't fit
1st Unplug Horns and Temp Sensor (if applicable).
Pop as many fasteners as needed to lift plastic off the top of the radiator
Pull Wiring Harness backwards, unsecuring where necessary, until it's behind driver's headlight.
I marked the harness in some of the photos
Reroute Plugs and Harness (marked red) thru lowest hole in metal surrounding radiator (driver's side). Viewed from behind headlight
EDIT:
CAUTION
: Please note the following
Quote:
Originally Posted by
08PRELB
The "unknown" part in the second pic is the air bag sensor that deploys the air bags if you get in an accident.
That being said you should take extra care when handling this piece.
Thank You Adam for Decreasing my Ignorance a little and watching out for all of Us.
That was an
Epic Fail
on my part.
I should have started that thread and asked the dumb question
To clarify "Removal": I removed one or both screws to shift the AIRBAG SENSOR, just enough to get the Horn Plugs thru.
I DID NOT Disconnect, ManHandle or Hammer on the AIRBAG SENSOR at any time!
The rest viewed from in front of the radiator with Grill removed
Removal of part, circled in photo (
AIRBAG SENSOR
), will be necessary to get the plugs thru.
I was gonna start a thread, asking one of those dumb questions, "What's this part ???"
But I figure someone here's gonna tell me.
So to continue, Loosen and Shift the unknown part (
AIRBAG SENSOR
), circled in the picture.
Resecure the Airbag Sensor after feeding the Horn/Temps Sensor Plugs and harness thru.
Route below Tranny Cooler and cable tie where convenient.
Sorry, been a while. Looking at my pictures, I believe I used Stainless 3/8-16 x 3/4" or 1" Bolts and Nylocks (Nylon Insert Nuts) with Flat and Heavy Fender Washers.
Alternative is to use Nuts and Lock Washers, but putting both on will be tough. You'll understand later.
The hardest part of the Job is getting fingers and wrench behind metal cross member to start and tighten the nuts.
Fender Washers, both in front and behind metal
Any large nuts and bolts will do
Mount Horns from front: Bolt, Flat Washer, Horn, Fender Washer, thru Slotted Hole in Metal, Fender Washer, NyLock.
I used the two equally spaced slotted holes closest to center.
Don't forget to plug in the Horns
EDIT:
Quote:
Originally Posted by
JustinL
Also, one thing to maybe add to your original post would be mentioning that it's important to have metal on both sides of the radiator support when remounting the horn bracket or you'll have no horns. I had some nylon washers laying around and used them for the back side - no horns. Tried a metal washer instead of the nylon, now I have horns again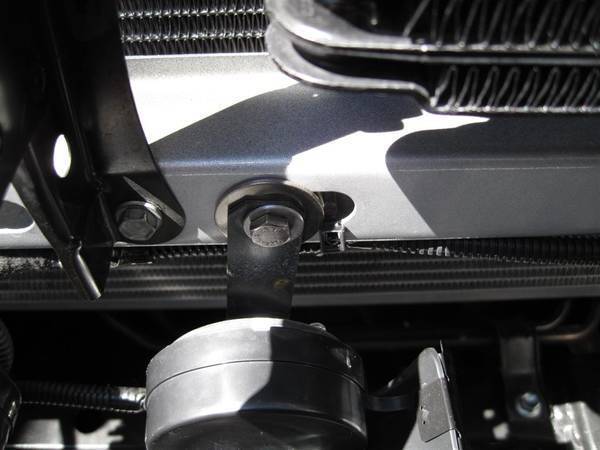 Both Horns as viewed thru REMOVED Grill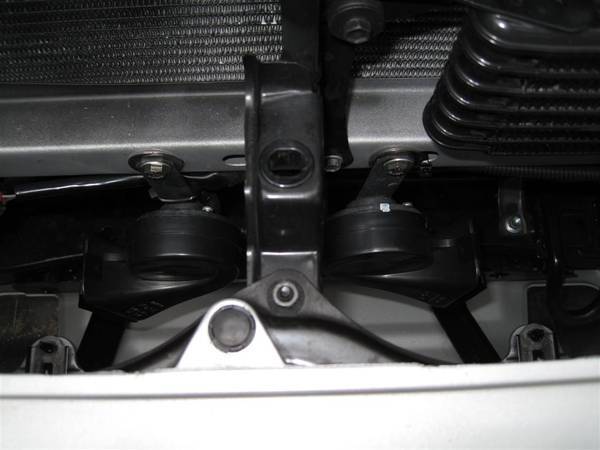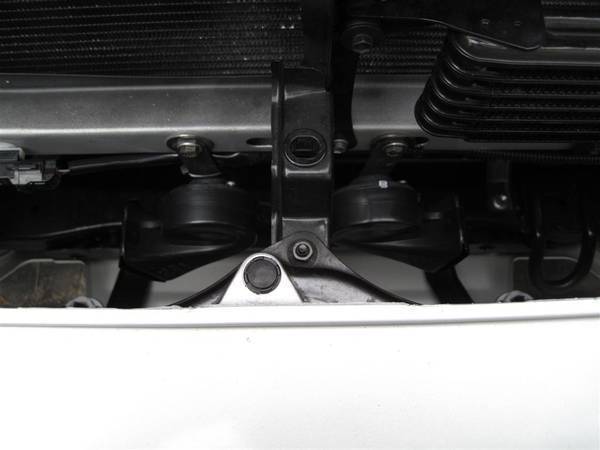 Continue the Harness past the Horn location for the Temp Sensor.
The Harness just reached an existing Slotted Hole
After plugged in, the Temp Sensor snapped right into an existing hole on passenger's side.
Side View from Passenger's Side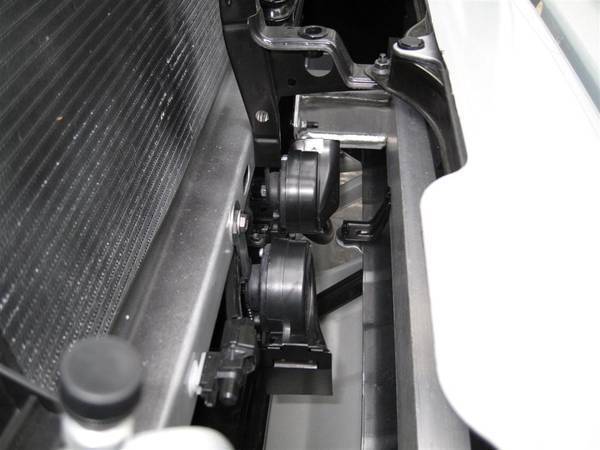 Viewed thru Lower Grill.
Once Grill installed and hood closed, you don't see them.
I was going to Mesh my Lower Grill anyway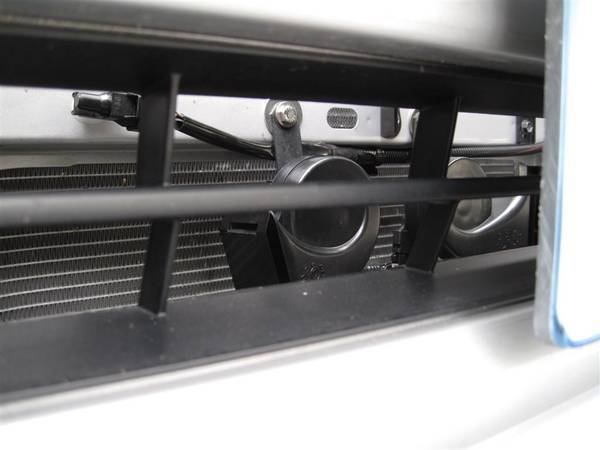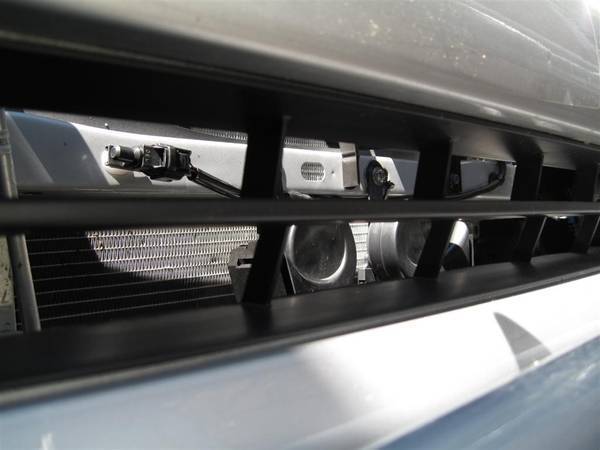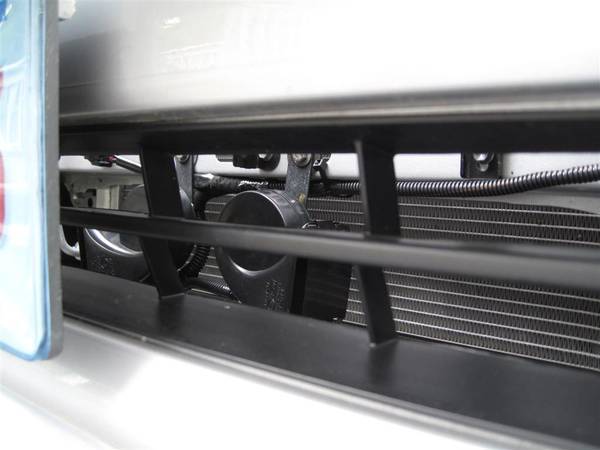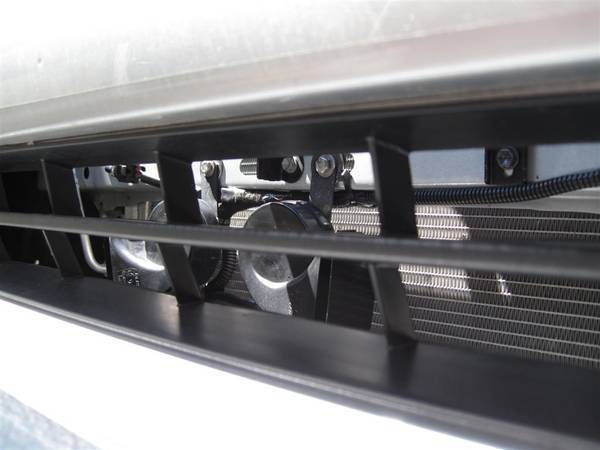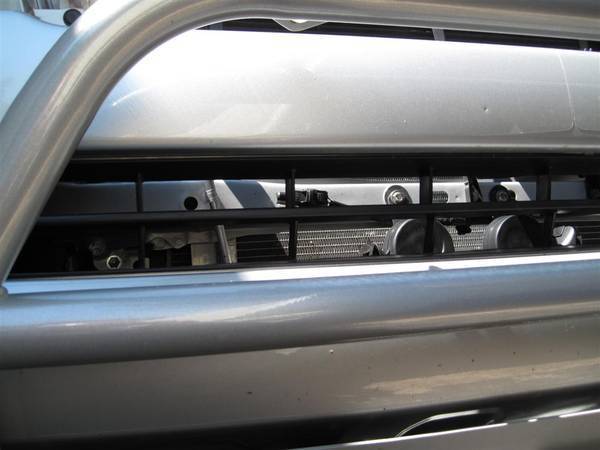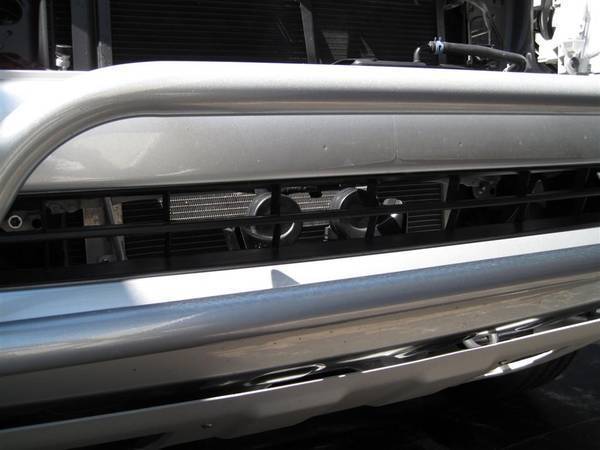 Look Ma, No Horns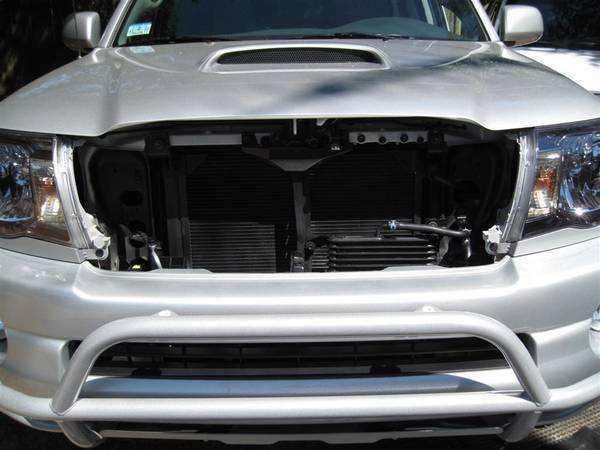 Finished
Link to Emblem Write-Up
Here
or in My Sig
Hope this is helpful
Happy Modding and Enjoy your Tacoma
CC