Well first and foremost I must come to the point of my thread, Everyone that has said if you are looking to get a simple front end lift go with Bilstein 5100's and NOT a spacer lift is correct in my opinion.
With that being said here we go…
In May of last year I purchased my 2008 Tacoma with 24k miles. I wanted to put a little more of an aggressive look on but did not want to go overboard with full kits since I am not going off road much at all (heading on the beach with the family or finding a nice fishing spot is as crazy as I get). I read time and time again that spacer lifts are cheap and uncomfortable but get the job done and seeing as I had a limited budget to work with I opted to go that route instead of spending the extra $80 for a set of 5100's.
I purchased my 2.5" spacers for around $100 and talked my friend into helping with the install. Everything went fairly easy as this was a top mount spacer kit. The kit was well made and heavy duty so there were no quality issues. Once everything was buttoned back together I drove out of the driveway and immediately knew things were different. Not only was the ride much stiffer but the handling was completely unrefined and "raw". I figured there would be a decent chance things would settle a bit and my ride would adjust… completely wrong. Here is it 8 months after the install and the ride still leaves a lot to be desired. I figured it was time to change things over and try the route everyone initially suggested… I ordered my set of 5100's last week from
DownSouthMotorsports.com
(great and quick) and they arrived the same week. I set the ring on the highest setting (approximately 2.5" of lift) and made a game plan to remove the spacers.
We started at about 12:00 today and removed the spacers with minimal effort. Instead of renting a spring compressor I was lucky enough to have a great shop, Crockett's 4x4, less than 5 minutes from my house. I took the spring/strut assembly to them and had it changed over in about 10 minute's total. Once the assembly was back together with the 5100 everything we back together as it should. We tightened all the bolts to factory specification and put the tires back on the ground at around 4:30.
I was not sure what to expect what so ever since the spacer lift left a bad taste in my mouth… I put the truck in reverse, backed out of the driveway and hit the spot that made me cringe the first time around, PLUSH and smooth… HOLY FREAKING HELL WHY DIDN'T I LISTEN IN THE FIRST PLACE.
We took the truck to the nearest pavement exit and put the suspension to work. Each and every bump was smooth and solid, nothing but a great ride… Next was on-road, at highway speed – Once again no issues what so ever and the ride was amazing.
I am not bashing anyone that has a spacer lift but in my experience going both routes the 5100's are not even in the same category as a spacer.
I am now out $100.00 for the spacers but lesson learned I guess…
Original Install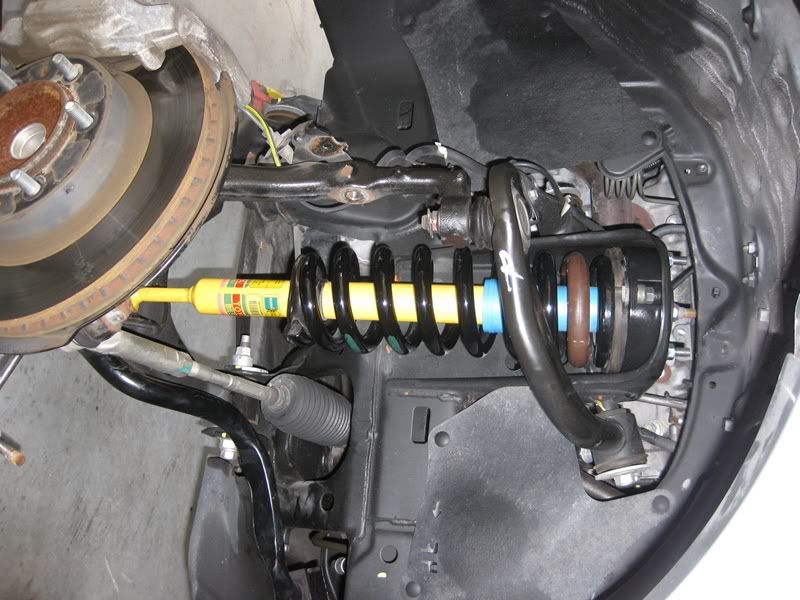 Billy Install