I am relatively new to the forum. Only made a couple of posts, and just started trying to post pics yesterday. Thought I would post a couple of my truck. Nowhere near the caliber of most trucks on this site but I am happy with it so far. Here she is as of about 2 months ago: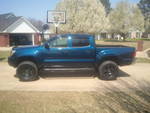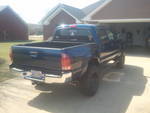 I have a 3 inch Pro Comp Lift, 17 inch
Moto Metals
, and 255 Goodyear Silent Armors. I have blacked out the badges. Since taking these pics, I have coated the rear bumper and lower valance with Plasti-Dip (take it easy on me guys), painted the chrome grill surround black, and done the Black Headlight Mod. I plan on redoing the BHLM and possibly tackling the Satoshi grill myself.
I don't know if you would really classify it as a build. I started getting into the cheap DIY mods since viewing this site and have just been enjoying making this truck my own.
Any thoughts, ideas, or comments are welcomed. Thanks.
Updated pics from 5/1/11:
Here it is with the lower valance blacked out, rear bumper Plasti-dipped, and the BHLM. Tried painting around the emblem on the grill color matched but it is kind of hard to see. Doesn't really stand out. Thinking about finding a grille assembly online somewhere to attempt the Satoshi but can't decide if I want to try and color match it or leave it black.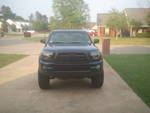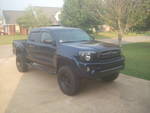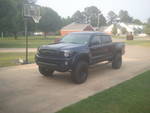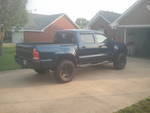 Sorry about the pics. Taking them with my cell phone. Any ideas on what mod to do next?
Wish list:
Satoshi grille
Avid or Westin for the front
New Seat Covers
New wheels and tires...eventually (Got about 30,000 miles left on those tires)
New exhaust