I just wanted to make a post about my experiences with Big O recently.
This past January I took my Tacoma to Big 0 on Mae Anne in Reno to get a 2 wheel thrust alignment after installing Light Racing adjustable upper control arms. I set the ball joints and tightened them to spec myself but wasn't sure if they would be able to align it properly. After talking to the guys there and informing them of the UCAs and asking they set to my numbers, they assured me for an extra 20 they would be able to get it all set. This brought my total to 92.90 OTD. 89.99 for laborm 2.70 in "shop supplies", and .21 in tax.
I wait for a while, as normal, and when I get it back I find they haven't aligned it to what I requested and they assured me they could do. They just rushed through blowing off what I said to make a sale. Well I had to argue with the manager for a while after I was condescendingly and rudely told that he understood that the arms were adjustable on paper but in real life they were maxed out and that I didn't know what I was talking about. After a bit he agreed to take the truck back and try again and what do you know... they got it to my numbers.
They did all this WITHOUT touching the UCAs which I paid an extra 20$ for, or so I was told.
I got the truck back from Ken the tech, who rudely gruffed at me, and the steering wheel was off center. At this point I had been at Big O for the better part of 2 hours or so and just wanted leave, so it wasn't off enough to make it worth fighting them over.
Fast forward to today, May 2nd, I called Big 0 for another alignment and asked them about last time. I talked to Rick who wasn't sure why they charged me so much even after I informed him of my UCAs and how they hadn't been touched. He thought maybe they charged me for a four wheel alignment and said that it shouldn't have been that much, he told me to bring my paper work from January in and that we would figure it out.
I walked in and asked to talk to Rick. He took a look and we discussed my UCAs and why I need an alignment so soon, I informed him I had moved to 35s and needed the caster pushed out to move the wheel forward in my wheel well, although with these trucks 3 degrees of caster is about optimal for 35s so it would be beneficial either way.
He said he needed to ask someone else about it all and brought who seemed to be the manager into the fray. I told the same thing to the seemingly manager as I had told to Rick and the guy said oh yeah, speciality alignment, you must have a lift or UCAs or something. I said yeah, but like I already told him, they hadn't touched my UCAs. He then proceeded in a condescending tone that he wasn't going to re-align my truck every time I changed a tire size. I informed him I had planned to pay... and that I just didn't agree with the price nor understand why it was that they would charge me an extra fee to do something and then not do it. He patronizingly told me the 90$ was because my truck was lifted. He also told me that caster was the hardest thing to do and that they would see if they could get it, I told him they had done it before, they could go it again and basically what I got back was that I was stupid and had no idea what I was talking about.
The manager wandered off and Rick asked me if I wanted an alignment. I told him if it was going to be another 92.90 that no I did not, so I grabbed my papers and left the store.
So there you have it, rude, condescending, incompetent, and a rip off.
Fool me once, shame on you, fool me twice, shame on me. Shame on you Big O! I will never go to another Big O tire store in my life.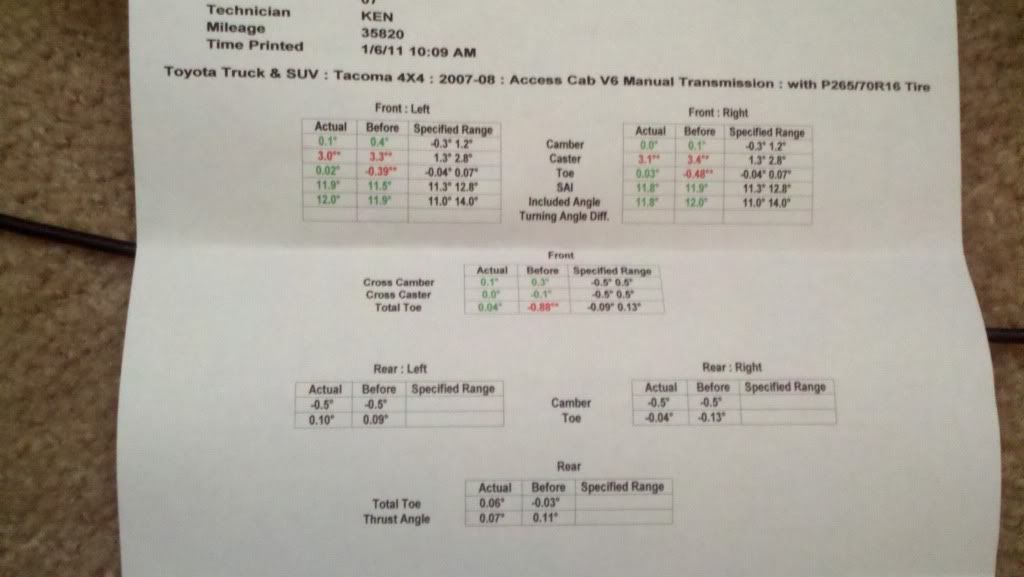 Sorry Mods if this is in the wrong section, I wasn't quite sure where to put it.