EDIT: this OP is pretty much obsolete. This mod has been significantly refined since the OP.
For those of us double cab drivers, we all know how useless that rear sliding window is when we are busy driving down the highway. If you have arms that are 6 feet long then you can disregard this thread.
I came up with a way to make the rear sliding windows of our 2nd Gen Tacomas into powered sliders. I know there has been widespread interest in finding a good way to do this, and I know a few TW members have come up with their own ways (such as using a 12" stroke linear actuator) -- well here's my version.
First, a vid to show how well it works:
http://www.youtube.com/watch?v=EQxzXTnUkOE
With the seatbacks folded down so you can see the mechanism at work:
http://www.youtube.com/watch?v=kzMPcvDu2jE
Disclaimer: The concept and procedure that I have outlined in this thread are considered experimental, and if you attempt to copy what I have done, serious damage to your truck or to the parts you buy for this project may occur. I cannot be held responsible for any damages that may occur to your truck or any other parts if you attempt to copy this mod, nor can I be responsible for any injury that you may incur, nor for blood, sweat, or tears that you may shed. Nor can I guarantee that this mod will end up working for you as it did for me. MODIFY AT YOUR OWN RISK.
Moving on...
My version utilizes a real power window regulator (motor, cables, etc) from a Honda.
Here's what it looks like: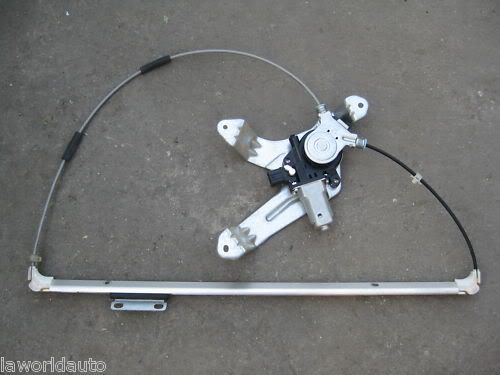 It consists of a 12V window motor, two cables with cable housings, a spool that winds the cable when the motor activates, an aluminum track, and a "trolly" that get's pulled by the cables and rides along the track (this gets mounted to the window glass).
I got my regulator from a wreck yard for $20 out of a totaled 2006 Ridgeline. Unfortunately, I don't have a part number for the whole shebang (I only have a part # for the motor).
The biggest challenge with this project is that the regulator from the Ridgeline is a bit too big -- it has 17" of stroke (our Tacoma's only need 12"), and the cables are too long and cumbersome to fit on the back wall of the cab. So some modification will be involved.
This is basically what the setup looks like before I did any modification of the size -- NOTE that I don't have the passenger side storage bin in my truck, because of my custom sub box. If you have the storage bin, it will probably inhibit you from mounting a regulator motor. It's gonna be up to you as to how you want to deal with the bin.
Essentially, there are 5 main steps involved in this project:
1. Shorten the regulator's track and change the cable and cable housing lengths
2. Mount the regulator motor to the back wall of the cab using a mounting plate
3. Mount the trolly track to the bottom window frame
4. Mount the trolly to the window glass
5. Install a rocker switch in your dash and wire it all up
This thread will probably make this whole task look like a major PITA -- but really I did it all inside 5-6 hours. Wasn't too bad at all. Easier than it probably looks.
Here is the rocker switch I used -- it's a good quality 2-way switch and I got it for $10 from Gama electronics, it even has amber backlighting: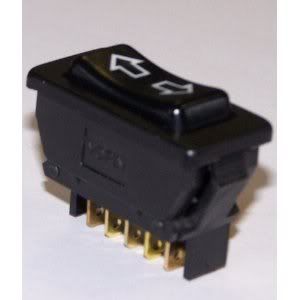 This is what the switch looks like wired to a 9V battery, which I used to test the regulator. I used 1/4" quick connectors to plug the wires to the switch. The two loose-ended leads in the pic are the + and - that plug into the regulator motor:
Okay, let's get to work.
The regulator assembly came with a mounting bracket that is affixed to the motor with three bolts. I removed this bracket and discarded it (see first pic in thread).
The first step is to disassemble the regulator motor/spool assmbly so that we can change the cable and track lengths.
I used a flathead screwdriver to CAREFULLY pry the metal back off the spool compartment. There are fragile parts behind there so be careful!!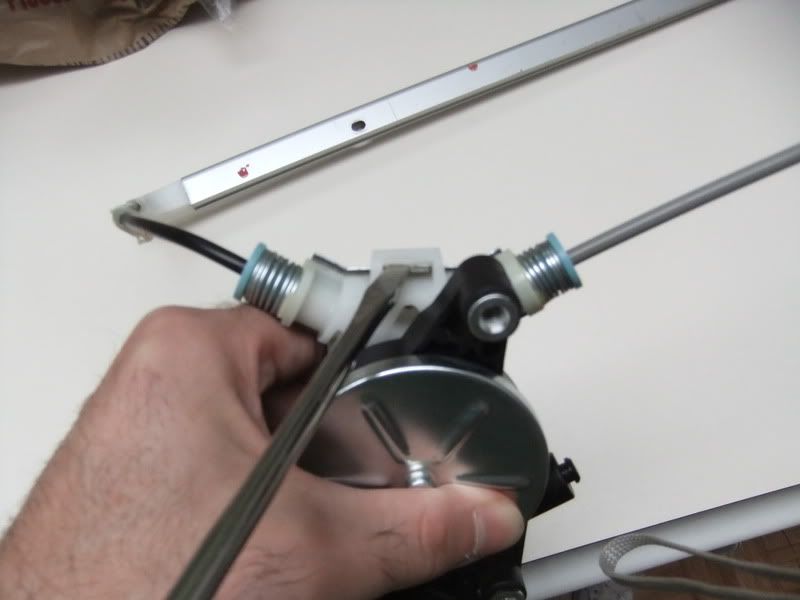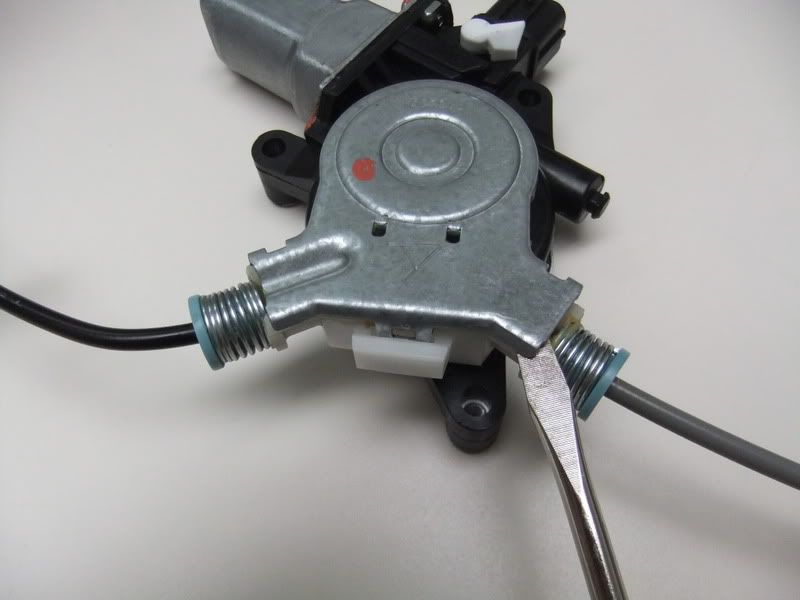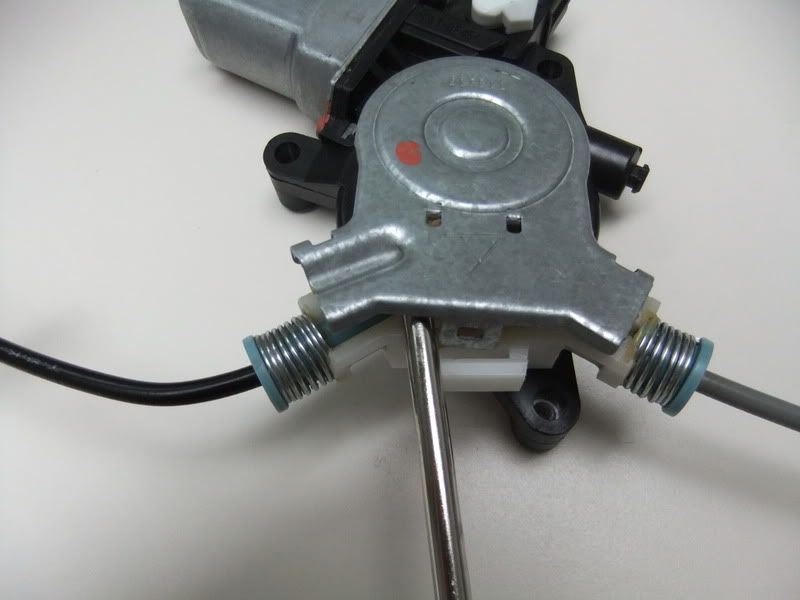 This is what it looks like inside with the lid off. Theres a bunch of white grease in there: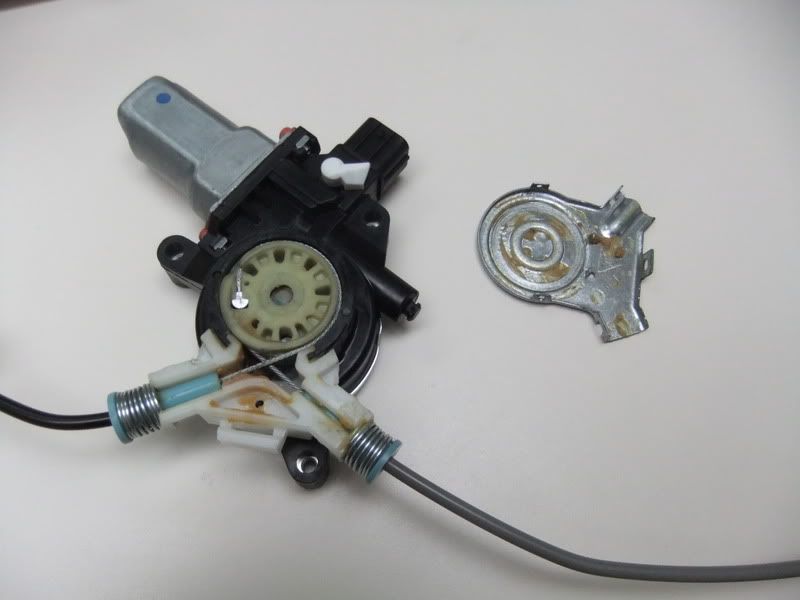 I gently pryed up the spool just enough to unravel the upper cable.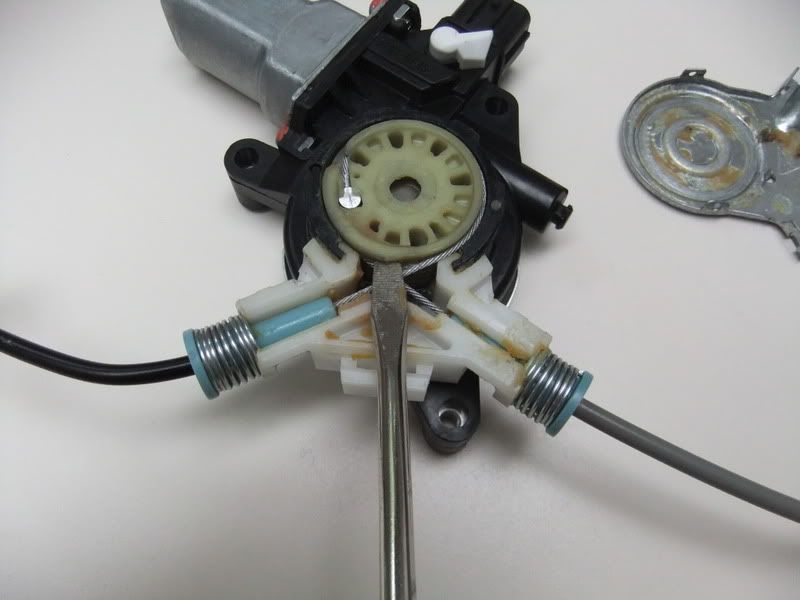 And then just popped out the blue spring-loaded cylinder.
Once the cable tension was relieved, I coud just unhook the cable end from the spool. Note that this is basically bicycle cable, so if you have experience working on bicycles, this will seem familiar to you.
The only difference -- and it's a challenging difference -- is that the cables are fixed length with cable stops at each end. You'll see this in a minute...
Once the cable tension was gone, I could just slip off the white end pieces of the trolly track...
First on the left side:
Then the right side: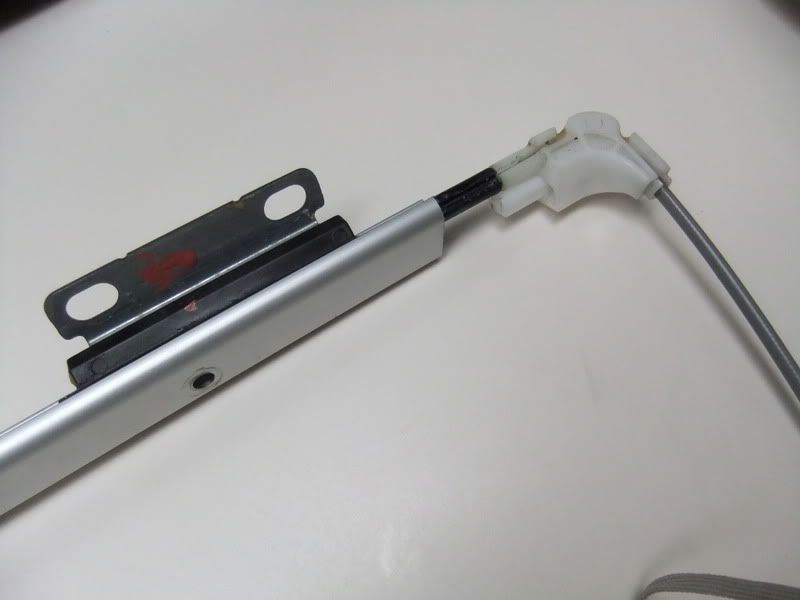 (Continued)