I guess this thread is a 2 parter. 1 just to show what I have done and 2, to get some help... because of what I have done
Well here is how she sits now, I love the way it turned out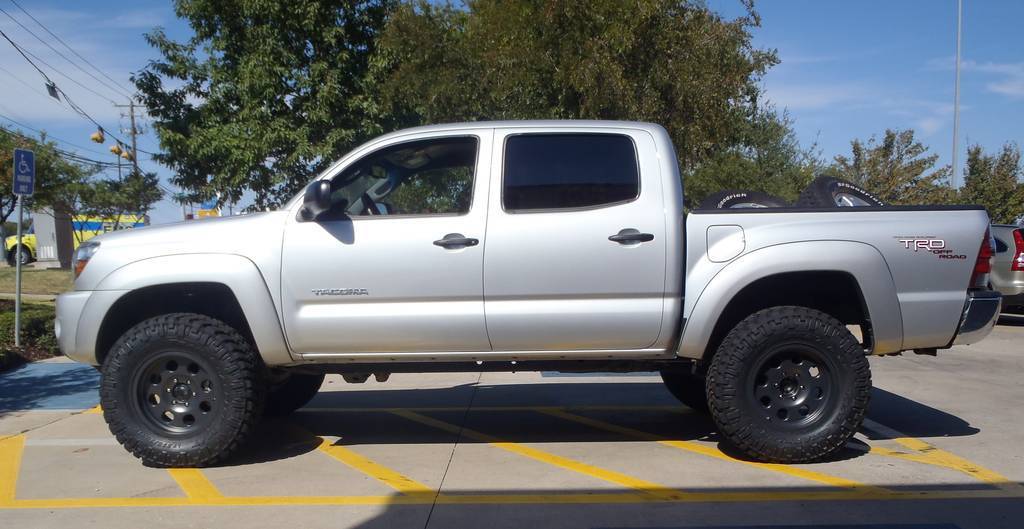 - Full OME lift with top cap spacers
- Dakars
- Extended Steel Brakelines
- American Racing Mojave Teflons
- Nitto Trail Grapplers 295/70/R17
The front with the new larger tires sits about 4.5" higher than it did stock
I spent a lot of time doing this and there was much @#!$* but over all I am happy. I knew there would be some rubbing and that I would be pushing the alignment to its limits.
Alignment Q's
I already took my truck in and this is the best I could get
LEFT -------------- RIGHT
0.8 ---- Camber ---- 0.8
0.0 ---- Caster ----- 0.4
.05 ----- TOE ------ .05
10.9 ----- SAI ------ 10.8
11.7 - Incuded Angle - 11.6
If anyone smarter than me on this stuff has any incite on these #s let me know
The truck drifts to the left slightly if I take my hands off, and there is definitely some wandering and instability at highway speeds.
I am going to bite the bullet and get new UCA's to remedy all this. I just have a few questions for guys running similar setups.
Q1 - did you have to replace anything MORE than the UCAs?
Q2 - What UCA's are most guys running/best bang for the buck UCAs
Q3 - What specs are you running on your algnemnt now, because stock algnment #s are probably just a guideline now (like Parley
)
Q4 - (rubbing issues) Trimming or taking fenders off.. any advice?
I can post more pics later if ppl want to see more, the chrome Satoshi looks great with this lift and wheel combo
THX in advance TW, you always pull me through