Hey guys, I did this recently, took some pics, and i hope they help out. I did this with the help of a friend (mostly just so he could drive me to get the bearing pressed in. Jonathan-Nobody4343 on TW) so here goes, i might miss some stuff, but I'll try to explain as best i can from memory.
*Disclaimer* I am not responsible for any damage done to YOUR vehicle. This is solely for informational purposes. If you feel you can't do this, or are not mechanically inclined, I suggest you pay someone or have someone else do this for you. Thanks and enjoy!!
get your wheel off! 21mm impact or muscle, whichever you can do best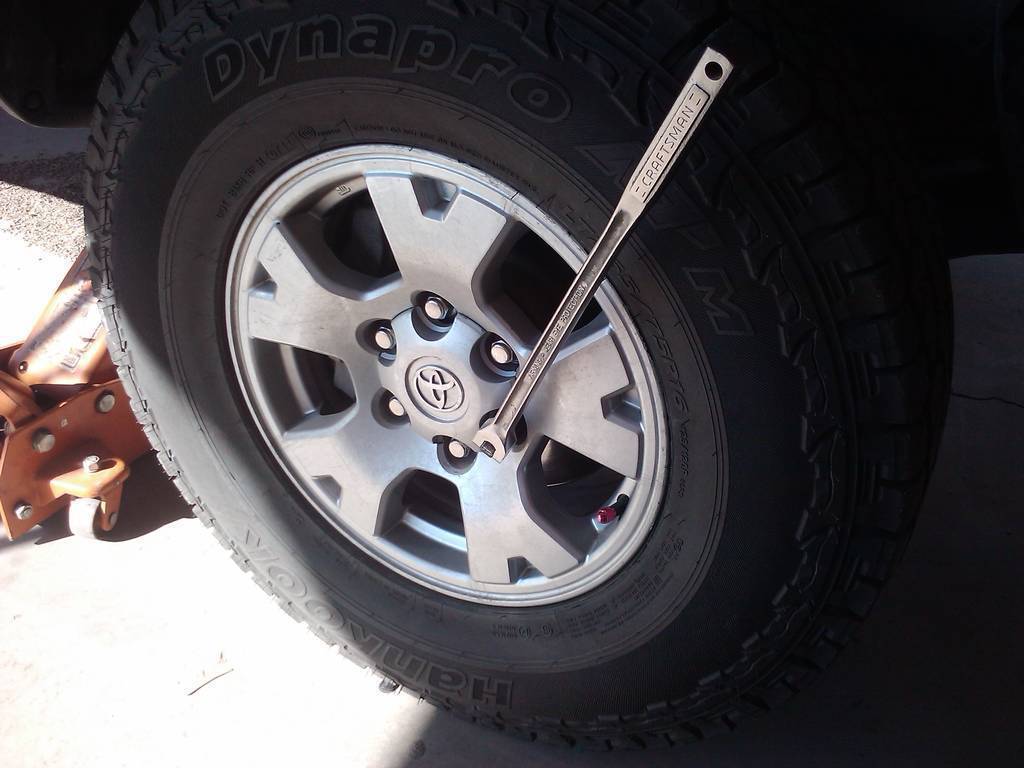 looks like so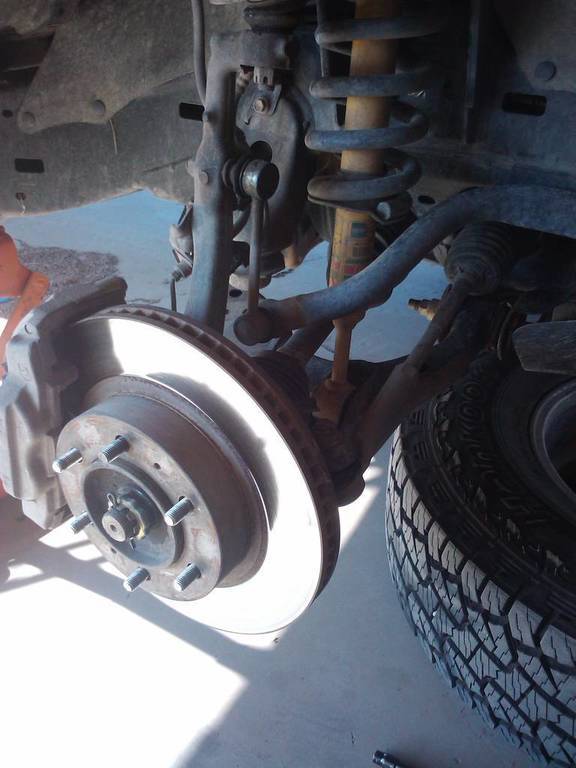 cotter pin out, pull off retaining cap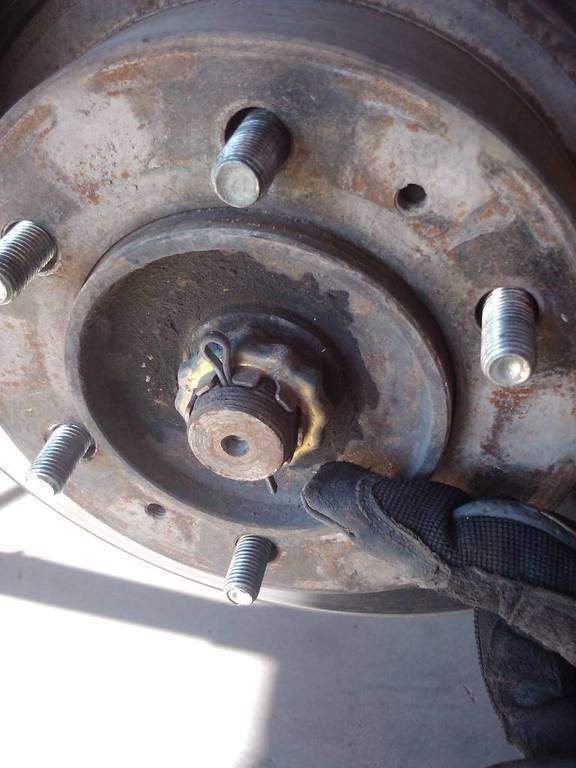 35mm socket to take it off, its on there nice and tight, I locked my front diff to do this. just made it easier.
Autozone
has it for aboot 20 bucks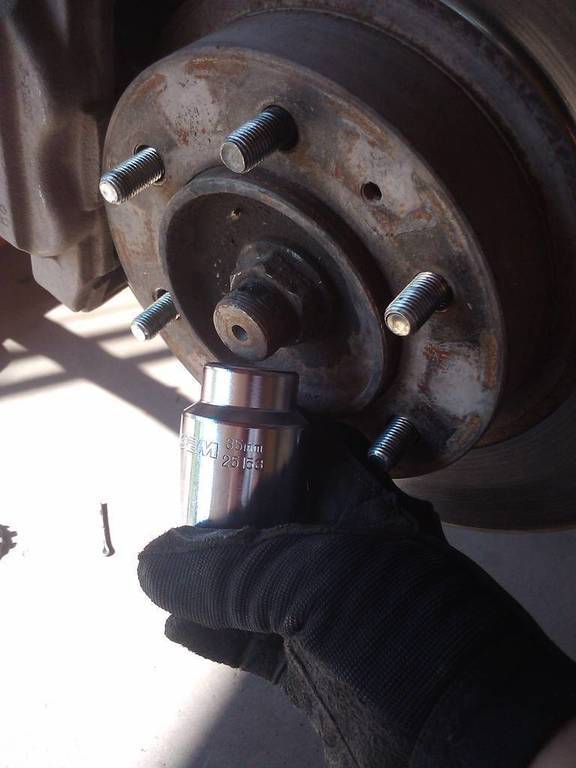 remove ABS sensor 10mm socket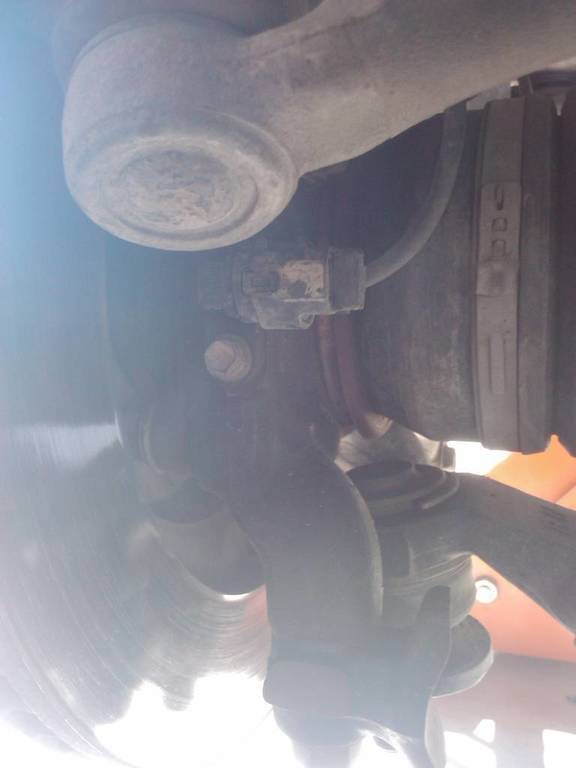 remove brake line bracket 12 mm IIRC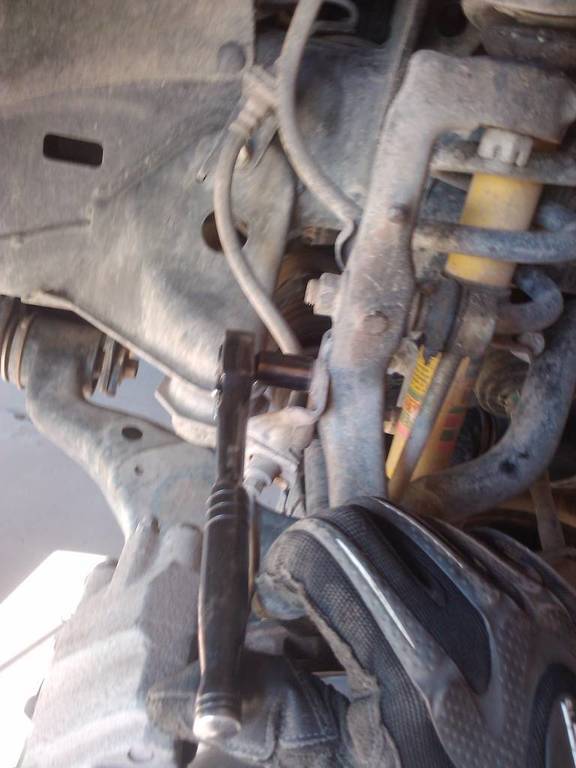 remove brake caliper bolts 14mm IIRC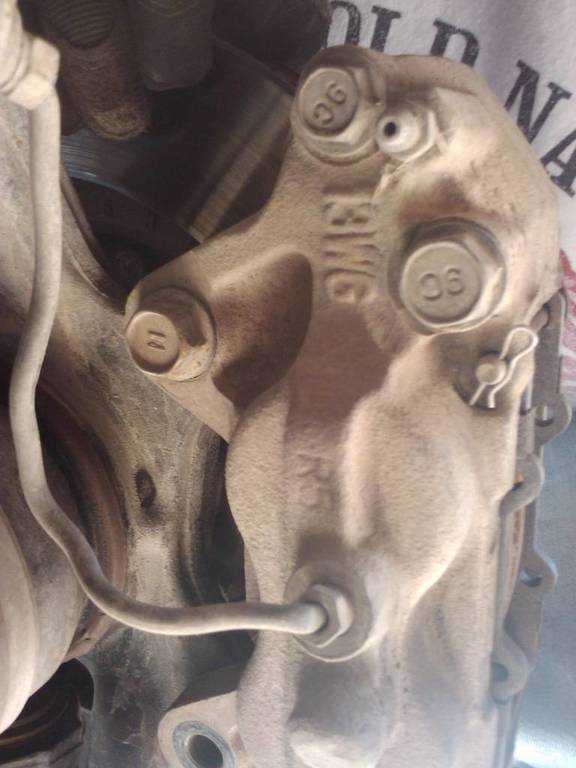 suspend caliper with wire/bungee/ or speaker wire
and rotor should come off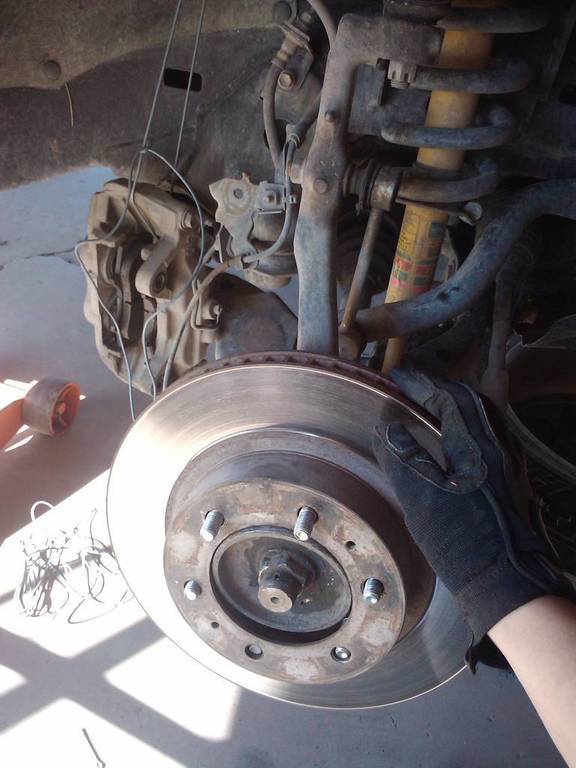 remove HUB Bearing assembly theres 4 total. 17 mm I believe. these are on tight (especially if you wheel and get dirt and crap on there)
Use some P'Blaster or WD40 or Liquid Wrench overnight for best results (thanks toytaco!)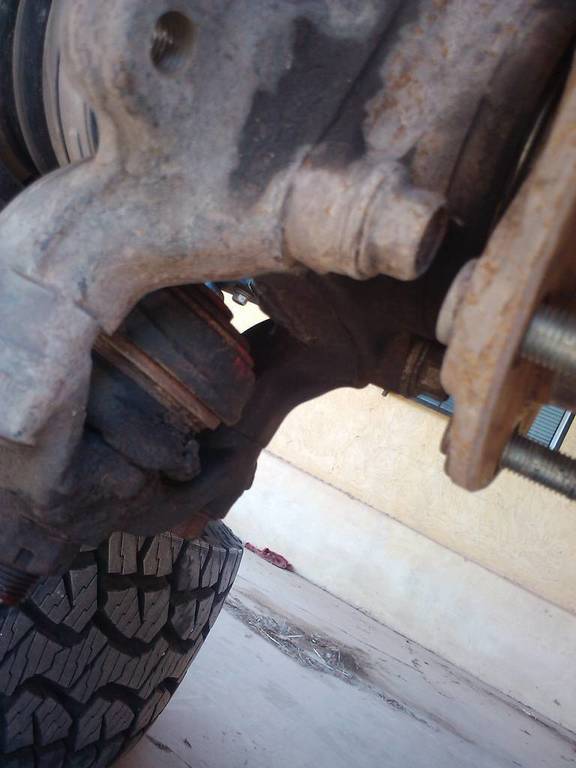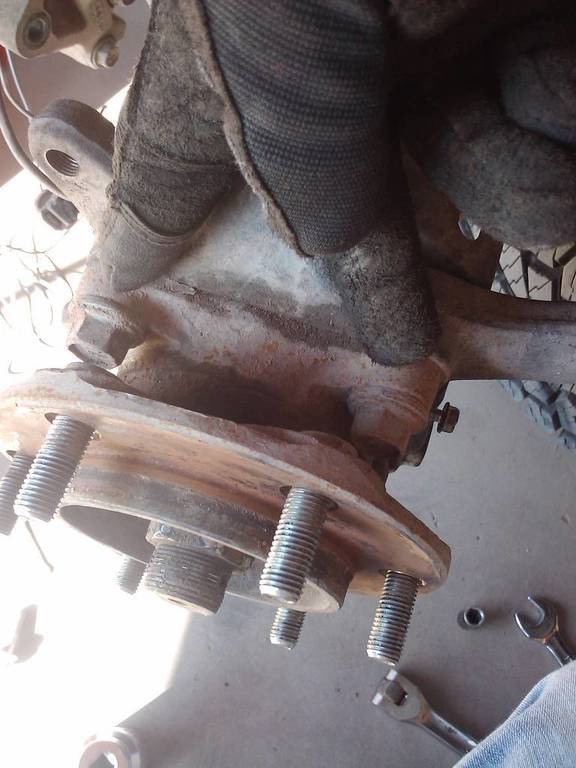 cheated, used two wrenches to do it for leverage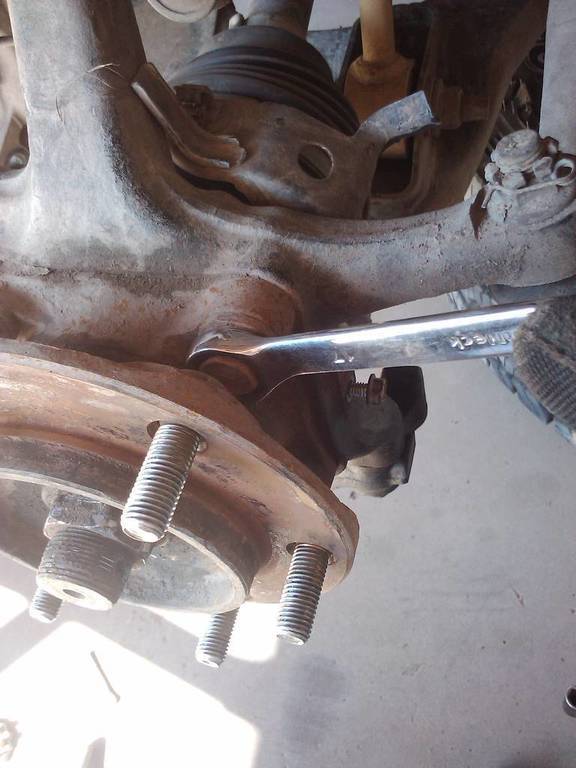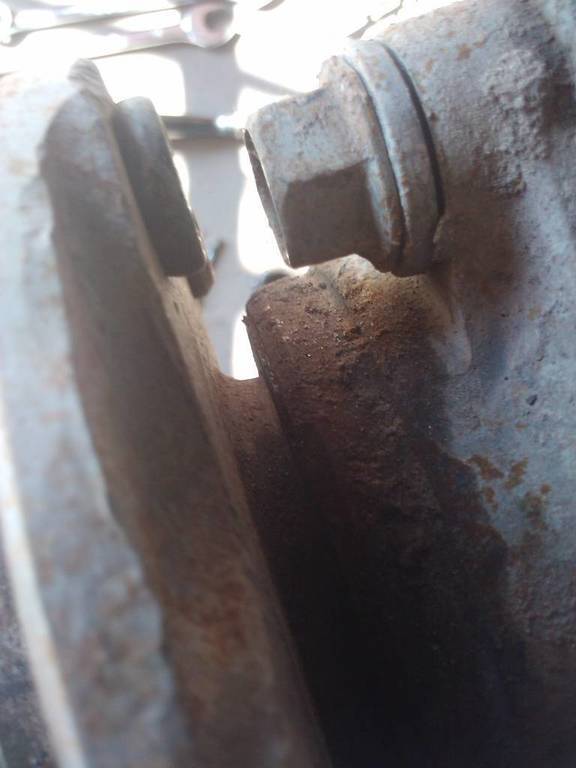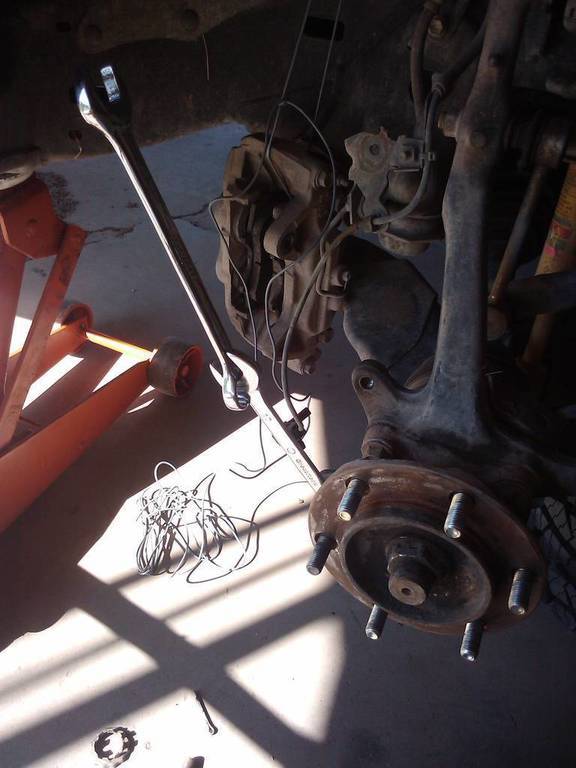 STOP!!! Hammer Time!! Knocking around the HUB assembly will help with getting it loose from the spindle if theres junk
not letting it come off.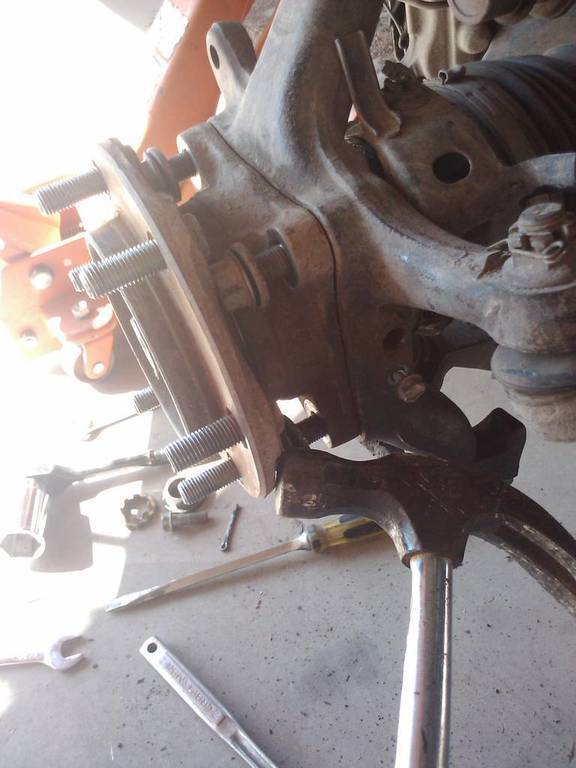 I put the cv axle nut back on to kinda keep the whole thing from falling off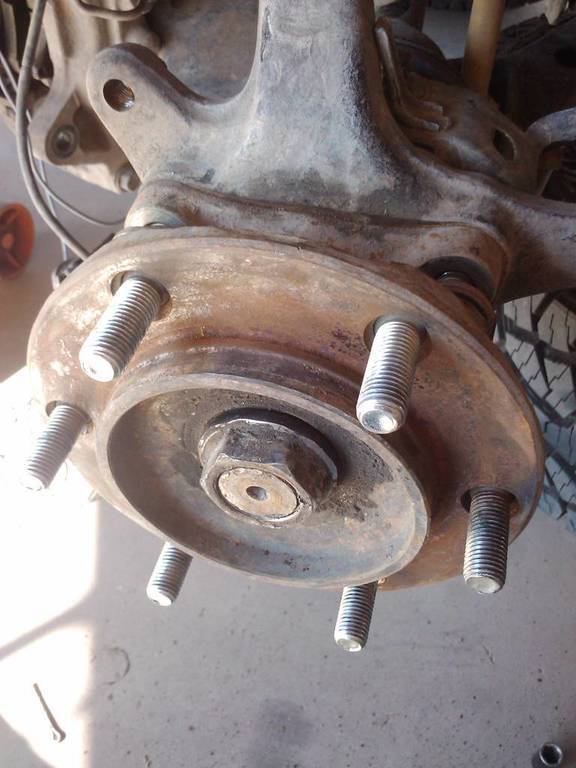 Close up of the play i had in the bearing BEFORE i took it off or loosened it, you can see here that there is *some* play but that is more than enough for dirt/water to get in there and ruin your bearing especially if you like 4wheeling like I do.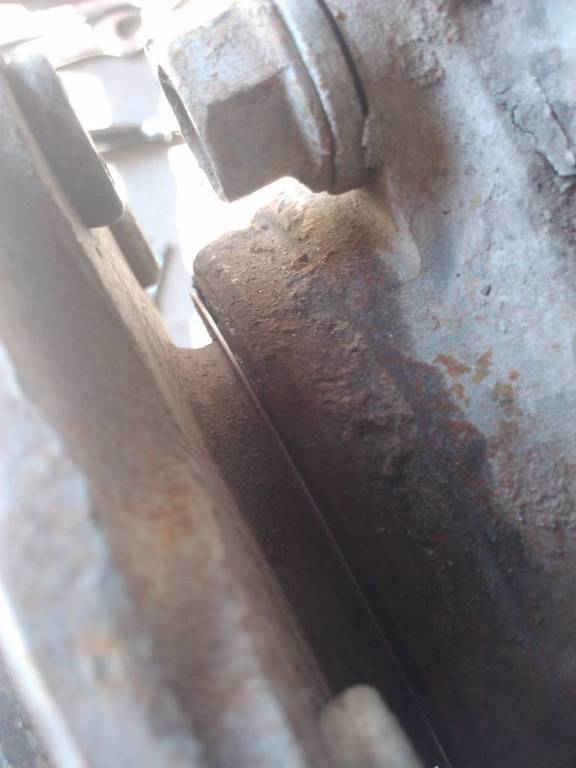 I used a big screw driver to help pry out the hub from the spindle, just be gentle and work around it a little at a time.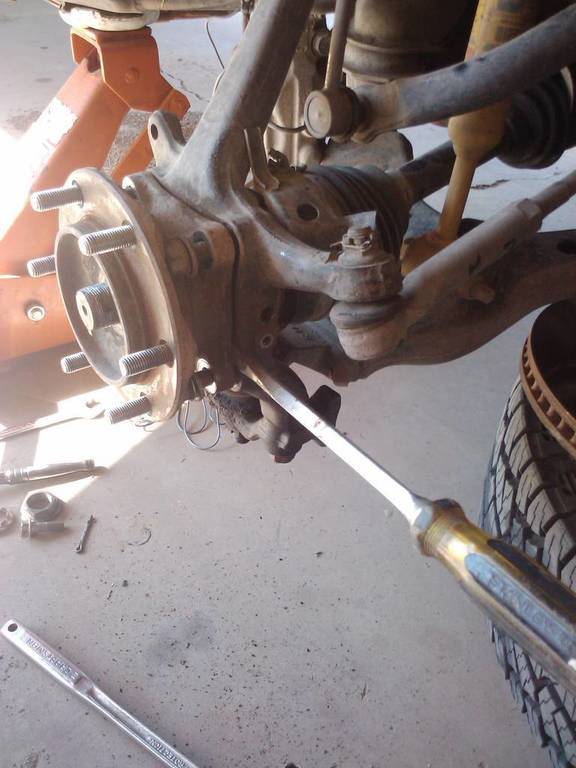 BAM! off it comes!! You kinda have to go all the way around wiggling it off, but it will come off eventually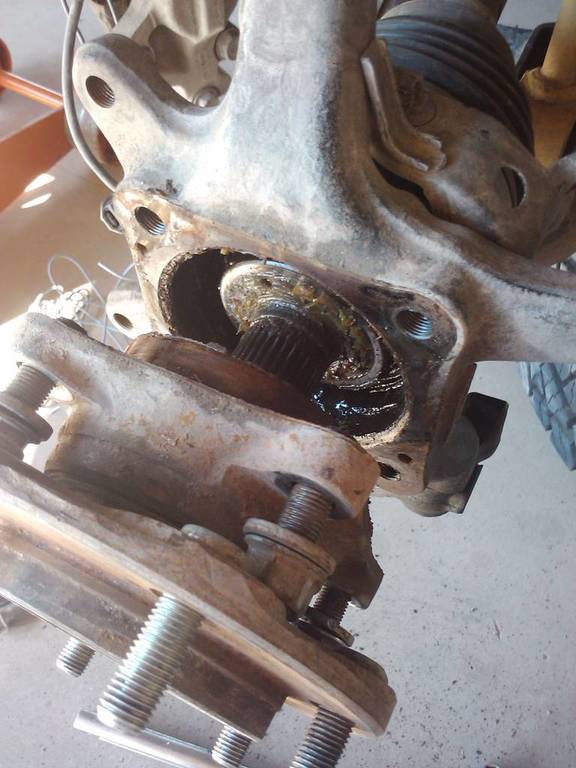 This is what you're left with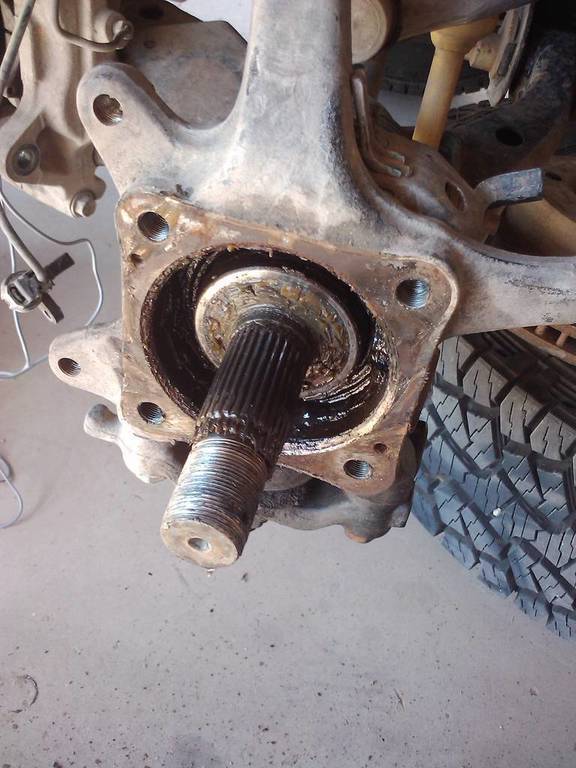 thats your bearing, which HAS to be pressed in, i haven't see a hub assemble *yet* that would make this much easier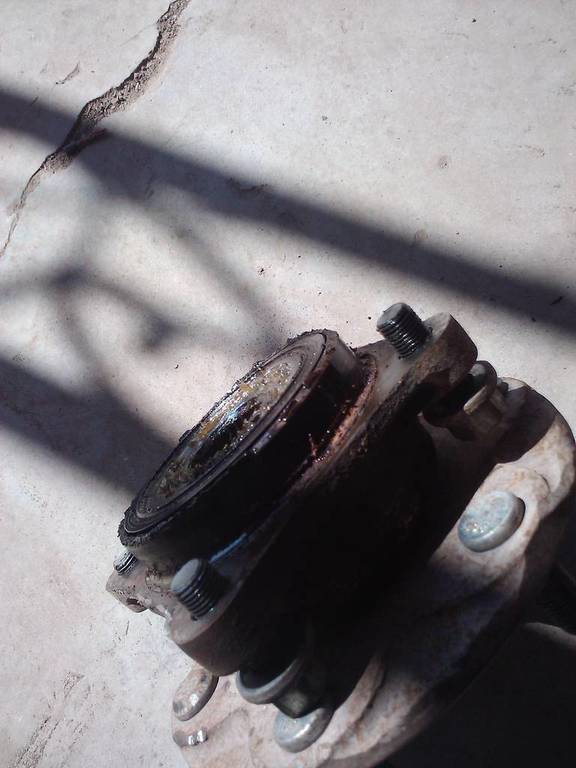 Disconnect upperball joint, tie rod end, lower shock bolt, and sway bar link. You will need to move the spindle to get the cv axle free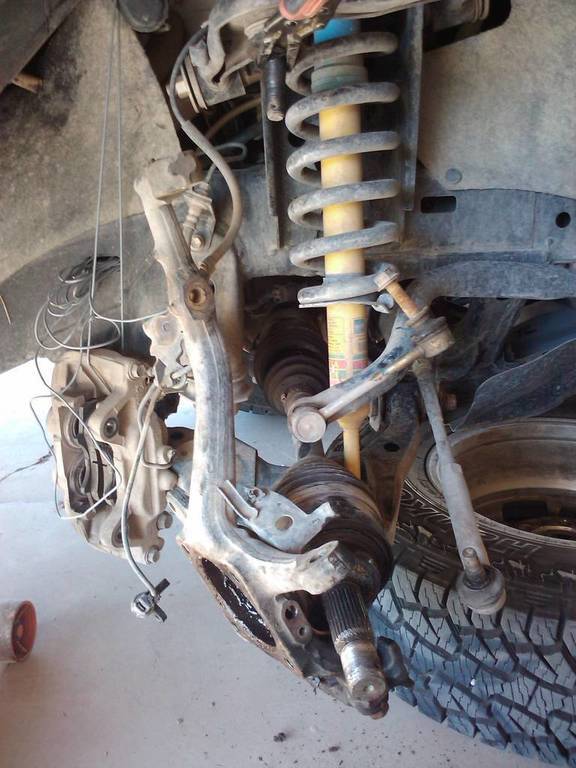 you can see my cv boot torn in the back. the cv axle was 75 bucks i believe.(autozone) It beats 80 bucks at the dealer ship to replace JUST the cv boot. its just more work. Lower ball joints are shot too which I will end up replacing LOL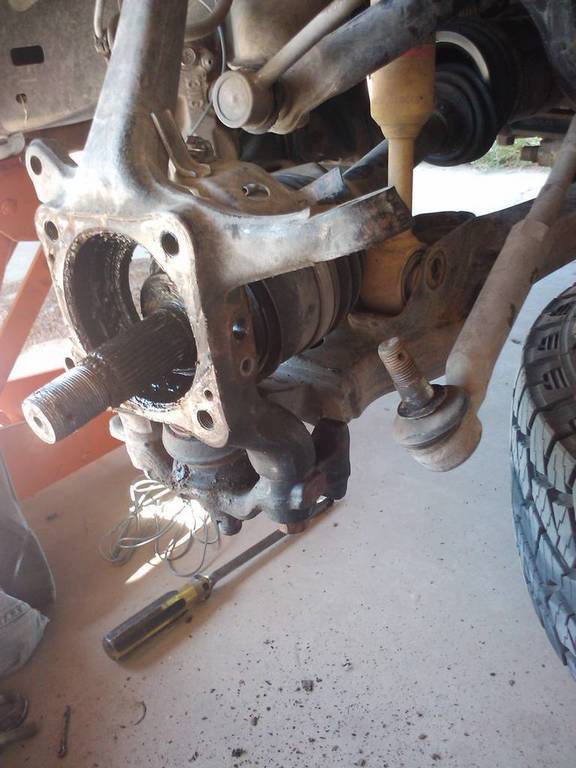 You will have to angle/wrestle the old and new cv joint in and out of the spindle, but you can do it without hurting anything.
Now to remove the CV joint, I rented the slide hammer with jaw attachments. all you need it slide hammer with ONE jaw/hook attackment and a hose clamp which you can get at Autozone as well.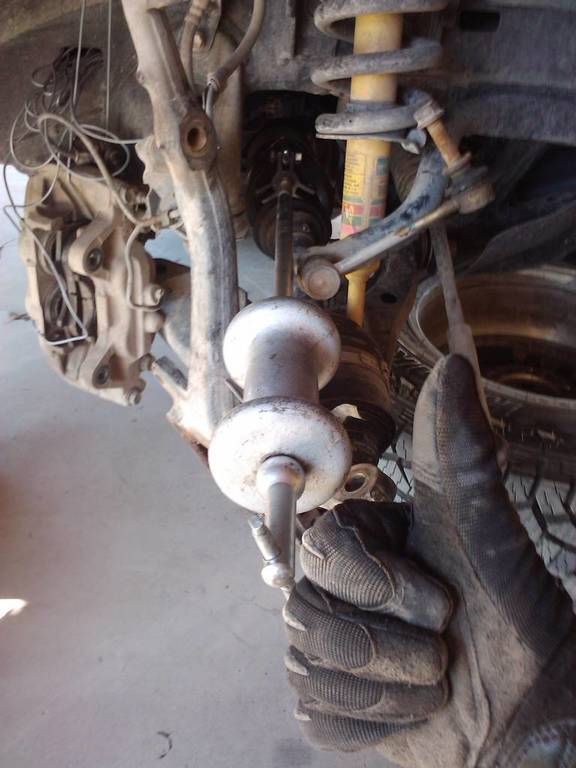 Fluids will leak out, make sure to have drain pan ready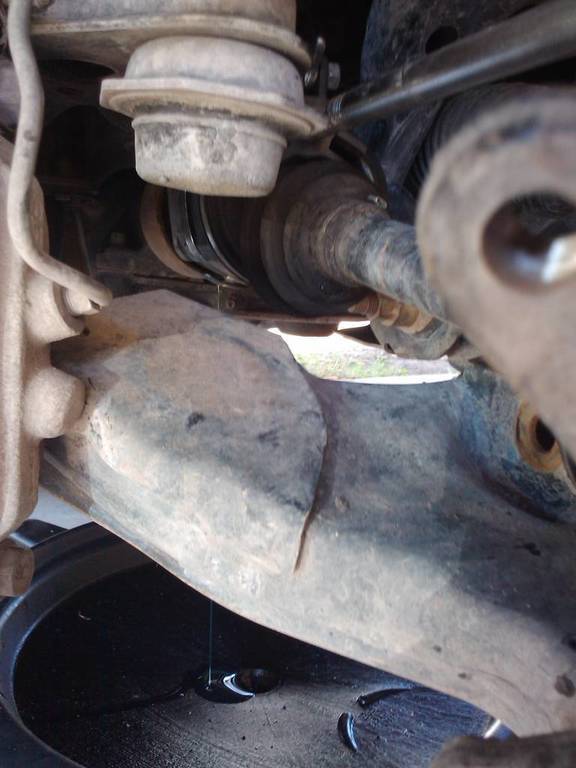 the hook attachment will hook onto the flat part on the cv axle. that's ALL you need. It comes out easy, or you can grunt your way to knock it loose with a big hammer. your choice. my way is easy.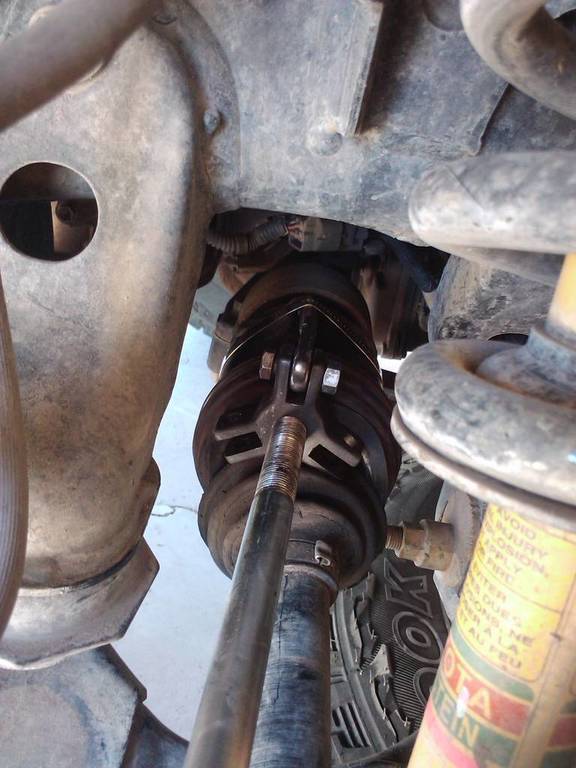 Now would be a good time to replace the seal if its shot. I didn't (stealership is 1hr away) but it didn't leak afterwards, just be sure not to jack it up with the end of the cv axle.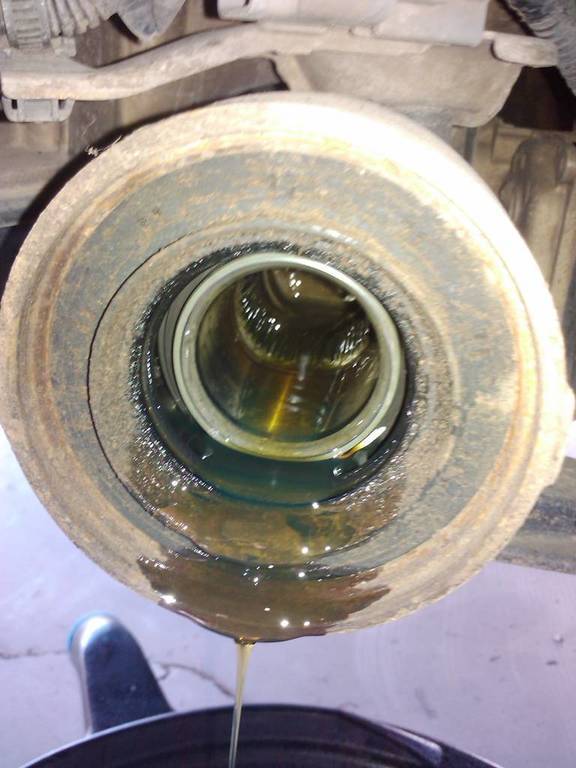 there is a seal at the end of the axle as well, i reused these also (i know i'm cheap
)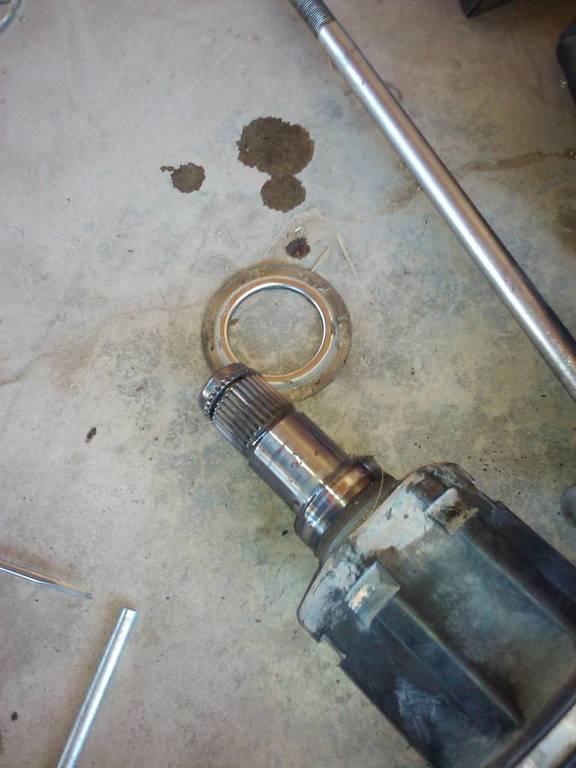 other end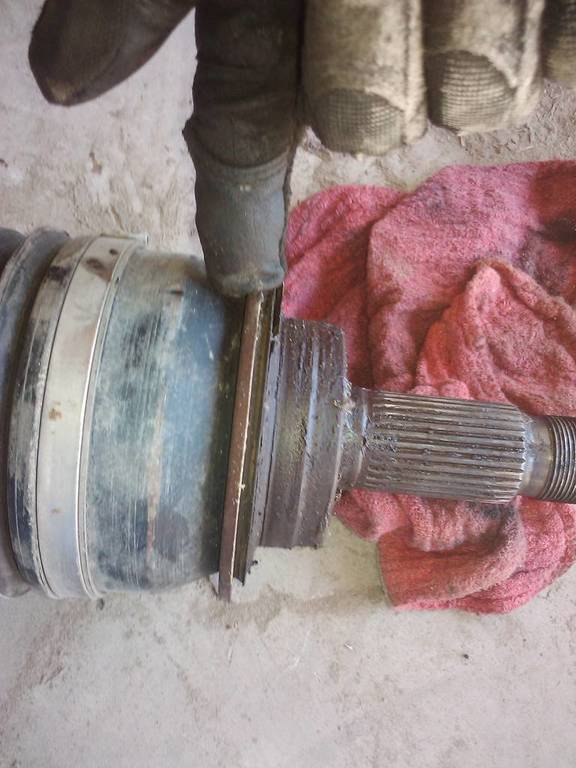 hammer of the seal lightly, it comes off easier that it goes on haha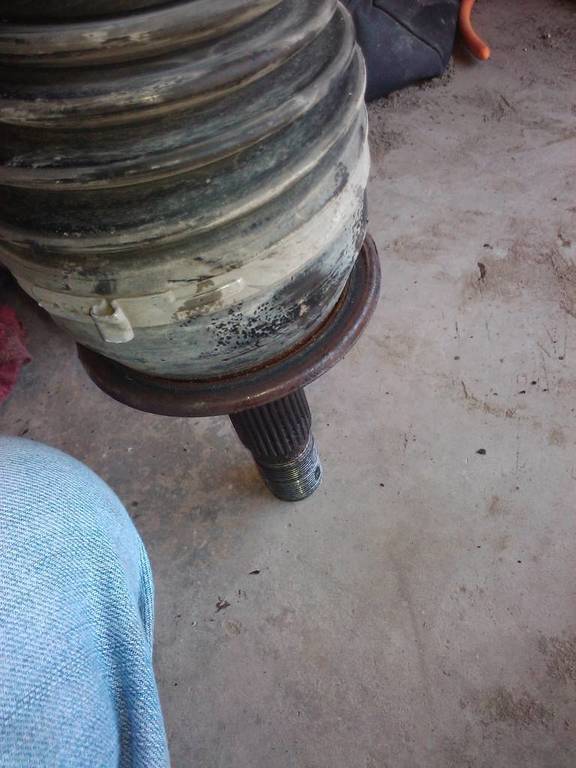 One side of the axle, the seal is huge. like i had to use 3"pvc pipe+coupling huge. the other side i used some sockets i had at work.
Drove it like this for 2+years!!!! Notice how dirty the grease is, but its a Tacoma, its not gonna break that easy!!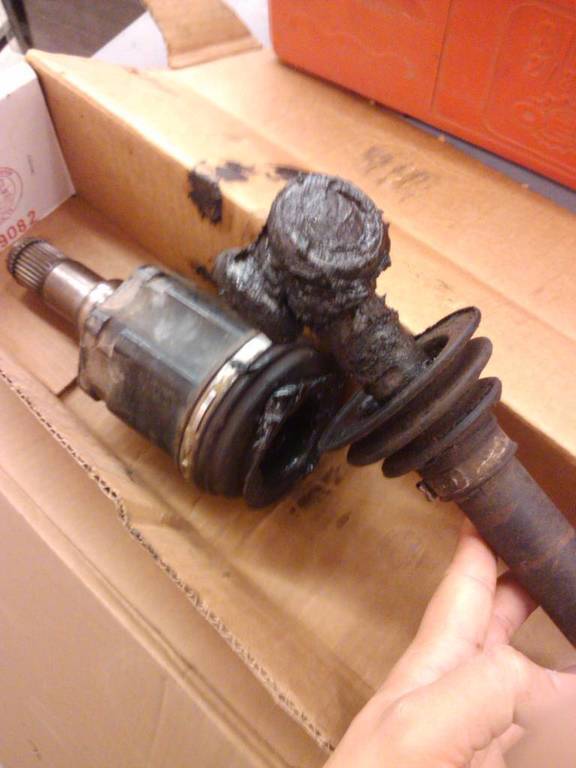 Installation is reverse of removal. Make sure to fill up your front diff, and your new bearing HAS to get pressed in. Usually machine shops can or welding shops will have a press. I costed me 30 bucks to get it pressed in which is about average. The hook method of removal will also work in putting back on the cv axle, but you'll need a second hand to center the new cv axle while another hammers that junk in haha.
slide hammer attachement kit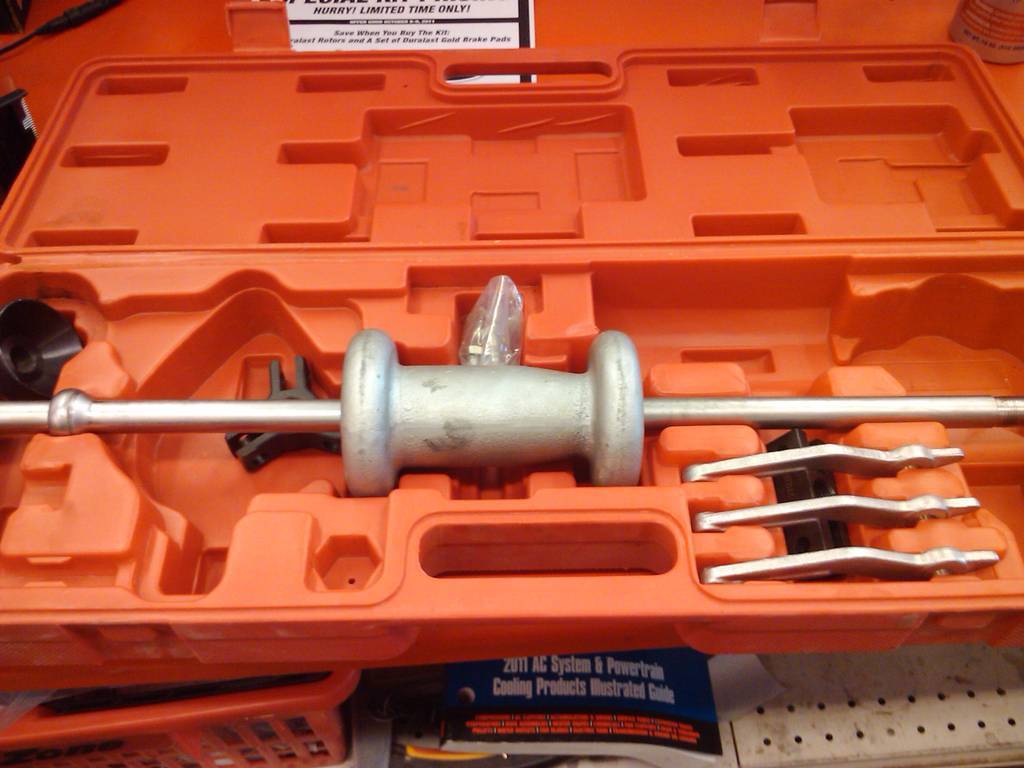 hook attachment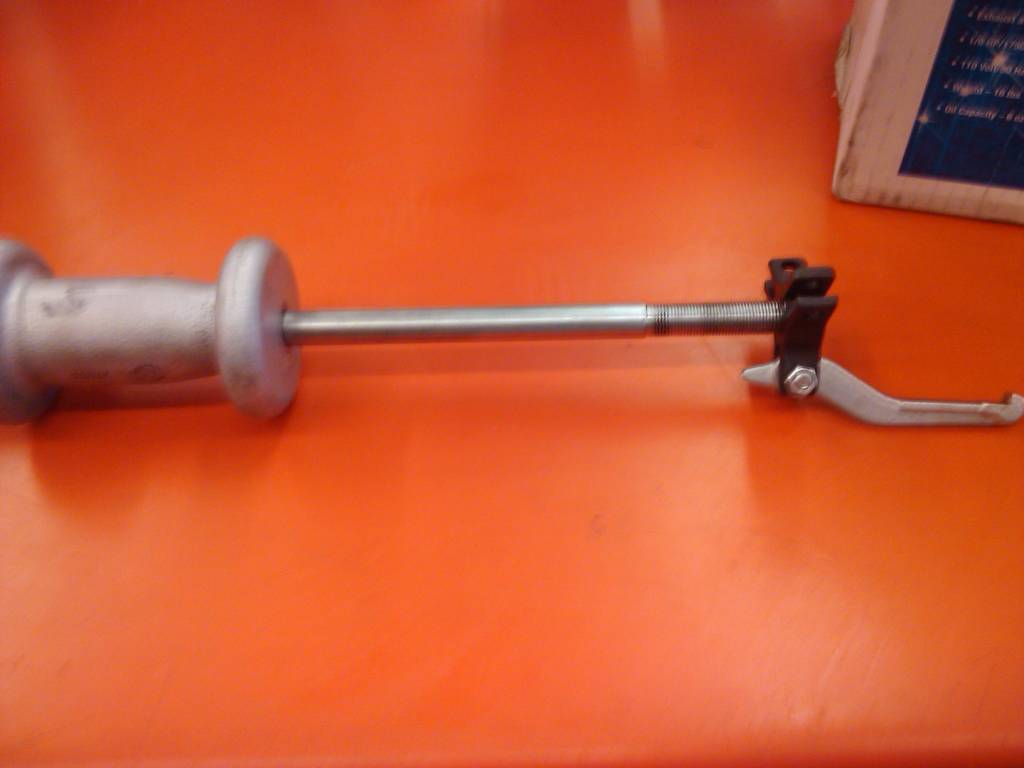 Ball join adapter for getting on ONE of the seals (its the smaller of the two)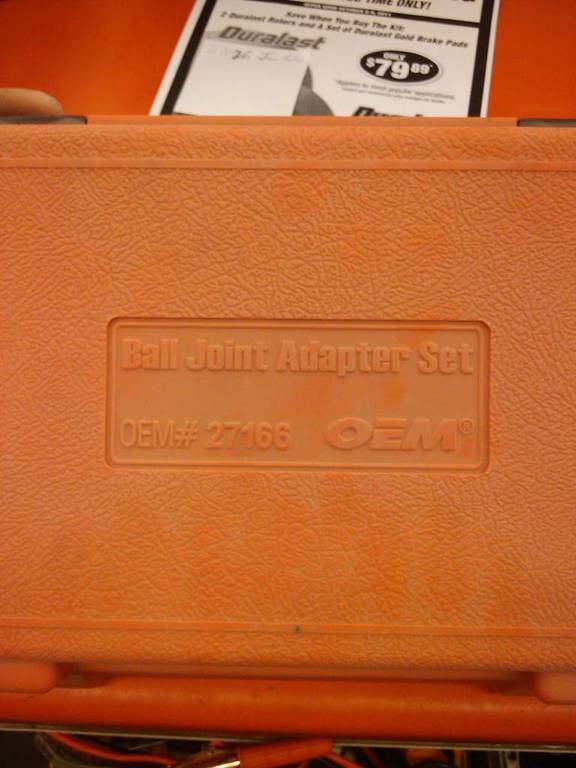 The set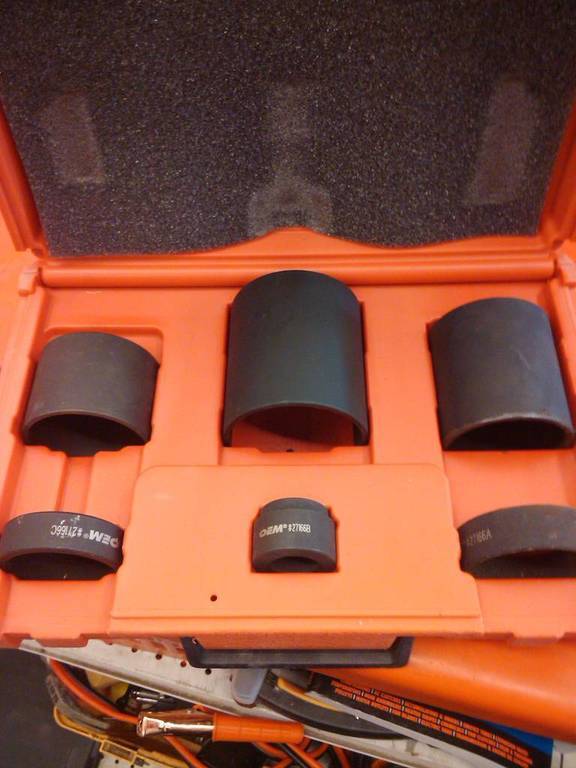 I just stacked them to make sure the cv shaft didnt hit the socket while i hammered. ANother person does help here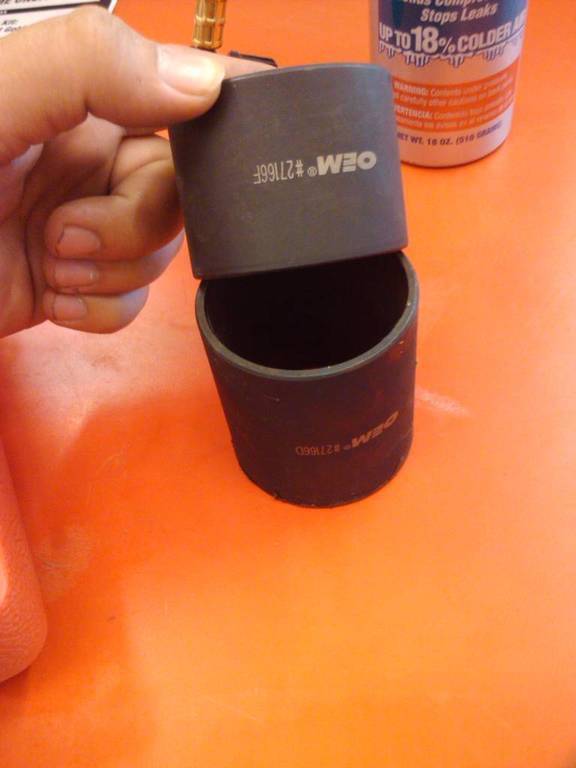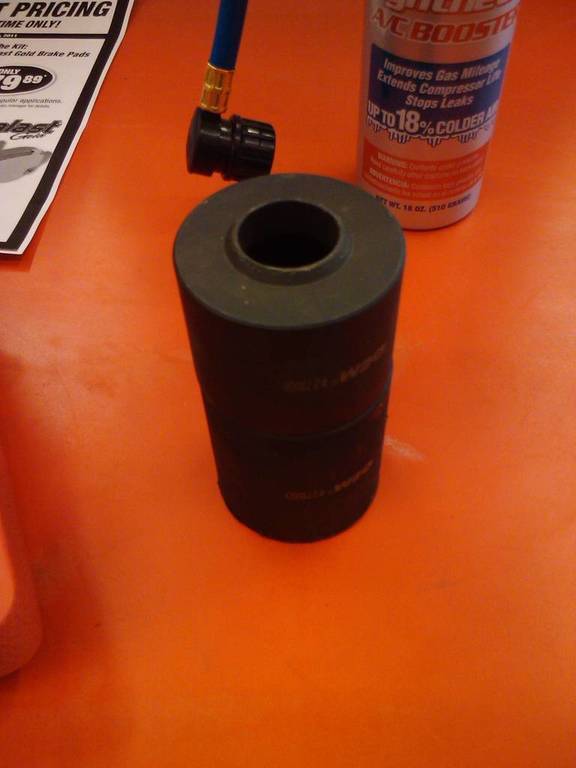 Ok i'm tired. Any questions, please feel free to ask. I know others have done it around here so i'm sure they'll pitch in ideas and whatnot. I hope this helps everyone on TW. Thanks!!!
UPDATE:
Hey guys I'm in the process of getting all the parts together for the driver's side bearing, as It seems I have to replace it already. I'm getting a groaning noise, very similar to the passenger side I replace. And it indeed WAS the pass side wheel bearing causing a groaning noise.
I Might also add that my brakes were affected as well when the pass side wheel bearing was bad. It almost felt like the pedal would travel all the way down to the floor and sometimes it wouldn't. It seems i'm having the same symptoms again, so i'm going to replace the wheel bearing on the driver side, CV axle (for good measure) needle bearing, differential seal (mine seems to be leaking/wetting diff), and all the seals that are found on the cv axle itself.
If anyone can help me with part #'s for the seals on the axle itself i would greatly appreciate it. I'm going to do some calling around to see if i can get a complete parts list of all the stuff needed to replace cv axles, bearing etc. I have a few numbers right now, but i want to be more thorough in case anyone else has problems.
Part #'s
CV axle - 665235 (cardone #) 10298(autozone)
Both sides are the same #
Needle Roller Bearing - 90364-35010 (Toyota Part #)
This is for driver side.
Wheel Bearing - B30(timken) DL515040 (Autozone)
Both sides are same part #
Differential Seal - 710419 (Timken)
This is the seal that goes on/inside the differential
Oil Seal(s) - ???
There are two on the cv axles, one closer to the differential, the other towards the outside or close to the wheel bearing. The same ones i didn't replace
I need part numbers for these.
Like i said, I just want to be more thorough. I'm not an expert, but I do my own work and I can't stop learing. If anyone can provide some insight on the oil seals I would greatly appreciate it.