DIY 2nd Gen water pump.
This write up is for information only, I take no responsibility for damages, and it is your choice to perform work on your vehicle. I purchased parts from
rockauto.com
. Please use common sense, don't work on your truck when the engine is hot.
Tools needed:
Socket extension, Ratchet , 10mm, 12mm, 14mm socket, Vise grips , Flat head, Thread lock.
Parts:
Thermostat with black housing (do not buy just the thermostat once I removed it and looked at the one they sent me it is not correct), Water pump w/ gasket (Aisin is what I used), thermostat O ring, water pump O ring, new radiator hoses (optional), hose clamps (optional).
Step 1.
Remove the Radiator top shroud.
Step 2.
Empty the radiator fluid the peacock is next to the driver side tire. Take care not to break it.
Empty the coolant in the engine, there is a drain plug on each side of the engine block.
Step 3.
Remove the top and bottom radiator hose, remove radiator hose from over fill tank.
Step 4.
Unbolt the fan from the water pump, unbolt the fan shroud, holding both lift up and out of engine compartment.
Step 5.
It is optional to remove the air box all the way to the throttle body but not required, I did not do this.
Step 6.
Remove serpentine belt.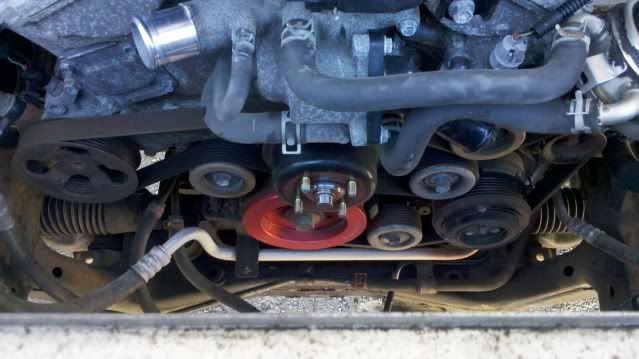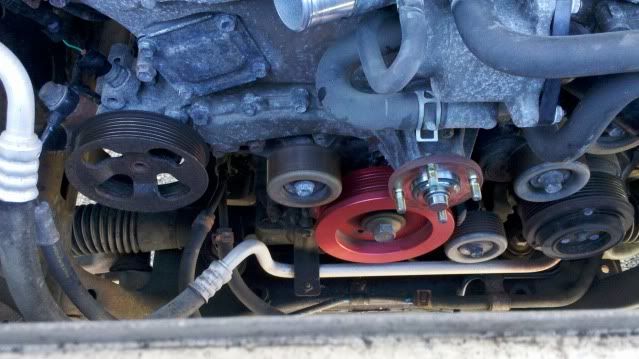 Step 7.
Unbolt water pump in a star pattern, and thermostat assembly. Look in picture of water pump. Use your hand to feel around for hidden bolts. The upper assembly where the top radiator hose attaches to has two hidden bolts, one on each side of the bottom. Also you'll need to move the belt tensioner to get to the bolt behind it. Unbolt 2 pulleys.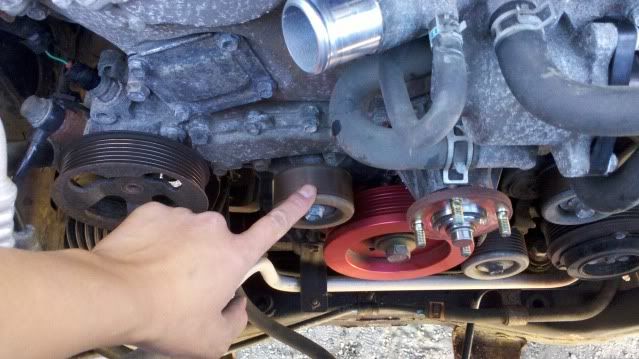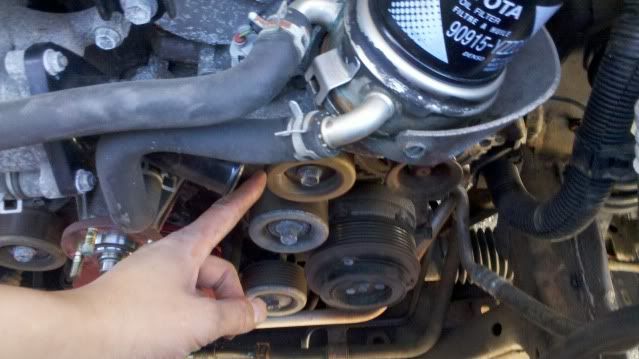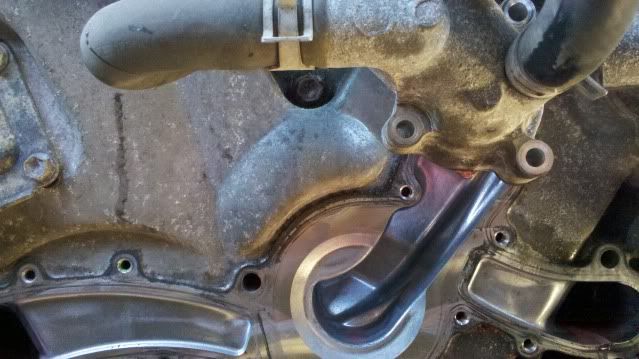 Step 8.
Place towels to catch excess coolant from water pump. Remove water pump . it's a little tricky with the upper assembly but you can manage to slide it out. Next remove water pump gasket.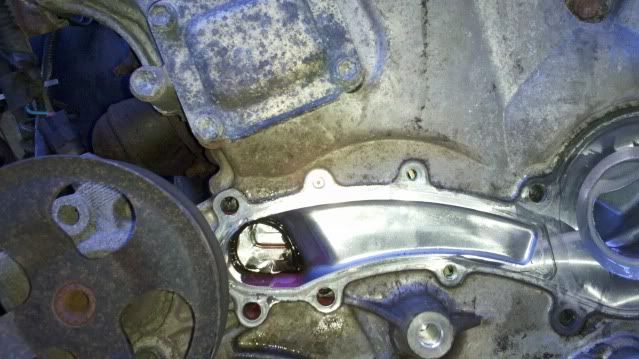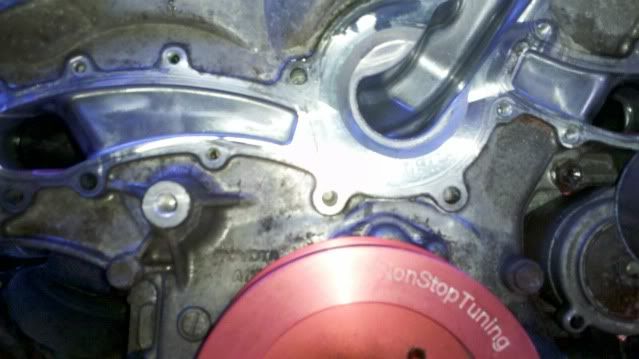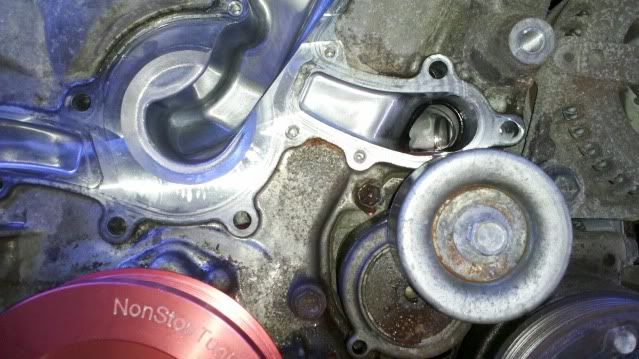 Step 9.
With new water pump add the O ring, remove old thermostat w/ housing and place in new O ring and thermostat w/ housing (you can see the black housing in pic one).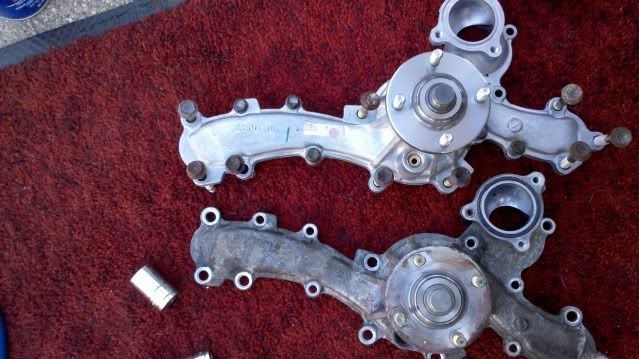 OEM water pump is made by Aisin.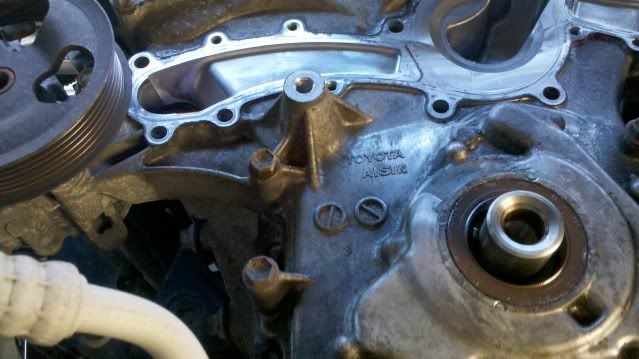 so is the block.
Step 10.
Repeat steps in reverse for installing water pump. Bolt with a little thread lock and in star pattern, Do not over torque the bolts, and it would seem like they'll keep spinning.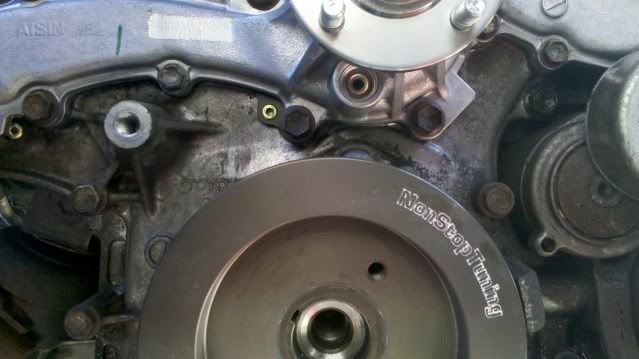 New pump new pulley's.
Step 11.
Fill radiator with Toyota super long life coolant, or whatever one is compatible. Start engine with heater on full, thermostat is at 180-185 degree's to open. Warm up, cool down, add more coolant. I.E. Burp the system. You are more than welcome to flush the radiator and engine, but my coolant was pink, clean, and non burnt smelling.