So this is the slow transformation of the Blueberry.
May 2011 Brand new from Midwest Toyota out of Hutchinson, KS. Talk about some arm twisters...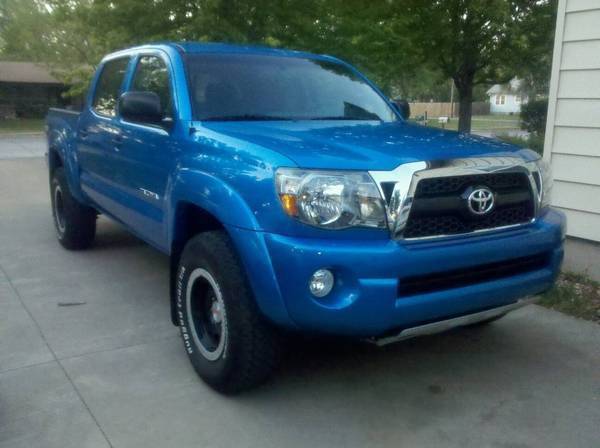 First time in the mud. Not really a build item but still a note worthy moment.
Did the following "mods": Anytime Fogs, Removed secondary filter and Tailgate hose-clamps.
Discovered Plasti-Dip and hit the radio, climate controls and shifter console.
Tried my hand at making a Satoshi grille. First one was a bit rough. Took a stab at it again with a grille purchased from tacoma07pre (thanks brotha!) and it turned out great. Stuck some HID converted Hella 700's behind it and they're held up by a BDF light bar purchased from GoDeacsWFU23 (thank you sir!)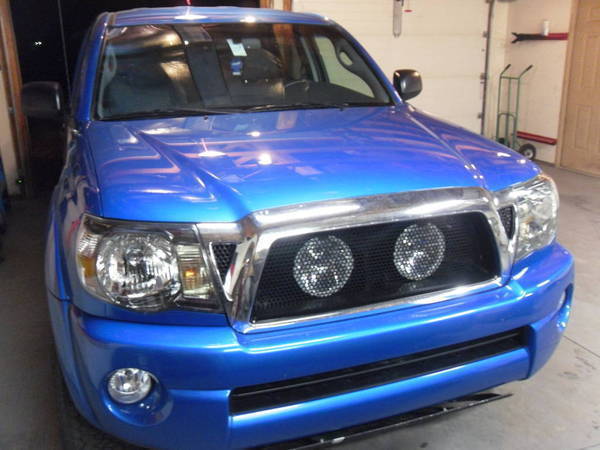 Also bolted some Hella work lights to the receiver hitch and in this crumby photo you can also make out the plasti-dipped tail light grilles purchased from Mouse (Love 'em man!).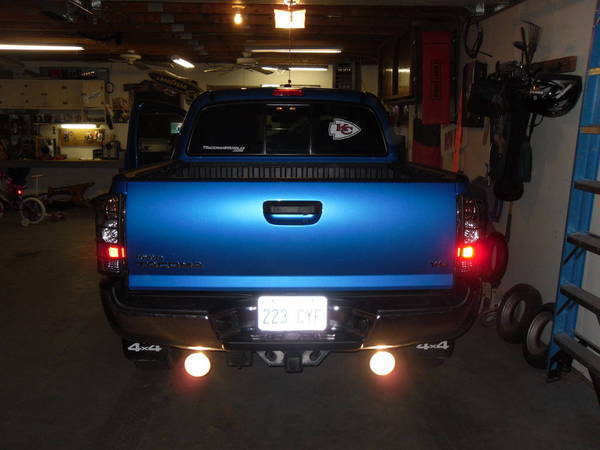 Didn't care for the original location I placed the light switches so I plugged the old holes with caps found on the net and relocated them to the shifter console. Much easier to find in the dark!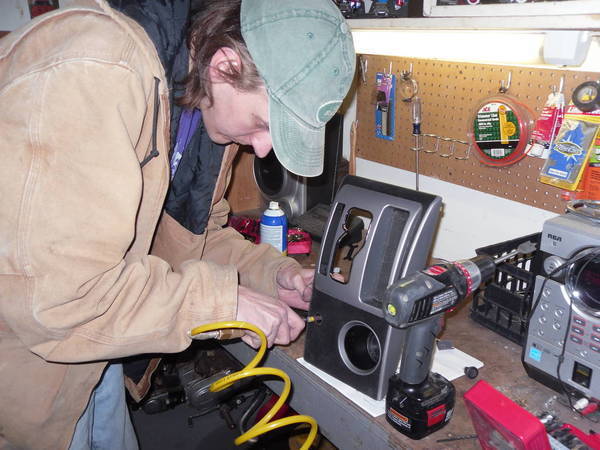 The following pics are from this weekend. My buddy Gravy and I started welding up a custom roof rack out of 1 1/4" tubing. It'll use the stock rack mounting holes. Plans set to hold four 7" lights purchased from AutoMatCentral.com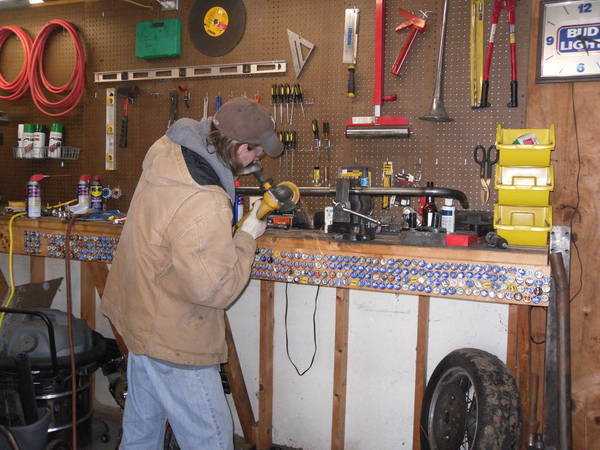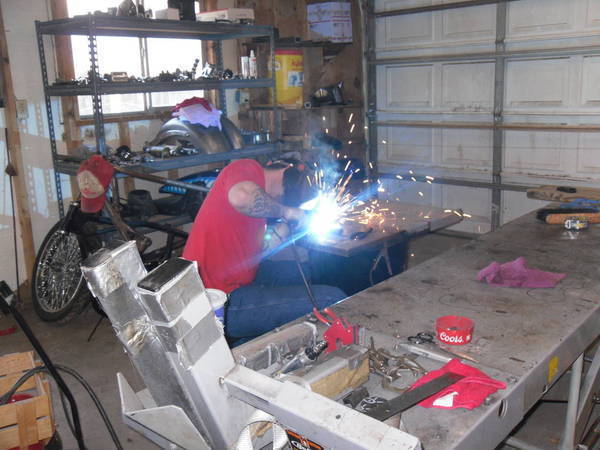 3/11 Rack Update:
A lot of progress was made on the rack today. The bottom part of the basket had the crossbars welded in place.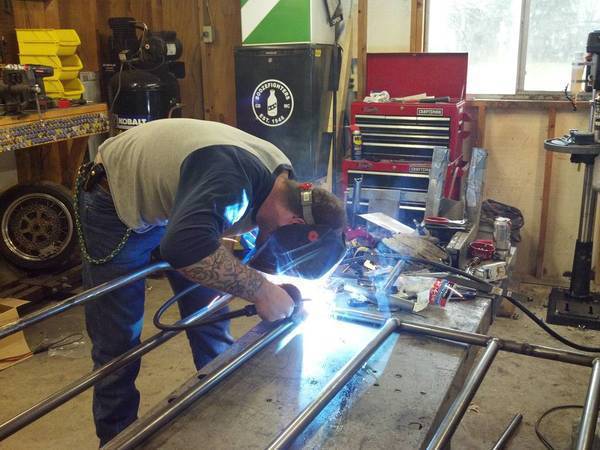 Here's Gravy all proud of his handy work.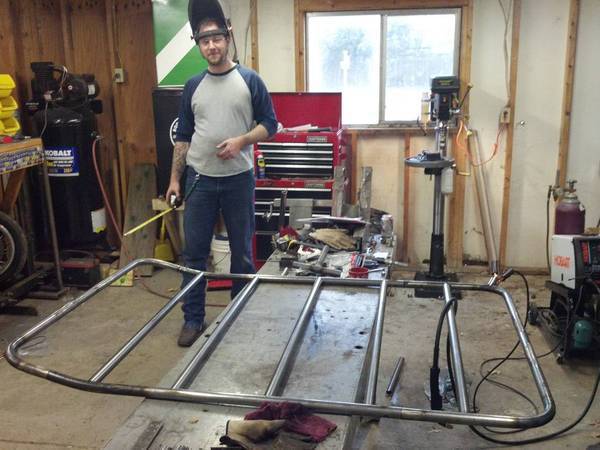 Here's the front of the rack tacked into place with a couple of brace tubes in place.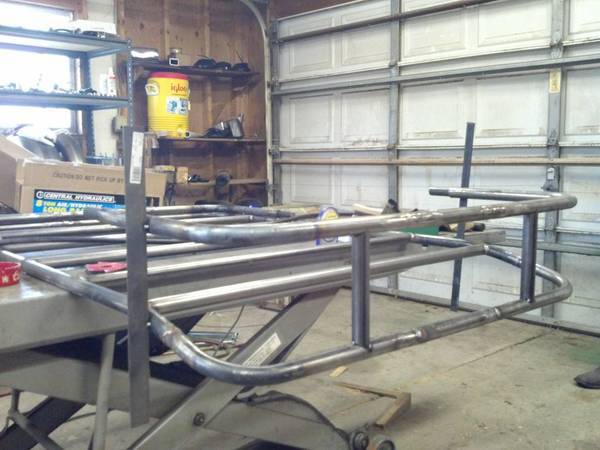 And again with the top hoop completed and the front brace tubes being welded in.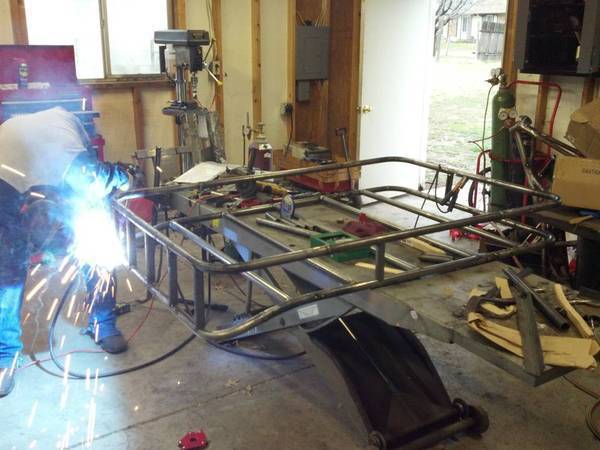 Finally, the end of the day strength test. It passed. It's getting dang close to being finished now. Can't wait to get it painted and mounted.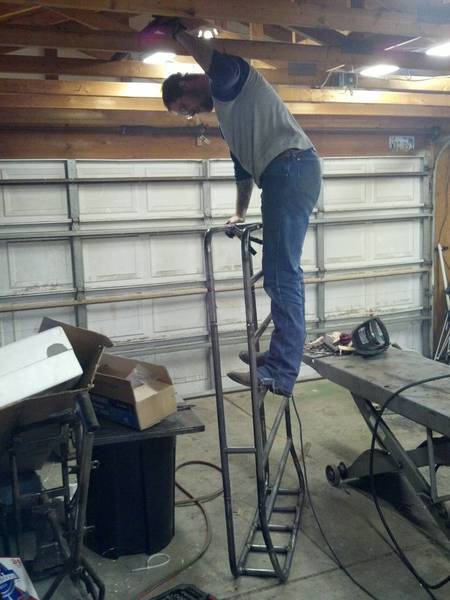 The Rain finally stopped update! 3/23/12
The rack is painted, the lights are installed and it's all finally mounted (well it has been for a few days)
Here's how it all turned out.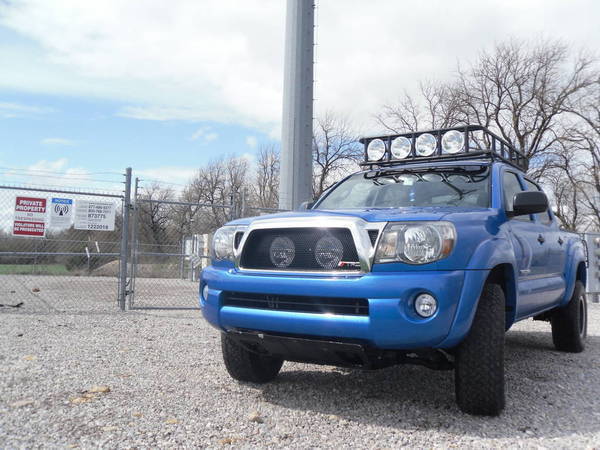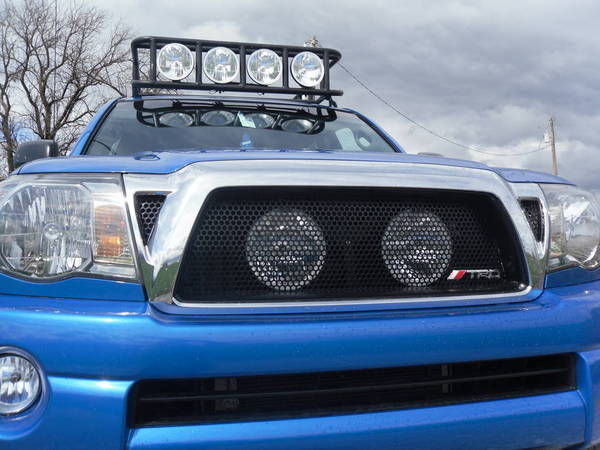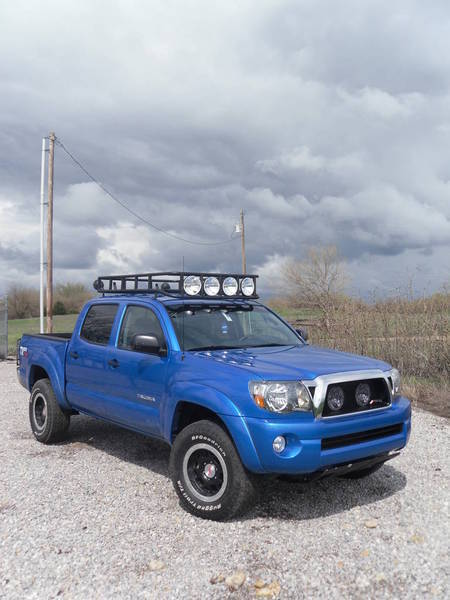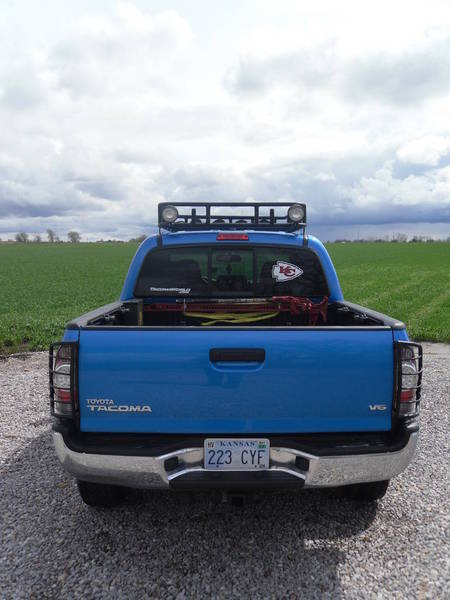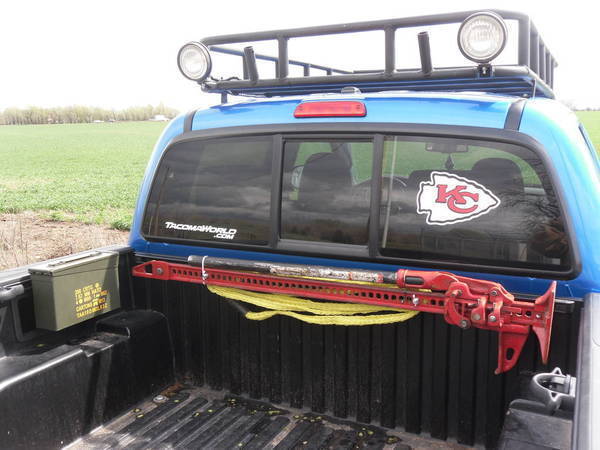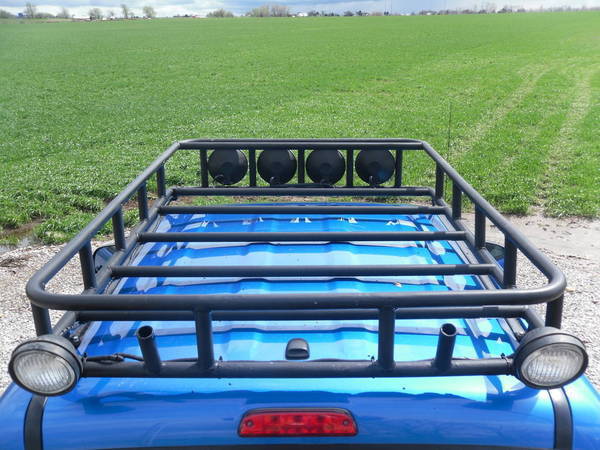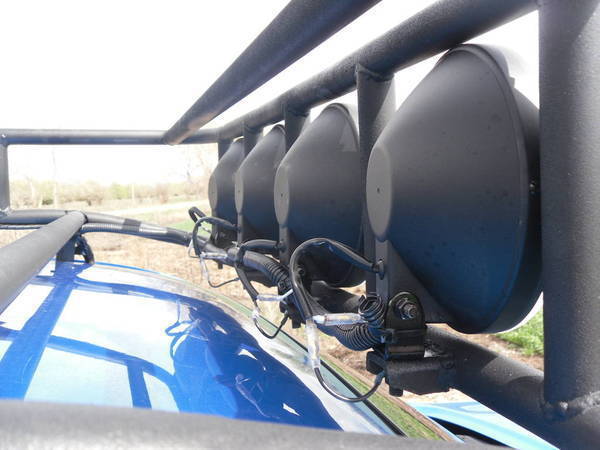 Switches for Grille, Inside Roof, Outside Roof, and Bed lights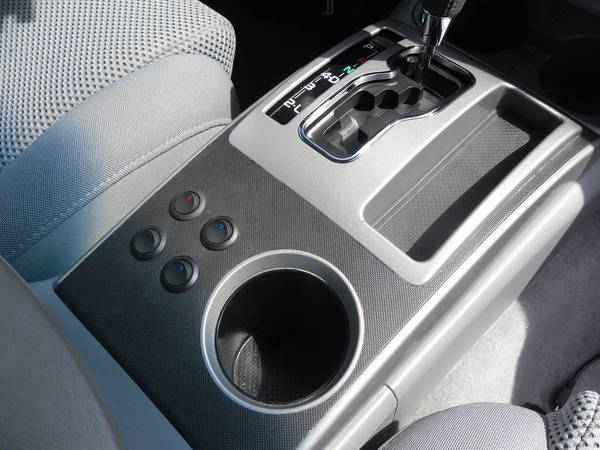 Ammo can works great for straps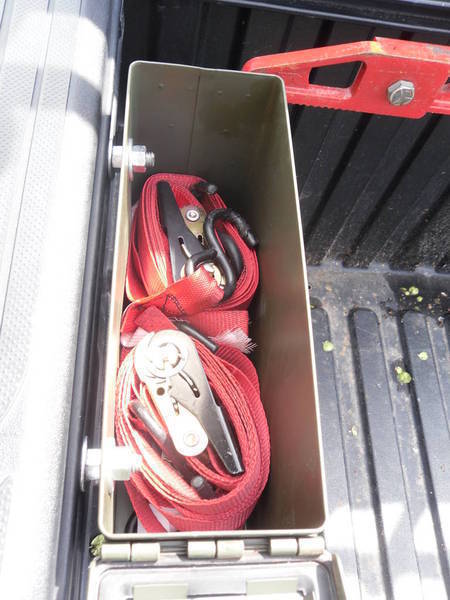 This is probably all the big stuff for now until I can get a deal on some M/T's. Once again I'd like to thank my pal Gravy for all his hard work welding this all up. He took time out of his bike project to do this for me. Without him this would still be a daydream.
Night Shots, I don't care much for the AutoMatCentral lights up top but they work for now until I can pick up some Kragens or better yet some Lightforce's.
Cereal Killer Fun Fact: The following pics and vid were taken close to where BTK used to take his Boy Scout troop camping.
Pretty bright glare off of the hood. Looking to get some glare shades down the road.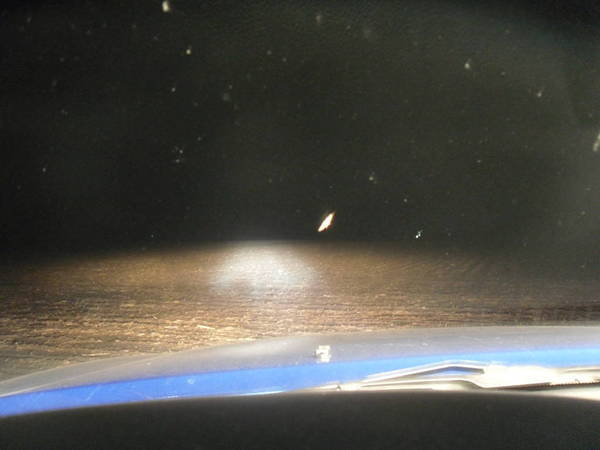 Bed Lights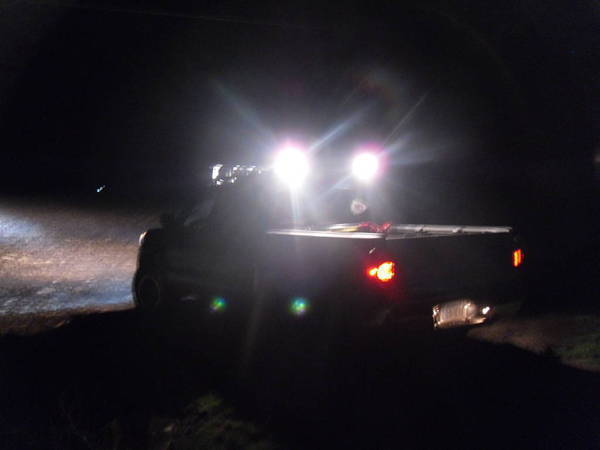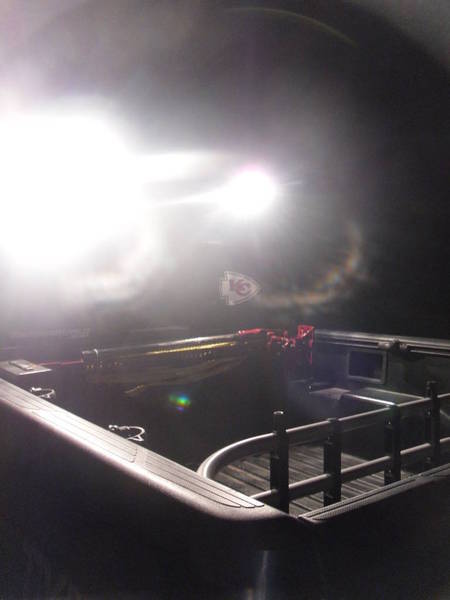 And just for good measure a silly walk around video I made just for you guys.
http://www.youtube.com/watch?v=lCVbD...fOVC9cCnSGSqo=
More adventures along the way. Thanks for stopping by.