This is an information post to descibe the drive modes and how and when to use them. If your Tacoma is not a 2009 or newer, the information may not apply as some traction controls were options on 2005-2008 Tacomas and may operate differently than the 2009 and newer Tacomas.
This information is designed to assist in using the factory installed systems and in no way is meant to imply that after-market or non-Toyota products are either good or bad.
H2= 2WD High Range, H4= 4WD High Range, L4= 4WD Low Range
VSC is Vehicle Stability Control (keeps vehicle going where intended)

TRAC in H2 is a limited slip system that regulates engine output.
AUTO LSD in H2 is a limited slip system that doesn't regulate engine output.
TRAC in H4 is a limited slip system that doesn't regulate engine output.
A-TRAC in L4 is a system that equalizes torque across the front and rear axles to keep the truck moving over severe off road surfaces or lack of surface (with only one tire of four on solid ground, A-TRAC can move the vehicle). Some slipping occurs to allow steering and adjust to the surface traction needs.
REAR LOCKING DIFFERENTIAL is available to equalize the torque across the rear axle with no slipping of the rear tires. Steering can be affected, so Toyota recommends use for emergency (stuck) situations.
UP TO NINE DRIVE MODES
1) Normal street driving: H2 TRAC ON and VSC is on.
2) Slippery conditions, to get moving from a stuck: H2 AUTO LSD ON (VSC is off under 30 mph). Press VSC button once while moving or stopped.
3) Spinning tires prefered: H2 VSC OFF/ TRAC OFF. Press and hold down VSC button 3+ seconds, while stopped.
4) Loose dirt, sand, snow: H4 TRAC ON and VSC is on.
5) Spinning tires prefered, off pavement: H4 VSC OFF/ TRAC OFF. Press and hold down VSC button 3+ seconds, while stopped.
6) Spinning tires prefered with low gearing torque: L4 (with A-TRAC off)
7) Steep grades, large rocks, deep mud, severe traction conditions: L4 with A-TRAC ON. Press A-TRAC button once.
8) Spinning tires in front only: L4 with REAR DIFFERENTIAL LOCKED.
9) L4 REAR LOCKED and A-TRAC ON. A-TRAC comes on automatically when speed drops to under 3 mph to provide front traction to get you going, again.
ALL Tacomas have 1-3. ALL 4WD Tacomas have 1-6. ONLY 4WD OFF ROAD TRD Tacomas have 1-9.
USING THE VSC BUTTON (SWITCH) CHART: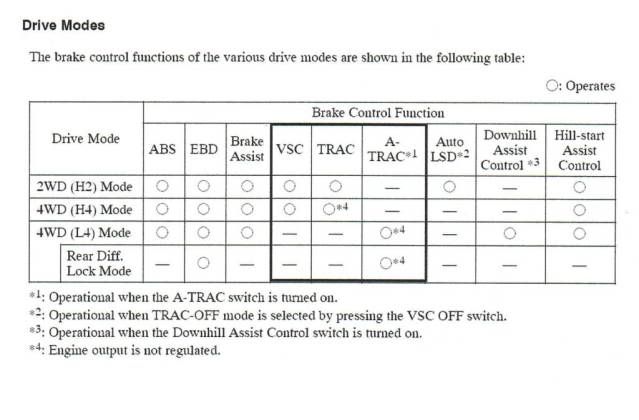 H2:
TRANSFER CASE CONTROL
SWITCHES (BUTTONS)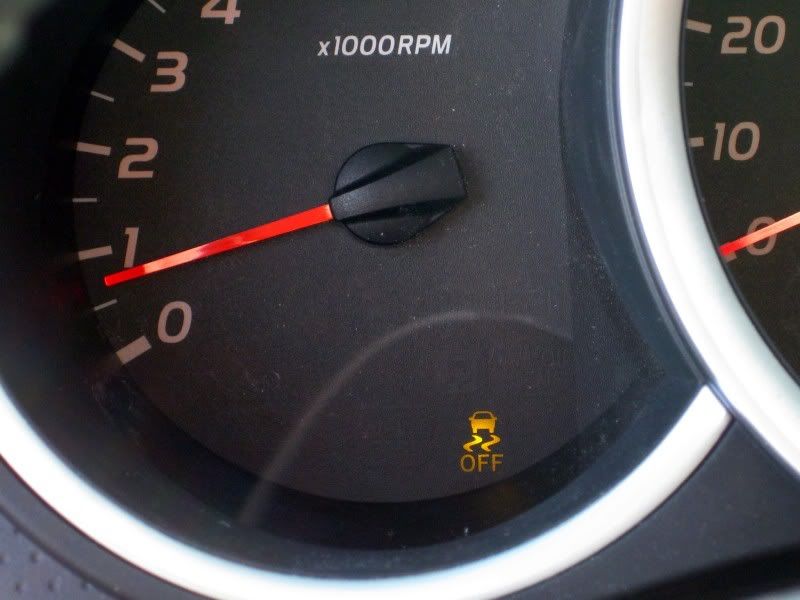 VSC OFF (Push and hold down 3-5 seconds of VSC OFF button, while stopped)
AUTO LSD ON (Push the VSC button once. VSC is off to 30 mph)
H4: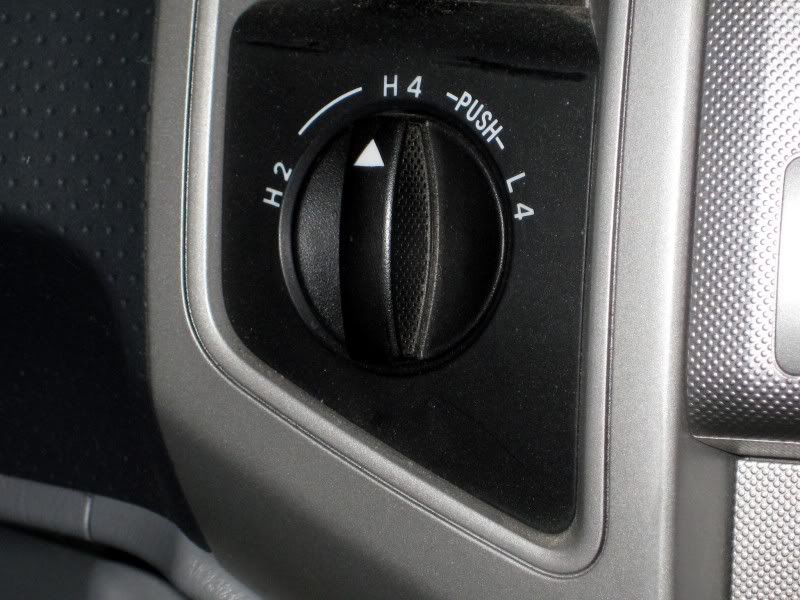 L4: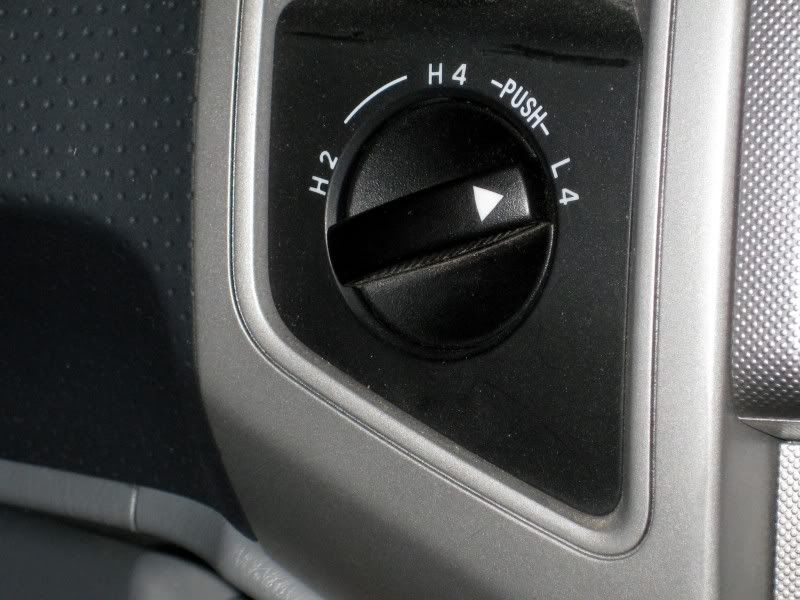 Push the A-TRAC button once while in L4. Push again only to turn off A-TRAC.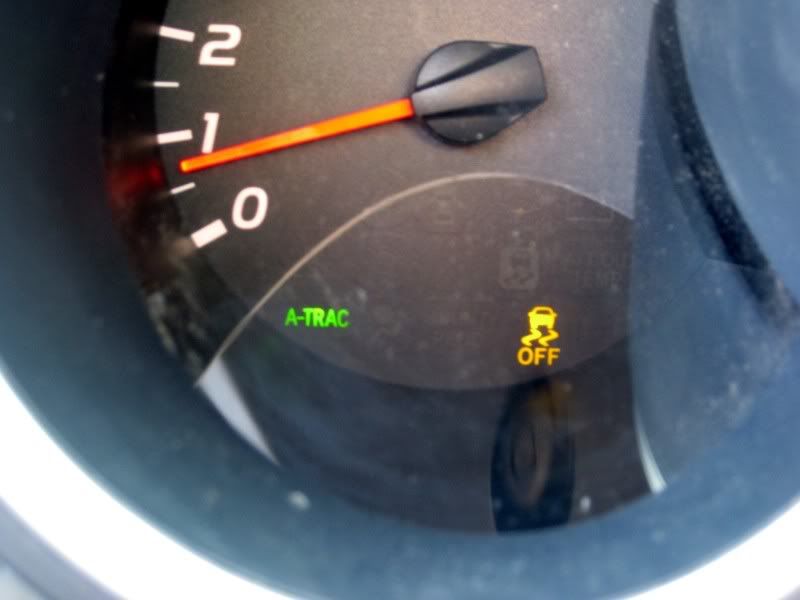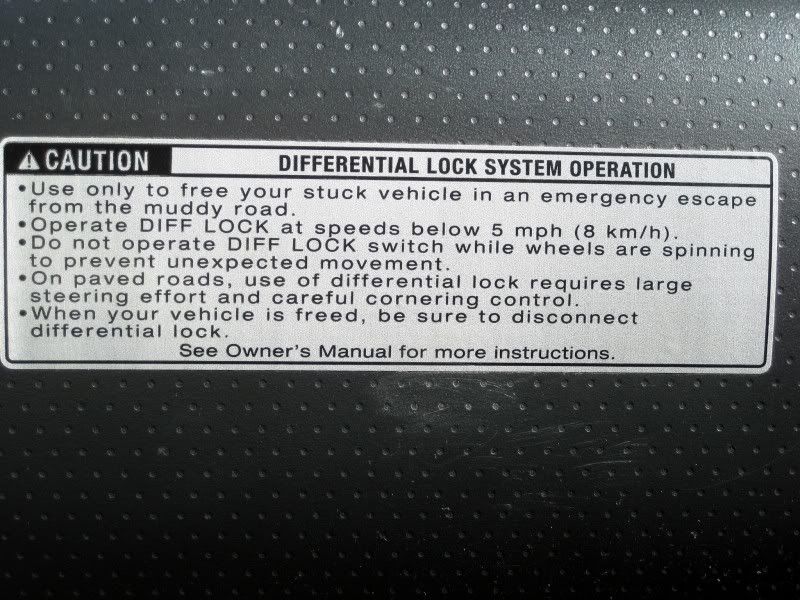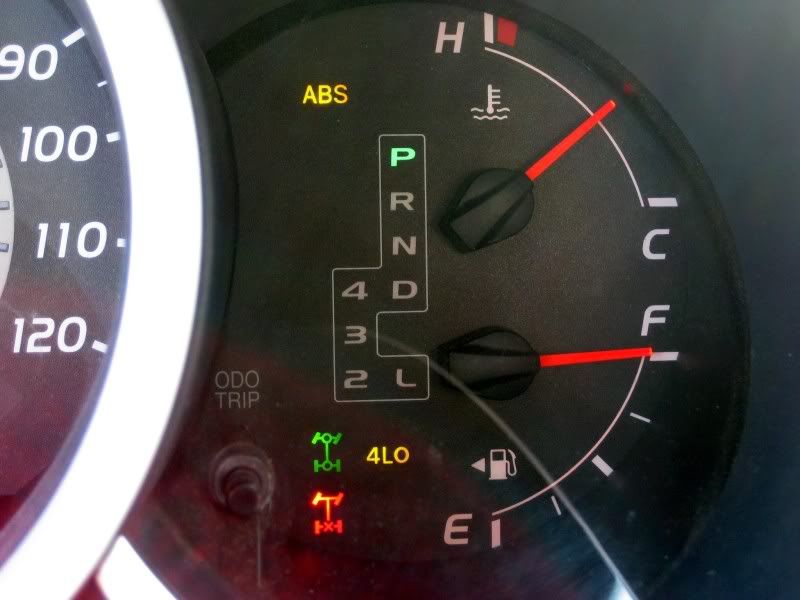 Rear Locked (X as in no differential action on the rear)
*In nearly all cases, the standard mode in H2 and H4 will work the best for typical driving in those 2WD and 4WD conditions.
*If 2WD only, you have difficulty getting started because of snow, steep boat ramp or ice, try AUTO LSD. 2WD OFF ROAD TRD Tacomas have a rear locking differential which will provide more traction.
*4WD High, the normal mode is TRAC (but is like AUTO LSD in that no engine output regulation occurs for a strong limited slip for off road conditions).
*4WD Low, I recommend those with the Off Road TRD package to press A-TRAC for the most traction control. All other 4WD Tacomas may find H4 TRAC will out-climb L4 (without any traction control)... That was my findings.
BGrutter created this nice chart:
With so many new Tacoma World memebers here every day, a need for a clear guide to the traction systems was in order. The post I started soon after getting my truck (on A-TRAC and the other modes), is 29 pages long and so many replies are off topic, I hope we can have a fresh start without the conflicts of the past.
Again, this is only about the Toyota factory equipped systems.
Thank you all very much!