I had a similar issue with mine, turns out I've heard of quite a few others having the same issue. It's most likely the Connector piece itself that plugs into the MAF sensor, not the actual MAF sensor. If you have a code reader then there is a way to test this theory too.
Grip the wires and jiggle them whilst pushing into the connector piece. You should be able to get a solid enough connection that you can clear the code, and re-read them and it wont be there. This is a temp solution, usually you can drive around 2ish days before driving vibrations slowly wiggle the wires out again.
Forgot to mention, whilst vehicle is running do the jiggling.
If you have a way to read live data (Torque App for Androids for example) You can watch the voltage reading from the MAF sensor change as your jiggling the wiring too.
Only way to fix this if this is your issue is to get a new connector piece and solder and heat shrink it into the main wiring. Thats what I had to do.
Here's the excerpt from my Build thread involving this issue:
Quote:
About an hour after the 3rd belt blew, my Check engine light came on. Using torque app (seriously, that things worth it's weight in gold, get it) I discovered these codes.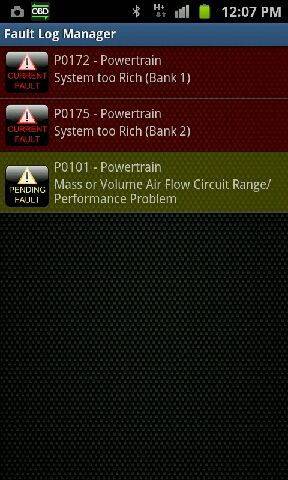 After interweb research and with 82,ooo km's on my truck, I figured my MAF sensor must have coincidently gone. Replaced that at the cost of 306$ from Toyota
. Only to discover that while my belt whipped around is smashed my wiring for the MAF wire extention due to my URD TCAI. I ran rich as a pig just EATING fuel the rest of that road trip till I got home and one of the X-ru.com guys sent me his spare MAF connector piece + wiring for just the price of shipping. LOVE online forum communities.


May 13th, 2012:

Finally warm enough to get the new MAF wiring soldered in place.. only took till May.. thanks Canada!! Prepped most of the job that I could do indoors to save time. Then went outside to finish the job.