Welp, this has been on my list for some time, and I have hadall the parts, just never got off my butt to do it, so, finally a few weeksago, I decided to. Mainly this is to protect me from getting stuck alone out inthe middle of nowhere as I go out exploring by myself often, and always need tobe back to work on Monday. One of the reasons I got a manual transmission wasso I could push start it if I lose a batt, however, considering how much of afat pig my truck is these days, that would be basically impossible alone, sothis is the best option. This also allows me to connect both batteries whenwinching, or running my air compressor for a long time.
Also, with my flippac on the way (with Engel fridge), Ifigure now is a great time to have extra juice around. So, what did I need?
- Dual Battery Tray: I got the Columbia Overland onefor cheap from a friend
- Two Batteries: Luckily I was already running aDie Hard Plat. Group 35, for the second, I opted for a group 25, which is theexact same battery just with terminal backwards. This allows me to connect twobatteries without have to cross them in an "X"
- Some form of isolator, whether just a mechanicalswitch, or a full blown smart setup like the National Luna. I opted for theBlue Sea 7622. This is a marine grade (always good) automatic charging system.This will automatically connect the batteries 30 sec after starting (this protectshouse battery from voltage spikes during start), then it will automaticallydisconnect them (isolate) when you shut off. In addition, it has a manualswitch on the unit (See yellow knob below), to Connect, Disconnect, or set toauto as well as wiring and a switch for in cab operation (again, it is fully automaticthough, the manual override switches are just when you manually want to dothings). The thing that really sold me on this unit is that it is rated for 500A continuous…that is HUGE (National Luna is like 250A I think). I like this asa HEAVY winch pull can run VERY high amps, and if I am running with battsconnected, current is going through the blue sea, so I want it rated for morethan the max current it can see.
- Lots of wire: I chose 3 gage stinger oval wire.This is more of a stereo shop wire, but I like it because it is very good atholding current and very flexible. It is high quality wire.
Ok without further ado, the write-up:
First off I warn anyone using Die Hard Plat batteries I usedand the Columbia overland tray, they DO NOT FIT WITHOUT MODIFICTION!
First thing was to modify the batteries. The Die Hards havea lip on the bottom of them that make them just a wee bit too wide, so thisneeds to be taken off. You can see in the pic below it was cut off (A dremel, apocket knife, and about 15 mins for both batteries).
Next was to modify the truck. The only interference I hadwas the foot of the fuse block mount. I simply cut it off (leaving enough meatfor the original bolt to still serve a purpose)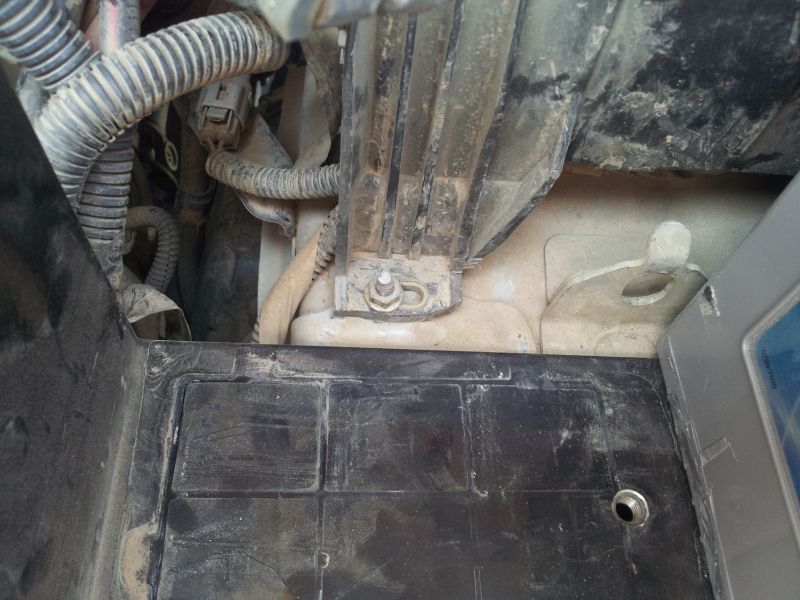 Next was to drop both batts in (notice the Die Hard 25 and35 have the terminal right next to each other..very nice):
Then came time to mount the blue sea. You want it as closeto the batteries as possible as the automatic functions operate off detectingvoltage, so if you have it far away, there is voltage losses in the wires thatmay mess with the auto function. I mounted mine right to the lid of the fuseblock:
Mounting the battery hold down plate thingy majig took a bitof creativity. There was probably a better way to do this, but my way works sowhatever haha. Columbia Overland supplies one long threated rod, which I used forthe front of the batt tray, however the rear, I used the stock batt tray hook. Unfortunatelyit is too tall for the application, so after some measuring (eye balling), I cut it shorter and bent a new hook in the bottom. That hook then hooks into the hole in the tabseen in the pic above where I showed the fuse block foot.
After that it's just a matter of tightening everything down,and Wiring it all up…Viola
FYI, if you need to crimp 2 gage wire,. The crimper isSTUPID expensive, however I discovered that at
west marine
, they have a "do ityourself" bench, that has a crimper..simply buy the fittings (ring terminals,etc) there, and use their crimper.