First off I'd like to offer a very big "Thank You" to those that contributed their advice, time, information, and criticisms in helping me to plan, execute, and complete my first vehicle wiring/lighting project. You know who you guys are and I'm very grateful for your patience and help. I learned a shit-ton and really enjoyed completing this mod.
My final product turned out exactly how I wanted and I sincerely hope that my efforts in posting this write-up, along with all the other folks that have done this project, aid in helping others to complete their versions as well.
Please be warned, this is a long post with 30+ pic's.
So I started off with developing a plan and a parts list. All fairly standard stuff. (Pm with any questions)
Basics for this project include:
1. Used a double-lighted LED "bed light" switch from
http://www.otrattw.com/products.php?cat=34&pg=2
Edit: Added information on ordering these custom switches at the end of this write up
2. Wire Taps appropriate for the gauge wire used
3. Primary Wire (Red, Black) I bought a 25' roll of each and had some left over even after making the run from the front to back of a long bed
4. An electrical wiring kit including butt connectors, ring terminals, etc.
5. Heat shrinking appropriate to the size of wire and connectors
6. Wire Loom to protect the wires run outside of the vehicle
7. Wire ties and electrical tape to secure the wire loom
8. Add-A-Fuse with 2 appropriately rated fuses
9. 1/4" female connectors as per recommended by
otrattw
for this switch.
10. Rubber grommets used on the holes drilled externally to route wire/wire loom through so they didn't get damaged.
11. 16.4' (500m) LED Strip Lighting purchased from
Amazon
and/or
Ebay
. Picked mine up off Ebay for around $12. Waterproof version.
12. Voltmeter/multimeter
13. Drill with 3/4"drill bit and a dremmel tool
14. Plenty of coffee and beer!!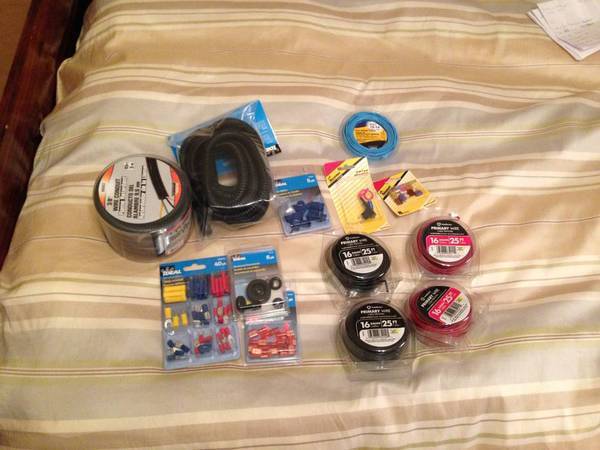 These were my quick reference project calculations and notes I drew up for access in the garage during the project. On the top I ran the basic calc's to verify the low Led draw and what size wiring, etc. I would need. On the bottom is my rough overall project diagram including the input power sources, then the 5-point switch, and finally the led lights in the bed: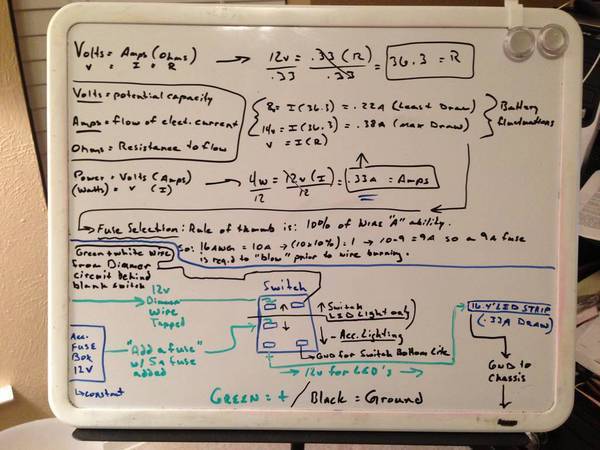 Testing the length of primary wire run I'd need from the front in cab fuse panel/and switch to the rear of the long bed where I'd hook up the light strip: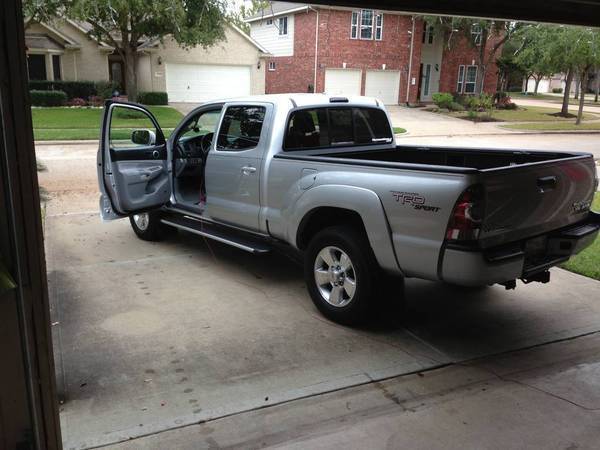 As some of you already know, this was the only factory blank switch I had preexisting in the cab. I got lucky and found this harness attached to the back of the blank which included the whole "dimmer" circuit I needed for the top half of my lighted in cab switch. Tapped into the two farthest to the right. Solid green is 12v with key in Ign and lights set to "on". The green/white is the common ground. Tapped both of these and ran directly to the back of the upper switch. (see previous diagram):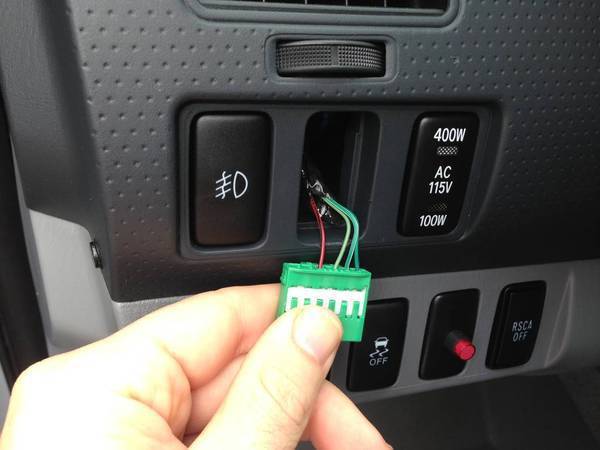 I was originally going to run off the battery-side fuse panel with an add-a-fuse and run the wire through the firewall (which I did here in the picture; notice the wire loom heading into the firewall) but didn't like the uncleanliness of a wire hanging out of the fuse box and not being able to close the lid completely. So I ripped it out after practicing this setup for the first time and reconfigured the same setup from the interior fuse panel instead for a much cleaner configuration: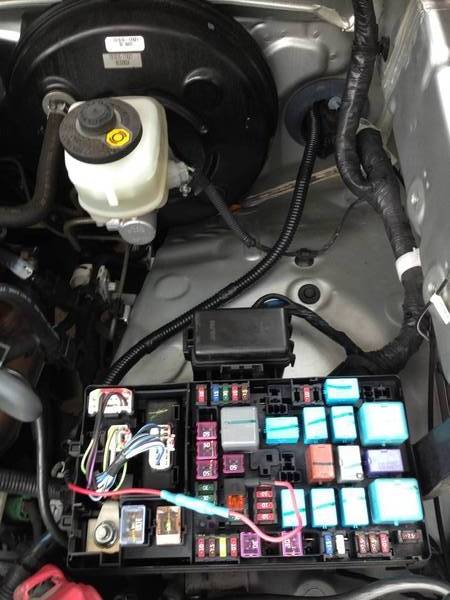 Here's my fuse tap instead in the interior fuse panel: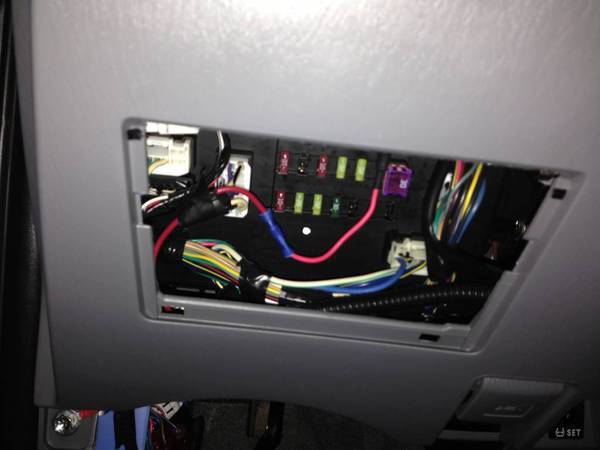 Next came running the wire from 3 more sources to complete the 5 needed for the switch to operate fully. 1. Fuse Panel to switch for constant 12v to power led's when truck is off (low draw lights for tailgating/camping) 2. Ground wire from switch to chassis bolt under kick panel, 3. Wire from switch all the way through the paneling, down under the driver seat, through the rubber grommet along with the factory harnessing, and out to the rear of the truck which I'll detail later: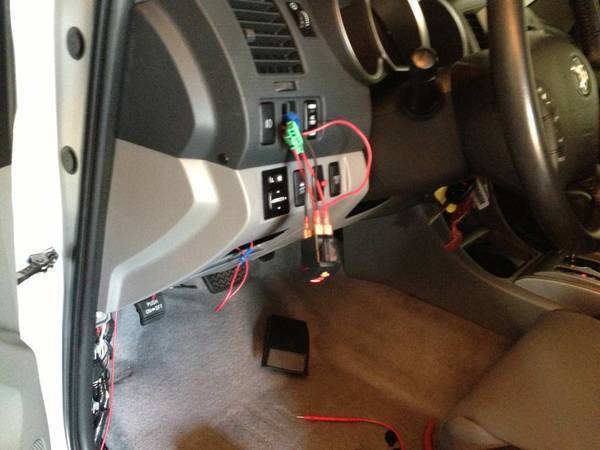 Tested the switch lighting operation once I had the basic wiring completed: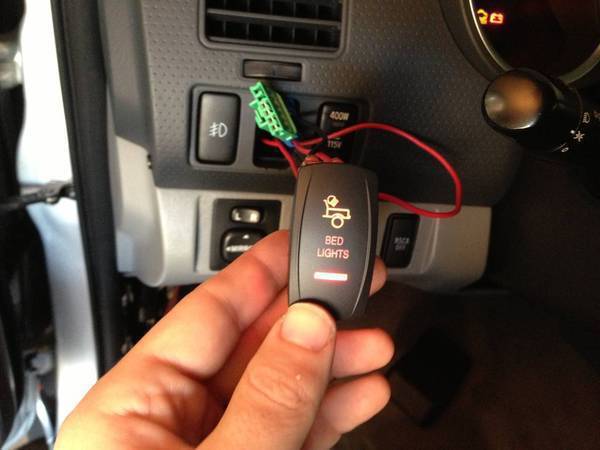 With panels removed, you can sorta see my Red wire running down and secured in different spots: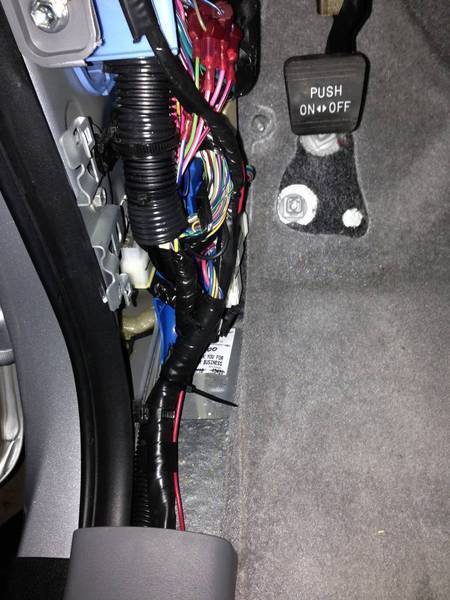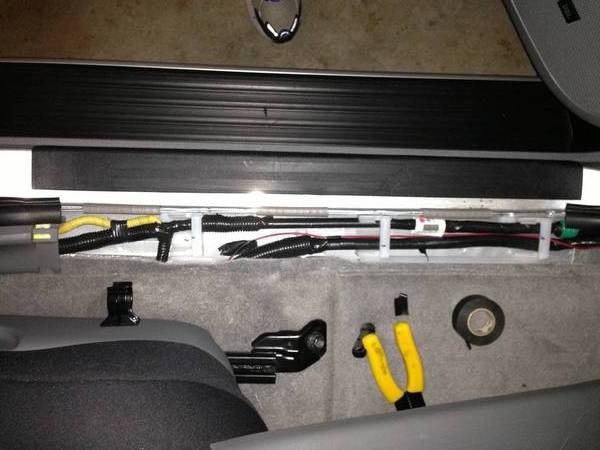 Rubber grommet under driver seat. Used a coat hanger to punch through with wire then sealed it up: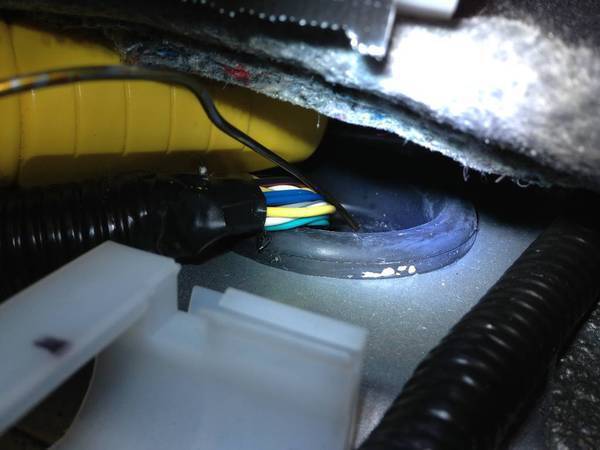 rough shot of wire wrapped in loom since it's out in the elements now and secured to factory harnessing to make the run aft to the bed: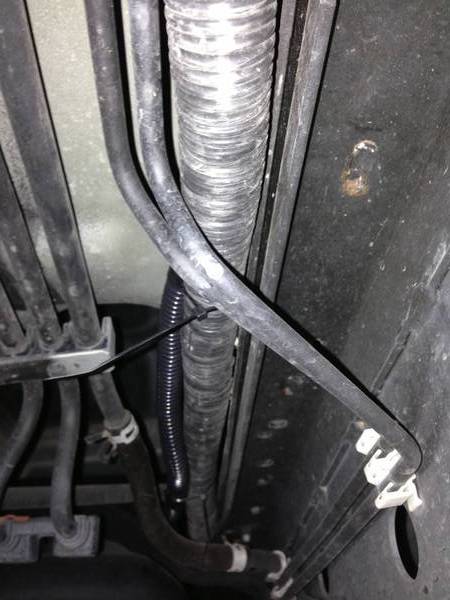 In the left side of this shot, you can see my wire loom running up with the harness through an opening in the aft section of the truck where the taillight assembly is: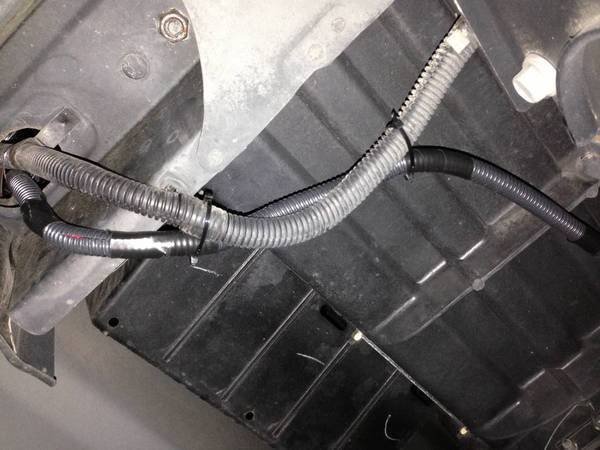 This is another angle of the previously mentioned wire loom heading up into the taillight assembly as well as my LED ground wire, loomed, and connected to my chassis ground under the truck: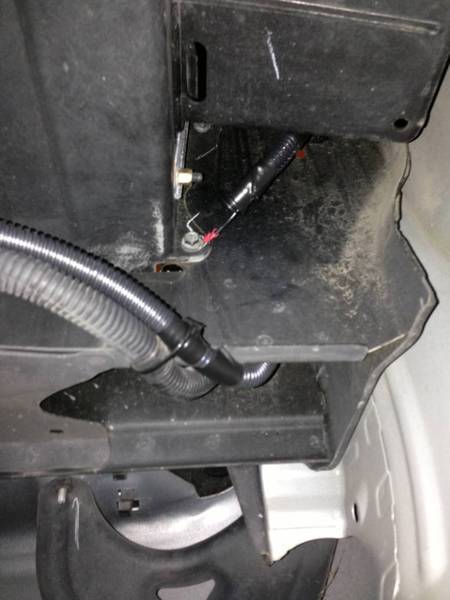 Removed the taillight assembly (two bolts and pull out and disconnect one harness). This enabled me to work with both the wire from the cab and the ground for my led strip and route it out of sight and somewhat shielded: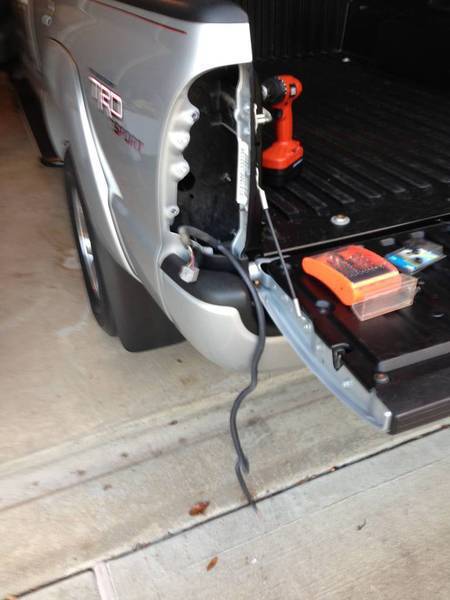 The junction of both wire's and looms coming together into one just prior to exiting into the bed for the final connection: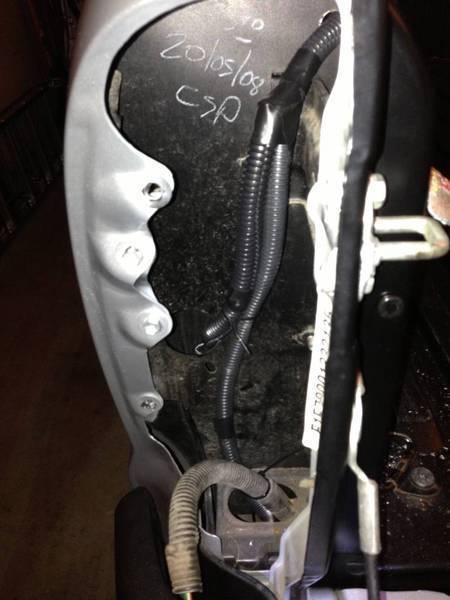 Here I drilled a pilot hole so that I could use a big 1/2" drill bit to open up a decent sized hole (or 3/4" if you have one would be better as I had to dremmel the last little bit to widen the hole).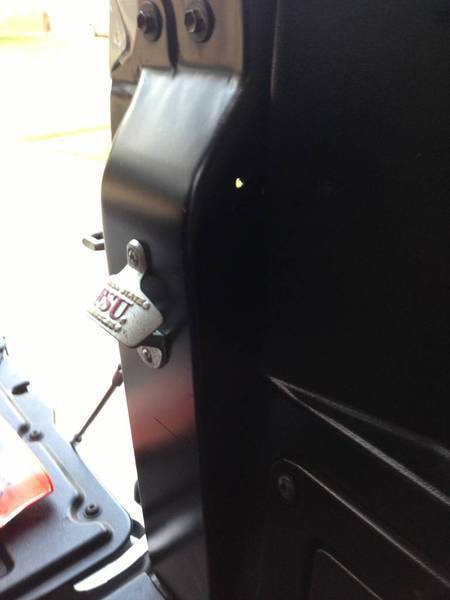 Ended up kinda rough but I was able to get the hole large enough to fit a grommet in for weather seal and wire protection, and then pull my wire loom through for a snug but not to tight fit: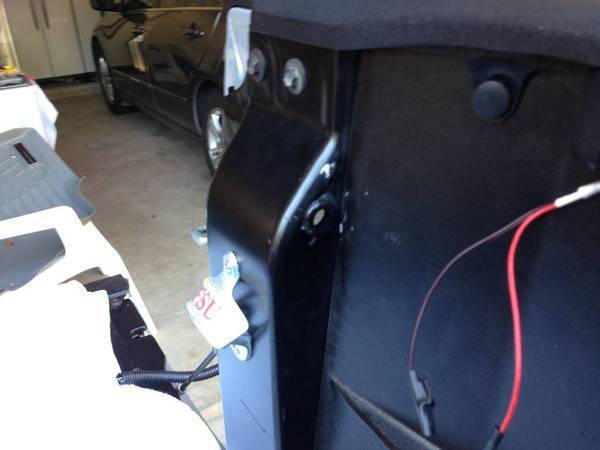 Made my connections with the Led strip lighting: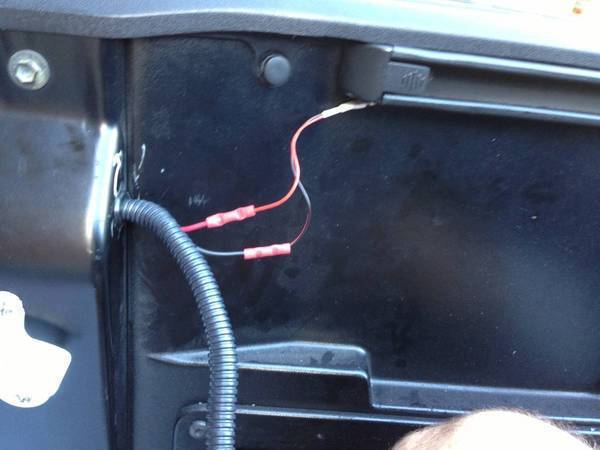 Closed everything up, sealed, and signed off on: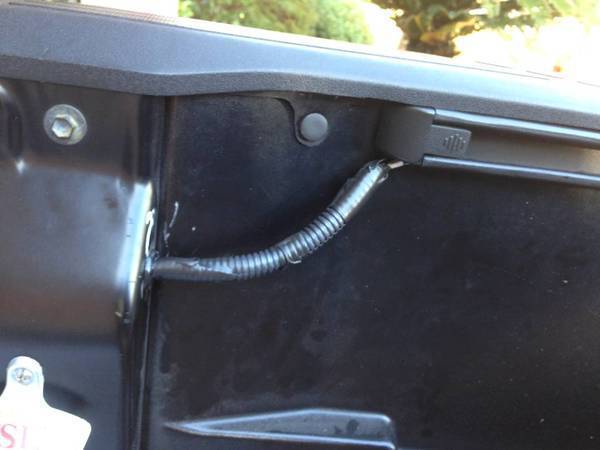 Tried really hard to keep it clean and as least noticeable as possible. Remember, this is my first time at this wiring stuff!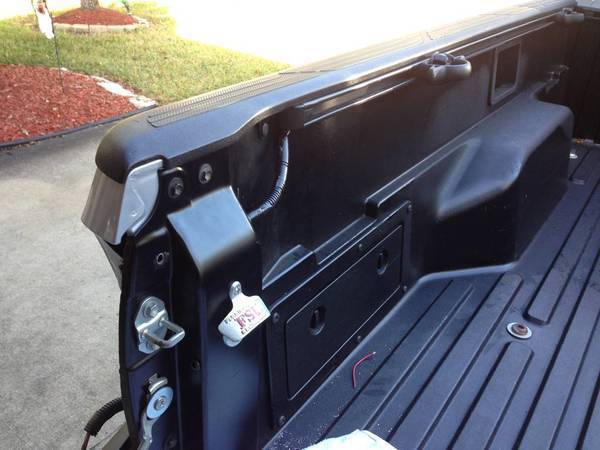 Photo of the Led light strip installation. Just adheres to the underside of the railing: (Note the 16.4' version worked perfectly for a long bed to go all the way around. I even snipped about 3-4 inches off as they come in sections that can be cut to length. Just be sure to start your run from your wiring point and cut the excess at the end):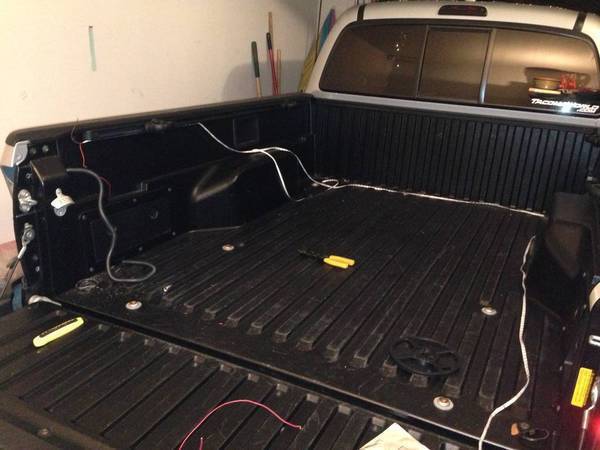 So I totally brain farted and forgot that the stock slot would need some work before the Carling switch would fit. I already had everything wired up and buttoned up so I had to find a work-around. I unplugged each connection and labeled a piece of tape for each one: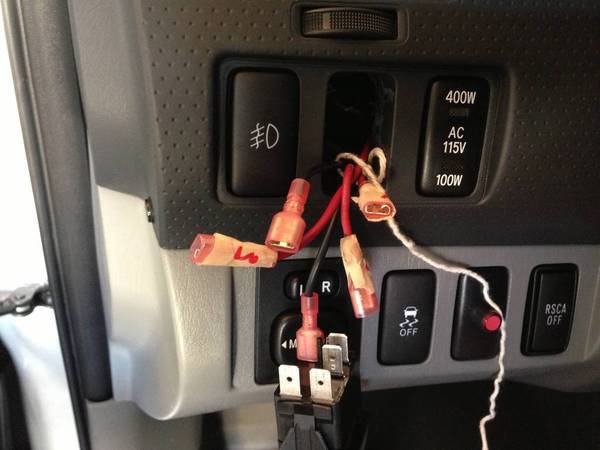 Then I attached a string around the bulk and pushed them back in there to keep them out of the way of the dremmel tool. (I know I know, insert feminine products jokes here) But whatever it worked in a pinch: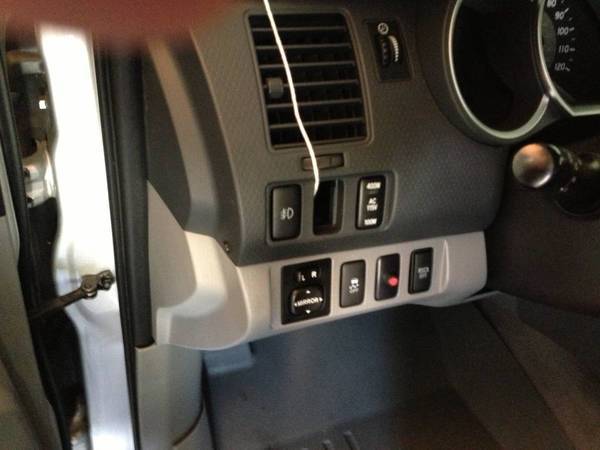 Used the dremmel tool to customize the sides and top of the slot to fit the switch snug. Slow process and please do this in very small increments. Better to come up short than do too much and then the switch fit's loosely: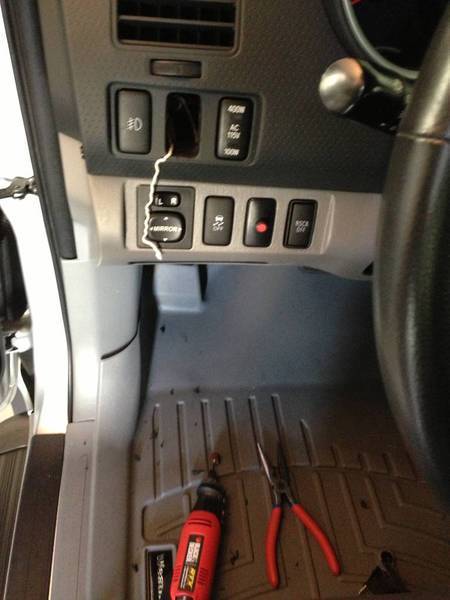 Everything cleaned up, and yes the string was pulled.
Got the switch connected back up and slowly fitted into place. Worked like a charm and op's tested good: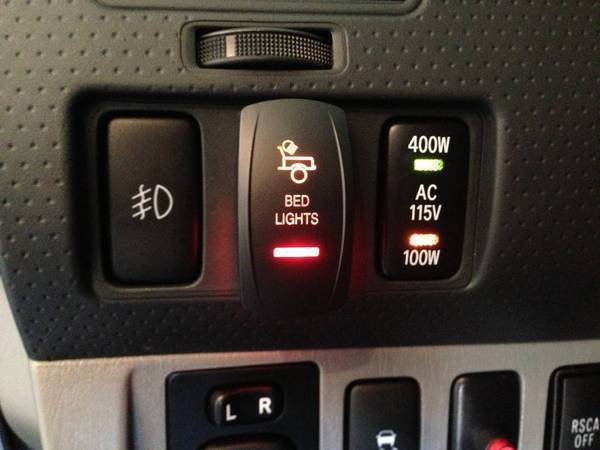 Cab shot (roughly):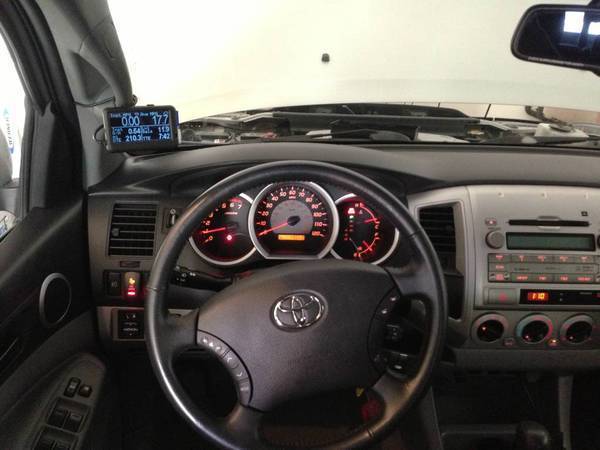 Here's the finished product. It was late and I was tired so the pics aren't the best. I'll update with some better night shots when I can. Wanted to get this out there though so here ya go for now: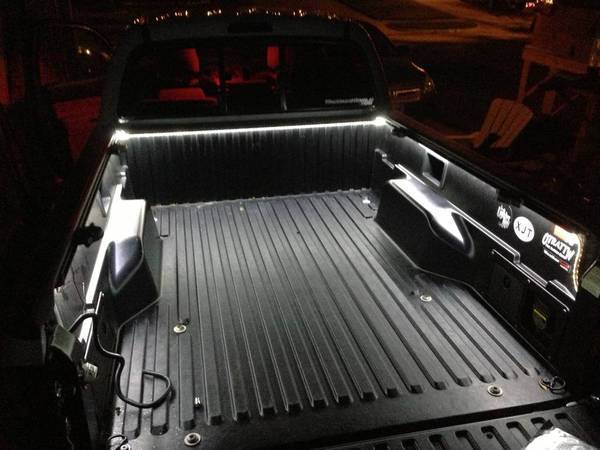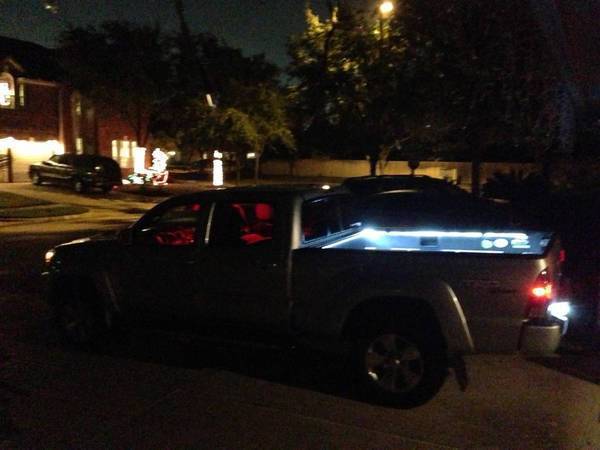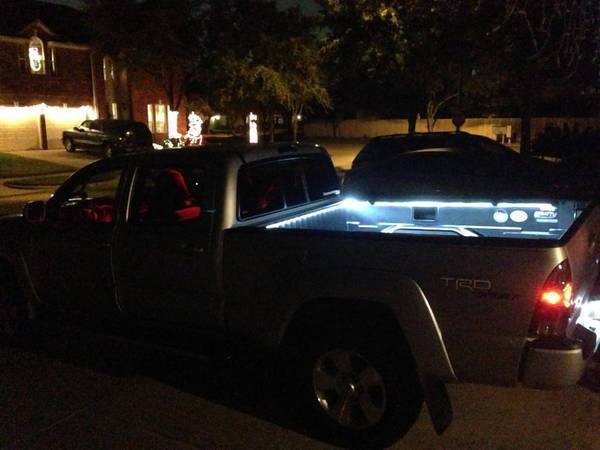 And to top it all off, I rigged a "duct tape fuse holder" in the fuse tray.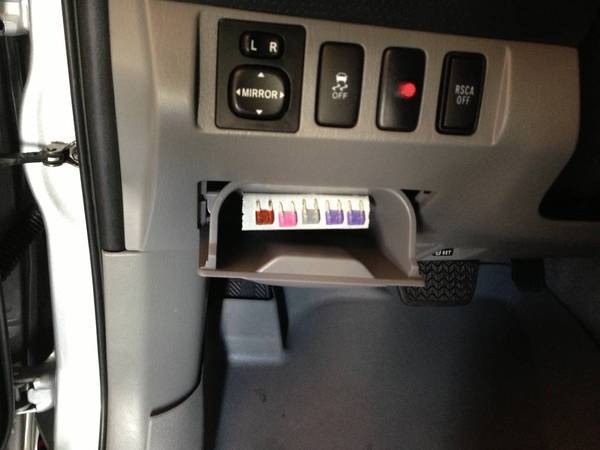 Well folks I hope you enjoyed my lengthy write-up. I enjoyed this project very much and can't wait to go tailgating and camping and enjoy my new lights and bottle opener in the back. I also hope it helps others who are considering doing this relatively straight forward mod. Please feel free to contact me if I can answer any questions or help out in any way!! Have fun-
-Taylor-
Edit: Per request here's the info on the switch ordering:
Good news is the ordering process is actually pretty easy. When you go to this link
http://www.otrattw.com/proddetail.php?prod=VVPZC59-1TL
, you'll see the exact switch I used. The picture shows "just the rocker switch top without the back housing" (sold separately, but not really). If you scroll down that page to the "Double Lighted Switches" subsection, you'll see this.....
"V1D1FNTB
- SPST OFF/ON- Amber upper, daylight bright red lower LED".
This is my switch INCLUDING the whole unit front and back. This is everything you'll need switch wise, to wire it up the way I did with the (5) male connections on the back. Pay attention to these notes under the switch selection:
Upper LED is independently wired.
Lower LED is ON when the switch is turned ON.
Each LED has its own ground terminal.
Five terminal switch with no rear barriers between terminals
Use insulated 1/4" female disconnects or the VCH rear connector housing. (Packard terminals for the rear housing are sold separately)
Two notes here.....1. I have no idea what a packard terminal is and didn't need it apparently.
2. Use "insulated" 1/4" female connectors like it says and you'll be golden!
To order just scroll down to the bottom of the same page and you'll see the drop down menu "switch selection". This is where your actually ordering either the "switch front only" OR the latter "full switch unit" noted only by the previously mentioned part number.
"V1D1FNTB
". If you order this then your all set with a full switch setup. $5 for the switch front and then 9.99 for the full housing. I paid around $20 for total with tax and shipping. Shipping was very quick!!
Now the bad news. I don't see my particular switch (amber upper, red lower) as an option in that drop down menu anymore. Not sure if they are sold out or done making them or what. Shoot them an email and they'll let ya know quick. However there are many other color options and switch varieties to choose from. There is also another "bed light" switch which is a single-lighted one as well.
Have fun and good luck tracking down a nice one for your setup. Pm with any questions.-