Over on the TechChat forum, I made a couple posts about a taco lock actuator failure.
I promised to teardown and patch attempt this weekend.
I did and I got a few cellphone pics.
I don't have time right now to get everything properly posted here, so I'll do it in stages. Hold on. I have about 15 pics to show.
Then add some commentary and link the tumbs to full size pics.
I do have a photobucket account, so I'll use that.
First, the actuator, still connected by mechanical links.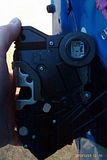 Link connector cover open