So after 3 or 4 emails asking details about this mod. I decided to do a write up. Basically, I always carry my B.O.B. (Bug Out Bag) in my truck and got tired of having a good portion of my backseat taken up by it . So I started to look into locking bed storage options to store the BOB and other stuff. I have always liked the Rubbermaid Action Packers, and know they are popular amongst my fellow expeditioners. I also know from
boks
post about
bed storage
that the 42 gallon trunks were a perfect fit. So I decided on the 42 Gallon Action packer trunk. However, I was afraid that it might get stolen out the bed, so I came up with a way to keep it from growing legs and walking away. Here is what I did
Went to
Home depot
and bought about 8' of nylon wrapped wire rope (sold by the foot). I also picked up a set of these wire clamp kits like
this
to make loops at each end of the cable.
I had already done the
Extra D-Ring bed mod
. So, I ran the cable through the extra front D-rings and cut the cable to the desired length. I then ran the ends (w/the loops) across the front of the Action packer trunk. Lastly, I ran the lock through the hole on the handle of the trunk and the loops of the cable. Now the trunk is locked and attached to the bed. On of the reasons I did it this way was because the cable acts as a stop, preventing thee trunk from sliding around even though i have the bed mat.
I'm not good at explaining, which is now obvious from the jargon above, so.......just look at the pics to decipher my mumbo-jumbo.
42 Gal Action Packer containing my BOB and other needed stuff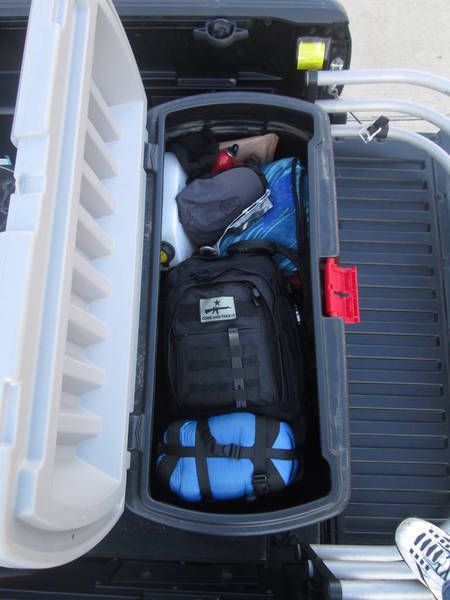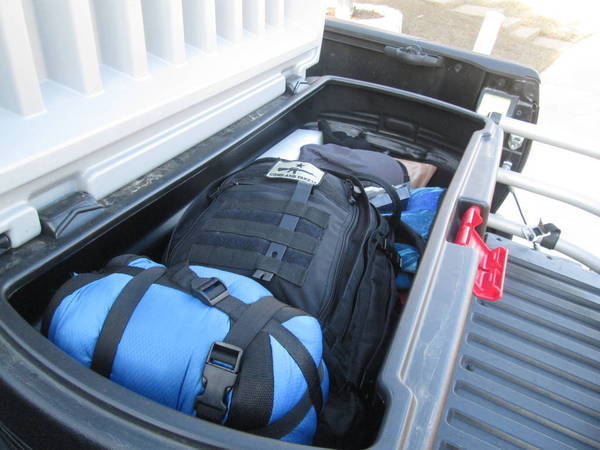 Cable loops made with kit (hyper linked above)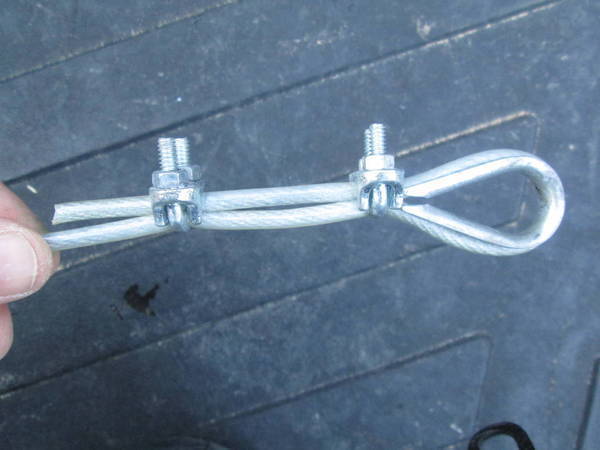 Cable run through D-rings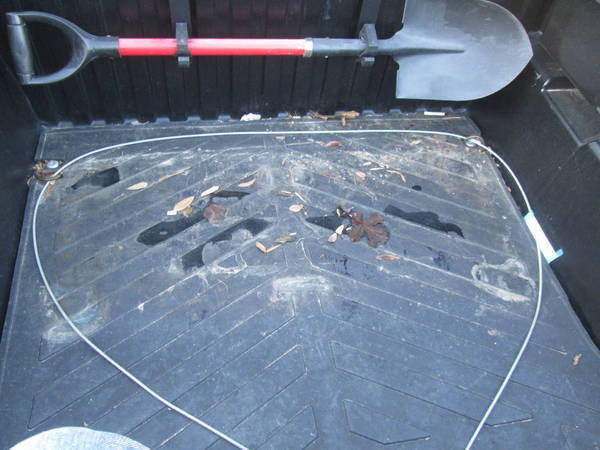 Trunk locked down in bed