I recently purchased an
UnderCover
Flex model FX41003 for my 2013 DCLB and was slightly irritated with UnderCover's expectation that you would drill into your bed in order to accommodate the size of their drain tube.
I did some research on TW and found a thread that shows how to re-route the drain into a smaller plumbing barb using some poly elbows found at the hardware store.
http://www.tacomaworld.com/forum/new...eau-cover.html
It's not a bad write-up, but the pieces are not very distinguishable and the sizes used did not fit on my drain tube. So after a few trips to the local
Home Depot
and some trial and error, I found a simple solution to the problem. I decided to make a write-up for anyone else who is looking for a quick solution to their drain tube issue but does not want to drill into their bed. *DISCLAIMER: these instructions are written as simple as possible so I apologize if it is too "dumbed down" for some of you. I want to make sure anyone can do this without having to get a tutorial from their local hardware store employees.*
Step 1:
Determine the diameter of your drain tube. I purchased model FX41003 for my 2013 DCLB and the drain tube is 1/2" in diameter. If you don't know, you can always call UnderCover customer service and they will tell you over the phone. This will be the starting size for your drain tube adapter.
Step 2:
Buy the following plumbing parts at your local hardware store (I used Watts brand brass fittings as that is what was available):
- 1/4 in ID x 3/8 in MIP adapter (x2) [Watts item LFA-193]
- 3/8 in FIP coupling (x2) [Watts item LFA-760]
- 1/2 in ID x 3/8 in MIP adapter (x2) [Watts item LFA-385A]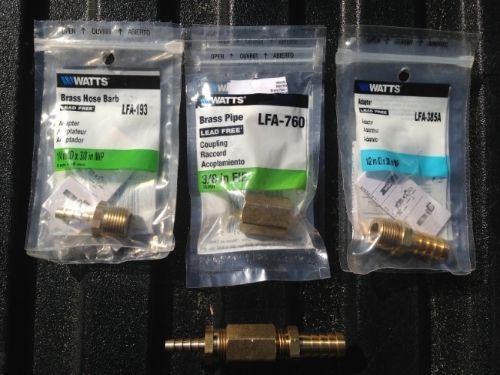 ID stands for inside diameter. This is the size for the barbed ends of the fittings.
MIP stands for Male Iron Pipe thread. This is the threading on the outside of the fittings.
FIP stands for Female Iron Pipe thread. This is the threading on the inside of the fittings.
[Remember, this is based on a 1/2" tube. If your tube is a different diameter then the first adapter will be a different size (i.e. 3/8 in ID x 3/8 in MIP instead of 1/2 in ID x 3/8 in MIP). You can also use a size other than 3/8 as the coupling size, but it was the best option based on the stock at Home Depot.]
Step 3:
Assemble the three parts together so they look like this: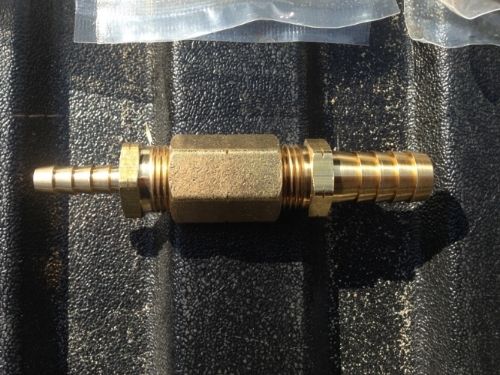 [The coupler pieces together the two barb fittings. You end up with 1/4" barb on one end and a 1/2" barb on the other, coupled together with a 3/8" coupler.]
Step 4:
Attach drain tube to the drain port on underside of rail: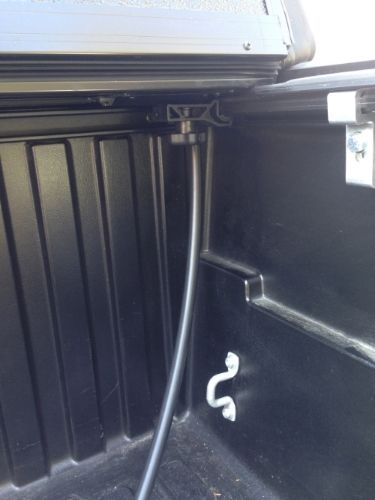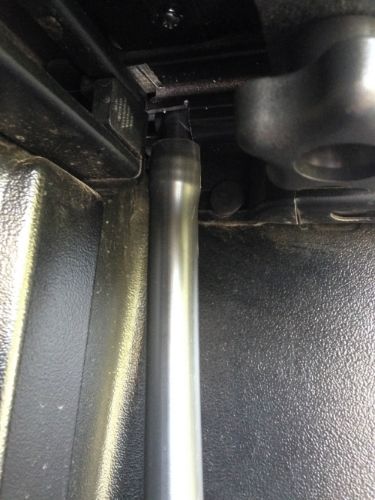 Step 5:
Place the 1/4" end of the assembled plumbing adapter into the drain hole in the bed: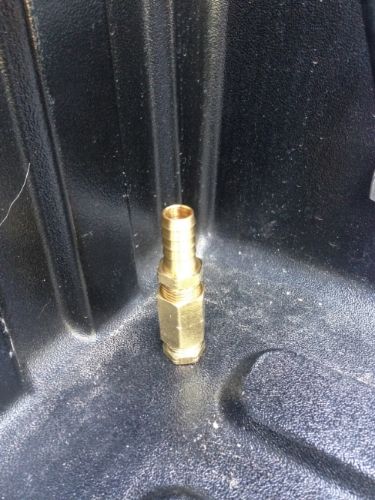 Step 6:
Measure out an approximate length to trim the drain tube. Make sure you have enough slack in the line to ensure it reaches far enough. You can always trim more if necessary, so be sure to err on the side of caution. (I measured mine to approximately the top of the coupler):
Step 7:
Trim the drain tube to desired length:
Step 8:
Remove plumbing adapter from the drain hole in the bed and attach to the drain tube. (Be sure to attach it all the way; the picture shows it partially attached for demonstrative purposes):
Step 9:
Place plumbing adapter back into the drain hole in the bed: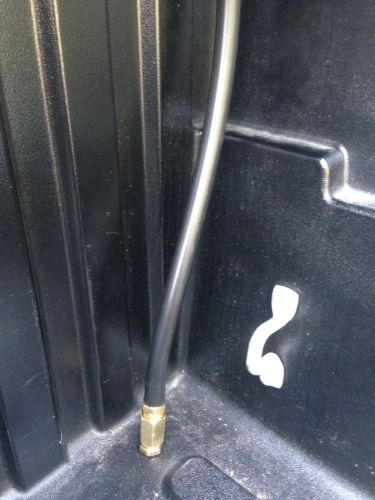 [It is not a "snug" fit, but you could always add some electrical tape or glue to the barb if you want to make it more secure.]
Step 10:
Repeat for the drain tube on the other side of the bed.
Done and done! All in all it cost me around $20. It would have been cheaper if I had used plastic/poly parts but I could not find them in the 1/2" diameter. I'm sure you could also do this with a few elbows as in the other write-up, but it seemed simpler to me to just make a straight adapter instead. I wish I had found a 1/2" ID x 1/4" ID barb fitting to just plug into the drain tube and drain hole, but I couldn't find one anywhere. Oh well. Hope this helps.
Jooce