Tekonsha Prodigy Brake Control Install
I recently installed the prodigy brake controller on my 08 Taco and wanted to share how I did it. The first thing I found that was a problem, was the lack of places I could mount the sleeve for the controller.
But, after a few seconds of thought I decided to mount it underneath the coin/junk pocket on the right side of the steering wheel.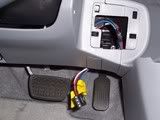 The images are after install but, what I did first was remove the pocket to mount the brake unit sleeve.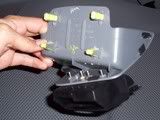 To my joy, the back side of the pocket has a lip, so I didn't need to drill into the actual pocket. I drilled my holes and secured the sleeve bracket onto the pocket.
The next step was wiring, which was straight forward and easy. Tekonsha makes a universal wire harness that works great; all you need to do is follow the directions (the yellow paper attached to the wires in the first picture) and plug the universal harness into the factory towing harness. I then put everything back together using zip ties to run the wire underneath the steering wheel.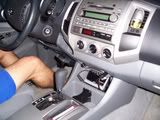 As you can see there is more than enough leg room and the location gives you easy visibility and control over the brake controller. Hope you guys like the location and install. I enjoyed doing this mod because it only took about 20 mins. and is a must have if you decide to pull a dump trailer or rv.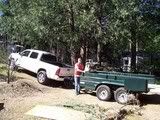 This is me up at my cabin putting our dump trailer, Tacoma and brake controller to the test (there are some pretty steep grades up on the mountain).