Disclaimer!!
Please understand that a set of UCA's are "NOT" required!!
But if you want to lift your truck correctly? then please read.
OR? If your truck feels "Squirrelly", feels like it "Floats" at high speed, and your steering feels a bit loose after a 3" lift??
Then this is for you!!
Sometime I feel like a broken record. So I figured I'd just make a post that people who search can find and read:
A lot of people seem to think that lifting a truck only involves buying spacers, or coils?
But what they don't seem to realize is that when you change the ride height of your truck? You put your suspension in a position it was never meant to be in for extended periods of time.
Because YES! the suspension is designed to articulate into this position! But it is not meant the be driven for extended period of time at these new angles.
It's like a women walking around all day on the tip of her toes. (To be 3 inches taller) Yes! Her foot is designed to articulate into this position. But overtime she will have some serious problems. Because her feet wern't designed to walk that way, for extended periods of time!
But do it correctly? And give her a comfortable pair of pumps to wear? Now she is 3" taller and the risk of injury or complications is now greatly reduced!
Remember this phrase? Good enough? Is NEVER good!!
Do it right the first time and you will save yourself a lot of headaches in the future!!
------------------------------------------------------------------------------------------------------------
If you plan on installing a 3" lift then be aware to do it
correctly
you need a good set of UCA's in order to have your alignment set at the "ideal" settings.
(It doesn't matter which lift you choose,
Toytec
,
All Pro
, DR's, Or some type of spacers?)
I highly recommend
"Total Chaos"
UCA's only because of my personal experience with both
Camburg
and TC.
(As for All Pro?? I cannot comment because I have never had the pleasure of using a set on my truck)
This is an example of what to look for when having your alignment done: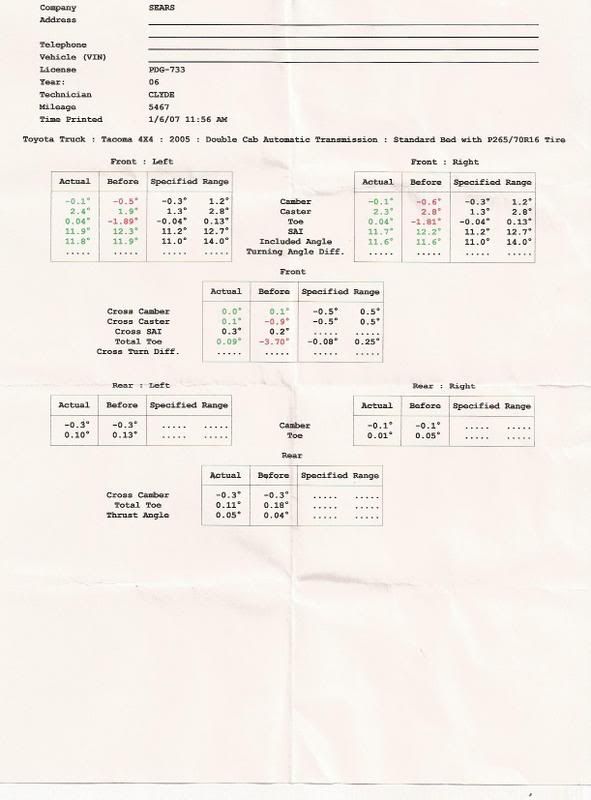 This is from my truck. And as you can see I personally selected the optimum settings for my driving.
Camber
you would like to have it set at, or near 0*
Caster
you would ideally want it set at 2.4* (Optimum) Too low and your truck will wander. To High and you will have "Bump steer.
To understand Alignment better here is a link:
http://www.tirerack.com/tires/tirete...e.jsp?techid=4
http://www.familycar.com/Alignment.htm
Hopefully this will help??
Some people may tell you that their truck drives good with a 3" lift and the stock UCA's. And that their alignment #'s are in factory spec.
But! They don't actually know how good their trucks can drive.
And just being in factory specs isn't always good.
For example:
If your alignment #'s are at the minimum, or the maximum? Then your truck is just barely drivable by the factory standards.
This would be in factory specs:
This would be IDEAL!
The best handling you will have is to set the truck at the "ideal" settings.
Now this
"ideal"
will change! Depending on the tire size, and your driving habits.
Ideal
Camber
for the average driver is 0*.
If you like to corner, and take turns fast? Then you would like your Camber a bit more negative. /---\
Ideal
Caster
: (Now this will change depending on tire size)
-Stock tires "ideal" would be 2.1*Positive Caster
-33" tires "ideal" would be 2.4* Positive Caster
-35" tires "ideal" would be 3.0* Positive Caster
****UCA INSTALL DIY!****
http://www.toyotanation.com/forum/sh...d.php?t=315831