Has anyone done this conversion? Or have pictures of Recaro, Corbeau, Sparcos installed in a 05+ Tacoma? Or if anyone has details, please post here.
And no, these "Recaros" don't count;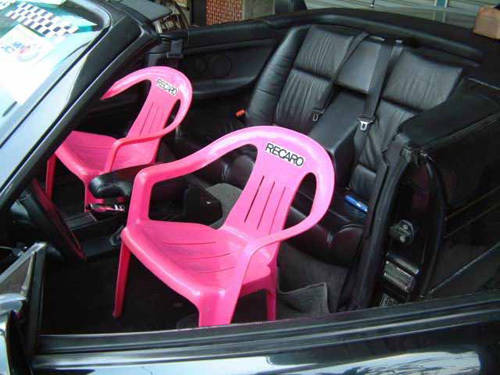 I am tired of the sucktastic non-TRD bucket seats and honestly, and I'm not much a fan of the TRD sport seats either. But it's all a matter of opinion. Otherwise I'd probably just try and swap for the TRD seats.
I've searched TW, TTORA and CustomTacos and there must be less than 5 people with this retrofit and none have documented much.
I did come to the conclusion from my earlier searches that the brackets can be fabbed from a company in California by the name of "Wedge Engineering" (
http://www.wedgeengineering.net/
)
The seat belts are another item in question. It's known that most aftermarket seat belts wont fit into the female connection on Toyotas. So most likely, one would have to purchase a secondary set of driver/ passenger side seat belts and retrofit those perhaps.
Also for those with children... Recaro also makes some killer car-seats! You can even get them in custom colors like Okoles. Here's a quick pic (soooo comfy looking);