Update Below Pictures
Goin' to my Dealership for my car's oil change, Thursday and thought I might bring these picture & the TSB. I've been reading about (and downloaded) the Leaf Spring TSB. This Tacoma has a 175lb Leer Cap and a 25lb +/- Bed Mat as the only weight on it. And has had nothing more than a 25lb tool bag behind the passengers seat, and 175lb. Me. Now I'm no mechanic, but from my experience, I always thought the lowest point on a a Leaf Spring was at the Axel.
So, the question is; Should my leaf springs look like this with only 200 pounds on the truck. Also, there's 2 Pics of the "Bump Stops" (if thats the correct term) that show evidence of impact. I have never felt it bottom out, and it seems to ride and take bumps OK. It's only got 1730 miles on it.
I also expect to be doing the Transmission TSB, as I have the symptoms.
I have a couple other questions, I'll post in new threads, but I'll include them here, and maybe get the answers.
Slight "Shudder" during acceleration from dead stop. Anyone else?
I find myself CONSTANTLY correcting my steering at highway speeds of 65mph or faster. Tends to want to drift left or right as soon as I've corrected the last drift. Maybe it's just 4 wheel drive, as this is my 1st, or just inherent in the Tacoma, but I can't imagine it would be, and I haven't seen any posts on the issue.
Once again I'll post these elsewhere. The Leaf Springs are my primary issue a present.
Thanks for your help in advance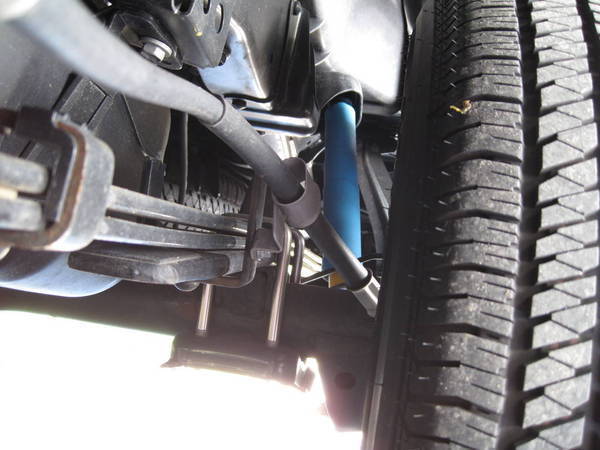 Brought My Solara for Oil Chg, 05/13. Brought above Pics of Tacoma Springs.
Service Rep: "Have heard of Leaf Spring TSB, Springs Look Normal". "Bring in Tacoma Tues, 05/18. Will have Technician Drive It, and Evaluate Springs, Transmission Hesitation, Shudder, and Drift.
05/18: Tech: "My Own Bump Stops have Marks. Pics of Springs look normal, but You'll have to Talk to Service Manager about the Springs.
Tranny Hesitation: "Exists". Tranny TSB Reflash done 1/2 hour later.
Shudder During Acceleration from Start: "Noticed Minor Shudder, but NOT abnormal". (I could feel it every time he accelerated).
Drifting left/right: "Unable to duplicate" (I'll deal with later)
NOW THE SPRINGS............
Sat down in the Service Mgr's Office. Showed Pics and Brought Up TSB.
He Explained "the Springs have a lot of movement, for the ride. The Bump Stops get Impacted. That's Normal".
I Explained, there'd not been more than 200lb in the truck (Cap & Bed Mat).
Serv Mgr: "Bump Stops will still hit. I have an '09 DC, so I'm familiar with the truck and that's normal, do You have the DC"? No I have the Access Cab.
Brought Up the TSB again. He didn't want my copy, He looked it up on his PC, and started reading,......and reading. "Doesn't apply to Your Truck, Bump Stops and Shocks were Upgraded at Factory" I Explained Springs Only and an alignment for my Truck.
Serv Mgr: "Look on pg 3, Only for '05-'08 TRD pkg". At which point I suggested looking farther down where it said, 2009-2010 Non-TRD & TRD pkg.
He read on. At this time I explained I am an electrician, and the truck was bought for my business. I carry tool and materials all the time.
Serv Mgr: "Oh, Electricians are harder on trucks than anyone, they're always overloaded". At which point he got up , walked out, and went to his parts dept. When he returned...............
Serv Mgr: " I have no problem putting new Springs on Your Truck. Keep in mine you'll get a harder ride if you have an empty bed. And I didn't know they had new springs for MINE! I work my truck. What do they do? Replace the 3 Leafs with 4 Leafs? Can I take yours for a ride"?
So off we went. He couldn't duplicate the Drift or Shudder, either, but said it drove just like his '09 DC. But he did notice that the Cap, pre-loaded the springs and gave my truck a different ride than his. When we got back, he told the Serv Rep to Order My New Springs. (Scheduled for Wed. 05/26), then turned to me and said:
"Here's my card, will you call me and let me know how you like the new Springs".
Who da thunk?