2008 2.7L four cylinder. With A/C!
So first off, a little preface.
My name is Christian and I don't know jack. I grew up riding dirt bikes with my dad and various family members all over Washington state. All of the men on my dad's side of the family are gear heads. One of my uncles worked as a mechanic in the air force working on f-14's on an aircraft carrier in the early 90's and my other uncle works at the Keyport Naval Base as a foreman putting together torpedo's, he also owns a 1992 4cylinder Toyota pickup that he's done everything under the sun to.
But instead of hanging out in the garage learning how to work on bikes and trucks I stayed inside playing Nintendo and drawing pictures of monsters. Now I find myself the proud owner of a used 2008 Toyota Tacoma and I am learning all the hard lessons about buying a used car! I'm currently trying to learn as much as I can about working on my truck. Hopefully this will help any other beginners out there that don't want to spend an arm and a leg to fix their truck.
Now that we've got that out of the way on to belt change! My truck makes a squealing sound when it's running. After poking around this forum for a while I've learned that it's my serpentine belt.
What you need;
-New serpentine belt.
-14mm socket and ratchet (or wrench).
-Drop light/flash light.
-About 1 hour of free time.
If you run down to
autozone
(or just about any auto parts store) and tell them the year, make, model and engine size (and if you have A/C or not) of your truck they will give you the right one.
Ready to go!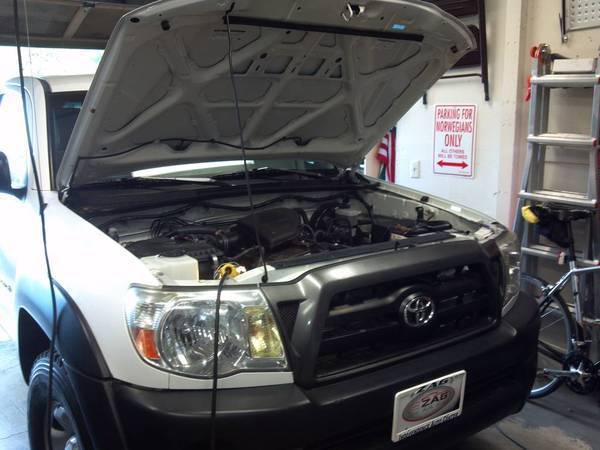 Lap top standing by just in case things go awry and I need TacomaWorld to save me!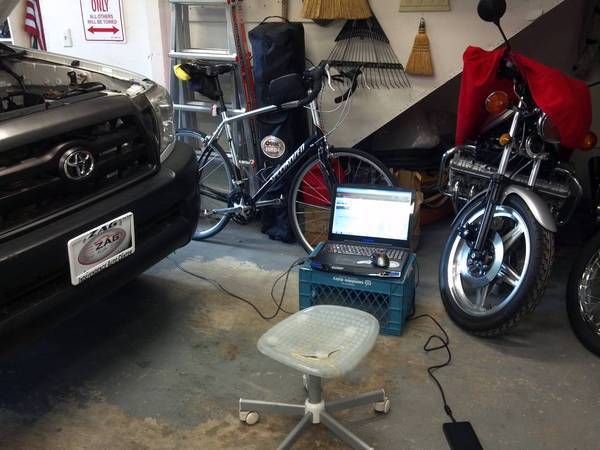 14mm Ratchet!
New Belt!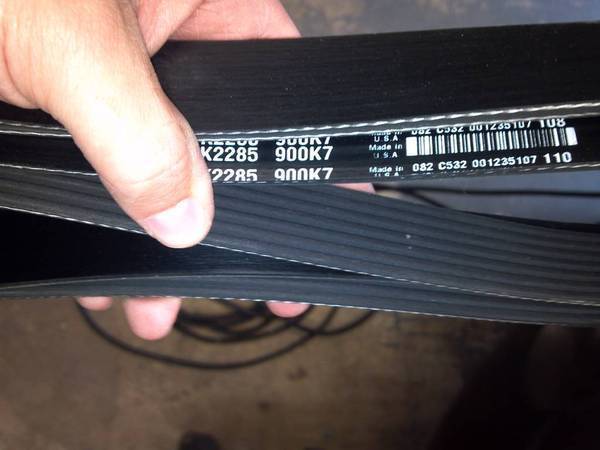 If your truck is making a constant squeal and your belt looks like mine, you need to replace it! This belt's condition isn't actually that bad, but the squeal is very annoying.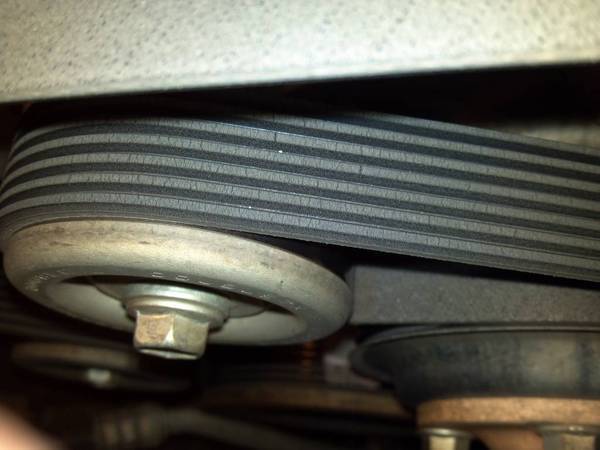 Your truck is supposed to have a diagram located somewhere around the radiator showing you how the belt is supposed to wrap around everything (your going to need it when you put your new belt back on). Mine didn't. So I put all my skills as a 2-year-art-school-drop-out to use and drew a picture! I suggest you do the same as I could not find a diagram (of the 2.7L) on the internet that I was willing to trust. You can even take some pictures of how it should look to help.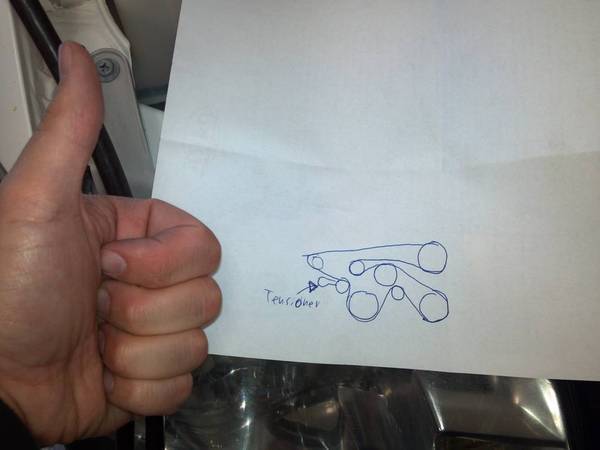 Now what you want to find is the belt tensioner. This is a spring loaded wheel that presses against your belt to keep it in place, and to facilitate the belt's removal. Standing in front of your truck looking down at your belt, it is slightly off to the left. The part your going to get your wrench onto is underneath the belt itself. I marked it in red. ALSO, you will have noticed by now that one side of your belt has ribs and the other side is smooth, some of the pulleys have ribs and some are also smooth. When your put your new one on remember, ribs go with ribs, smooth go's with smooth.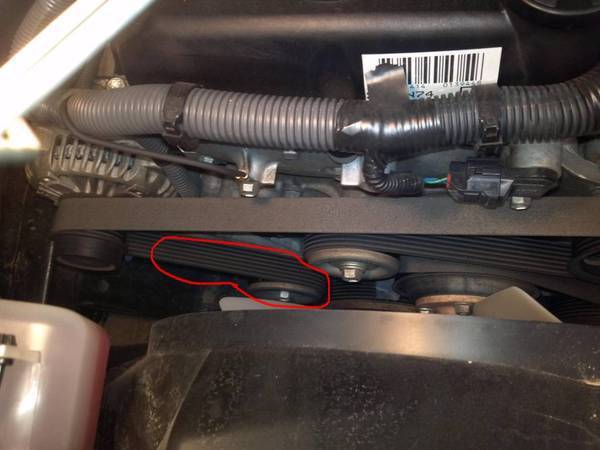 You kinda need to lean down and to the left in order to see the tensioner itself (have your light handy!). The nut you need to put your wrench on is marked in red. This is NOT a fastener of any kind. It is simply there for you to get a good grip on the tensioner with your wrench. All the other nuts are fasteners for other shit, don't mess with those!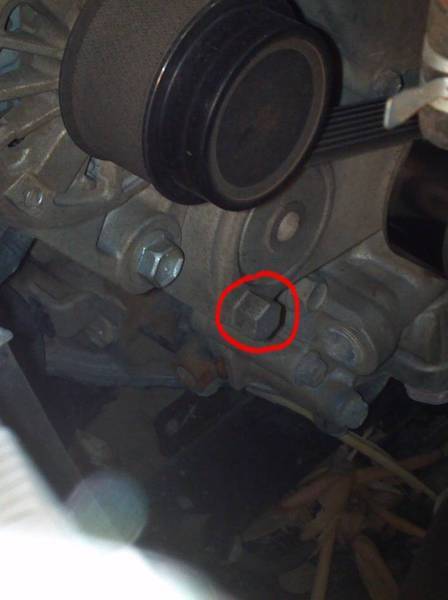 Get your 14mm and stick it on that bitch! This is how I put mine on. This gives you a firm handle to pull UP on. Now, if the belt were to fall off while you were driving, it would be bad, so it's not just going to lift right up. It takes a bit of muscle. Never mind the dead plant at the bottom...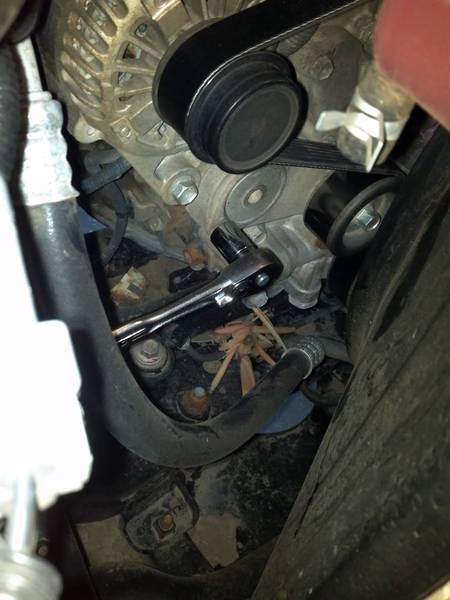 If your face looks like mine just before you are about to remove your belt... THAT'S NORMAL! I was nervous at first. But don't be! There's really not a lot you can screw up. Trust me! I'm the master at screwing things up and I didn't!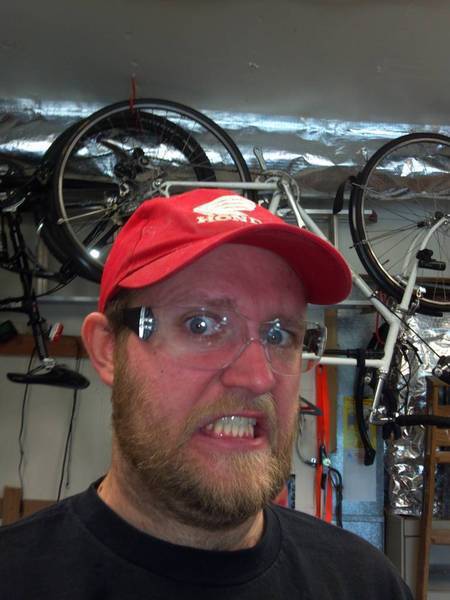 This is a two handed operation! I used my left hand to pull UP on the wrench and my right hand to wiggle the belt off once I had enough slack. Make sure you've got a good grip on your wrench! If it were to slip and you had a finger in between the belt and a pulley I'm sure you'd lose it! It's probably a good rule of thumb to not stick any fingers between the belt and pulleys while you are doing this. Here's a shot of it coming off. Your going to have to work it around your radiator fan. Take your time, it will take some wiggling to get it off.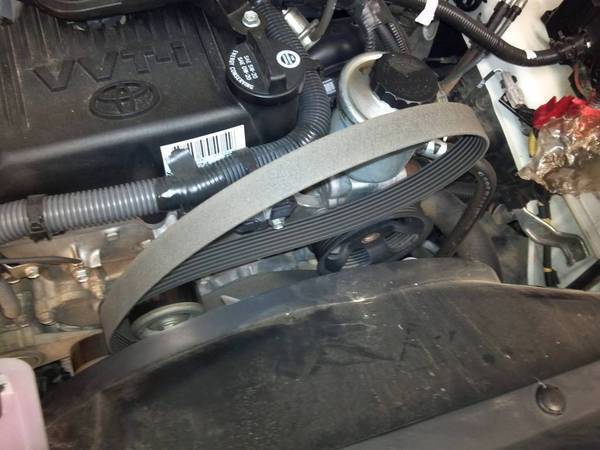 Gotcha bitch! If yours is in, "OK" condition, like mine, stash in somewhere in your truck in case of emergency (or you put your new belt on wrong and destroy it and need to go get another one!).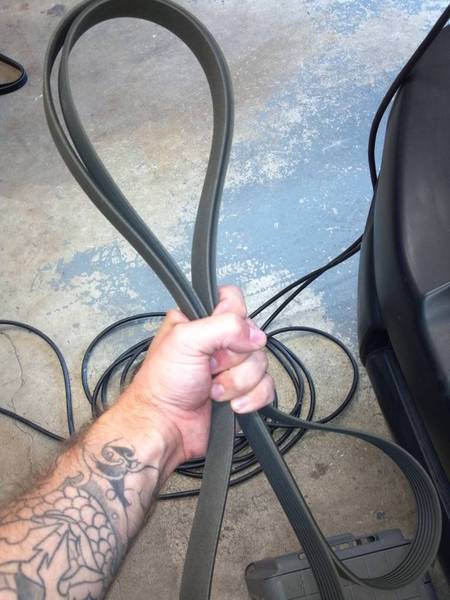 Crack is whack. This belt is bad news bears. Now it's a good idea to take the time to make sure your new belt is the right size. Grab both your belts by the ends and stretch them out to check this.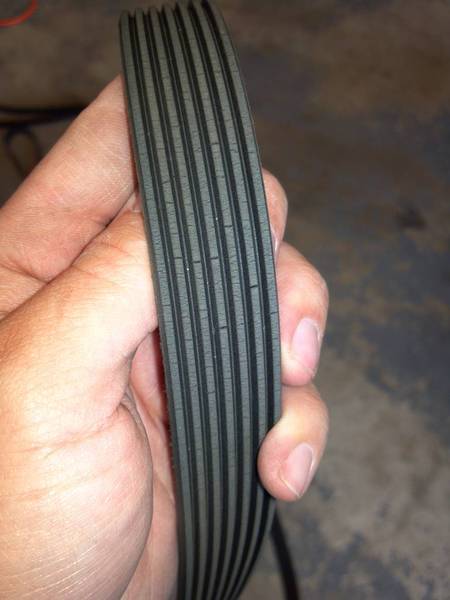 No more belt! Trying to turn on your truck right now would be a really dumb idea.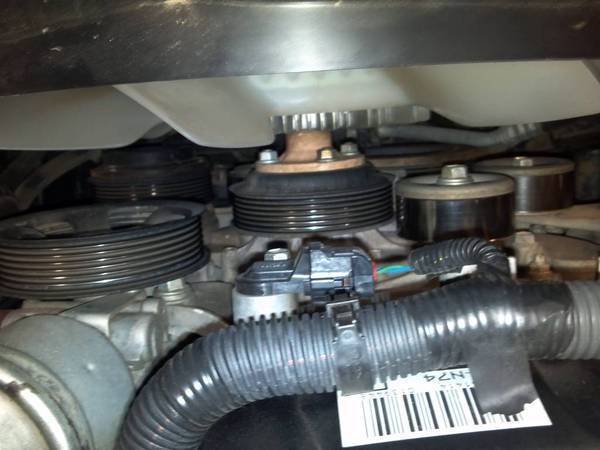 Now this is where my drawing came in to save the day! If you have any pictures or drawings use them! Remember, put the ribbed side of the belt on the pulleys that have ribs, the smooth side goes on the pulleys that are smooth!
Again your going to have to work it back around your radiator fan. The bottom pulleys are going to be the most difficult as you can't really seem them and they are close together. Get the belt around all of the pulleys (with ribs on ribs and smooth on smooth!) EXCEPT the tensioner. Leave that part last. Your new belt is going to be stiff and a bit of a bastard to get on.
Remember how you worked the belt OFF? Basically were going to do the same thing to get it back on. Pull up the tensioner with your left hand as far as it will go and with your right slide the belt into place and slowly let off on the tensioner making sure everything is in place. Hopefully it will look like this!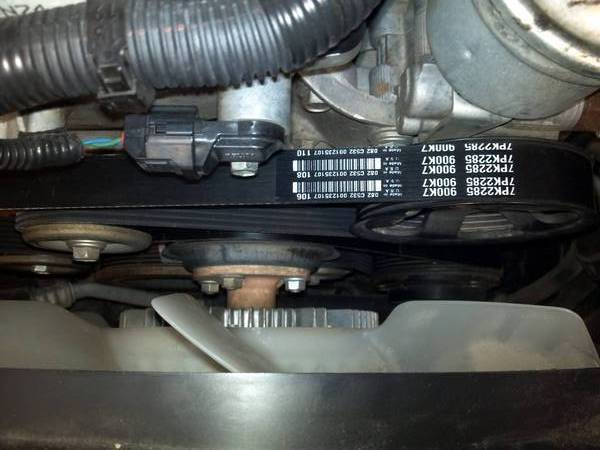 This is when I ran my hands all along the belt and pulleys to make sure everything was sitting snugly and lined up properly. After that make sure you've got all your tools, lights, rags and old belts accounted for. Now it's time for the moment of truth!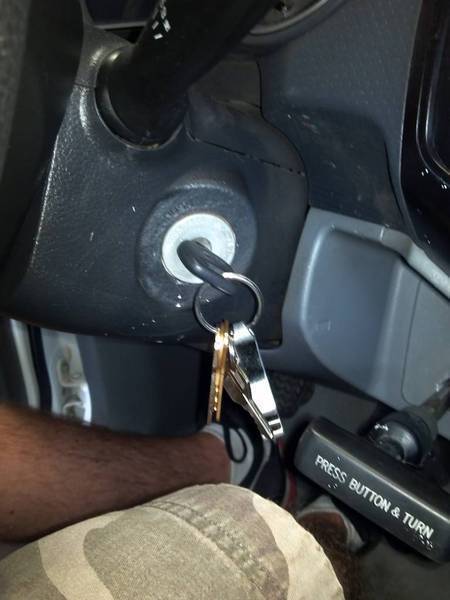 Success! No sparks, no smoke, no fire and best of all, no more squeal!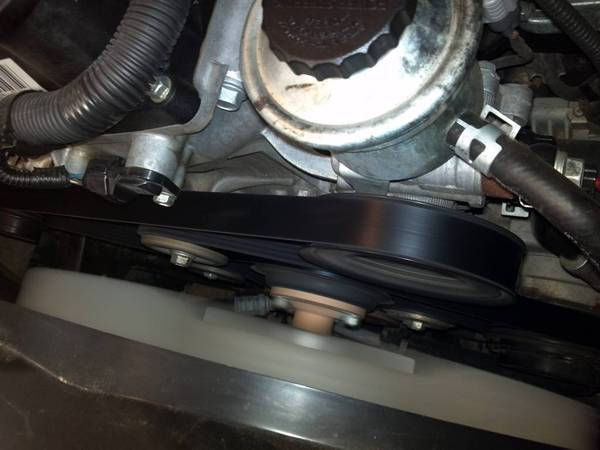 Excitement! I don't suck at trucks!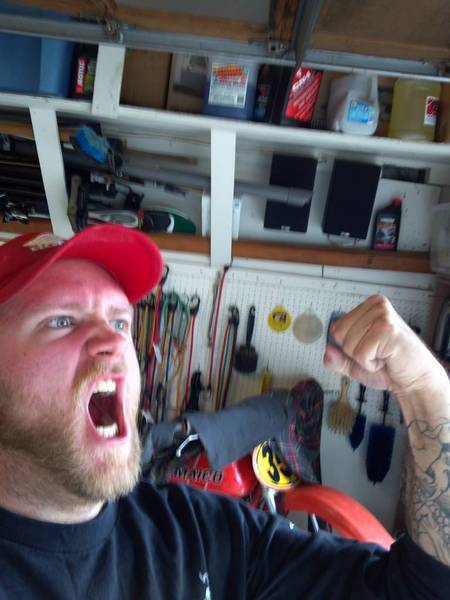 I hope I didn't leave anything out and I hope this helps!
*I am not liable for anything that happens to your truck, good or bad!*