As much as I loved my FJ, it just did not suit my needs anymore. So, I sold it to my uncle and in the same week purchased a 1985 Toyota 4Runner. The P/O had all the original paperwork, including sales receipts and maintenance receipts dating back to the 80's. I knew a chance like this was one in a life time considering all the paperwork and the condition, considering it is a 29 year old truck. Now on to the good stuff
How she currently looks...
The day I picked it up
It came with the original fenders, which are pretty rusty. I also received the A/C unit in pieces, but who needs A/C when the topper comes off? The truck also came with a ton of really cool little things, but I will get to those later
. Drove it 5 hours back from Raleigh without a hiccup. I did stop a few times to check for leaks and why the check engine light kept coming on, but as it turns out it comes on any time I go 60+ mph
Drivetrain
1985 Toyota 4Runner SR5 4x4
22RE EFI
215,XXX original miles
W56 5 speed, top shift transmission w/ 21 spline output
Solid front axle
LC Engineering Header
Flowmaster Exhaust
Spartan Locker (rear)
Suspension
Ironman 4x4 2" lift kit
12" Bilstein 5125s in rear
Wheels and Tires
32x11.50x15 Dunlop Radials (sold to my neighbor)
33x12.50x15 BF Goodrich KM2s
OE 15" Toyota Wheels
Armor
Addicted Offroad front bumper w/ all the goodies
Addicted Offroad 67" sliders
Trail Gear Rock Assault rear bumper w/ additional supports
Budbuilt t-case crossmember w/
4xInnovations
HD transfer case mounts
Communication
Uniden Pro 520XL
Recovery
TJM 9,000 winch w/ wireless controller (installed but not wired up
))
Hi-Lift
Wheeler's Offroad
Recovery Strap (3"x30')
Cellphone
Miscellaneous
Low Range Offroad housing breather kit x 2
Half-Doors w/ door handles and cup holders
Round Eyes H4 Headlights
On with the pictures!
I have not messed with the sunroof too much, but I was told it still works.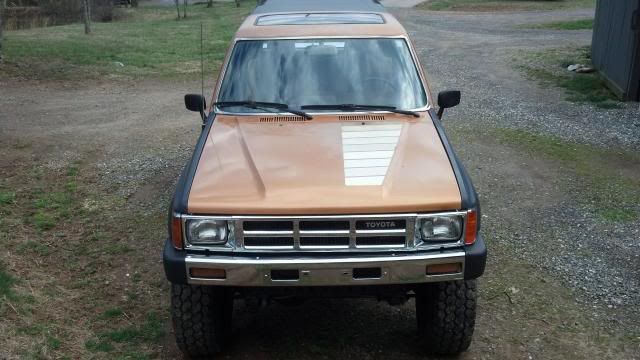 Some problem areas.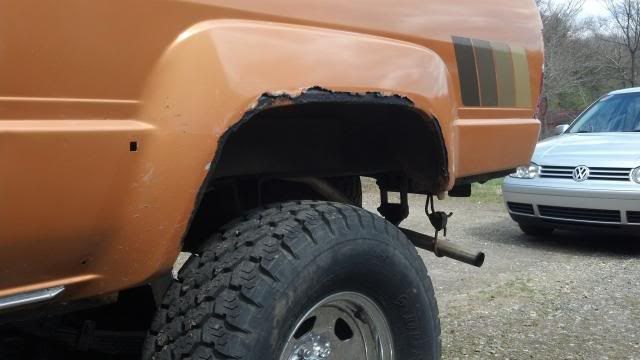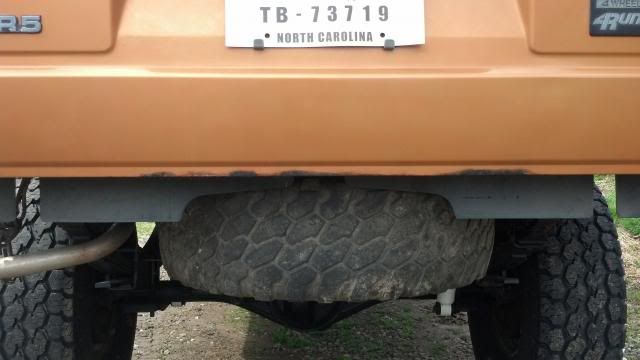 And a fully working back glass, it goes/down up via key lock on the tail gate or the switch in the cab.
On to some interior shots.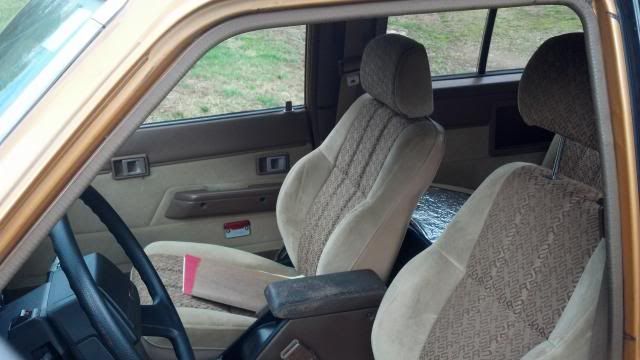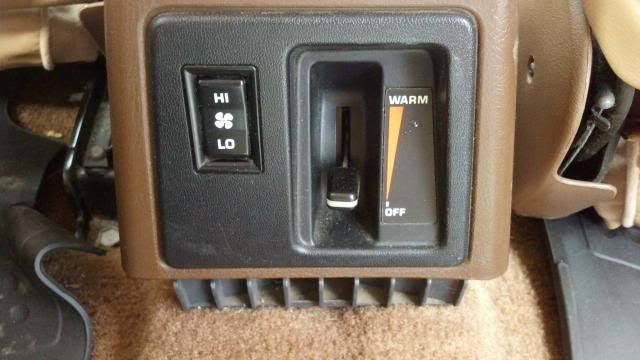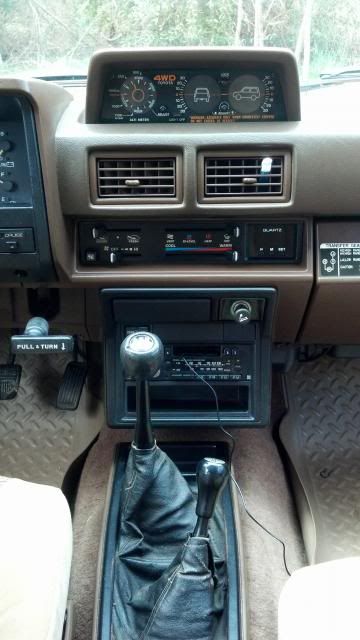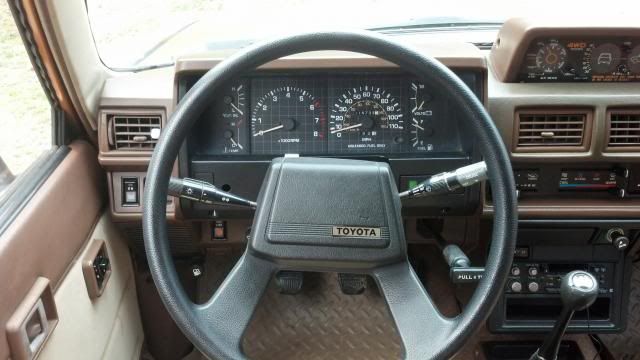 And here are some of my favorite things about this 4Runner.
Here is a shot of the original owners info.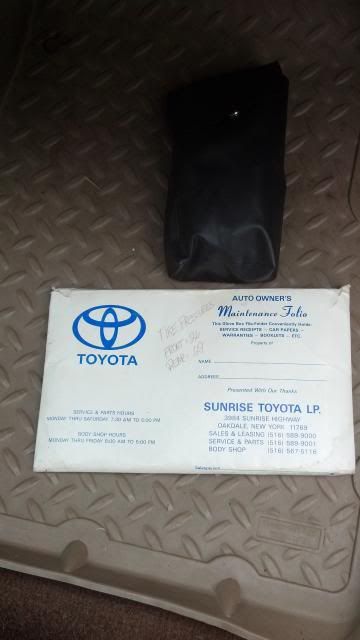 Original owners manual.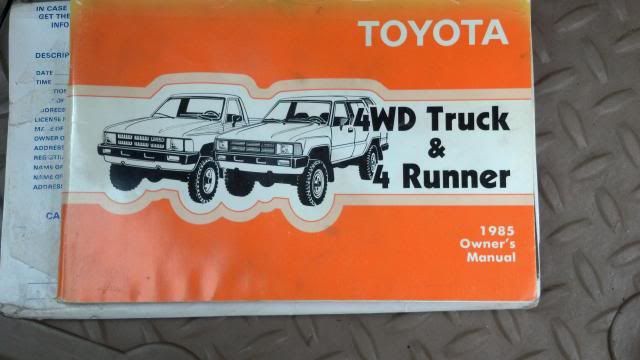 And the original owners guide.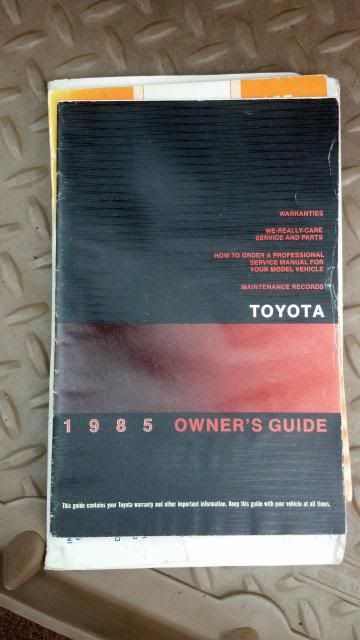 Also in there was some old registration receipts the oldest one I found dated back to 1992.
And the stack of receipts.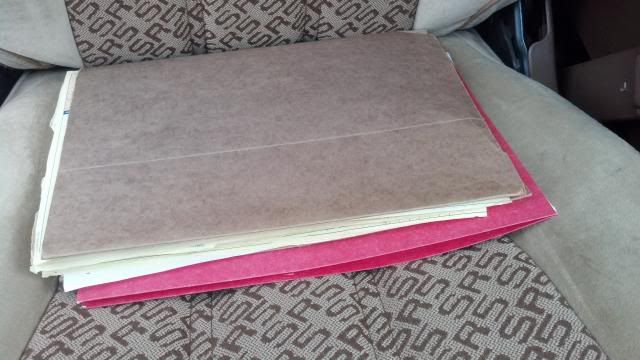 What is in the little black pouch?! I bet it has something to do with this:
It is a small lamp that hangs from the hood!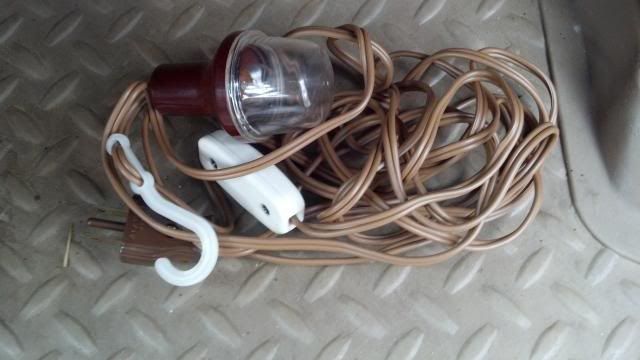 And it still works!
In the back cubbies I found some more goodies
And in the green pouch are....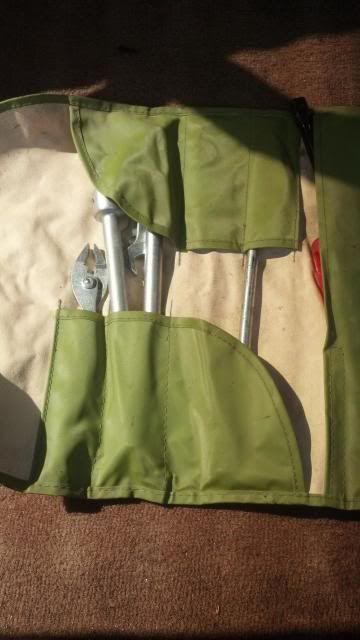 Actual Toyota tools. Everything but the green and red handled screwdrivers have "Toyota" stamped on them.
Mods Completed
LC Engineering header (4/30/13)
Flowmaster exhaust (4/30/13)
CB setup (5/24/13)
Spartan Locker (3/2714)
Half-Doors (4/11/14)
Wish List:
Duals (currently piecing together)
RUF w/ Chevy's (currently piecing together)
5.29's
Soft top