Well, I guess I am the first official customer for
All Pro's
bed rack, and now that I have it on the truck, I thought I'd share some pics and a little review with you guys so that you can figure out if you'd want one on your truck.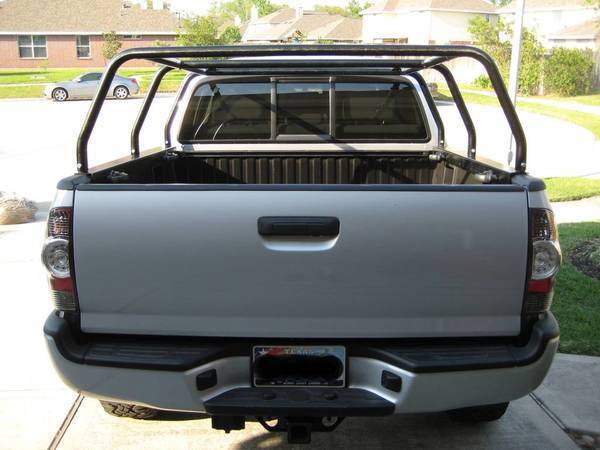 First and foremost, let me say that Jason, Curtis and all the guys at All Pro have been nothing if not helpful and pleasant to deal with. What problems I've had will undoubtedly be rectified and I have no complaints with them at all.
I ordered the rack along with a set of sliders and the front bumper during the group buy, and thus far, the rack is the only thing that has finished fabrication. I received in about four days after shipping from California, but as I just got home from a trip last night, I wasn't able to get it assembled and mounted until today.
It shipped in three sections. One box, containing the insert sections and hardware, and two "bundles" (for lack of a better word) of tubing. They were padded with heavy paper and wrapped in shipping plastic. After getting everything unwrapped, we found quite a bit of damage in the powder coating from rubbing and getting banged around. There were several pretty heavy gouges and rubs in the coating that will need to be replaced. Talking to Jason at All Pro, he said that most will be sent bare and that would certainly not be an issue, but if you were to get yours powder coated, a better packing job is definitely gonna be needed.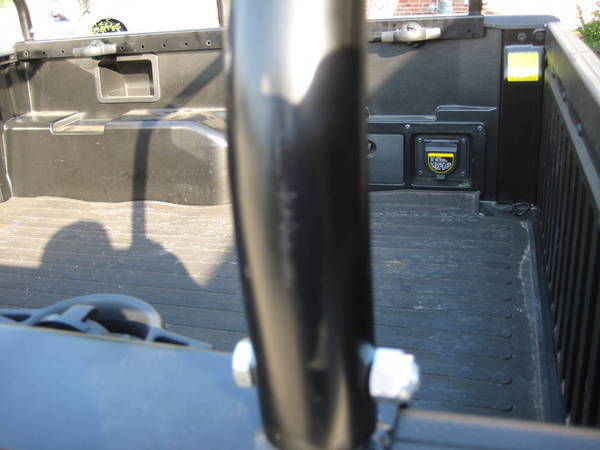 After laying out all the pieces, we started assembly and had a pretty rough time. Unfortunately, as there were no instructions included (not that it was brain surgery) we were unaware that there were apparently small part numbers on the inserts and tubing. It is my thinking that the rack was assembled and then drilled. Because of that, and because we didn't see the hidden part numbers we put pieces together as they came to hand and we had a hell of a time with some of the bolts fitting in the drill holes. Had we seen the part numbers (still not sure where they were) I'm sure it would have made assembly a LOT easier.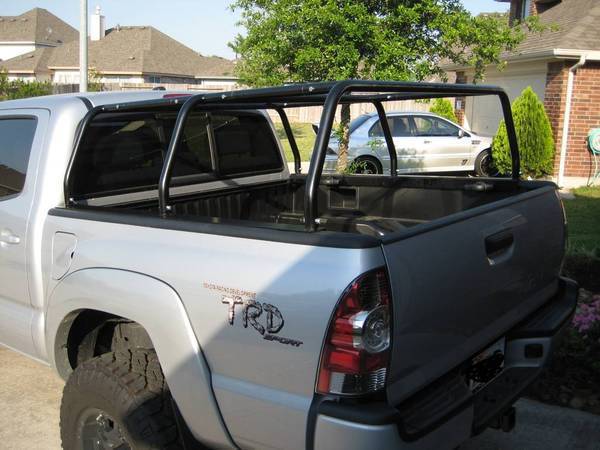 As it is, we had to put the rack up on it's end and hammer them together with a rubber mallet. Some of the holes had to be reamed out with a drill bit to get the bolts through. Some of the recommendations I gave them on the phone today was to ship instructions along with the rack, label the parts CLEARLY and bore out the inner hole diameters a few more millimeters to help the bolts get through.
One of my major complaints coincidentally, is the finish of my rack. I got a call last week from Curtis and he explained that in assembly they had scratched the end of my rack a little bit. I had the option of having them repowder coat the whole thing or discount me on the powder coating job. From my understanding, it was a little scratch that just needed a touch up. Little did I know the entire back end of the rack was not just scratched but butchered. It looked like someone had done the exact same thing as we did; turn it up on it's end and hammer the pieces together; just without something to pad the bottom. The entire back end of my rack has not only been scratched but pitted so badly that I'm going to have to get it sanded and repainted.
After calling Jason and talking to him, he told me that he'd find me a fix, and quite frankly, I have every confidence in him to do so. I'm not angry; I am however a bit disappointed that they would let something like that go to a customer. Personally, nothing like that would have ever left my shop; discount or not.
Combined with the shipping damage to the coating, I might as well have bought a bare rack and had it done here, as that's exactly what I'm going to have to do now.
Another issue we had was trying to figure out how the hell we were going to get it secured to the truck. Having received no hardware we wound up using the Toyota rack tie downs. We unscrewed the bolt, ran it inside the railing and then reassembled the tie downs to run through the rack. Needless to say, this wasn't the most secure way of doing it.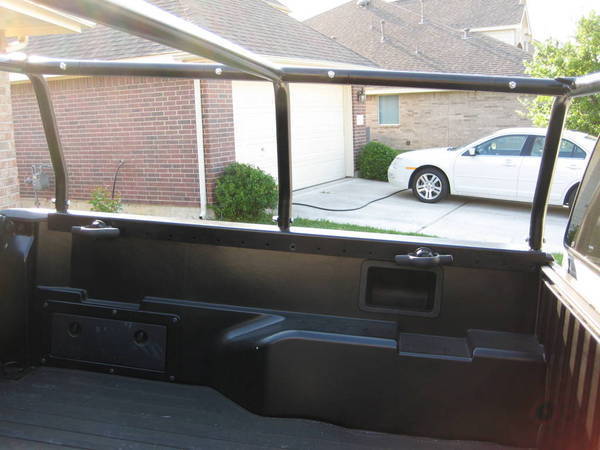 We weren't sure if we were really cleaver or really stupid. In the phone call with All Pro later Jason said that there was a hardware kit included, but for some reason it wasn't shipped, so I'm looking forward to getting that and seeing how well it's secured to the truck.
One thing to also keep in mind is the length of the rack itself. Looking on the web site, you get the impression that the rack extends close to the length of the bed. In fact, this rack ends 7 inches before the tail gate. This isn't a complaint, simply an observation, and it does effect the appearance of the rack itself.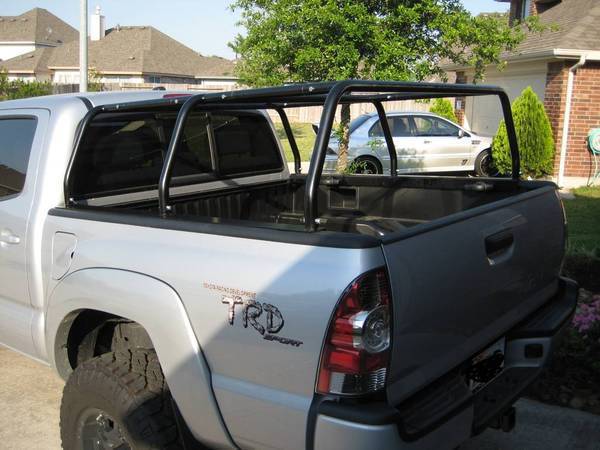 Now for the good; and I wanted to start with the not so good and end on an upbeat note because in the end, i'm going to be very happy with this rack. I want everyone to know that apart from the finish issues this is a hell of a rack, and with a few little adjustments, All Pro has a very nice Taco accessory.
The thing is heavy and after it was all put together it's SOLID. Once we put it on the truck, I got up in it and pushed, pulled, kicked and rocked and got the truck rolling around, but the rack didn't budge. I'm sure when the "real" rack mounting hardware get installed, it'll be even sturdier. Curtis at All Pro assured me that this rack will hold my Yakima Kayak rack, a basket or whatever I wanna put on it, and now that I've got my hands on it, I'm a believer.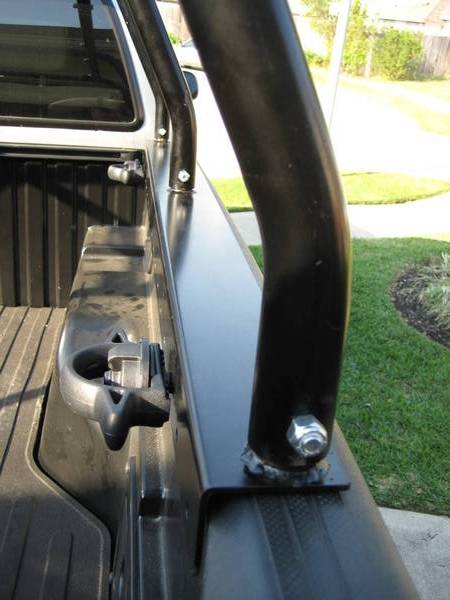 The rack has 4 horizontal mounting brackets at the top of both ends for what I would think are lights or light bars. I plan on mounting my Yakima rack on top of it and kayaks on top of that, and I'm pretty confident that it will work just fine. There is a lot of potential for this rack in the way of mounting other items, but keep in mind that it's 1 1/2 inch tubing.
All in all , I'm pretty happy with the rack. Honestly, this is a brand new product for All Pro, so I'm going to write off the shipping damage on "experimenting" on the right way to get the thing shipped. As I said earlier, if you buy the rack bare metal, it won't be an issue at all. If you live closer to them, I would even recommend you buy the rack welded together and forgo the whole nasty bolting together process all together. I don't really relish the idea of trying to get this thing apart.... EVER, and would have been quite happy with a fully welded rack.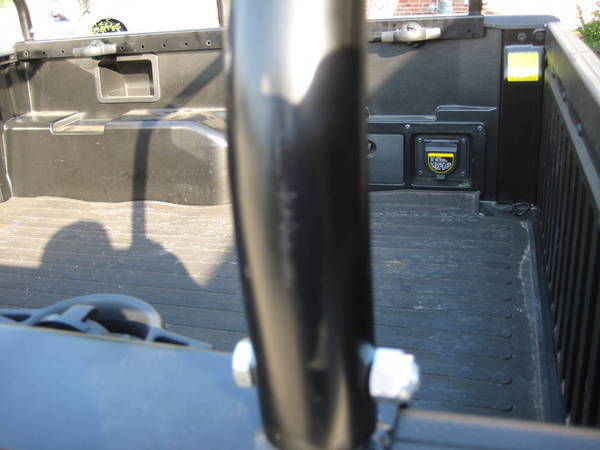 If I were to make recommendations to future buyers I would say;
Buy the rack bare and have it coated or painted.
Buy a case of beer and bribe a friend with it to help you get the thing together. Without my buddy, I don't think I would have had the ability or the patience to get this one together. It's heavy and you'll need one guy to keep it upright and the other guy to hammer down on it.
Make sure you find the part numbers (wherever they are) and put the right inserts in the right places.
Buy yourself a rubber mallet; your gonna need it.
To finish, let me encourage anyone who is on the fence about this rack to get it. I am sure that All Pro will get the bugs worked out and I think this is a very strong and versatile product. I hope the sliders and bumper are as solid and well built. NOW GO BUY ONE!
John