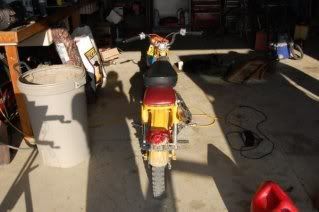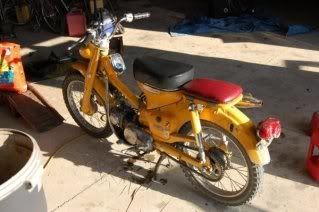 42 years old, I spent about a month last summer getting it running again. About all I did was rebuild the carb and charge the battery!
It had been sitting in the barn for about 15 years. Just goes to show you how well Honda makes these things.
1 cyl., 90cc. She goes 45mph with a little tail wind and my 230lb self on it.
Bit of an oil leak, but not a big deal considering. Filled up the tank ONCE at the beginning of the summer last year, and added some stabilizer in the fall before I parked it for the winter. Still over half a tank left after riding it 3x week for a couple months.
Just pulled it out of hiding today, threw a 6v charger on it for a few hours, a spritz of starter fluid and she started right up! couldn't believe it!!
:banan adance:
Mom rode this when she was my age (22), its a lot of fun to learn how to ride with it. Let me know what you think.