Postponed
Camino Del Diablo,
Starting point: I-8, exit 30 at Wellton
Finishing point: Arizona 85, 2.2 miles south of Ajo
Total Mileage: 114.1
Driving Time: 2 days
Remoteness rating: scale is 0 to 2, this is a +2...as remote as it gets
This trail will require more than just a sack lunch...
Rating for the trail 4: High-clearence required, 4WD's prefered. Expect a rough road surface with rocks larger than 6" but reasonable driving lines will be available. Sands will be deep and will require low tire pressures. Substantial sections of single-lane shelf road, moderate grades, and sections of moderately loose road surface.
To obtain the range permits please either visit in person or by mail all any of the following locations:
There is a 20 minute video that you need to watch in order to obtain the pass. Everyone that will be going on this trip will need to go get a pass, not just the people driving...passengers as well.
Luke Air Force Base Gila Bend Auxilary Field
Gila Bend, AZ 85337
(928) 683-6220
Range Management Department
Box 99160
Marine Corps Air Station
Yuma, AZ 85369-9160
(928) 341-3402
Bureau of Land Management
Yuma Field Office
2555 E Gila Ridge Road
Yuma, AZ 85365
(928) 317-3200
Bureau of Land Management
Phoenix Field Office
21605 North 7th Avenue
Phoenix, AZ 85027
(623) 580-5500
Cabeza Prieta National Wildlife Refuge
1611 North 2nd Avenue
Ajo, AZ 85321
(520) 387-6483
Map of trail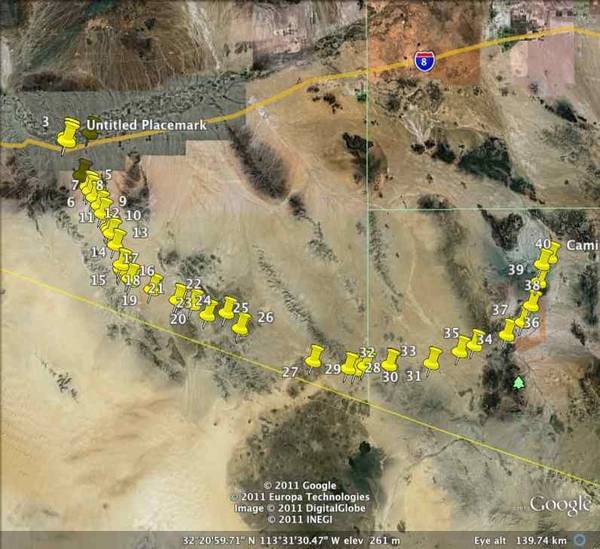 Before the trip:
Go over your vehicle: make sure battery is good, good hoses and belts, no leaks from anywhere, ball-joints/uniballs and suspension components are good.
Items needed:
Food and water
Small shovel or multipurpose ax, pick, shovel, and/or sledgehammer
Recovery straps/heavy duty yank straps/ratchet tie-downs
2 spare tires with wheels (if your a boss and can pop the beads on/off then thats on you)
Hi-lift/off-road jack with base plate for soft sand
Emergency medical kit
Spare key just in case
Jumper leads
Flashlight
Portable Air compressor
Gas, engine oil, other vehicle fluids
Worth Considering
Tool kit with some spare parts: you know what breaks on your truck, be prepared
Tire repair kit: ARB makes a bad-ass one
Fire extinguisher: 5lbs is basic minimum for actually putting a fire out
Pop-up tents for shade during breaks
List of people:
Oliver (pass)- OBA, stand alone compressor, 60" Farmer Jack
Scott
David
Josh
Eric- Strap, shovel
George (4runner)
Carlos
Brian (pass)
Possibles:
Garrett
Brian
Patrick
Reads on the trail with photos
http://www.markdstephens.com/el_camino_del_diablo/
http://www.desertusa.com/mag02/may/diablo.html
http://hikearizona.com/photoset.php?ID=7356&start=15
http://hikearizona.com/photoset.php?ID=19482
http://hikearizona.com/photoset.php?ID=13701
http://www.4x4now.com/pp001.htm
http://www.bajataco.com/caminodeldiablo06/index.htm