TBH I'm not really sure what a fair price with most of this is so... yea. For now just make a reasonable offer if there is any interest and I'll come up with some ballparks in the next few days. I know none of it is worth a lot so if it can help out someone local I'm all for it.
Item List:
- Stock Exhaust (Doublecab Shortbed)
- Front TRD Off-Road coils (built)
- Rear TRD Off-Road shocks
- TSB leaf springs
- Stock Upper Control Arms
- Stock front bump stops
- Stock rear bump stops
- Stock u-bolt kit
Prefer local dealing only at this time, hence why it's in this section.
All parts are coming off of my 2010 TRD Off-Road double cab short bed 4x4. All parts were removed prior to 23,000mi on the odo. TSB leafs were installed around 4-5k on the clock so they have even less on them.
Overall picture of all items: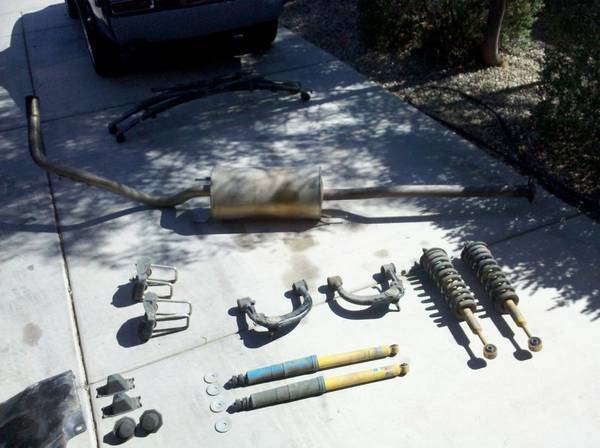 Gallery for pictures of parts taken with DSLR camera and individual shots:
https://picasaweb.google.com/kyouto4...Lzoh6Cf6rKYVA#