New lowered price: $250 cash
Hi everyone,
I have for sale a 1 year old Baja Motorsports 70cc 4 speed dirt bike. This thing is literally in like-new condition except for a little dust on the tires. It has less than 20 hours of run/trail time on it with very easy riding. It kick starts like a champ even when cold, and warms up fast. It's light enough to just lift up into the bed of my truck and use simple tie-downs to my rail cleats. I had it stored for a few months over the winter with fuel stabilizer, but recently used up all that old gas and put fresh 91 octane in it and a little bit of Sea Foam to clean out any old junk. It also has a fresh spark plug just because I had one kicking around and the factory one looked super cheap. It runs better now than it did brand new, literally.
These are really fun little Chinese dirtbikes and great for kids to learn how to ride.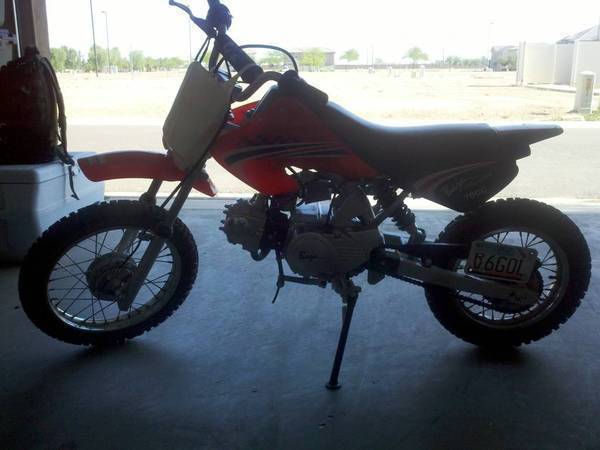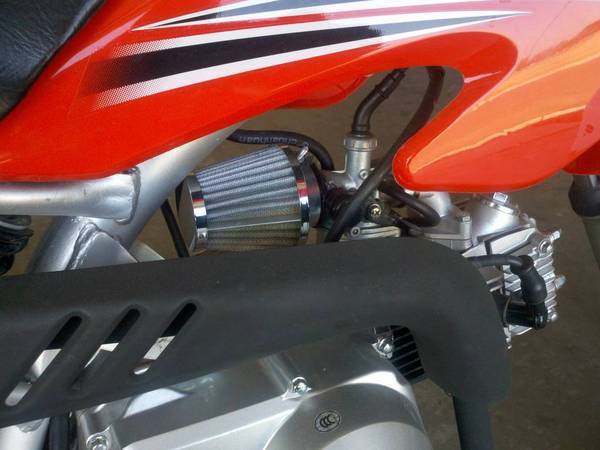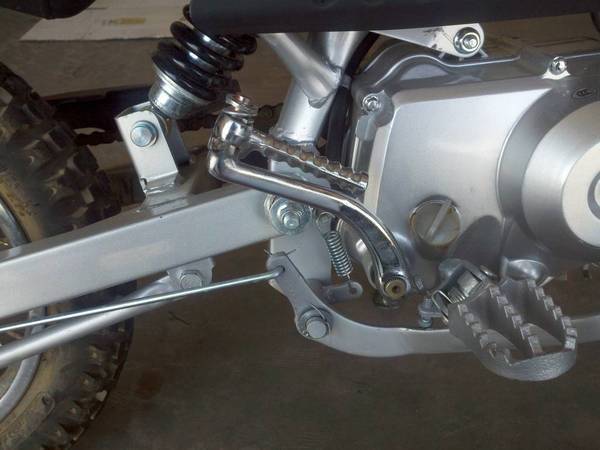 The only reason I'm selling it is because my son has already outgrown it. He decided to grow over 6" in the past 6 months and just can't ride it comfortably like a full size bike. This dirt bike is PERFECT for your average 6-12 year old and is a great training bike that gives them 4 gears to practice shifting with (no clutch needed to shift... just kick up on the foot shifter to go to lower gears, and tap down to shift to higher gears). Teaches your child good shifting timing without the hassle of the clutch lever.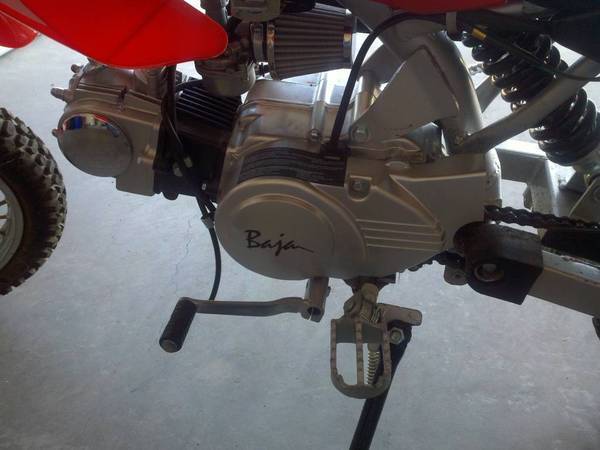 This bike topped out at 50 mph on open road, and my fat ass at 6'1" and 230 lbs could get it up to a little over 40 mph. On the trails, my son could really climb the hills with the gearing and the smaller rear tire.
Engine/transmission:
70cc 4-stroke engine
Kick starter
Automatic clutch 4 speed transmission (just kick the shifter up and down, no need to squeeze a clutch)
Suspension/brakes/tires:
Telescoping front forks
Rear swing arm suspension with mono shock
Dual front sealed drum brakes
Rear single hydraulic disc brake
Front tire - 3.0/14
Rear tire - 2.5/12
Chassis:
Length: 59.44"
Width: 19.29"
Height: 35.82"
Net weight: 132 lbs
Seat height: 26.77"
Brand new, these are $599 (go to
http://www.reconoffroad.com/product.aspx
> Dirt Bikes > Baja 70cc). I bought this literally a year and 3 months ago and I'm willing to part with it for
$250 cash.
These bikes require to be registered, and I have the title for it. Annual registration for the OHV tag/plate was only $25. It's in too good of shape and runs too well to go any less than this, but I want it out of my garage. My loss, your gain.
This is for local AZ pickup only as I'm not going to hassle with shipping it. I live in Peoria. Waste my time and the price goes up.