UPDATE:
UPDATE:

Went to the dealership, I started hearing a high pitched hum in the belt - also noticed squeaking in my rear brakes; very loud when going down a hill under 5mph.
Had an appointment to have it looked at and asked for the service manager right away. Tempe Power Toyota
He came right over, i showed him the dunkin donuts cup that was shredded and he said they would replace the serpentine belt, note who made the mistake
and check everything out. He took the truck out and onto the highway with me to double check the braking and make sure there wasn't anything else wrong. He also heard the whistle that I get when going 50+mph hours at times. He didn't at first but took it on a long drive to figure it out and duplicate the issue; even with people back at the dealership blowing up his phone. He personally wrote down everything in detail when we got back and it was all finished later that day.
Ultimately - they washed it, gave me a the new belt, took advantage of 2 TSBs and replaced the rotors and rear braking system worth about $500 + ordered the new strip for the front grill that caused the whistling. All my research before going to the dealership didn't bring up any results about the TSBs being for 2013's, just 2012's but it sounds like it's rolled up until the newer models.
On a side note he also told me the same goes for the windshield wind noise TSB for the 2013's; they just replace it (this noise is much louder then the one that's caused by the grill). He was also was about to order a new replacement for my head unit because for two weeks it wouldn't work at startup. It was when it got pretty cold out here but it would take 15 minutes until the touch screen became responsive. This problem stopped a few days ago so I figured it wasn't worth it unless it acted up again.
Anyway - I just want to make anyone who reads this aware of my good experience at this dealership, and to take advantage of the 2013 TSBs if you have one and are having similar issues.
___________________________________________
So I just had Toyota do my 15k service. I noticed a ticking sound in my engine that evening and thought it was a little strange. It seemed to only happen when I reversed and was pretty quiet so I didn't think much of it.
The next day I noticed it got louder, and worsened when my fan would kick on.
I made this video before I explored further.
http://www.youtube.com/watch?v=r64IaeuHVBE
I starting looking under the engine and saw a little bit of smoke; immediately concerned I turned off the engine and popped the hood. This is what I found: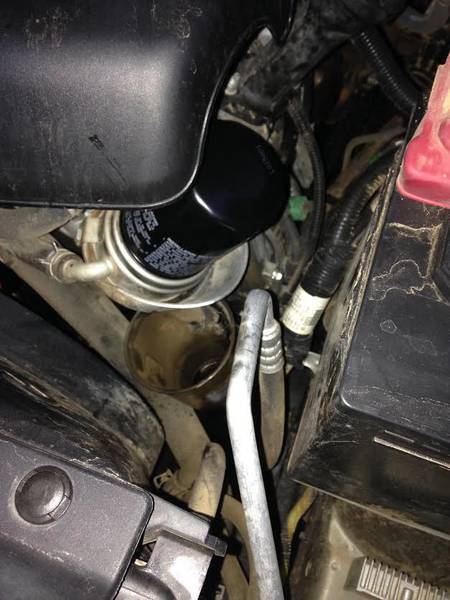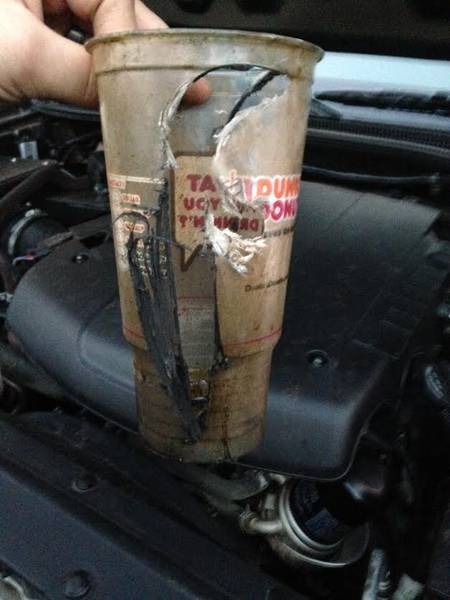 They had left a cup that caught the oil during the oil change, which slipped down next to my fan and started melting on the drive belt, spraying the old oil everywhere.
I'm about to bring her back to Toyota and I'm wondering how you guys would approach this.. what could have happened? Is this dangerous? Do you think I'm entitled to anything for this carelessness?