Update: 8/2012

Shock Mount Relocation


Since I have a problem, and can't stop, I wandered back up to ATO in August for shock mount relocation on the rear axle. Toyota's stock mounts limit the travel length of shocks you can put on your truck. For their normal rear leaf spring setup this is fine, but now that ATO had flipped my shackles and I'd gone to OME Dakar Leaf Packs,
Icon
's standard 2" lift shocks were severely limiting my rear axle travel. No good. Time to change that.
The first step was to get in touch with DSMS and get some spanking new shocks ordered up. Icon made me some 2.5" diameter remote-resi shocks with 15in travel...23" compressed, 38" extended. This is why I love Icon...their 15in travel shock compresses shorter than most other manufacturers' 14in travel shocks. That's a 12in measuring tape in the photo...these things are BIG.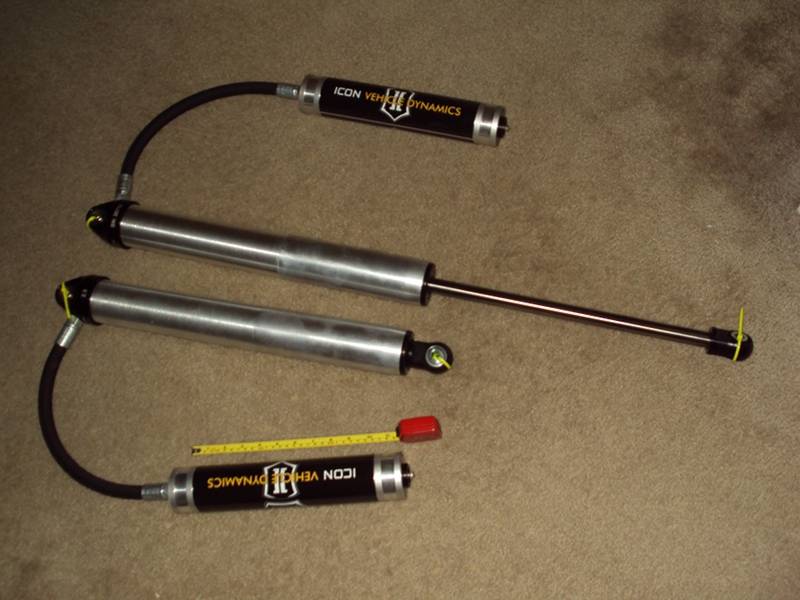 Rear brake lines also had to be extended to avoid ripping them out with the rear axle under full articulation. I went with Crown Performance braided stainless steel brake lines, in blue of course. They were designed for a Tacoma with 7" of rear lift, and I'm running 4.5" or so, so they had more than enough length for my application.
After that, it was a matter of taking a plasma cutter and grinding wheel to the stock shock mounts to get them off the frame/axle, then welding up the new stuff and bolting in the new shocks. Kevin did a great job with the new mounts tucking them high in the fenderwells to allow maximum rear axle travel without requiring cutting the bed for mounting space.
Your end result? This. Droop for days. The top of a 33" tire drops far enough to be even with the bottom of the rock slider.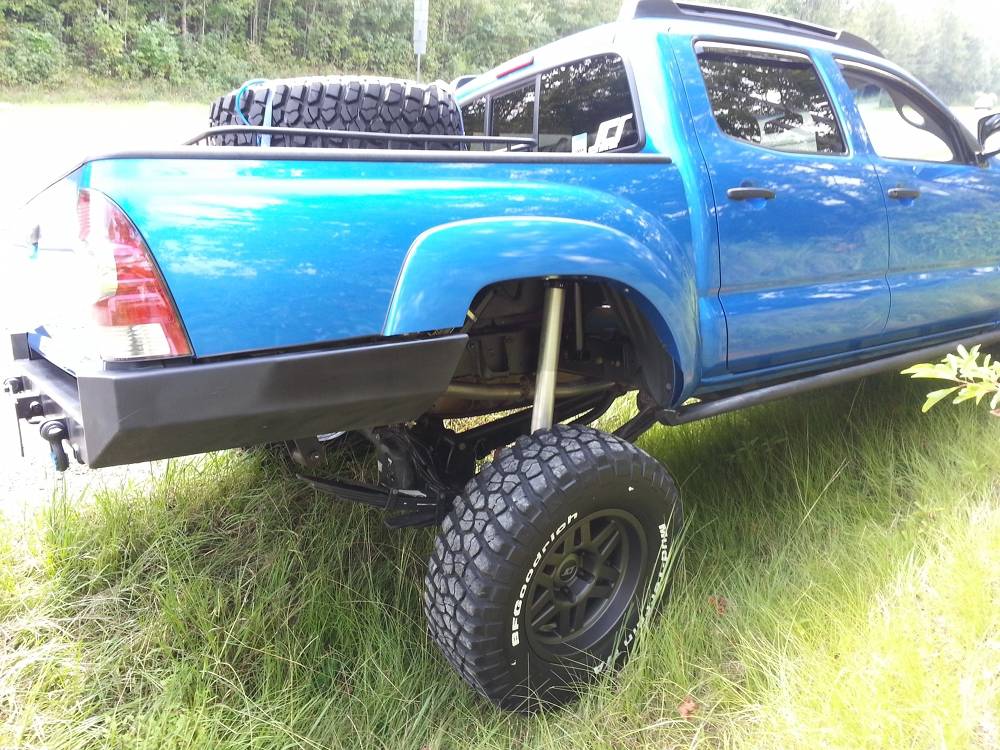 Update: 7/2012


Haven't been in this thread in a while. Figured I should add the newer stuff that's been done recently by ATO.
Shackle Flip Kit
Very beefy, getting the stock shackle out of the dirt and increasing rear axle travel as well. For those interested in a set, you'll need to be willing to make a trip to ATO. These have to be built to fit on the truck because bracket placement/shackle length is a little different depending on truck ride height and the spring pack you're using. Sorry. I know there's a lot of demand for these things out there, but doing it right has some sacrifices...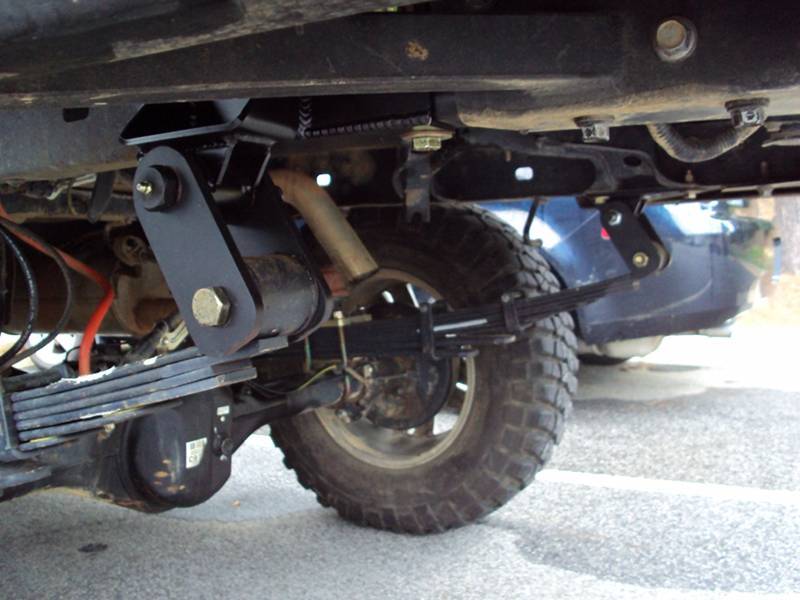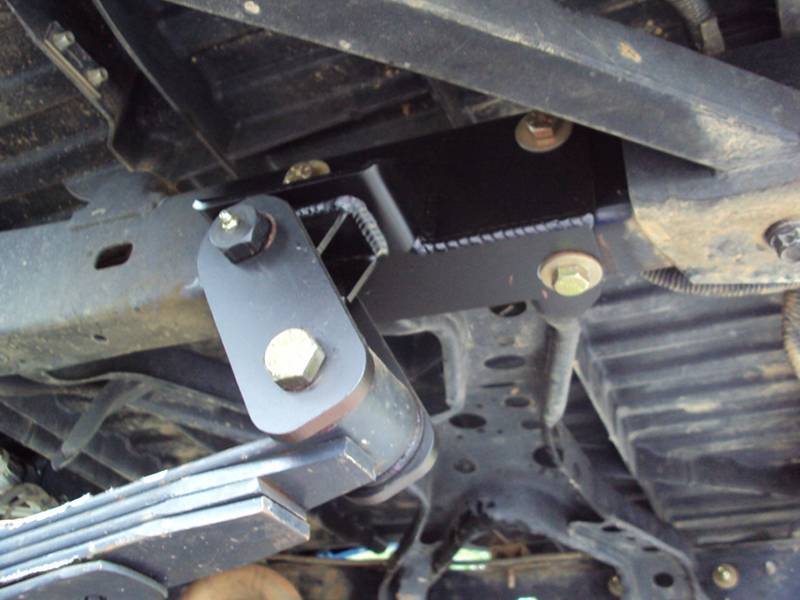 Traction Bar
I got tired of axle wrap. Really, it's kind of sad Toyota didn't implement this from factory. The cost of the extra materials and assembly, on the scale that Toyota manufactures, would've been only double digit dollars per truck...nothing you would notice on the dealership lot. As soft as their stock springs are this item is a must in my book if you're gonna put the rear axle to work. Most of you will have to go to a different muffler to allow clearance for the bar to articulate with the axle, so be prepared to shell out for a little exhaust work as well.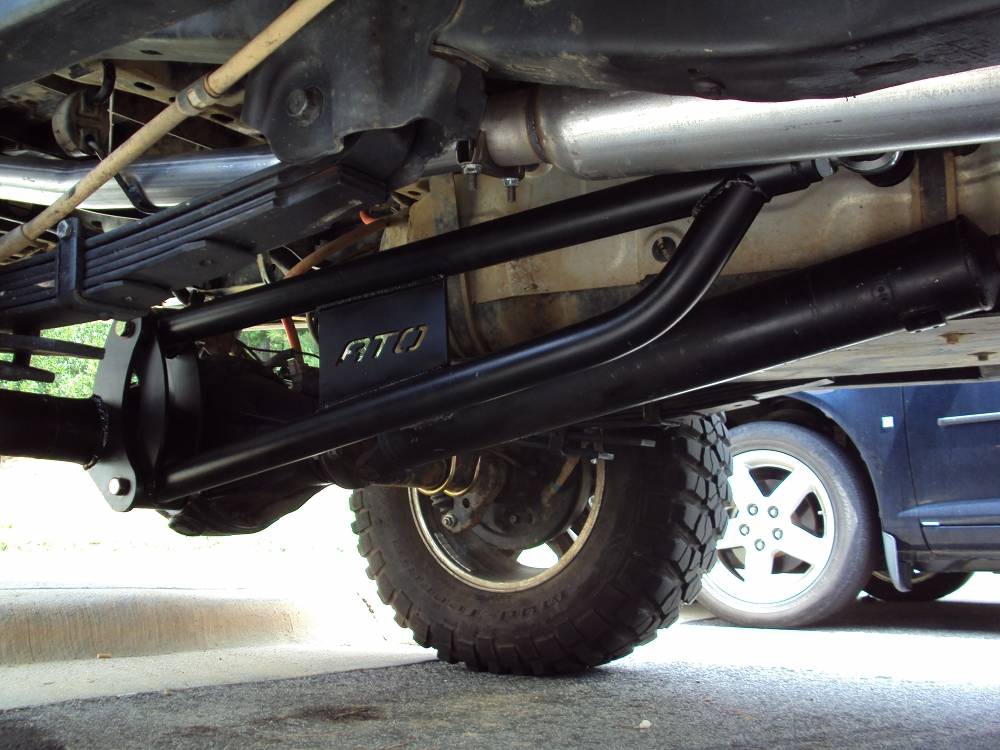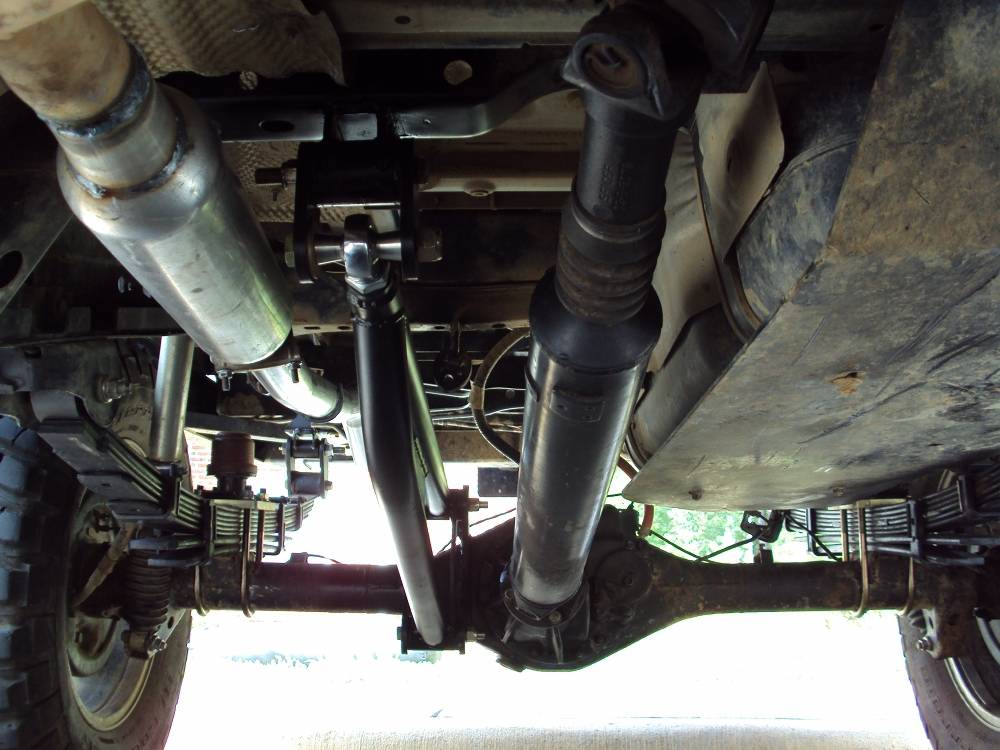 Hi all. Just wanted to drop a thread on my recent experience with ATO. Some of you may have seen my build thread
here
, but I wanted to do a separate thread on the armor install because there are a few unique items involved.
First, it's important to say up front that Kevin and Dave did a kickass job on everything! The products are top notch quality down to every little detail, and honestly Kevin sells them at a bargain. Other vendors would charge much more for quality of this level.
So, with that said, on to the meat:
BUMPER: Plate/Tube Hybrid
So, just got back from another trip to ATO. Brought home the final piece of the package. Miss Blue is now officially the first 2gen Tacoma to be armored by ATO from end to end.
This is ATO's hybrid bumper design. It's super stout, packing all the features I wanted: front hitch, fog light mounts, driving light mounts, hoop bar.
This thing mounts to the frame via
12 bolts
...as far as I know, that's more than any other bumper design out there. The mounting plate and hitch/winch cradle are 1/4" steel. The tubing is bent DOM. The frame gussets and skin are 3/16" steel. There are gussets to the frame as part of the mounting system. No pulling this thing off the frame a la
All-Pro
.
Here we are:
http://www.youtube.com/watch?v=m_m8fai4yeA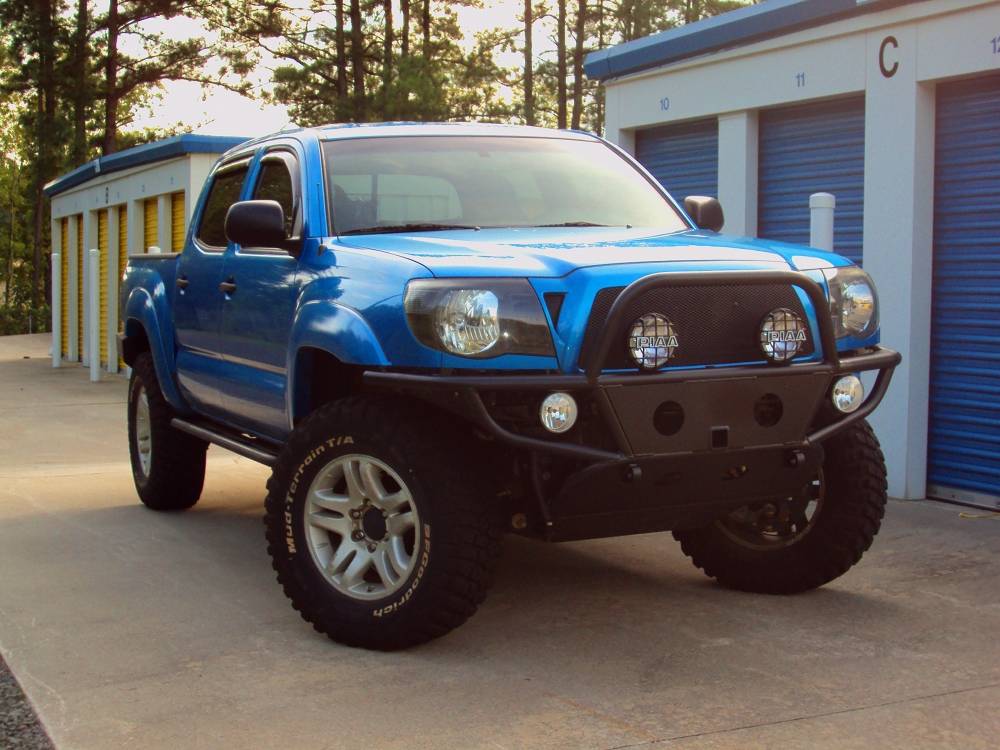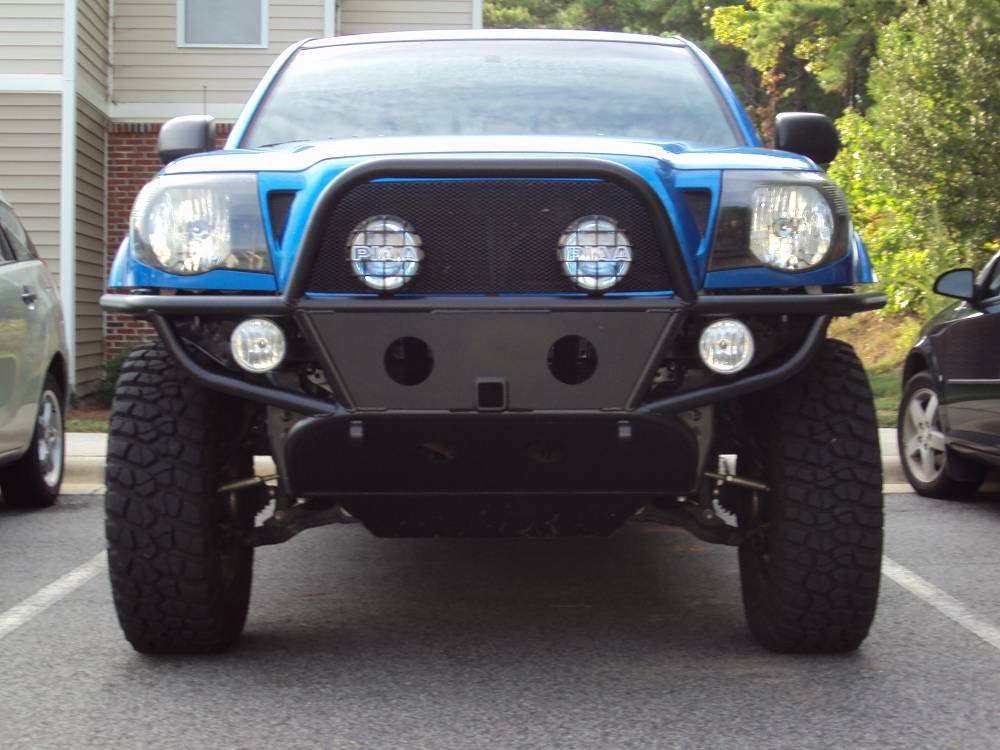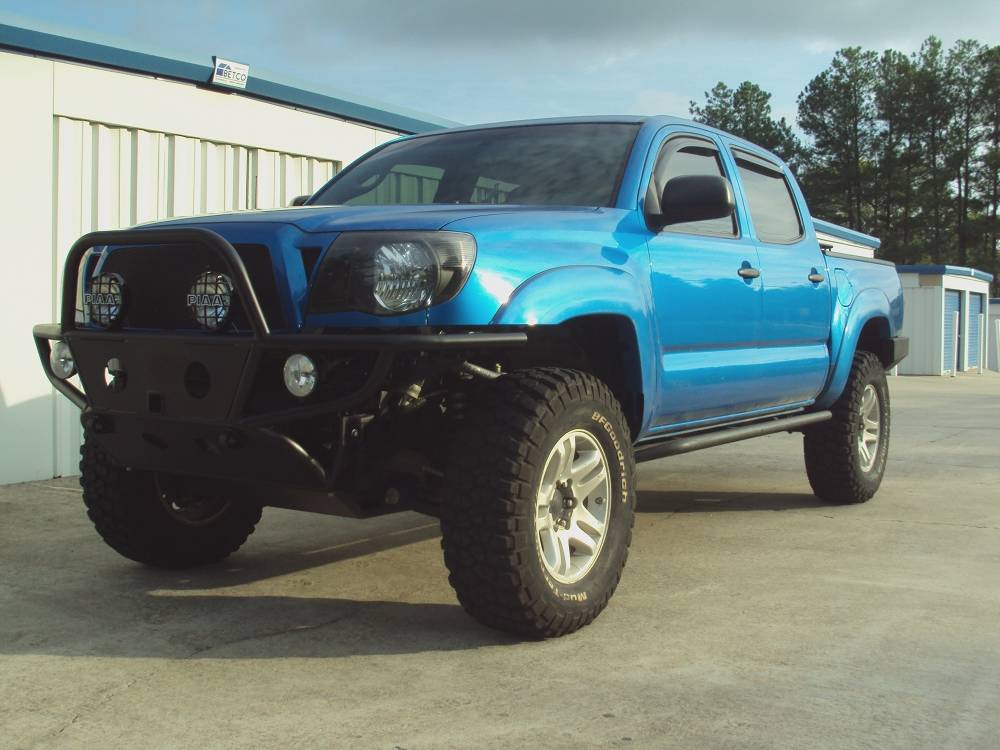 Sliders: Weld-On Hybrid DOM
This is the first set of ATO sliders in existence. I had some specific requests, Kevin did a great job with them, and we ended up with a damn nice set of rocker protectors.
They're weld on, hybrid style, and being made from DOM, they're notably stronger than a lot of other offerings made from HREW.
No specific specs, but they're longer than anyone else's 2Gen DCSB sliders on the market, meaning coverage from tire to tire better than anyone else. The tradeoff? A small modification to the body mount is necessary. If you don't want to deal with that, ATO can easily build them to a different spec that eliminates the need to do so.
We had some dumb luck on slider width (I left it to Kevin to pick) and my unusual wheels, such that the sliders lined up perfectly with the outside of my tires.
These are the kinds of welds you want...stacked nickels baby!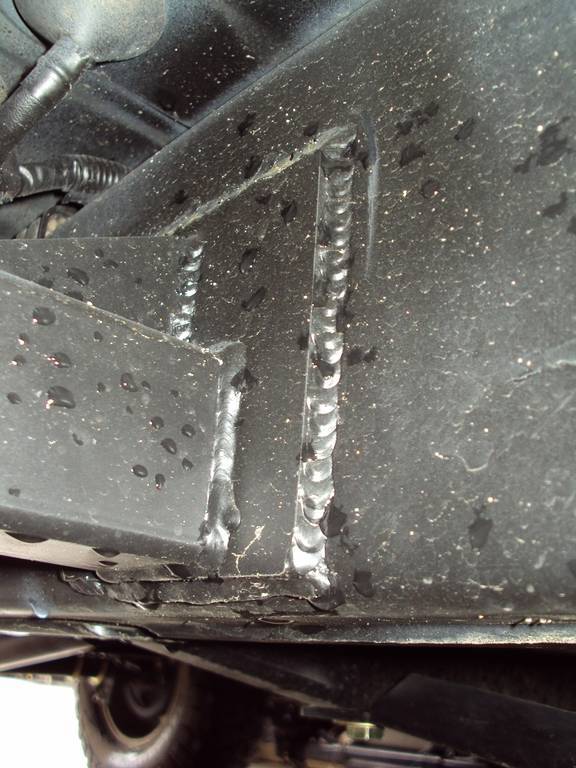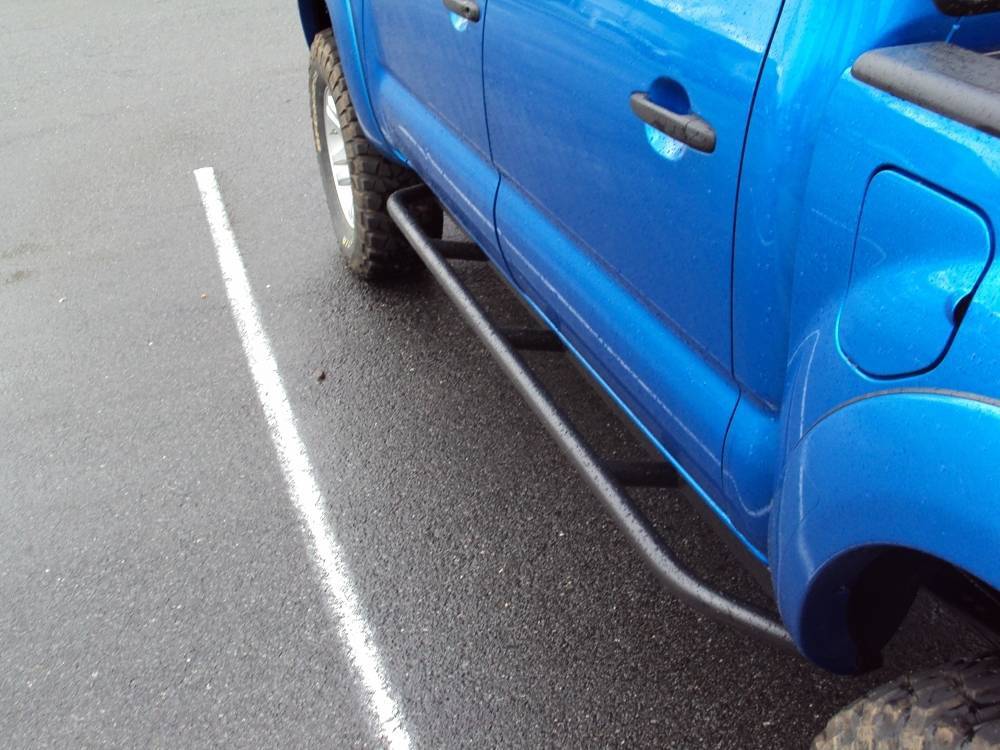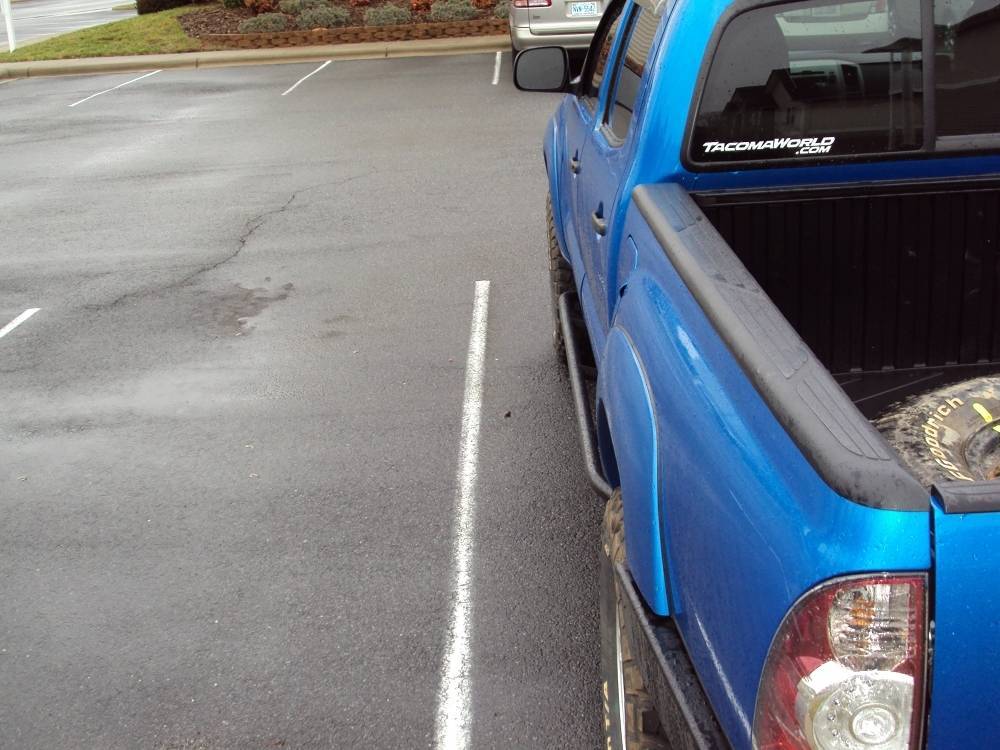 This last image was taken in a storage unit I recently began renting and am slowly turning into a garage. Excited about that. Dropped in this morning to adjust my coilovers back to correct ride height before the photo ops.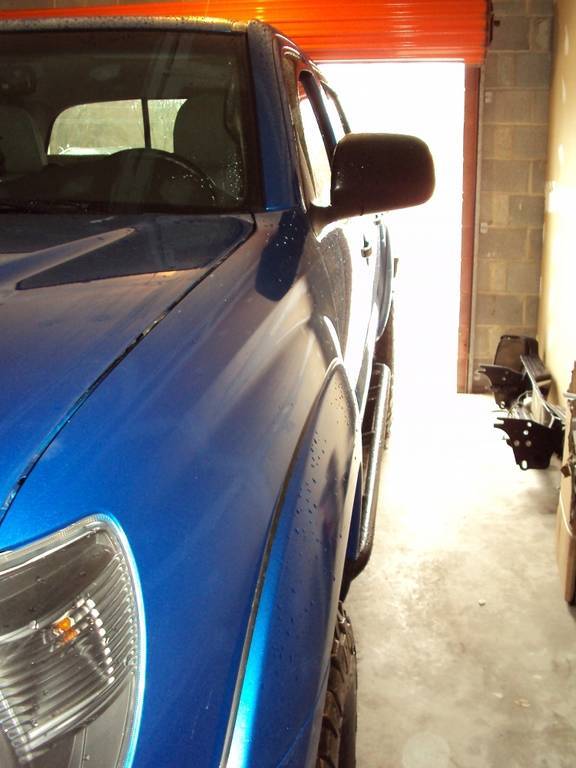 Skids: Front, Transmission, Transfer, Gas Tank


These are some of ATO's better known products. The front skid plate is a damned tank. When Kevin says he makes the strongest 2nd gen armor on the market, he means it. You will NOT mess this thing up.
The rest of the skids are 3/16ths with incredibly solid mounting methods.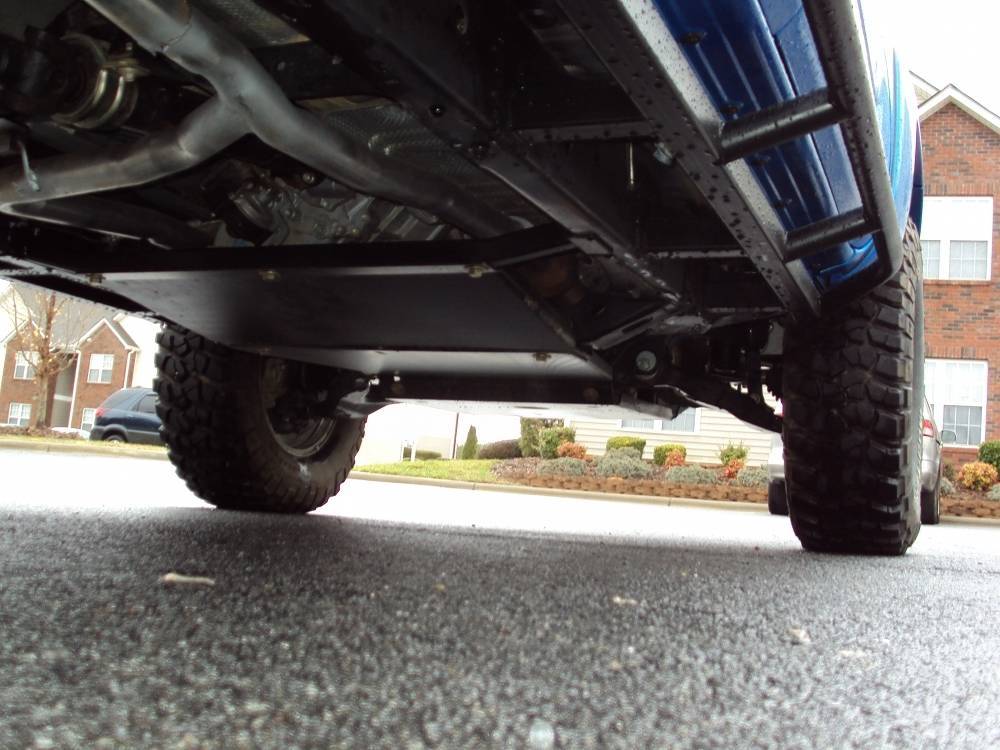 I also wanted some gas tank protection, which was not a problem...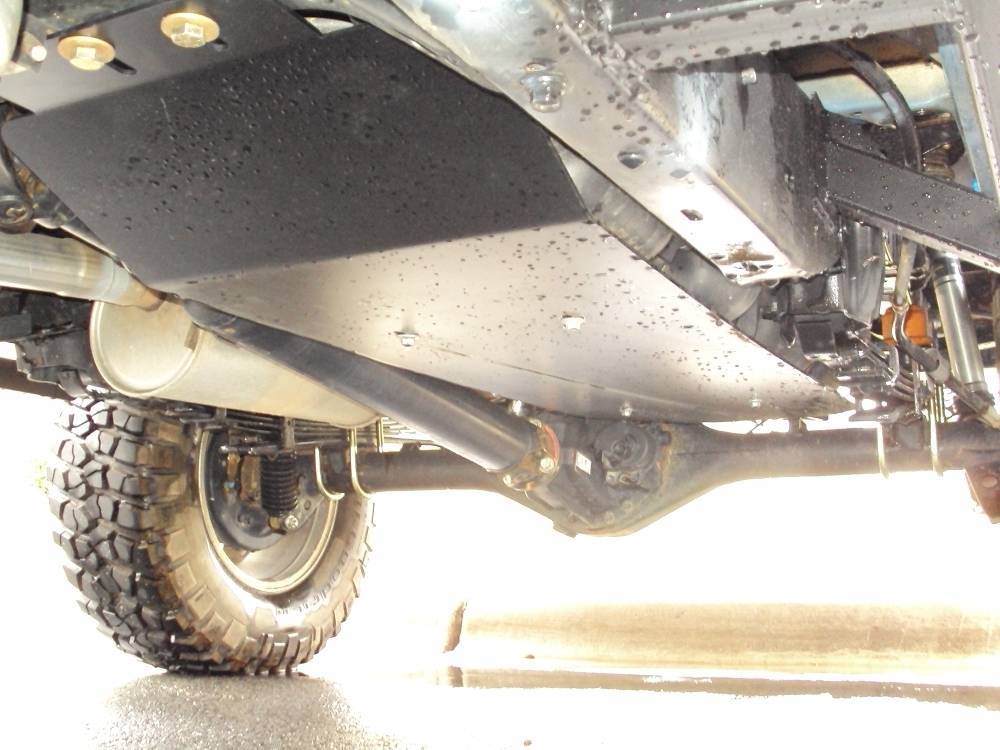 Rear High Clearance Wrap-Around
This thing is awesome. I recently peeled my stock bumper halfway off while wheeling, and had dragged the hitch many times. It was time for that thing to go.
This bumper requires cutting the bedsides of the truck, but it's well worth it.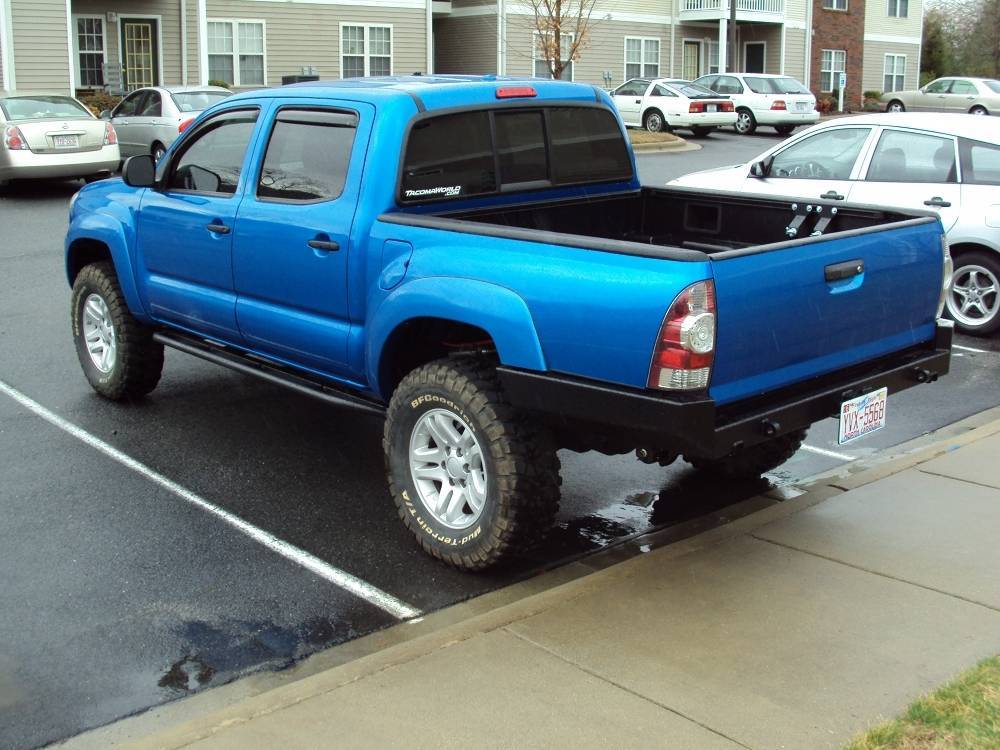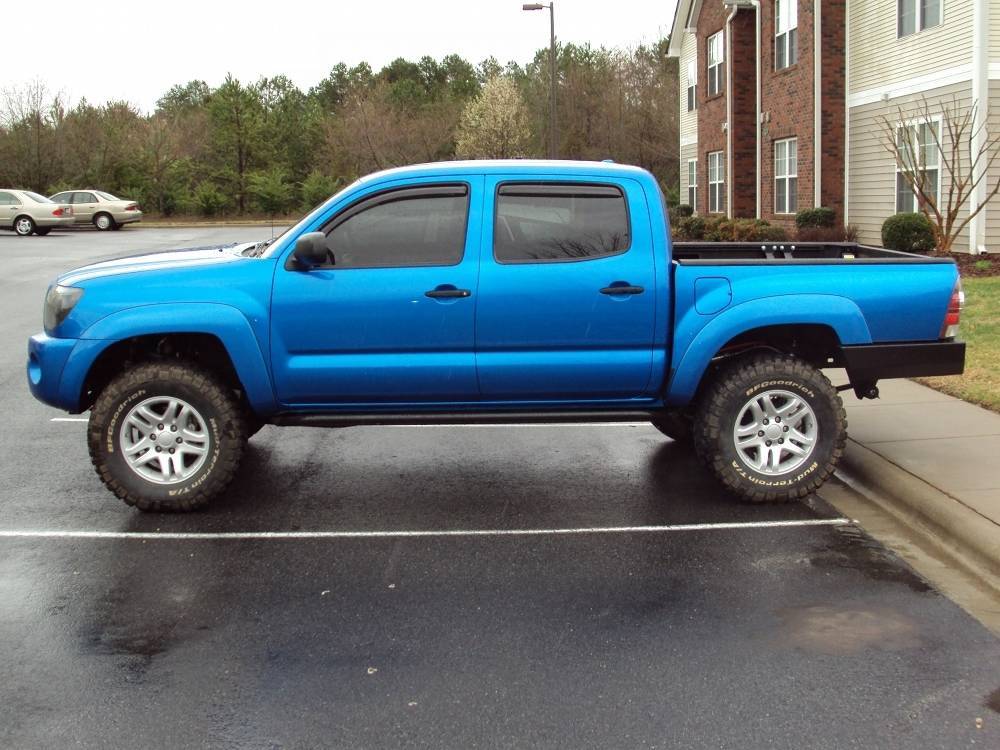 So that's all. All in all, not a single bad thing to say! If you need to button your toy in the best, give ATO a call!