I saw a thread like this for 2nd gens, but nothing for 1st gens. If you have other companies I left off, post them on here with the price please! So, here are some front bumper options for the first gens:
WARNING: The bumpers in the photos may be pictured with additional add-on items that aren't factored in with the base price I have listed. The bumpers in the photos are the ones I got directly from the manufacturers' websites, so I worked with what I had available to me.
Also, These prices do not include shipping. Shipping is usually around $100.
Lastly, Check with any manufacturer to see if a TacomaWorld discount is available. Many of them do offer TW discounts.
Aluminess: $1295
CBI Offroad
Moab 1.0: $824.99
CBI Offroad Moab with Grill Guard: $924.99
CBI Offroad Moab with Grill Guard and Headlight Protection: $1024.99
Elite Offroad: $750
ShrockWorks: $1079
Tactical Armor Group: $500
Relentless: $829 but it's $746.10 with the TacomaWorld 10% discount (thanks RelentlessTaco)
All-Pro APEX: $649
All-Pro Baja: $499
Addicted Offroad: $475
Addicted Offroad Plate Bumper: $749.00
Trail Gear: $492.45
Trail Gear Low Profile: $481.95
Avid Offroad
: $375
ARB: $866.63
Badland Bambi Basher Winch Bumper: $625
Badland Baja Winch Bumper: $625
Badland Flat Top Winch bumper: $600
BlueLake Offroad: $520
EDIT: Here are rear bumpers, as well:
Aluminess: $1950
CBI Offroad Bushmaster 1.0: $999.99
CBI Offroad Bushmaster 1.0 with Tire Carrier: $1499.99
CBI Offroad Outback 1.0: $699.99
CBI Offroad Outback 1.0 with Tire Carrier: $1199.99
CBI Offroad Trailrider 1.0: $474.99
CBI Offroad Trialrider 1.0 with Tire Carrier: $1049.99
Elite Offroad: $600
Shrockworks Plate Bumper: $787
Shrockworks Tube Bumper: $787
Tactical Armor Group Multicarrier: $450
Tactical Armor Group PostRunner: $425
Relentless: $679, but it's $611.10 with the TacomaWorld 10% discount (thanks RelentlessTaco)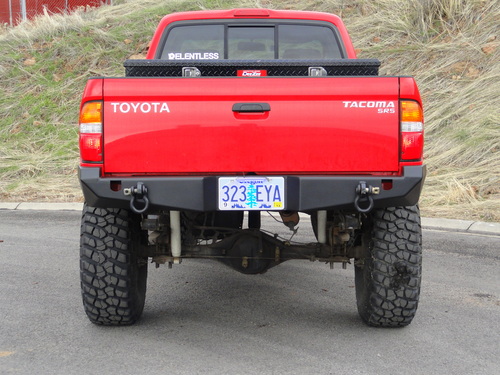 All-Pro Offroad
: $399
Addicted Offroad: $339
Marlin Crawler
: couldn't get a price b/c it's currently out of stock on their site
Trail Gear: $355.95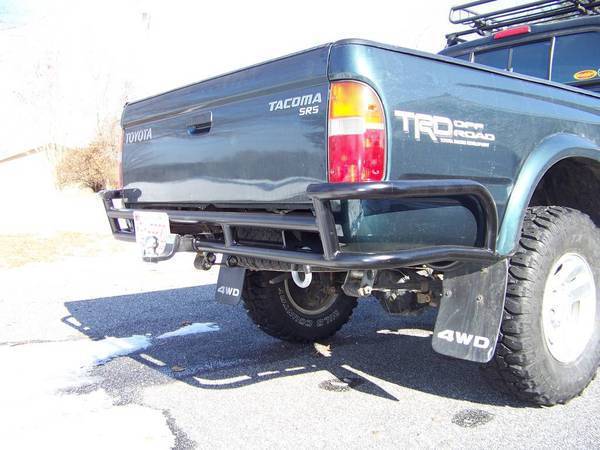 4x Innovations
: $402
4X Innovations Swingout: not sure about the price
Badland: $450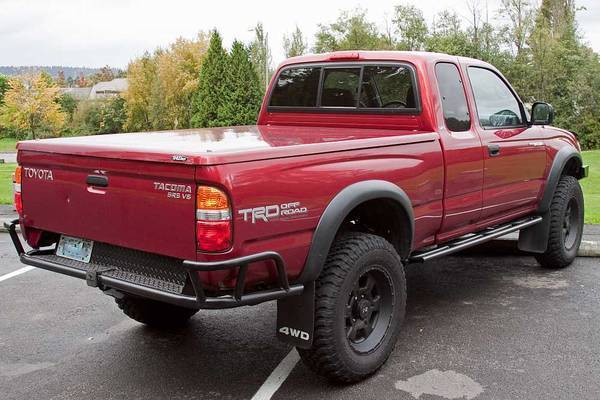 Demello Offroad
PreRunner: $650
Demello Offroad Hybrid: $625
Demello Offroad Tube: $675
Chad's (01Tacoma) Rear Swing Out Bumper: PM 01Tacoma for price (more pics on page 5)
Chad's (01Tacoma) Rear Tube Bumper: PM 01Tacoma for price (more pics on page 11)
Bluelake Offroad: $425