I haven't seen anyone make a box like this before, so I figured I would post some pics.
I started with:
-4x8 sheet of 3/4" MDF
-bottle of gorilla glue
-2 cans of black krylon fusion and some clear (very bad choice!)
-speaker terminals (another bad choice, but live and learn, right)
-screws for blocking and mounting the subs
Final Product: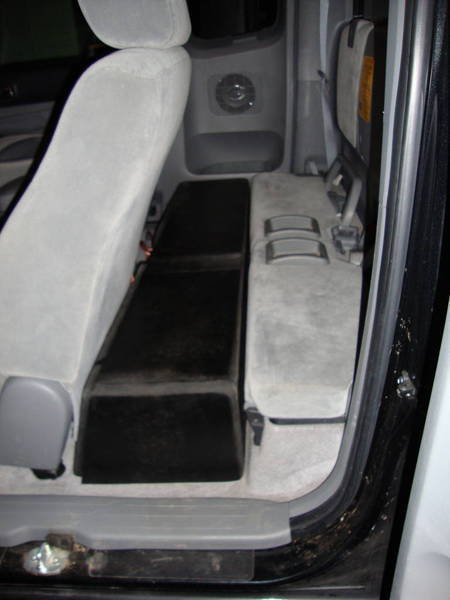 Updated final install: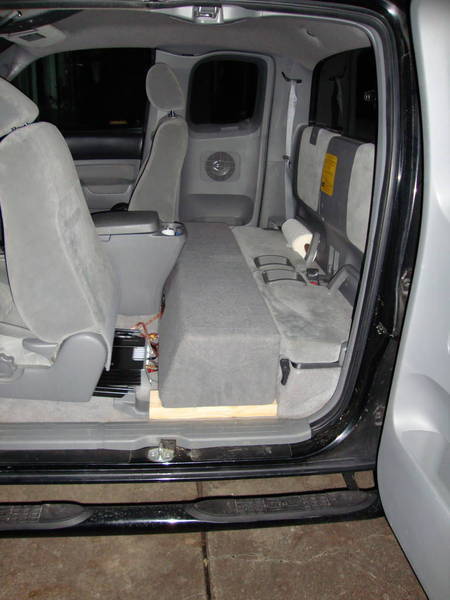 I started out by making a cardboard template to get all the dimensions right. I'm 6'-3" so i didn't want to loose any space at the steering wheel, and I wanted the top of the box level with the jump seat and still be able to get to the storage under the seats.
The right dimensions for me are (these arn't exact, I'm just remembering off the top of my head. For exact dimensions you will have to go measure yourself
):
jump seat length-51"
seat height-8 1/2"
box depth @ floor-12 1/2"
box depth @ top-8 1/2"
box angle 17.5 degrees
After I made my templates I cut out all of pieces from my sheet of MDF, and started gluing it all up. Quick tip, a 4x8 sheet is actually 49" in width so you can rip all of you long pieces first and then put the side panels on to get really close to 51".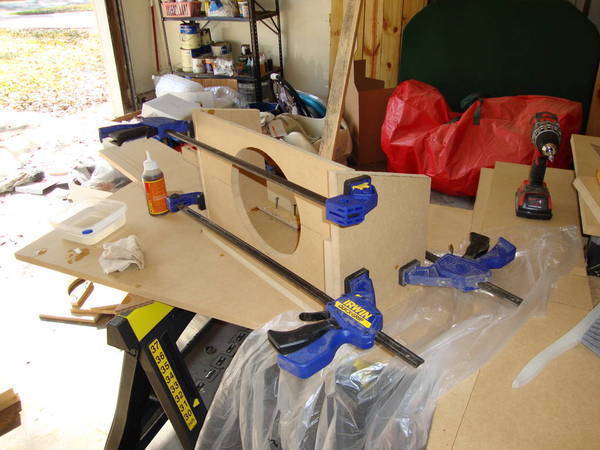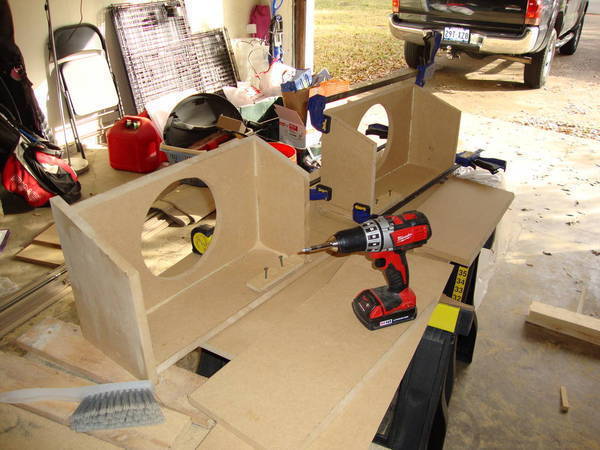 I screwed in some blocking pieces to clamp against, I took those out once the glue set. I use gorilla glue because it expands as it sets, so there's no need put sealant on the inside of the box afterwards unless you're an extreme audiophile or just a little anal. Plus this stuff gives snapple a run for their money as being the best stuff on earth.
All glued up and ready for a test fit.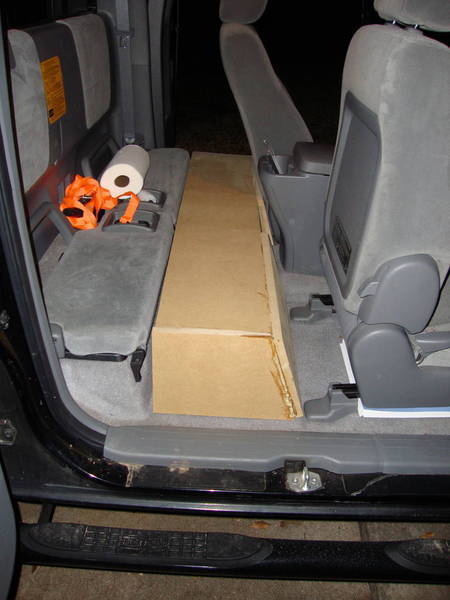 Now that the hard work is out of the way, all you have to do is sand and finish it, wire the subs in, and install all of it in the truck. Easy, right.
I did the majority of sanding w/ 60 grit and finished off with 100 grit.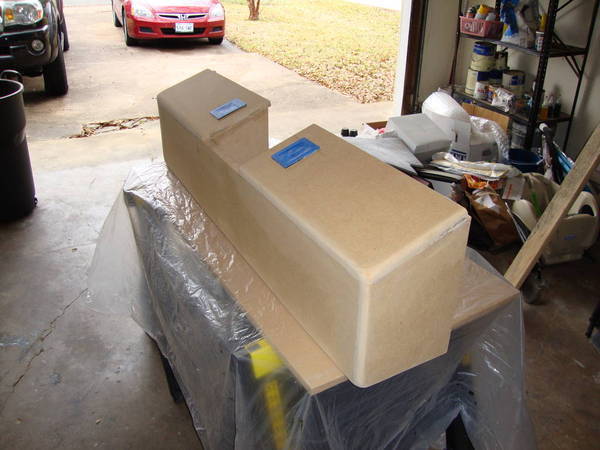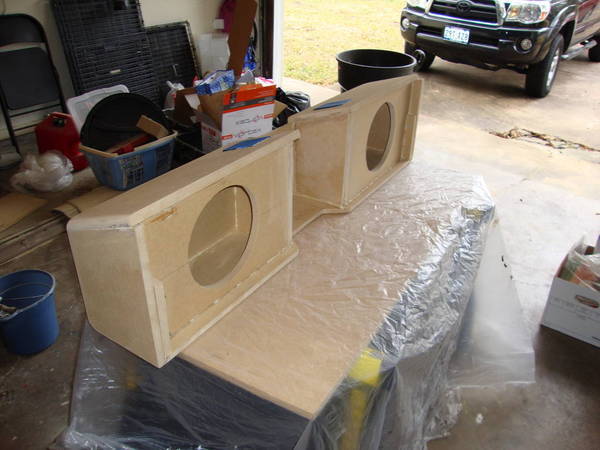 Sanding done, ready for paint. Rattle can was a STUPID IDEA
. I've seen others do it and it never comes out looking good, but why should I learn from that? I'd rather be a momentary moron, MDF+rattle can=
.
After painted,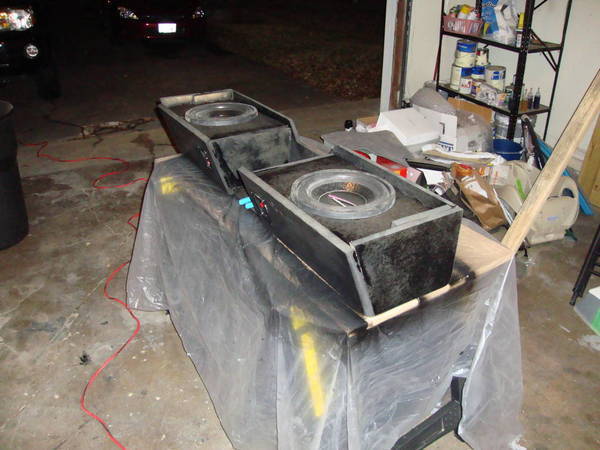 I put the speakers in, but I was really tired at this point and my drill slipped when i was screwing in one of the speakers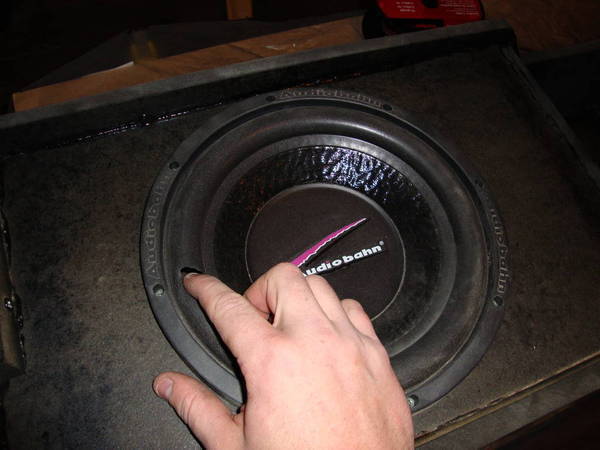 It was a blessing in disguise b/c the terminal for that side of the box from rapioshit didn't enguage the speaker wire. All of the components are old, so a busted speaker isn't that big a deal. It's just more annoying than anything else.
The system sounds really good with only one 10, but I can't wait until my Audiobahn ALUM10n's and Hifonics HiFi1500 show up so I can fix all of my screw ups
.
Let me know what ya'll think.