I'm sure some of you have seen me comment in some deadening threads that I'd be doing this too. I started the project Thursday and I'm still not quite done. Stripping the truck took me a while since it was the first time I'd torn into this beast. It was quite easy though and everything came out fairly well. I'll go through this as I get pictures and such. If you have any questions about the process or anything in general don't be afraid to ask in here; I don't mind. I'm really just posting this for you guys to learn from.
To start off; we need to get a couple of things straight about deadening in general.
Dynamatt is a product; not a verb.
There are multiple deadening brands. Price/performance is how I based my decision on what to buy. If it's unclear whether I'm stating fact or opinion just ask me to clarify
There are different deadening products which all have an intended use. Some are vibration killers others are strictly noise barriers.
Full coverage is not needed.
My personal deadening goals boiled down to two things; I needed to kill unwanted resonances and I wanted to block outside noise to keep the cabin quieter. I'll be adding some very nice equipment so cabin treatments to create a proper listening environment was key. The most expensive speakers in the world wont sound their best in a crappy environment
Step 1 for me has always been to strip the entire vehicle of everything. This makes it MUCH easier to work on and it really gives you a better idea of what needs work. With all the panels exposed it's a lot easier to determine where your areas of focus should be. Here is my truck stripped and ready for action. I ended up taking out the A, B and C pillars as well as the door seals. I chose to take down the headliner as well and deaden the roof. More on that later.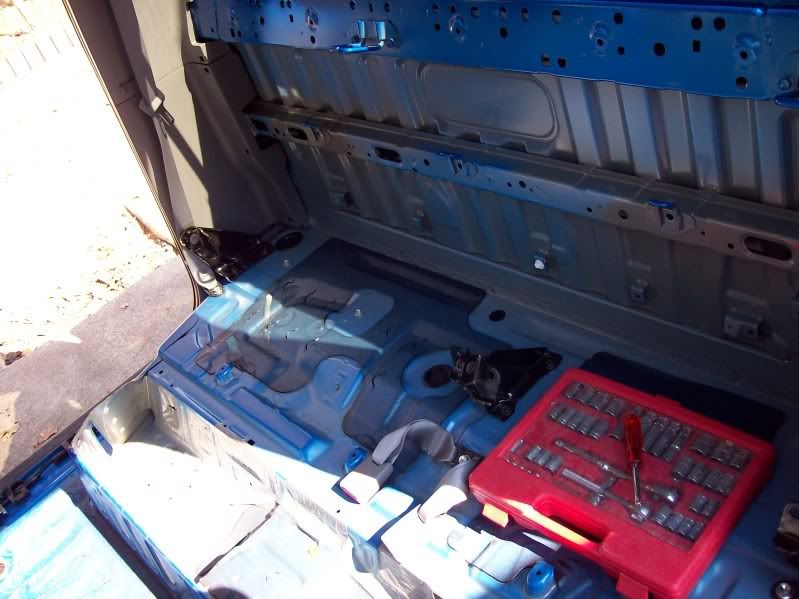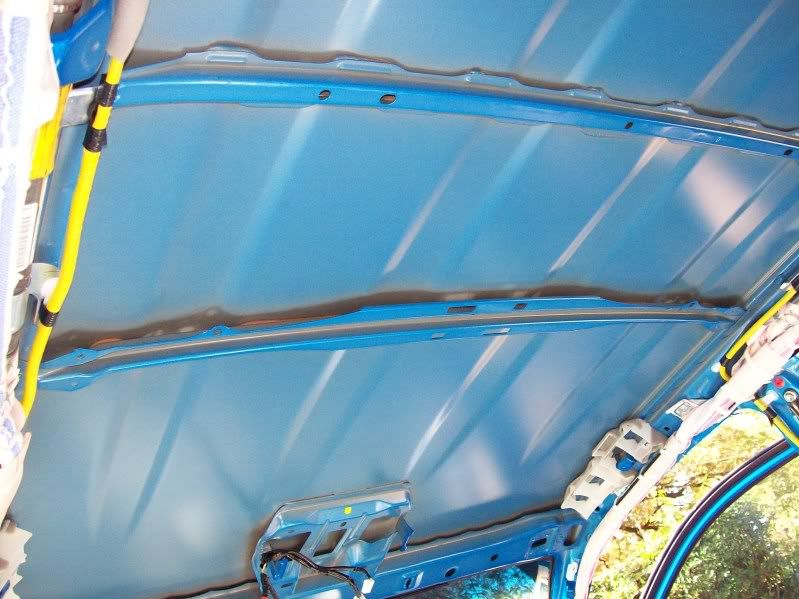 It's important to note that certain areas need more deadening than others. 20sqft of mat sound deadener in the floors wont do any good where as 20sqft in the doors will yield some very good results. So picking and choosing your areas of focus is crucial to getting the best bang for your buck.
As a general rule, you can assume that the more broad, flat, and thin a panel is, the easier it will resonate. You can make it less resonant by making it stronger and or adding mass. Mat deadener adds mass and a well placed brace can cut the unsprung area down considerably. Corrugated panels (with structure ridges or shapes) are stronger by geometry and wont require as much deadening. However, that's all stuff to help you seek out areas to check. I always "check" with what I call The Tap Test. Hit the surface and see what type of noise it makes and how long it rings or vibrates. If a surface rings/resonates I deaden it and then hit it again to see how the sound has changed. If you're satisfied with how dead the surface is then move on.
As I said before, different sound deadening products have different purposes. Mat deadener absorbs vibrations where as products like MLV (mass loaded vinyl) block sound. It's important to use the products as intended if you want the desired results. Deadener on the floor wont do much to block any sound. It will help but that's simply not what it's for. To block sound you would use MLV floated over a piece of foam. I went with some Vinyl Nitrite foam from Don at
http://www.sounddeadenershowdown.com
and some MLV I was able to get from Houston for a decent price. The foam is to decouple the MLV from the surface of the car. I used the 1/4" foam on the floor areas where I knew fitment of pieces wouldn't be much of an issue and 1/8" foam sheets in other areas where pieces might not fit back into place like the rear wall with the storage bins. It also helps to cut the pieces in such a way that they fit around areas where things pop in and screw down. That way the mounting surfaces sit flush. You can see what I'm talking about in the next picture.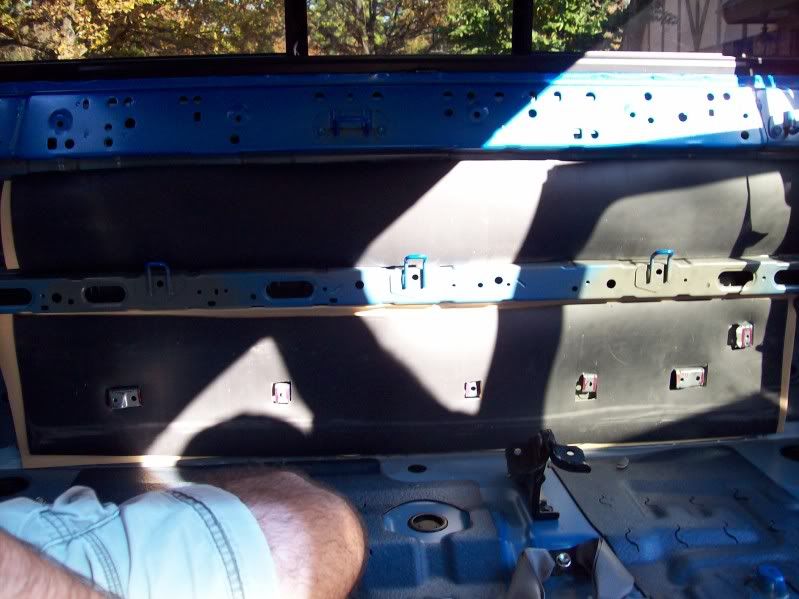 I'll have more updates for you guys later tonight and this week so stay tuned
So, where'd we leave off? Ahh yes, the rear area...So after finishing the back wall I did the area directly below it. This should definitely help with some road noise. I was able to use the 1/4" foam here since the seats bolt to the mounts and not directly to the floor so fitment wasn't an issue at all.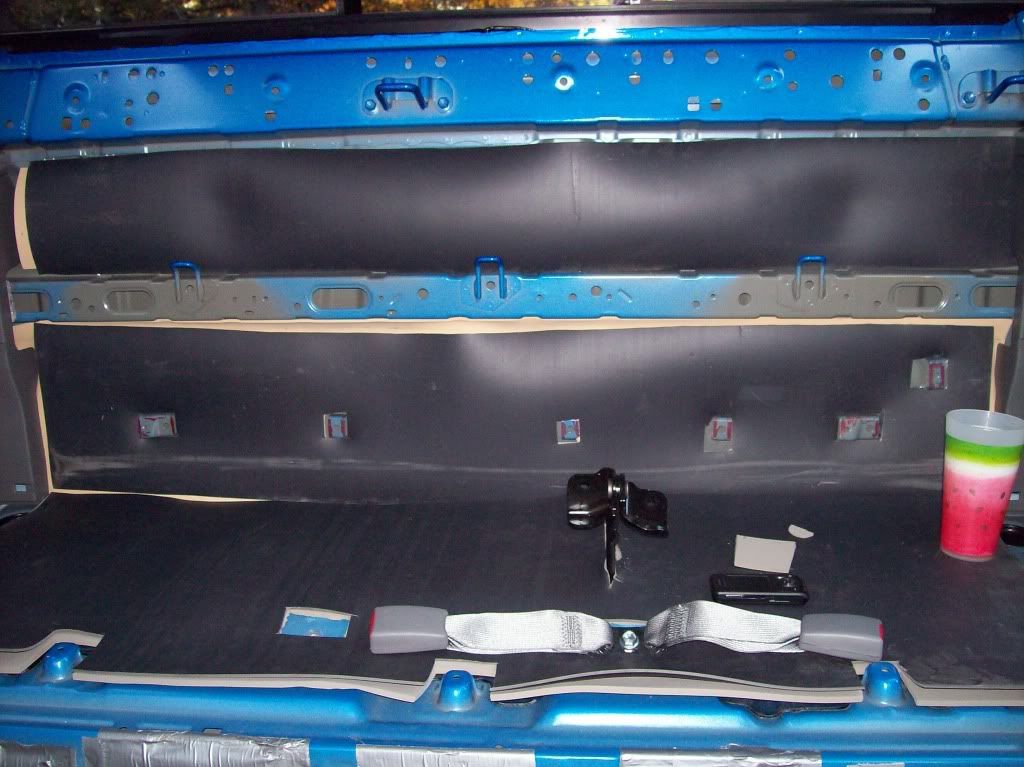 After that it was time to give the rest of the floor and transmission tunnel the same treatment. Again, for these areas I used the 1/4" foam with the MLV on top. Remember when I said this was a good time to run your wires too? Yep, now is the PERFECT time. Get them all set where you want them and then drop the noise barrier right over them. It should help them stay put as well. Here is the truck with the noise barrier down and ready for the carpet to be put back. I found the little wire tunnel things by the door trim quite nice for running the power wire. It was a perfect fit for 4gauge. I think 2 gauge might fit too. I terminated my wires under the drivers seat where I plan to put my amp. I know what you're thinking; and yes it will fit. Can you say JL HD 900/5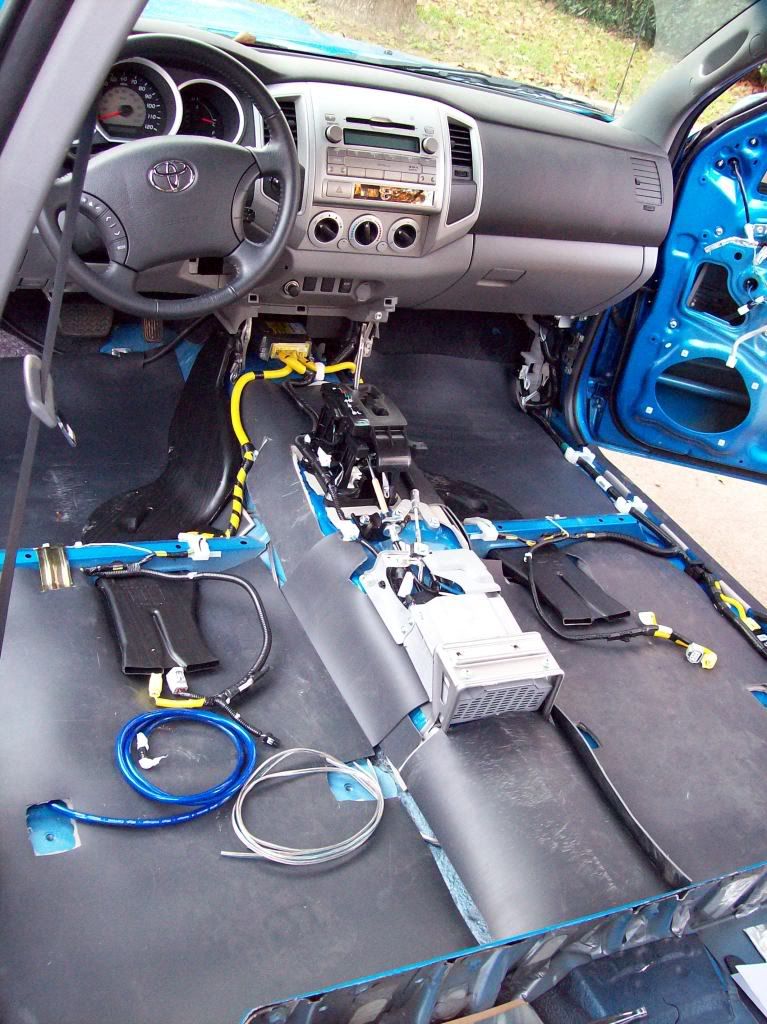 Here's the carpet and the center console back in.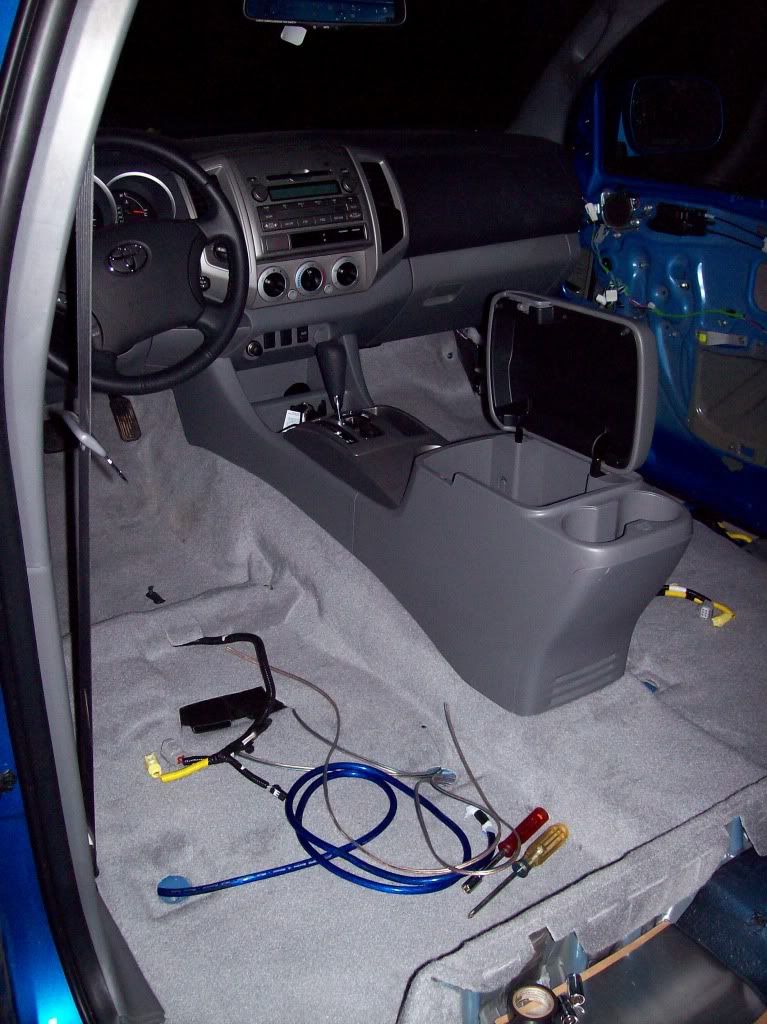 So after that, I threw the drivers seat back in so I could drive the truck again. Yeah, what I nice luxury right? Anyways, it was time to tackle those doors since they will be the source of a lot of the sound and the weakest point that would need sound deadening. The doors are VERY large areas of metal that are almost completely flat so they will need some work. Getting inside there wasn't hard at all. You should have no problem getting the inside well deadened. As you can see in the next picture, I did the majority of the outer skin of the door so far. However, I did leave that cross bar alone. Not on accident I assure you.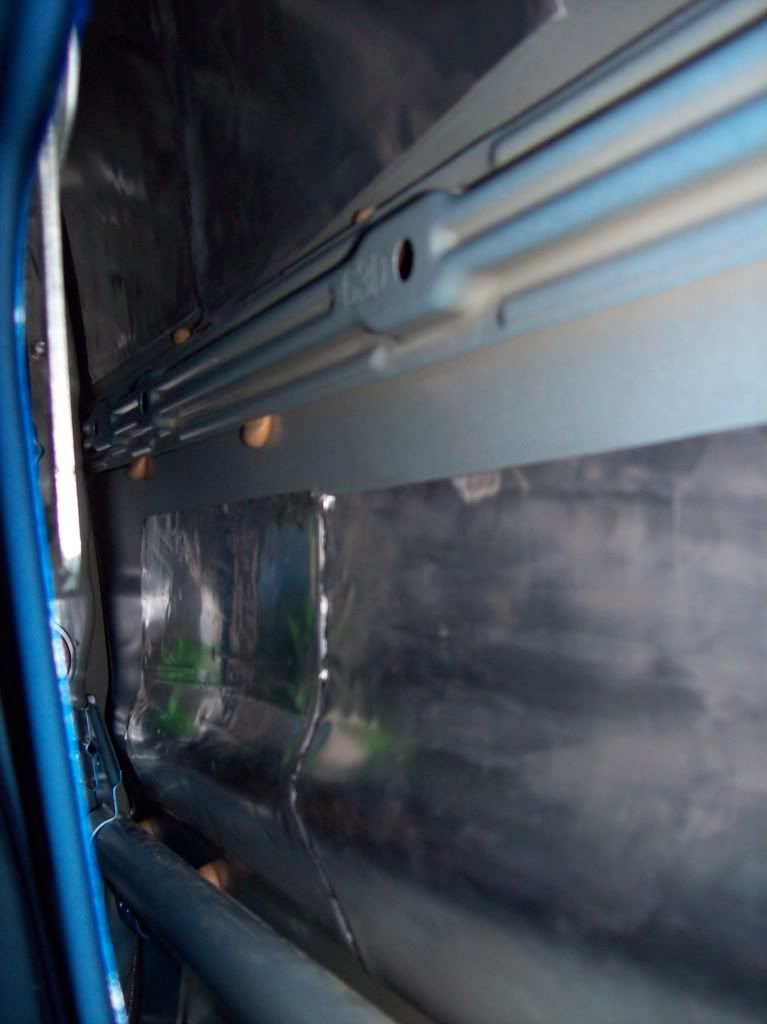 So that cross bar in the door is quite interesting. Interesting in the fact that it's not for safety (too flimsy) and it has nothing bolted to it even though it has some holes in it. Not only that, as the next picture suggests with my awesome piece of example paper; it's not even fully attached to the door. There are small blobs of soft glue spaced about 6" apart that glue it to the outer door skin. So I, being the opportunist that I am, realized this had potential for greatness. I've always viewed GE Silicone II as a miracle substance and this was the perfect time to use one of the 4 tubes I happened to have in the garage. I ended up injecting the silicone into the holes to fill up the cross bar and connect it to the outer door skin. I went along the top and bottom seams as well. This should effectively turn that useless piece of metal into a fantastic brace! It will really help out with the resonance issues and should bolster the panel quite well. I would not recommend using anything that dries ridged for this purpose since it does not allow any movement and could buckle the door. GE Silicone II is flexible, bonds to ANY surface, and is waterproof and mold resistant; perfect for the inside of a car door.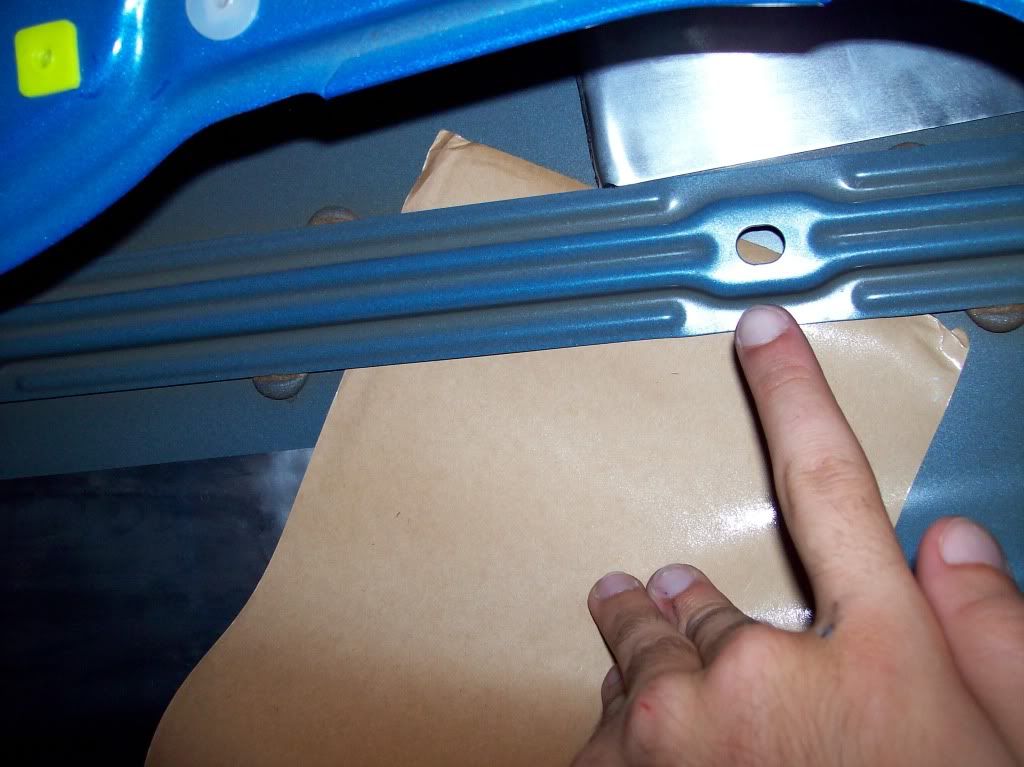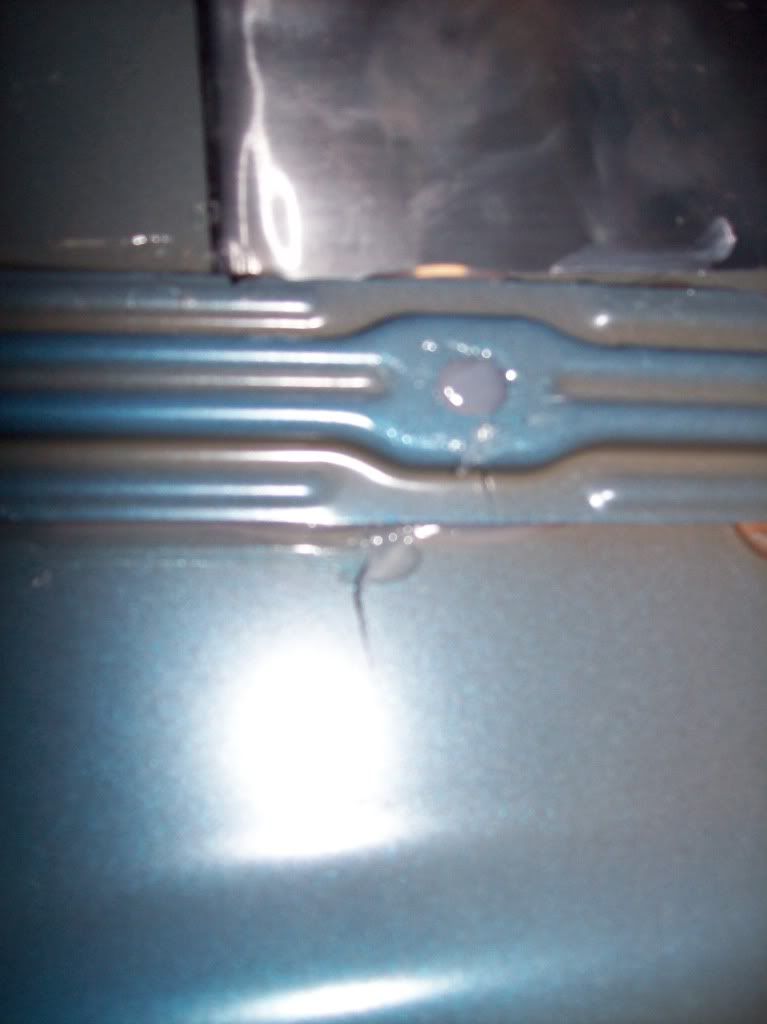 More to come tomorrow night if I get a chance to make some more progress.
......Aannnnd we're back!
So I've been delinquent and hadn't had a chance to update this much. I hadn't updated because I didn't get any more work done till today. So, that being said, I'm sorry....moving on.
So you're going to be putting new speakers in these doors (eventually) so we need to make the doors a nicer place for the speakers to live in! A wise man once told me that a speaker is only as good as the enclosure you put it in. He was indeed wise; an enclosure will make or break the sound of a speaker. So if you don't want to waste money on good speakers you need to listen up here.
You might be saying, "That's fine and dandy, but this is a door, not a speaker enclosure." Well, not yet it isn't. The tacoma door has a two large holes that you need to fill with something. Check the picture for an example of one of the two holes.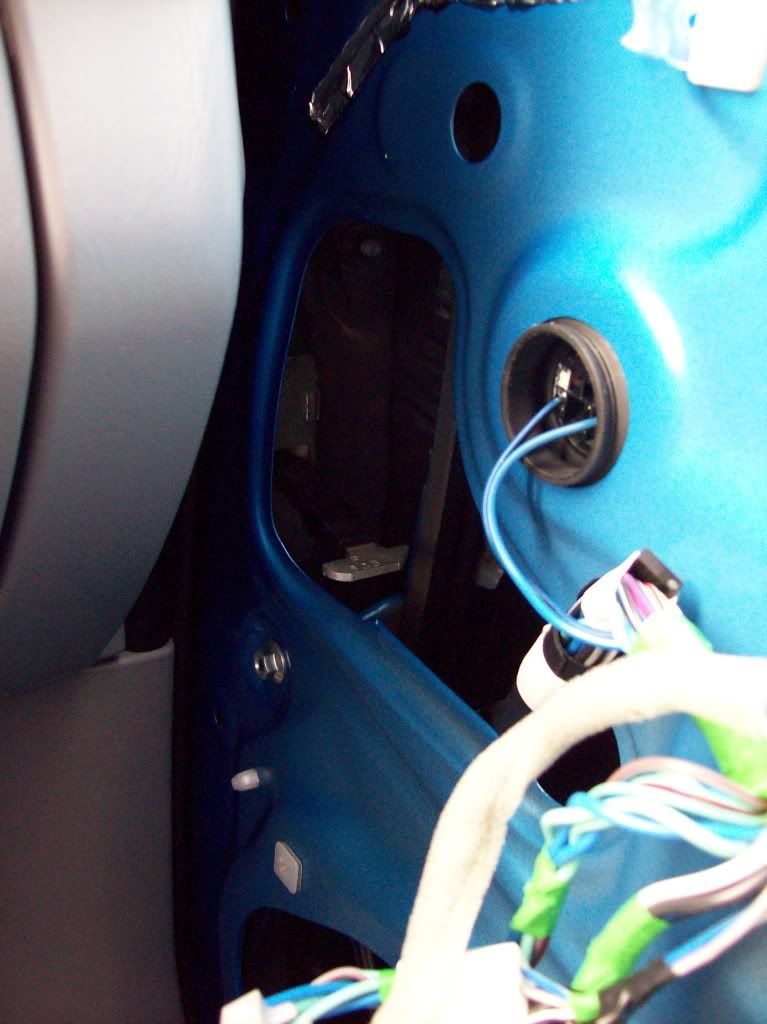 In order to make the door a more acceptable home for a speaker we need to seal those holes. I chose to use some thin plexiglass. I cut it to the proper shapes and then went around the edges with some foam speaker gasketing tape to ensure a good seal. Then I went around the edges with some mat deadener strips. I also sealed up everything else besides the holes intended for the door clips. Everything sealed up nicely!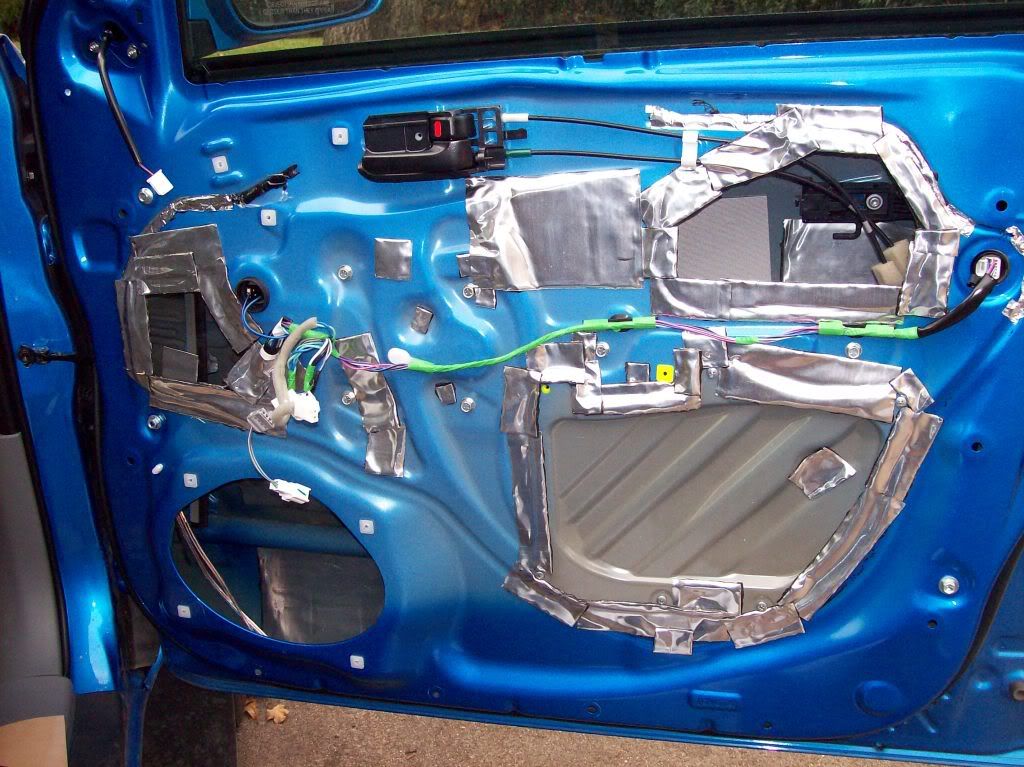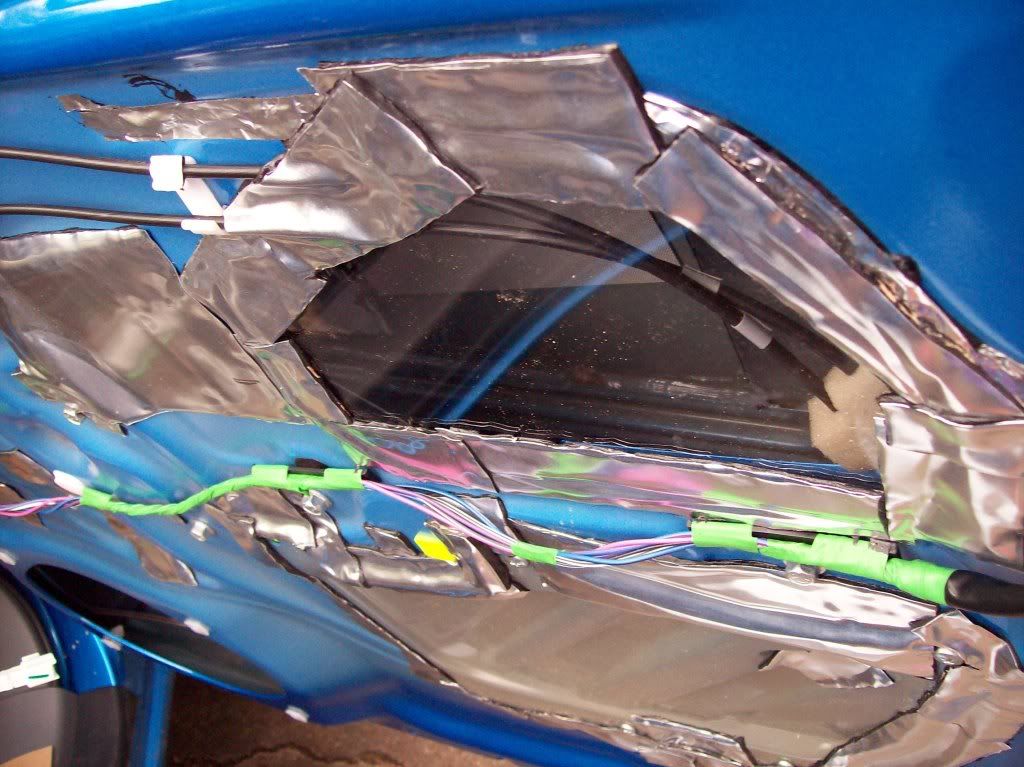 Now that we have the resonances of the doors worked out we needed to again prepare the area to make sure road noise doesn't affect out sound. Much like the floor and rear wall, we needed a noise barrier as well. So I made a MLV and foam sandwich again and cut it to the proper shape so it would fit behind the door panel. You'll need to sand down the hard foam block on the back of the door panel about .5-.6" so it still fits when you put the door panel back on. Since you're adding a layer between the door and the panel it's a tight fit. You'll find yourself trimming the sandwich a bunch to get it just right. I attached it with the stock tweeter bolts and a few plastic pop rivets. You can get generic pop rivets at
Lowes
in the the hardware section in those little drawers. Just drill the appropriate sized hole and pop them in. I'd suggest testing what size hole to drill on a piece of scrap plastic or something. I had scrap plexi leftover so that's what I used. I put my stock speakers back in because I don't have my midbass drivers yet.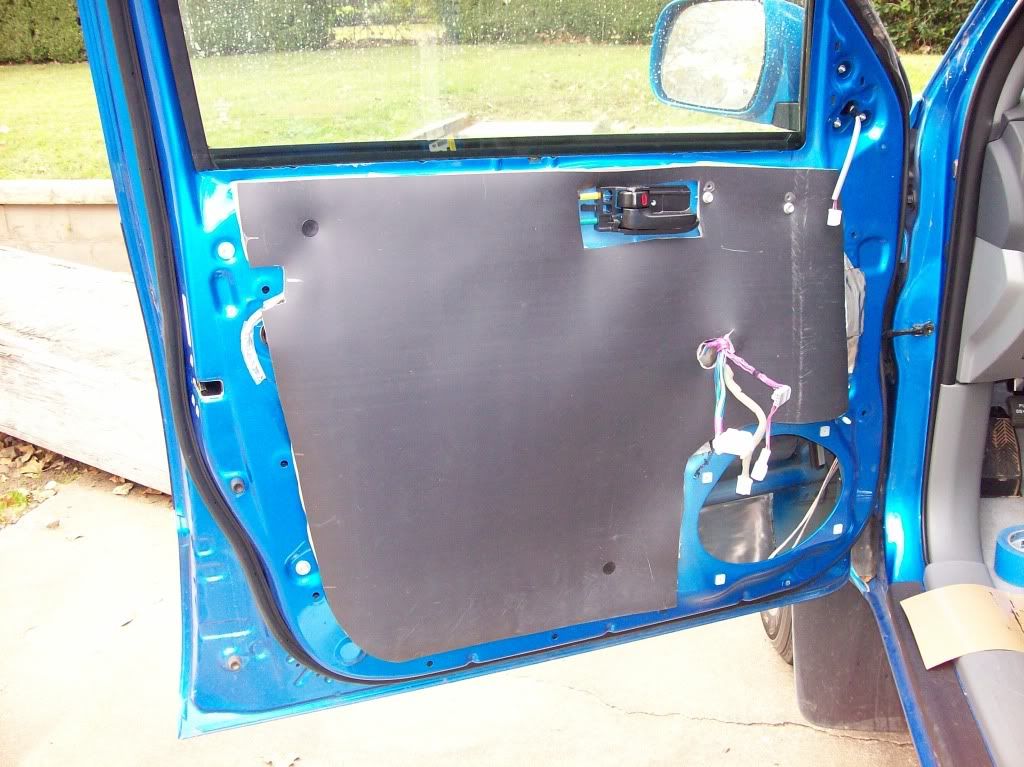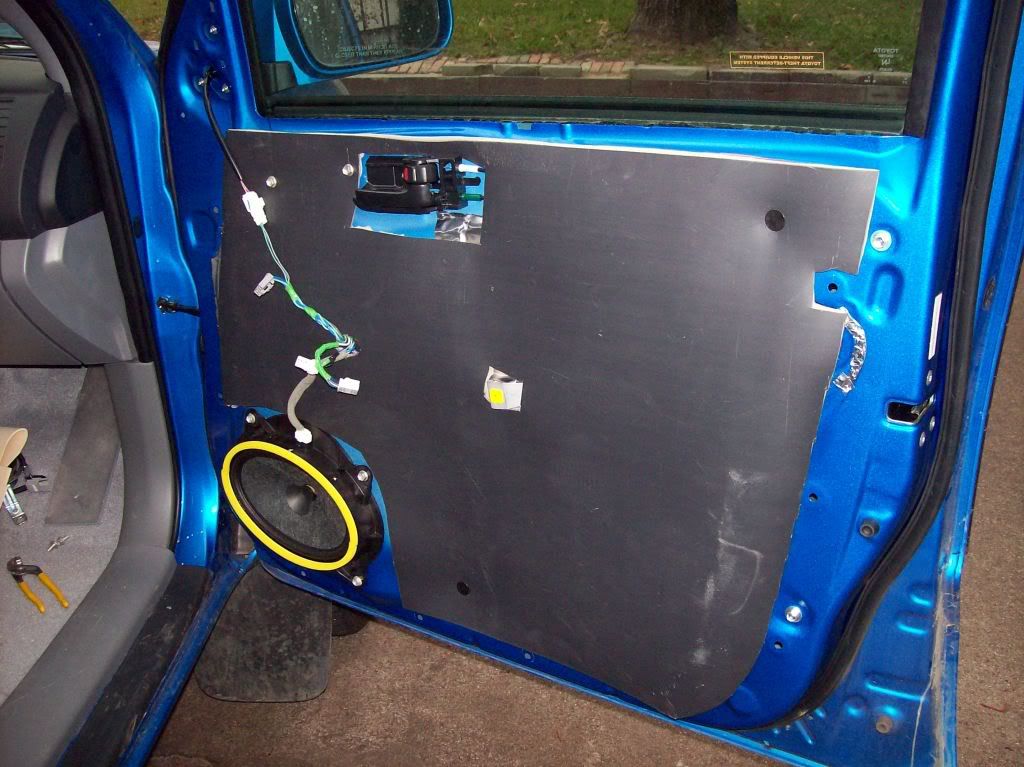 I didn't get to the rear doors just yet but I will. I'll deaden them too but it's not really needed since there wont be any speakers in those. And of course, I'll be doing the noise barrier on them to keep my recording studio, I mean truck, quiet on the road.
That's all folks! That's a complete deadening breakdown from start to finish! The truck, even with NO rear door panels and no deadener in the rear doors is VERY quiet. It's a little surreal driving around now and it's going to take some time getting used to but I'm very happy with the results. One last thing for you guys; a little results oriented video!
http://www.youtube.com/watch?v=L4liXj5IFyk
I finally did the rear doors yesterday. I have yet to drive around in the vehicle with everything completed and put back together. One thing that I thought I needed to add to this thread was the topic of stock fitment of the panels. Stock fitment will be a thing of the past and you should expect that. Since we're added a fairly thick layer where items used to rest right next to each other it will take some trial and error on your part to get things to fit properly. I ran out of 1/8" thick foam so I had to use 1/4" on the rear doors which made fitment on the rear door panels a task. It takes some trimming but I think it came out nicely. The panels are a VERY tight fit but that's kinda what we're going for anyways. Tight tolerances mean that items wont rattle.
I'm thinking that I'd like to see some measurable difference in the interior volume of the truck at speed. I think I'm going to get a basic SPL meter and run a test between my truck and a stock TRD 4x4 with the same tires. This test will be performed on the same stretch of road, within minutes of each other, same speed, with the mic in the same place.
I'm not sure when the test will take place but I for one would really like to see the results.
I wouldn't worry about enclosing the door speakers. Most are designed to work well in vehicle doors anyways. However, there is a benefit to giving the speaker a bit of an enclosure to work with. This is why I sealed up my doors. Even the stock 6x9's work harder now with their environment optimized. I think that building a dedicated enclosure would be nearly impossible though considering the space constraints with the window tracks.
I'd suggest planning things out fairly well. Figure out what you want in terms of goals first. Then figure out which equipment pieces are your gold standard/non negotiables. I had two non negotiable pieces for my system. The JL HD 900/5 amplifier and my favorite 6.5" Tang Band subs that I really enjoyed in my IS300. Both were used for space saving purposes and met the needs of my install so I built the system around that. Having that planned I picked a tweeter/midbass combo that would work well together. My source unit was actually the last thing that I decided on. To get active crossovers and time alignment I'll need to add a processor too but I've planned for that with my choice of headunit
Just take your time; you'll be glad you did!
Heres the install guide and price from Don at
http://www.sounddeadenershowdown.com
Sam,
I'm reluctant to cite percentages without proof, but the MLV and CCF
probably contribute something like 90% to making the truck quieter.
Vibration dampers like my CLD Tiles or Dynamat Xtreme control panel
resonance. Panel resonance destroys sound quality by reinforcing the
resonant frequency and harmonics if the RF of the vibrating part. It's
also an important mechanism for noise transmission through the vehicle.
Using a vibration damper alone is an option for an already quiet vehicle
with an aftermarket sound system that exceeds the OEM specs. For most of
us, using a vibration damper and barrier is the key to bringing noise
levels down and reducing vehicle induced distortion making the sound
system sound better and making the driving experience much more pleasant.
The floor is one of the least resonant areas of the vehicle. Between the
carpet and the seats, it's usually pretty solid. On the other hand, the
floor is the entry point for most of the problematic noise sources -
engine, exhaust and tire.
The roof is more a problem for resonance than airborne sound. It's a
huge area of sheet metal, right above your head. It can also be a
problem for air turbulence noise. Since there are very few noise sources
overhead, there's not much point to installing a barrier on the roof.
Vibration damper, definitely. It can also help to add a layer of 1/4"
CCF to deal with high frequency noise.
Lets' start with the doors.
Front Doors (each):
5 CLD Tiles, outer skin
2 CLD Tiles, cut into smaller pieces, each inner skin
Extruded Butyl Rope
6.14 ft² MLV
6.14 ft² 1/4" CCF
2.5 Velcro Patches, adhesive 2 sides
Rear Doors (each):
4 CLD Tiles, outer skin
2 CLD Tiles, cut into smaller pieces, each inner skin
Extruded Butyl Rope
5.45 ft² MLV
5.45 ft² 1/4" CCF
2.5 Velcro Patches, adhesive 2 sides
Start by pressing Extruded Butyl Rope (EBR) between the outer skin and
the side impact protection beams. Leave gaps every few inches to allow
water to drain. Cut some strips from a heavy plastic bag and press them
into the top surface of the EBR to protect it from dirt.
Apply half the CLD Tiles allocated to the outer skin above and half
below the side impact protection beam. Cut 2 more CLD Tiles into smaller
pieces and apply them to the inner door skin.
Hang MLV on the inner door skin using Velcro Patches with pressure
sensitive adhesive on both sides. The patches are 2"X4" but you can cut
them in half for this application (most applications really). Start with
2 pieces in the top corners to hold the MLV in place while you trim it
to fit. You want it to be as large as it can be - just barely fitting
inside the trim panel when it is replaced. You will need to cut some
holes in the MLV to allow cables, rods, shafts, wires, clips and the
speakers to come through. You want these holes to be as small as
possible. Every place we use MLV we are building a barrier and a barrier
needs to be as large and contiguous as possible.
It helps during the fitting process to periodically remove the MLV from
the door and lay it in the trim panel to test fit it. The Velcro makes
this easy. When you first hang the MLV on the door, cut holes where the
trim panel clips go into the door. You can then use these holes to
orient the MLV inside the trim panel.
When you are satisfied with the MLV fit, add two more Velcro Patch
pieces to the bottom corners. It's generally a good idea to add a third
piece on top for added strength. Finally, use HH-66 Vinyl Cement to tack
a layer of closed cell foam (CCF) on the side of the MLV facing the trim
panel. When the trim panel is reinstalled, the CCF will compress
slightly, getting rid of rattles and buzzes in the trim panel itself and
between the trim panel and the inner door skin.
Doors (totals):
26 CLD Tiles
1 roll Extruded Butyl Rope
23.18 ft² MLV
23.18 ft² 1/4" CCF
10 Velcro Patches, adhesive 2 sides
Floor:
As I mentioned, the floor is the entry point for many of the most
objectionable noise sources we deal with.
22 CLD Tiles
37.92 ft² MLV
37.92 ft² 1/4" CCF
The floor is quite easy compared to the doors, except that you need to
remove the seats, the carpet and any trim that touches the carpet. Start
with CLD Tiles at 25% coverage. There's no good reason to apply CLD
Tiles on top of the stock deadener. In some cases the stock deadener is
loose and you can just pull it out. If it is in good shape, leave it in
place and apply the CLD Tiles to the bare metal areas. If you want to
remove the stock deadener anyway, you can often scrape it out with a
heat gun and a putty knife. A quicker option may be laying dry ice on
top of it for a few minutes and then hitting it with a rubber mallet.
With any luck the stock deadener will shatter and you can just pick up
the loose pieces and vacuum the residue.
Cut 1/4" CCF to fit the bottoms of the floor pans and up into the foot
wells and lay it in place. You really don't need any adhesive or other
attachment products for the floor. Gravity, the carpet and trim panels
will hold everything in place. Finally, lay MLV on top of the CCF,
extending up the center tunnel, sills and everywhere you can without
interfering with trim panel replacement. You will need to cut holes for
the seat bolt downs and seat belt anchors if they are on the floor.
Again, make these holes as small as possible. You are basically
upholstering the floor with MLV. MLV is quite flexible and will easily
follow a simple curve. Where it needs to be fitted to complex curves you
will need to do some cutting. Use HH-66 to seal the seams in the MLV as
you go.
Roof:
10 CLD Tiles
19 ft² 1/4" CCF
6 Velcro Patches, adhesive 1 side
Apply the CLD Tiles to the pen areas of sheet metal. Cut the Velcro
Patches in half (2"X2") a and use HH-66 Vinyl Cement to bond the
non-adhesive side of the Velcro to the CCF. Peel off the release film
from the adhesive side of the Velcro and press into place.
Back Wall:
5 CLD Tiles
7.67 ft² MLV
7.67 ft² 1/8" CCF
6 Velcro Patches, adhesive 2 sides
The back wall doesn't usually have enough space for 1/4" CCF. That's why
I specified 1/8". I've attached a PDF that demonstrates how to hang CCF
and MLV in the least space possible.
General Notes
HH-66 is a contact adhesive. You need to coat both surfaces and let them
dry until just tacky, 3-5 minutes. Press the two parts together. The
bond is more than strong enough to work with immediately. It will
achieve its full strength after a few hours.
When working with the self-adhesive side(s) the Velcro Patches press the
entire assembly into place. It is a good idea to gently separate the
hook and loop sides and press them down by themselves to make sure the
bond is complete.
Totals:
63 CLD Tiles
1 roll Extruded Butyl Rope
68.77 ft² MLV
80.1 ft² 1/4" CCF
7.67 ft² 1/8" CCF
16 Velcro Patches, adhesive 2 sides
6 Velcro Patches, adhesive 1 side
1 8 oz can HH-66
As an order:
63 CLD Tiles @ 2.25 = $141.75
1 roll Extruded Butyl Rope @ 8.75 = 8.75
1 67.5 ft² roll MLV @ 121.50 = 121.50
6 sheets 1/4" CCF @ 25.65 = 153.90
1 sheet 1/8" CCF @ 13.85 = 13.85
1 Velcro Patches, adh. 2 sides, 10-pack @ 13.00 = 13.00
3 Velcro Patches, adh. 2 sides @ 3.25 = 9.75
3 Velcro Patches, adh. 1 side @ 2.65 = 7.95
1 8 oz can HH-66 @ 8.50 = 8.50
1 2" Maple Roller N/C
Sub Total: $478.95
I'll need a city and zip to calculate shipping. My MLV supplier ships
roll quantities of MLV for me, so I won't be able to get their shipping
quote until tomorrow morning.
--
Don Sambrook
Sound Deadener Showdown, LLC
410.458.6418
don@sounddeadenershowdown.com
http://www.sounddeadenershowdown.com
Upstate Tacoma, last time I checked, RAAMAudio didn't offer a noise barrier like MLV. That's key in an install like ours. Ordering a bunch of mat deadener (CLD tile stuff) wont block noise but simply kill vibrations.
Our trucks suffer from road noise predominantly from the floor and doors. It's not enough to just use deadener, you need a noise barrier too.
And I think it should be noted that the $478 price tag is if you're doing EVERY part of the car like I did. That's to say, all 4 doors, floor, rear wall, and the roof too. Do you need to do all that? It's up to you. My standards are quite high and I deemed it necessary since I'll be competing with the truck. Everyone always asks me "How much is enough?" but it's tricky because it is dependent on your standards. 99% of vehicle owners will never even think about automotive sound deadening so to say that X amount is needed would be foolish.
I had told Don to take a look at what I ordered from him for my install to come up with that package for you guys to simplify everything. Like I said, I went overkill but it's in my nature