Hi guys I just wanted to make a write up of my sub system I have installed into my 2001 Tacoma Double Cab PreRunner. It consists of two(2) SVC 4ohm Polk Audio MM840's in a SuperCrewSound.com box, hooked up to a Kenwood KAC-8105D wired in series for a 2ohm load. I love subs and good sound systems but when I bought this truck I wasn't thinking about what kind of radio I could put in it just that I liked the truck or not. I don't live in a bad neighbor hood just down the road from a club that dosen't have you higher standard guest, so a "please steal me" sub box on the back seat isn't what I wanted, I also didn't want to do too much cutting i.e. blow through boxes, and something not so hard on the wallet, fucking college is expensive!! So I started the search and found that 8's were about the biggest I could go.
To start I have 2 Polk Audio MM840's bought from
Amazon.com
for about $80 a peice. They sound great they will stay with just about any rap song you put on, but they really shine when you put on some Dubstep or some harder rock that has the double bass kick's, or anything that has very quick thumping high bpm bass to it. I am extremely happy with them and would buy them again in a heartbeat. They will shake the entire truck if turned up, and will shake the side-view mirrors with ease. By ear they drop off around 40 hertz and around 30 they just barely get muddy and distort.
The box was made by SuperCrewSound.com. It is a very high quality box and has some awesome customer service backing it, if you arent happy shoot them an email and they will respond very quickly to help you in whatever way they can. SuperCrew says that you have to remove the child restraint bar behind the rear seat to make them fit, I don't believe this to be true as I removed mine and then put in the box and you can see clearly where the bar used to be and the top of the box sit's slightly below the primer where it was. The jack holder you do have to remove, and the plastic peices on the back of the seat could stay if I had grills which I will also be ording soon.
My amp is a Kenwood KAC-8105D monoblock class D amp. I can run my subs hard all day long and this amp just won't quit and it never even thinks about getting hot. I have it wired in with 8 guage wire from the battery with a 30 amp fuse withing 6 inche of the battery. An 8 guage ground bolted to the bottom of the cab, primer/paint sanded off for metal to metal contact, as said its seeing a 2 ohm load so it's pushing the full 500 rms if I wanted it to. My gains are as follows: Input sensivity ~3/4 the way up. Frequency cutoff is at 150 hertz (120 on my Kenwood KDC-X395 head unit) and bass boost is at level 2 I believe it help with the lows that the subs struggle with.
Overall very happy with them they sound great paired with my dual Kicker DS65 in the front doors which I made a bracket so that they would fit. They overpower my kickers if turned up, but I will have them amped when I get the money.
A few pics: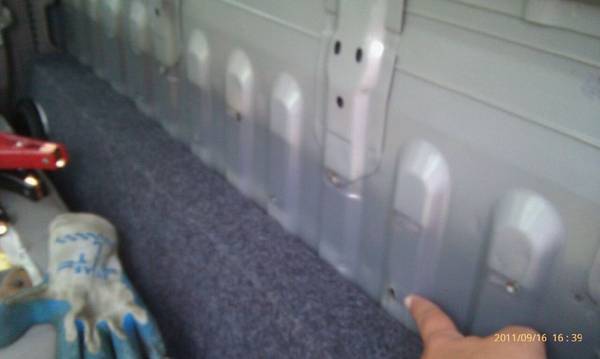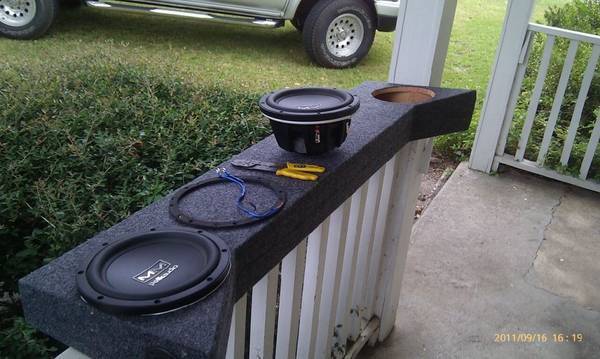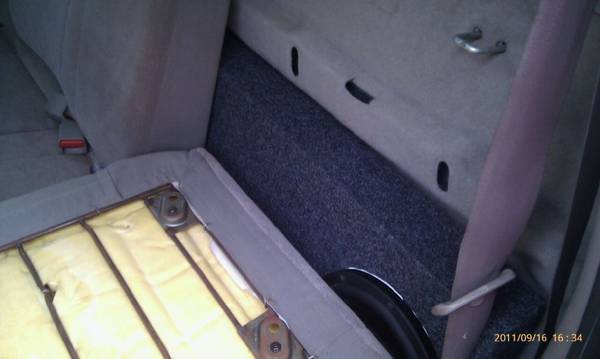 Read Me: The MM840's that I've had in this box are great subs but in the interest of longevity of the box and subs I'd suggest you get something that will mount without a spacer or make and use a proper spacer out of wood, plastic, metal, something that won't wear out as easily as the rubber weather stripping. The weather stripping worked great for a while then the rubber got used to being compressed and leaked. The box finally had it today and just quit.