Introduction:
Hello all, This thread will show the installation process of speakers and an amp to the amazing factory deck... with some help of Mr. Marv of course. Yes, I know that many people believe that in order to improve the stock Tacoma stereo they must remove the factory deck and put in an aftermarket deck. However I am trying to keep the stock look for now since it is easier on my wallet and just do everything else first.
Tools:
-Philips Screw Driver
-Wire Stripper
-Ratchet Set
-Wire Connectors
Links To Pages Used:
Mr. Marvs Double Cab Audio Installation Instructions
Installation Process:
I'm not going to waste my time by including a step my step process to every component of this install because they all ready exist. If you would like to see a step by step installation of removing door panels, running wire, running RCA cables and installing baffles click on Mr. Marv's link above because he explains a basic set up for a double cab.What I will show you is how to hook up an aftermarket amp to the stock stereo deck.
Step 1: Unplug The Car Battery
Disclaimer: If you are not comfortable with any of the steps outlined in this DIY then do not attempt this project. That said I can not be responsible for any damage that occurs to your truck as a result of following the information contained within this thread.
Step 2: Remove Stock Head Unit
If you don't know how to remove the head unit I would follow
these steps
from taco tunes its fairly easy.
Once you have the head unit out your dash will have the following harnesses exposed.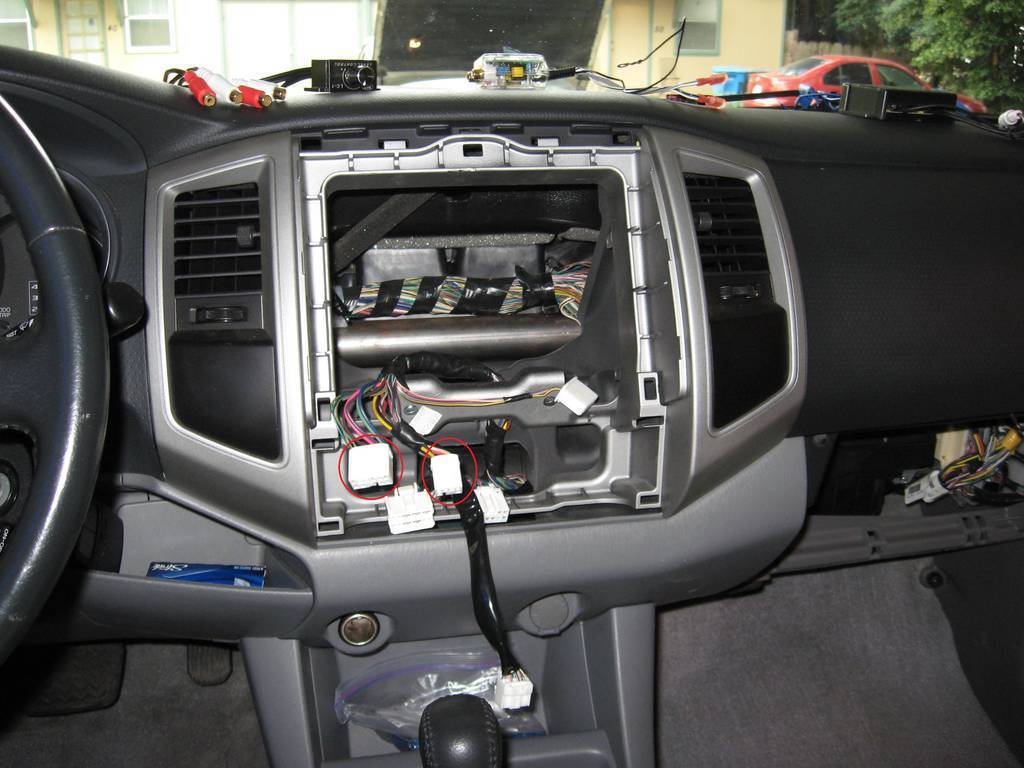 The top two harnesses on the left that are circled are the ones that you will have to splice and add both RCA 4 and 2 channel converters. If you plan on someday hooking up your stock speakers again when you sell it I would splice the cables instead of cutting them completely so you can use them later if you want.
Step 2: Wire RCA Converters
So using the table below you can label on your converters which wire they will be tapping into so they are compatible with the stock head unit. My 2 channel RCA converter goes to my sub-woofers and it is hooked up to one of the rear speaker signal's from the head unit. (Rear right to be exact)
Here's what my 4 channel RCA converter looked like before I started.
Wire Color Table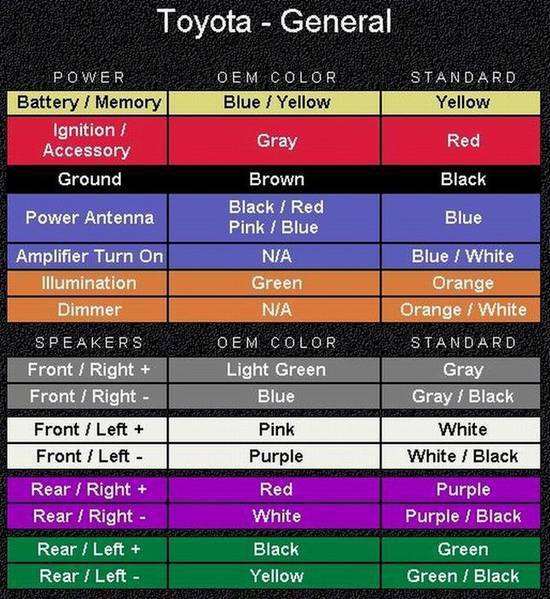 Converters all attached
: I had my RCA that was going to my Sub Amplifier run down the center console so that I could put my base knob in the armrest. My other RCA's for my 4-channel amp went down the passanger side and under the carpet to the door jam so it could be hidden.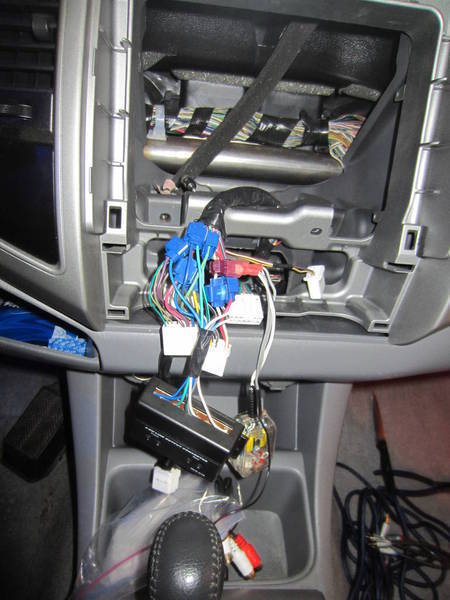 Step 3: Place Factory Stereo Back In
The only hard part I had was there wasn't much room so it took some time to get the deck to just slide in. *I would recommend not to bolt the Deck in till everything is working properly.*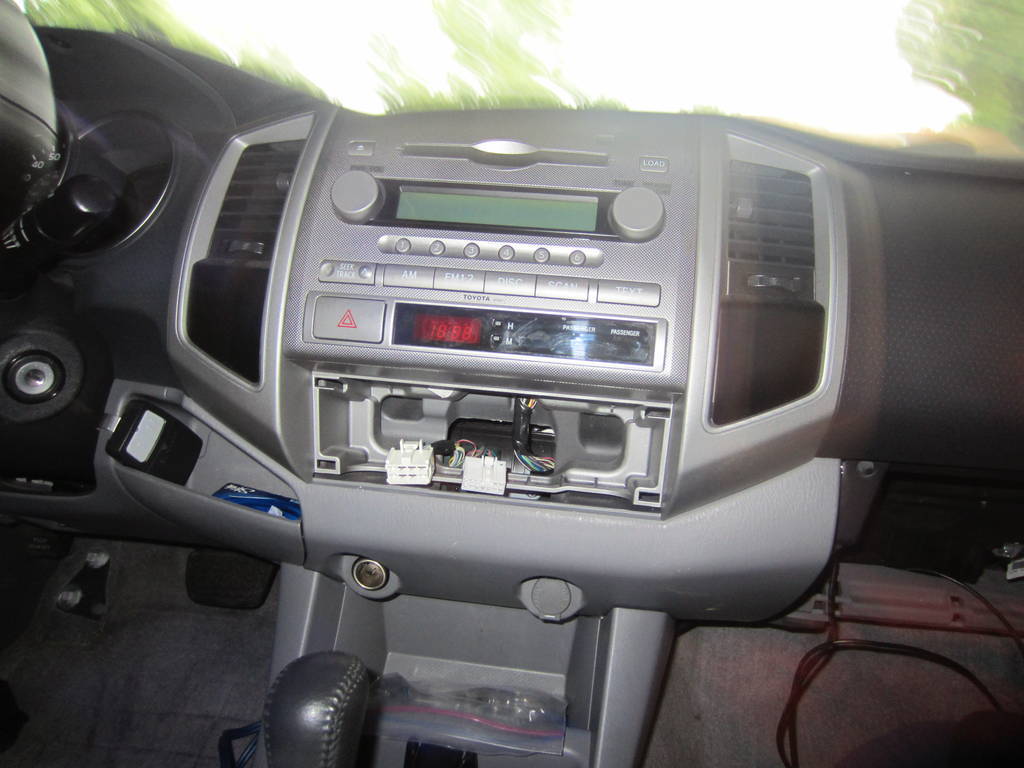 Success?
If you properly hooked up your amplifier and correctly wired the converters you should now be able to send a signal from your factory stereo to your aftermarket amplifiers so you can power your speakers!
Random Pictures During The Install:
Baffles and Speakers all wired and Installed in the passenger side door.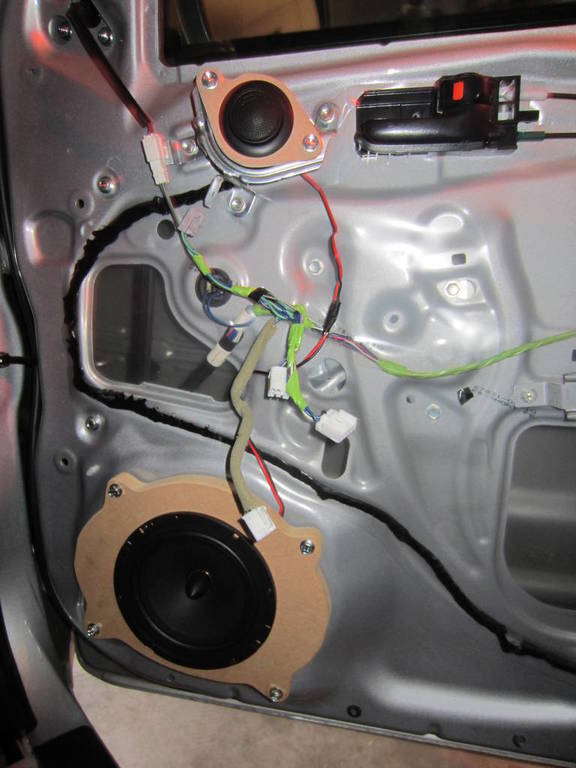 Removed Passenger Seat for more Wiring Room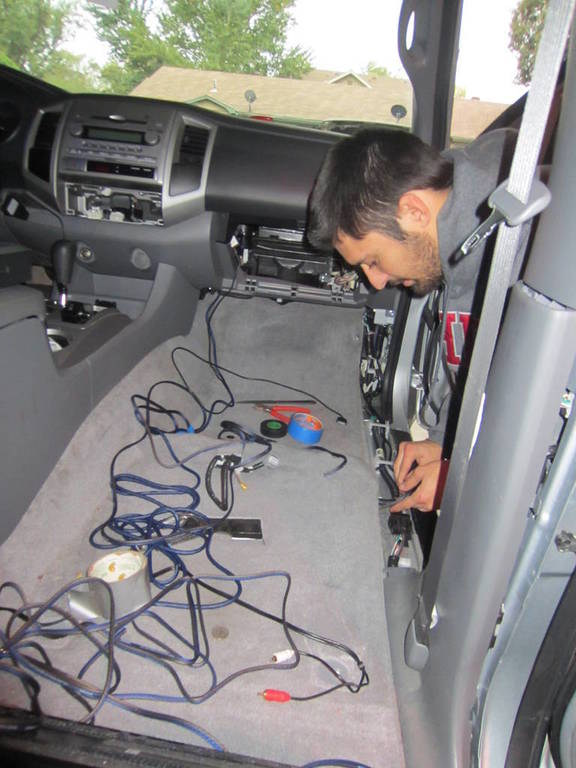 I realize I didn't take as many helpful pictures as I wanted so If anyone wants to see anything or know something in particular let me know! Hope this helps someone.