Duplicate thread disclaimer: This is an update of my previous stereo build thread. I started a new one because I wanted the title changed. Moderators, please feel free to delete the old thread.
Head Unit:
Kenwood DNX7140
http://www.kenwoodusa.com/Car_Entert...inment/DNX7140
I bought this unit because it has a Digital Coaxial Output... When I first talked to Kenwood technical support, they told me that the digital output could be used on any source, so I was gonna feed my Audio Processor with it. Unfortunately, they were mistaken and I later found out that the digital out can only be used for DVD Audio. Oh well. The user interface with the head unit is pretty easy to use, it works well with my iDevices, and the Navigation and Bluetooth works very well.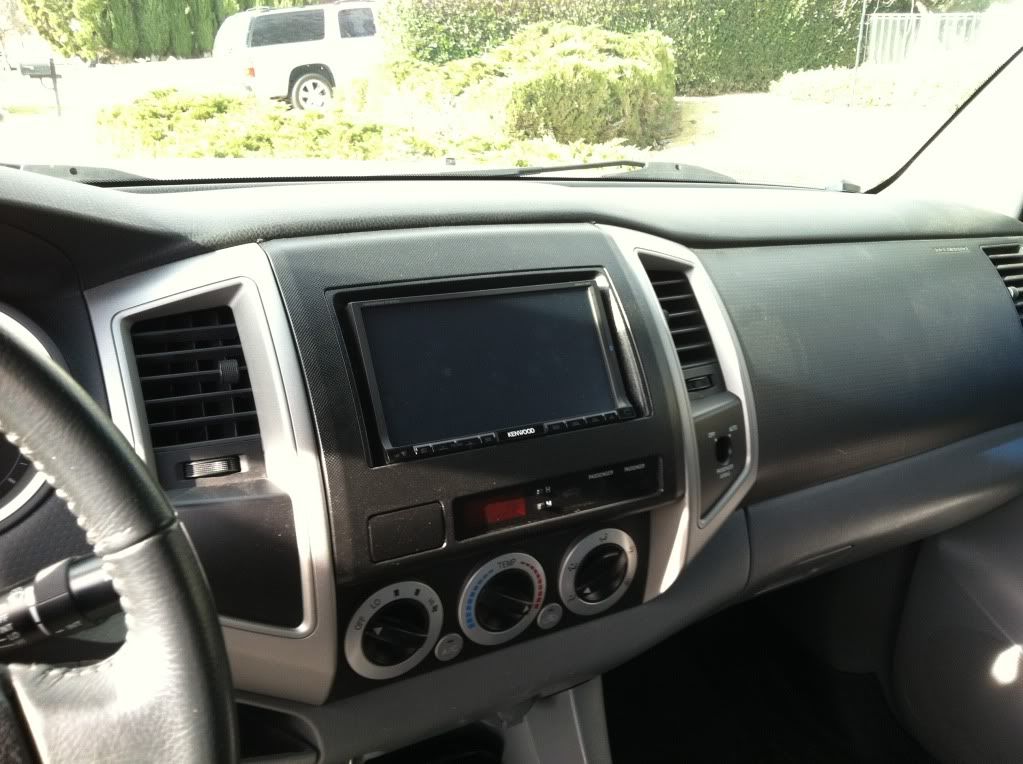 Audio Processors / Line Drivers:
Audison Bit One
http://www.audison.eu/index.php?page=product&id=1
I cannot say enough about this device. The Audison Bit One is extremely user friendly and allows you to have supreme control over your audio. It truly works miracles for an audio system with its time alignment, electronic crossovers, equalizer, and DRC remote.
Audio Control Matrix
http://www.audiocontrol.com/t34/5249...ne-Driver.html
This piece was a must-have for my stereo. The Kenwood Head Unit Pre-Out provides insufficient voltage for my amplifiers. Using an oscilloscope to set my gain structure with this piece proved its worth. It adds no distortion to the signal and can boost it to exactly what my amplifiers need. Doing this allows me to run my front-stage amplifiers with the gains set to zero, adding minimal noise and distortion.
Amplifiers:

Hertz EP4X
http://www.hertzaudiovideo.com/Doc/h...x_tech_eng.pdf
Wired in bridged mode for my mid-bass door speakers, this amp is rated to put 320 watts to each speaker.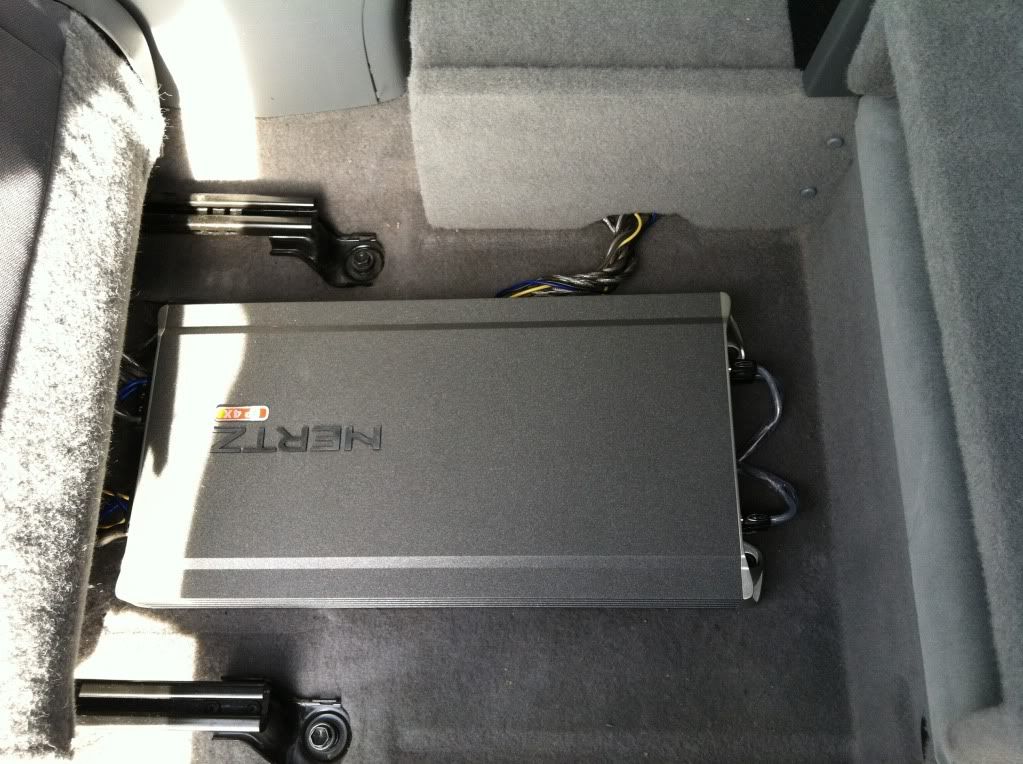 Hertz EP4
http://www.hertzaudiovideo.com/Doc/h...4_tech_eng.pdf
Wired in bridged mode for my tweeters, this amp is rated to put 180 watts to each tweeter.
JL Audio HD 1200/1

http://www.jlaudio.com/hd1200-1-car-...plifiers-98250
Wiring my sub woofers to an impedance of about 4 ohms, this amp undoubtedly puts out more than 1200w of power without breaking a sweat. I'm really happy with the dynamic range of my bass stage, thanks to this amp.
Drivers:


Hertz ML280 Tweeters & Hertz ML1600.2 Mid-Bass
http://www.hertzaudiovideo.com/Doc/H...eet_ML_280.pdf
http://www.hertzaudiovideo.com/Doc/H...et_ML_1600.pdf
Very dynamic speakers. No awkward peaks or crackling. These speakers have a phenomenal tonal quality. The mid bass speakers can handle a great amount of power even at lower frequencies. With the amount of clean power that this front stage receives, female vocals and piano keys are reproduced flawlessly at maximum volume. I am truly impressed with these speakers.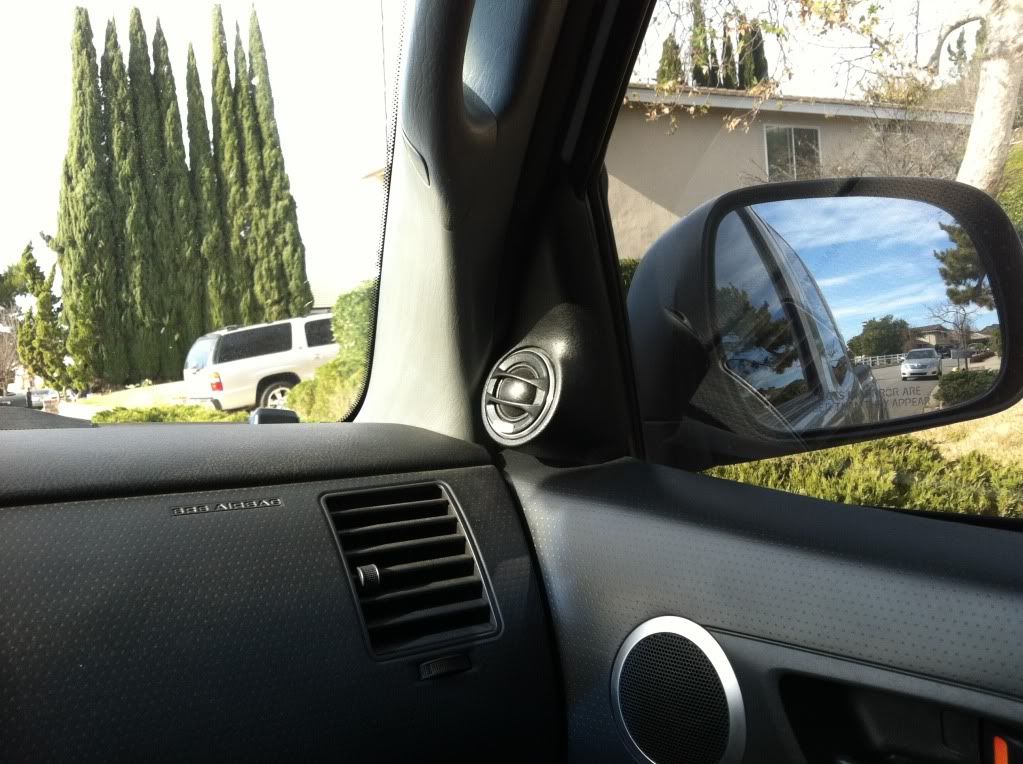 The custom tweeter pods were both challenging and fun to make. These are the first ones I've ever made on my own. The texture paint can be tricky, especially when starting off with a can that is not brand new. They turned out pretty good.

JL Audio 10W6v3 Sub Woofers - New as of 2/19/2013

http://www.jlaudio.com/10w6v3-d4-car...-drivers-92140
After several issues with the 10w6v2's that I previously chose for my stereo, I almost wanted to completely disregard using their subs in my truck. Since my permanent enclosure is a little bit proprietary to JL subs, and I don't want to make the massive effort it would take to change it, I had no choice but to upgrade to the version 3's and hope for the best. From examining the differences in specifications between the version 2 and version 3 of the W6's, I was a little skeptical about whether or not there would be a huge difference in sound quality, but the fact that they changed the surround to a thick, durable rubber made for good piece of mind (I tore 6 of the foam surrounds within one year of owning my w6v2's through normal listening and JL was not willing to try and make amends once the 1 year warranty expired).
Despite my previous skepticism, I am VERY happy with the improvements that JL has made for the version 3 W6. Their tonal quality is MUCH better than that of the previous versions. They are extremely tight, dynamic, and have no problem playing as loud as I could hope for with my current set up. I am very impressed, and glad that JL made such astounding improvements for these new versions. Having my gain structure set up to be mainly dependent on input voltage to my amplifiers, with the Audison DRC remote, I can adjust the output of my bass stage to precisely match my music selection without worrying about adding distortion or clipping. The new, more sleek look of the W6's is also pretty cool.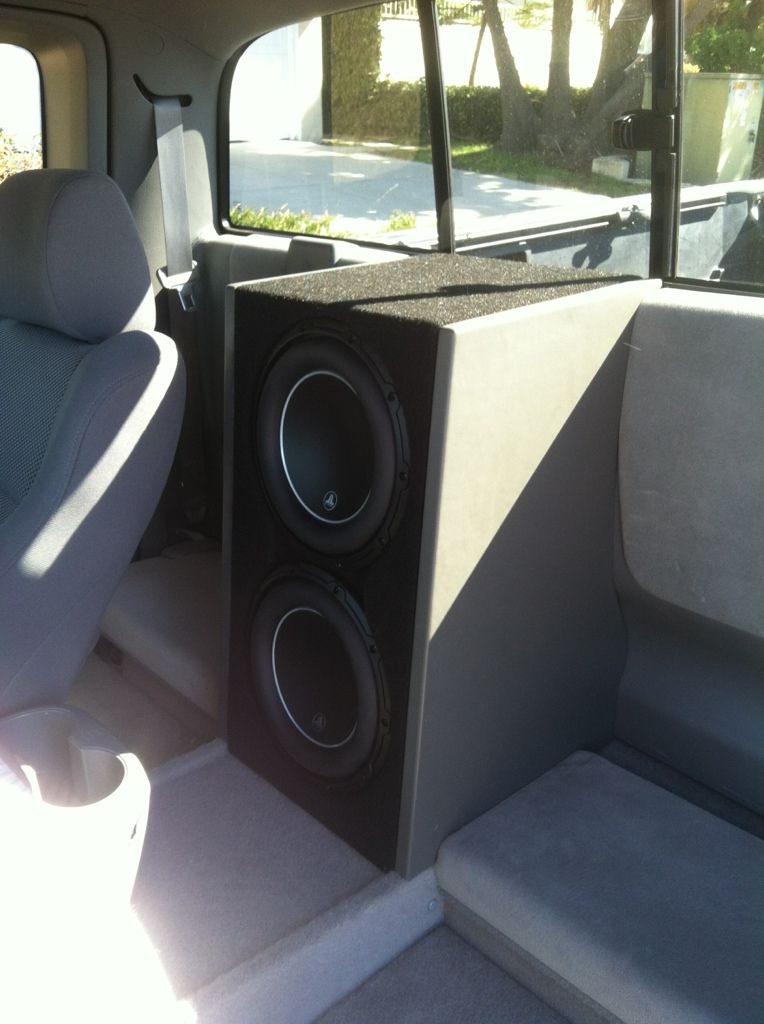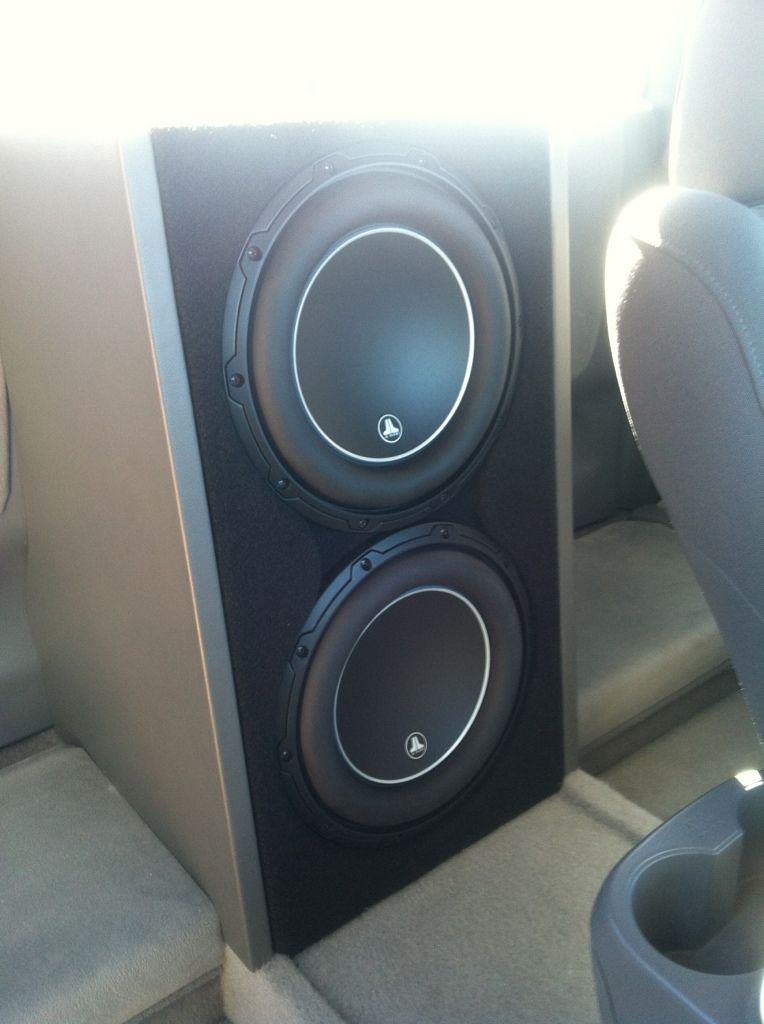 The enclosure is built to the metal of the rear wall of the truck. Doing this anchored the box very well. The rear backrest panel had a section cut out of it to fit the box. The inside of the box as a few sheets of DynaMat, all walls of the enclosure covered with 1" dampening foam, stuffed with poly-fill, and about 3-4 tubes of silicone to ensure a full seal.
I made the false floor panels to cover up my amps and the piece that sits just below the box houses the audio control matrix.
Under the hood:
The two Red Top Optima batteries keep the system powered up while playing at full volume. I installed a 240 amp Mean-Green alternator to help out, as well. With the system conservatively rated for about 2220 watts, my voltage still never drops below 13 volts while playing at maximum levels.
Since the completion of this stereo a while ago, I've noticed one problem with my voltage, which I have determined to be the regulator on my upgraded alternator. Abruptly changing current draws make my voltage spike, sometimes above 15v. As you can imagine, this does not make some electronics too happy. In particular, my mid-bass amp will go into protect mode for a split second on the rare occasion that my voltage goes above 15v. My headlights will also get very bright for a moment when this happens. Mean-Green was nice enough to send me a replacement regulator for the alternator, but I haven't made time to pull out the alternator and replace it, yet.
I had a friend that does metal-work make up a custom battery rack to house the two red-tops. It turned out great and anchors the batteries securely.
Sound deadening:


DynaMat Xtreme
I lost count of how much DynaMat Xtreme I used after about 5 boxes. Most things got covered with two layers. Here is a list of what I covered with it:
Roof (including plastic spacers between the roof and headliner)
Rear wall
Floor
Doors (Outer skin, Inner skin, and backside of the door panel itself)
Firewall
All plastic panels in the truck
DynaPad
I covered the floor, firewall, and some of the rear wall with DynaPad on top of the DynaMat Xtreme.
Trunk-Liner Carpet

I upholstered the back side of my headliner, inside of my door panels, and the inside of several other panels in the truck with trunk-liner carpet.
Silicon
I used silicon to remedy several vibrations and rattles in the truck. There are very few left, I think it's about as close to perfect as it gets in a Toyota.
After all the sound deadening, there's pretty much no audible annoyances in the truck while driving and listening to the stereo. Even with the bass turned all the way up on rap or dubstep, without listening specifically for vibrations/rattles, they go unnoticed.
In conclusion:
Altogether, I am extremely happy with the stereo. It is one of the best quality car stereos I have ever heard (compared to other high end, award winning systems that fellow employee's at my specialty shop have completed in the past). It can be violently loud while reproducing quality recordings with pristine clarity.
Yes, anybody who must endure the rare occasion of sitting in either backseat is going to be extremely uncomfortable. It's a small price to pay.
Comments? Questions?