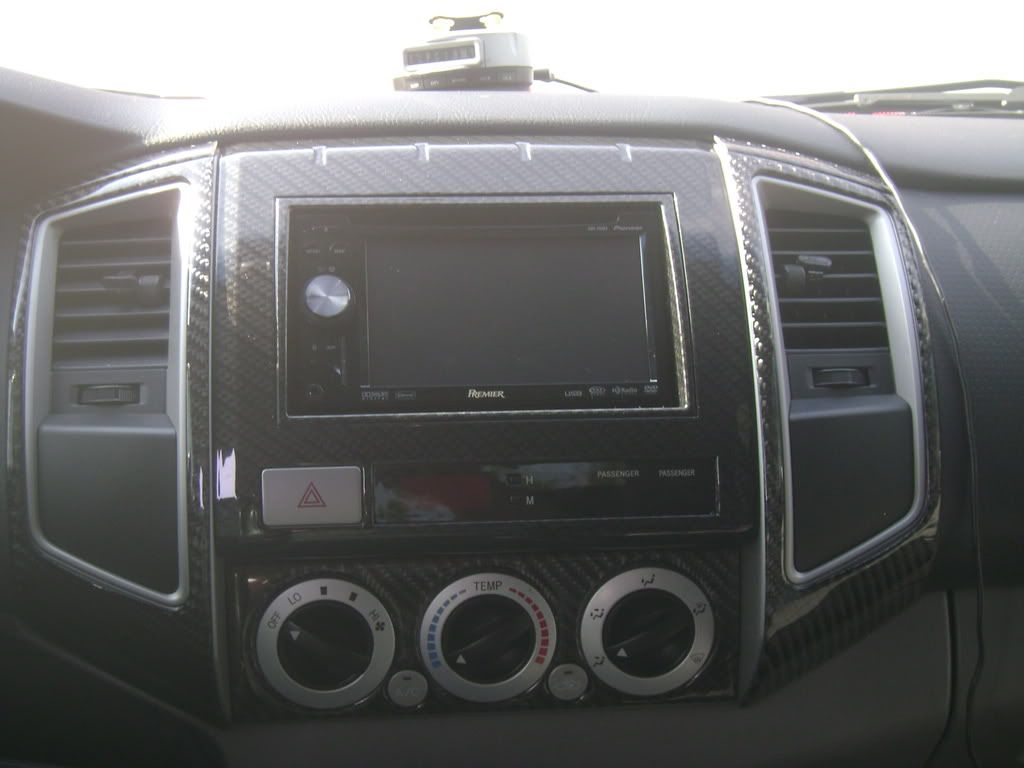 I didnt take pictures during the install, as it took me all day by the time I got everything wired, soldered, etc.
I installed the mic in the over head console. Its temp'ed right now, as I wanted to try it out to see how far it had to stick down (or out of the console) before I secured it properly. The blue tooth works great with it "flushed up" which is a very clean look. I will pull the console next weekend and secure the mic 100%.
The GPS antenna fit VERY NICELY behind the DS A-pillar as many others have done. My GPS reception is awesome, and the Pioneer GPS antenna was so small it fit perfectly between the grooves on the backside of the A-pillar grab handle (if youve ever had the A-pillar off, youll understand). No cutting, notching, or anything was required for the GPS antenna install = VERY easy and clean.
My truck is an X-SP, and came from the Port with the Carbon Fiber trim accents. While they look nicer to me then the silver, its a PITA to make interior mods etc... I originally sent my
Scosche
double din kit to some guy in Cali (would have to find the paperwork to remember where), and he "dipped" the whole piece in CF = what you see in pics.
I later found (after much research) that Superior Dash out of Daytona Beach manufacturers the CF overlays for SE Toyota. Once I relocate my Hazard switch & clock to the lower console, and install my Audio COntrol three.1 in the dash, THEN I can send my dash kit to them and they will custom make the piece so it is 100% factory match. Right now, if you look at the last pic, you can clearly see the 1/8" +/- difference between the rest of the dash trim (with the CF overlay) and the scosche kit currently without it...
I did the hardware bypass, and tested it last night watching Indiana Jones while driving in circles around the neighborhood
Also, the IPOD is in the glove box = out of site, out of mind.
Once I get my sound deadening done, I can install the rest of my system, and REALLY turn some heads!!!