So I'm replacing the entire stock system in my new truck (2013 DC, non-JBL), and I am doing it myself as opposed to having a shop do it and charge me an exorbitant amount of money for the install. I've installed systems in previous vehicles so I'm not too worried/intimidated by the project, but this will be my first multi-amp install so I wanted to get a second opinion from some of our audio/electronics experts.
I've purchased the following items to install:
Kenwood Excelon X597, with a Scoche dash kit
Alpine SPS-610C 6 ˝" Components for the front doors
Alpine SPS-610 6 ˝" Coaxials for the read doors
Alpine MRP-F300 4x50 @ 4 ohms (installed behind rear driver's side seat)
TBD Subwoofer amp to be purchased at a later date (will not exceed 500-750 watts power though)
Rockford Fosgate RFD4 - 1/0 in 4/8 AWG out distribution block (installed next to amp)
My plan is to install the wiring as shown below (sorry for the poor handwriting lol, it's a failing of mine):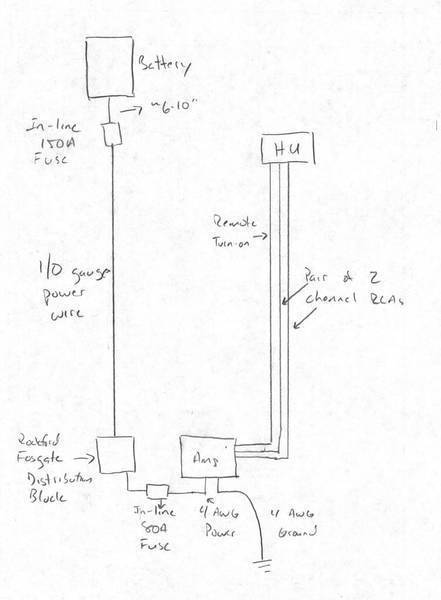 (Side note- I purchased my wiring from KnuKoncepts after looking around a little and reading some user reviews on
Amazon
/etc. May or may not be the best stuff out there, and I'm sure everyone has a personal favorite, but this is the brand I ended up going with. I also ended up going deliberately overboard on the wire gauges for safety.)
To run from the battery to the distribution block I'm planning on using 1/0 gauge power wire, with an in-line 150A fuse installed within about a foot or less of the battery. From there I plan on running a 4 AWG power wire to the amp, with another in-line fuse installed just after the block, this one an 80A. Coming out of the amp is another 4 AWG wire, going to ground on the chassis. My first idea is where the bottom driver side rear-passenger shoulder harness is attached to the chassis, as it looks to be a nice clean connection there.
Eventually I will purchase the second amp and sub(s) and run another 4 AWG power wire out of the distribution block to it, which is why I'm currently installing such a heavy wire from the battery so I don't have to re-wire later. I'm considering buying a second block at that point and running the two 4 AWG grounds to it and outputting a single 1/0 ground to chassis wire, but that's down the road some.
Edit- Finally found the info on the current capacity for my power wires on the12volt.com, and they far exceed the fuses I've chosen so there should be little to no chance of the wires getting to the point where they overheat and/or catch fire. We'll see how the install goes! Will post pics.
Thanks for taking the time to read, and for any input! J
Tolian