OK, so first off I have the factory six disc in dash changer head unit, and I have been quite happy with the operation of the stereo, and it's volume capabilities, and figured that would be all I needed if I could just put some Pioneer TS-a series 3-ways in there. Since I happened to have 2 Pioneer TS-a1668 (4 ohm, 50w nominal, 180w max) and 2 Pioneer TS-a1671R (4 ohm, 35w nominal, 220w max) laying around from previous cars I figured I'd go ahead and put them in and write up the install as a DIY.
Disclaimer: If you are not comfortable with any of the steps outlined in this DIY then do not attempt this project. That said I can not be responsible for any damage that occurs to your truck as a result of following the information contained within this thread.
OK, needed materials:
(2) 6 1/2" speakers for the rear doors
(2) 6 x 9 or 6 1/2" speakers for the front doors
(1) Tacotunes.com access cab speaker mounting kit.
(1) box 3M Strip-Calk part number 051135-08578 (available from your local automotive paint supply store) (more on this later)
Step one.
Choose your speakers. I personally have had Pioneer TS-a series 3-way speakers in everything I have ever owned, I like the way they sound and I happened to have 4 of them wanting to go into my truck anyway. I'm not going to try to convince you that I am right on this, the best thing for you to do is to go to your local Best Buy (middle of the afternoon on a weekday is best if you can pull it off) or whatever, and listen to all the options in the sizes you need. Then write down the model numbers of the one(s) you liked and go home and look for them on-line,
Amazon
,
Ebay
, Crutchfield, whatever. Then order your chosen speakers.
*NOTE*
I believe that Crutchfield may include speaker adapter brackets when you buy speakers from them, so if that is the case, then go ahead and dis-regard step two.
Step two.
Now that you have chosen your speakers and know what sizes you'll be using go to
https://shop.tacotunes.com/splashPag...620E9.qscweb19
, click on your cab configuration, and choose your product.
I went with the Access Cab Kit - 2005 2006 2007 Heavy Duty Plastic Mount Kit - 6.5 Inch. The kit came with front and rear mounts for 6 1/2" speakers, wiring adapters (so that your new speakers plug rightinto your factory wiring harness), and enough screws to mount the speakers to the mounts and bolts to secure the mounts to the truck. I also chose the heavy duty plastic instead of the MDF as I plan on keeping this truck for a long time, and prefer to only ever do things once, and as I understand it the MDF material deteriorates over time, and the price difference was only about $20.00.
*Note about the hardware kit*
The speaker wiring adapters are available on Ebay for slightly cheeper than Tacotunes sells them, but I liked the convenience of getting everything in one box. Also, the bolts that they send to secure the mounts to the rear doors are not correct. You actually need a fairly long and beefy sheet metal screw, instead of the bolt that they include. So at your discresion you could opt for just getting the mounts through TacoTunes, and get the wiring adapters from Ebay and hit your local hardware store for the screws and bolts, and possibly save a couple of bucks.
That said, I got everything from TacoTunes for $116.40 including shipping. Here is a picture of the complete kit from TacoTunes.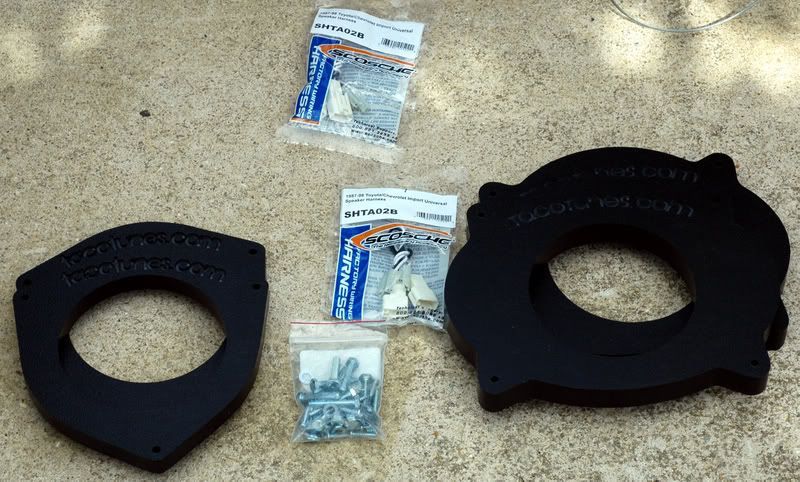 Continued in next post...
(tomorrow)