WHAT ?
SUCCESSFUL PAC-Audio SWI-JACK STEERING WHEEL INTERFACE INSTALL FOR :
2006 Taco,
jbl
system, 4d, 4wd, JVC head unit
IF YOU HAVE A PIONEER OR SONY HU, YOU NEED THE SWI-PS..
( I assume the install is 'very similar' with possible differences )
S
teering
W
heel
I
nterface
P
ioneer
S
ony =
SWI-PS
S
teering
W
heel
I
nterface
J
VC,
A
lpine,
C
larion,
K
enwood = SWI-JACK
WHAT DOES THIS DO:
Enable the steering wheel audio controls for aftermarket HU. I have 5 buttons available to pgm on my steering wheel. Here is how I reluctantly mapped them. ( track up/down is missing, and I don't like it, but seek is "ok" and doesn't piss me off too bad, but i'd rather have trk u/d)
WHAT BUTTONS DID YOU SUCCESSFULLY PGM ON YOUR JVC ? ( alpine,clarion kenwood have different but BETTER selections
thatn the JVC)
vol up/down obvious choice
SEEK up/down
( Yes SEEK as in FF/RW through the song.., this sucks for me, I greatly prefer track up/down ! I use an iPod and cruise through my custom playlists, normally my only actions are volume and track next to skip to the next JAM. However, My remote control handles the track up/down ) If you like radio, seek will "seek to next station that comes in ) After Fukking around with the programming, I've concluded you CANNOT map track up/down to a JVC Device. You are in luck however, if you have alpine,clarion or kenwood..(
Part Number: SWI-JACK
)
*Source ( toggle your inputs... radio/cd/dvd/ipod/)
*If JVC: You can actually customize the "MODE" button if you want it to be mute, power or "Preset-Up" which takes you up to your next radio preset if you're a radio user. I chose to use is as "source" since the button reads mode and that is the function the " MODE" button performed on the stock Head Unit. With a JVC deck, you will end up "skipping" a few of the options that come canned with the swi-jack for JVC..
CAN I DO IT?
If you have just a little stereo install experience or consider yourself savvy I believe you can install the SWI JACK. You will have to reference the instrucions many times during the process, before starting I recommend bringing the instructions to the restroom with you for 10-20 minutes of focused reading after viewing this how-to. This has been one of the most simple mods i've done so far. SIMPLE, but kinda - easy.
MY BCKGRND/TECHNIQUE
Having no guidance other than a college degree, reading txt in forums, but no pics, I think the method I used was effective and relatively trouble free. It worked first try: except for the programming which I will help describe for you so it's easier. A second set of hands would have been a luxury but I was able to do it myself with only 2-5 beers and stuff. If I had to do this over again I could do it
much much faster
. With this strategy, you can Solder wire in the house somewhere comfortable, install device behind glovebox for plenty of room.
YOU SHOULD MOD YOUR OWN TACO AT SOME POINT ( unless you just can't )
I have learned so much, which is why I forced myself to do all these mods. Being single with no kids helps a lot. No distractions or time limits. The more you do yourself, the better you get. I had a ton of questions at first, but you just need to start and then people's instructions make more sense. After installing my head unit, ipod interface, and rear speakers I'm very confident to finish my complete upgrade... amp, sub(with box from MARV whom i'll be calling again soon to arrange ! ) , fronts, HD radio hd300..
Do I seriously have to solder a 150 ohm resistor ?
Yes, you have to solder a 150 ohm resistor.. It was not tough, and I can't wait to have to solder something else. You need a soldering iron and some solder. My technique I soldered in my kitchen on the stove, you don't need to solder while in your car with this strategy. Although I will show you below, the 150 ohm is brown green brown gold
YOUR SETUP vs MY SETUP
The parameters to know before purchasing this device are
vehicle make-year and your Head unit mfg. Nearly every deck has an option from PAC-AUDIO
My Setup.
Vehicle
: 2006 tacoma 4d 4wd with JBL ( was never asked about JBL )
Head Unit
: My deck is a
JVC KDAVX44
.. Most important there is JVC ..
REFERENCES:
SWI-JACK Vehicle Application Guide
( fill out your head unit and vehicle for specific guides )
MY FULL PHOTOBUCKET LIBRARY
SWI JACK INSTALL TOYOTA
Very Accurate Diagram of white wires !
SWI PS PDF
( ONLY IF YOU HAVE PIONEER SONY, IF NOT DISREGARD )
So if you have the SWI JACK
( jvc, alpine, clarion, kenwood ) This will be a good guide for your Taco. I don't know how the year of the vehicle applies to the guide.
However, regardless of your HU and Vehicle, I believe this is a good strategy for this install. I wouldn't change much if I had to do it over again.
SUPPLIES FOR MY TECHNIQUE:
SWI-JACK Device $40-$60( for use with: jvc/alpine/clarion/kenwood )
3' or 6' 3.5mm Audio Extension Cable.
Cheap ( my JVC Deck uses a stereo mini jack, so I bought a little 6' extender, as if you wanted to make your headphones longer to your ipod for example. specific use is for my install style behind the glove box to extend the kit for ease of install
Tap Splice connectors ( so you can just clip into existing factory wiring. see pics)
example
Crimp Cap Connectors:
Cheap
for conecting whites, ground, and red.
example
Heat Shrink Tubing
Cheap
:
to shrink wrap your solder connection of your 150 ohm resistor.. Works great. Shrink with lighter or soldering iron.
Soldering Iron & Solder: $10-$50..
If you will NEVER use this again just borrow one. Personally, I want to solder something else.
GOOD general crimping / wire stripping tool..
22 gauge Red, white, black wires:
EXAMPLE:
specific use is for my install style behind the glove box to extend the kit for ease of install
Coat Hanger from Your Dry-Cleaning.
Since my install is behind the glovebox, I need to feed the wires through the dash. Use a coat hanger to make a PERFECT cable-runner-through-thingy. Run the cable in 10 seconds.
I just make an "S" shape and the friggin cables connect real nice on the "S" and feed through very slick.
Electrical Tape
Teeny-Tiny Flat head screw driver:
Use for switching radio select switch and pushing pgm button on SWI-JACK.
"Moderate Strength" double sided sticky tape:
Use for actually mounting the SWI Component
Here's mostly everything you need. There are 2 soldering irons, I returned the Weller battery powered version and bought the one with a stand and 'wiping sponge' cause it's messy if you don't have practice like me. I recommend doing the soldering on cardboard or similar.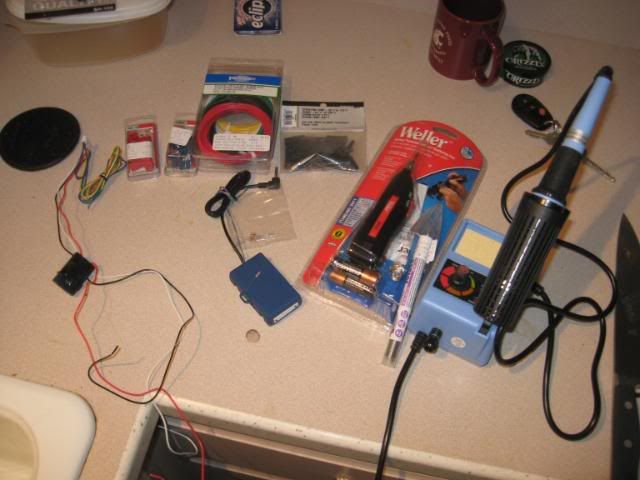 Optional Supplies:
Beer/Cigs/Chew/Other Vice
If you're frugal you can buy from
lowes
/HD carefully open and return the product. I tend to keep what I buy otherwise I will just borrow from a friend.
Strap Head light for your head
My new favorite tool: example, but not the one I bought from lowes which looks cooler:
Headband light
especially helpful if you like to work late like me !
Portable Radio for a peaceful install
Turn Off / Mute cell phone
Last minute tips:
Use my strategy, and solder in the house not in the dash of your truck.
Use the coathanger to run from glovebox to dash.
Bring a radio outside to your project
Make an electrical/or painter's tape flag on your white+150 ohm resistor wire.
disconnect neg battery cable before project.
150 Ohm resistor is brown green brown gold. DON'T LOSE THOSE LITTLE FRIGGIN RESISTORS. THEY ARE TINY ! Don't even take it out of the bag until you are ready to solder it.
NEGATIVE BATTERY DISCONNECT EFFECT/STRATEGY: Once swi-jack is installed and you have verified it has juice, disconnecting the battery MAY clear ALL of its program settings.. It didn't for me, it did for others. We think it may be dependent upon the amount of time it's disconnected from the negative battery.. My "ultra safe" approach was: I installed the swiJack per instrucions, made sure swi-jack had juice then pgm'd it. Then I disconnected neg battery in order to 'safely' plug in the rest of the dashboard connections ( hazard light bar, temp control ) and reassembled the dash-kit face. Then I re-connected the neg battery and my unit was still pgm'd, But my disconnect was only for 2-3 minutes tops. The Key is to avoid having to EVER program this thing from an uncomfortable position, because that would be a bitch.
Pgm the device from the drivers seat because it will take you a little while to get the hang of it so you want to be comfortable and not have to try and program with your hands stuck in the dash. When done, THEN you can mount behind glove box.
DETAILED INSTALL WITH PICS IN 2nd POST: