Hey,
Since I went with the single 10" and enclosure that fit behind the the passenger(66% side) I was able to re-install the back plastic wall.
This is the home for my crossovers. I think it looks better than the ensolite only look.. I cut 1 tic-tac box size hole for the cables, easily concealable if I want to un-do..
Just wanted to show interested parties another option for backwall finishing depending on what amp setup you choose to go with this may not be applicable.
One final note before pics is that I feel this changed my tuning, so I have to revisit that again. It decreased the quality, might have made it louder/distorted. Like it through things off balance a little..
Here is the slideshow link to photobucket.
http://s206.photobucket.com/albums/b...view=slideshow
SCREWS:
The screws ( also get respective washers ) were able to go through my mounting board into that back cable run. Closely read this->
M6 - 1.00 x 40
Whatever that screw is, get 1 notch longer depending on the depth of your mounting board. I don't know metric screws, but find that model and get half inch longer it's perfect then, but too short at M6 - 1.00 x 40
It's not feasible to use a nut, just get the screws(2) and washer.
Here is a walkthrough of how I chose to do it..
How I had the temporary setup: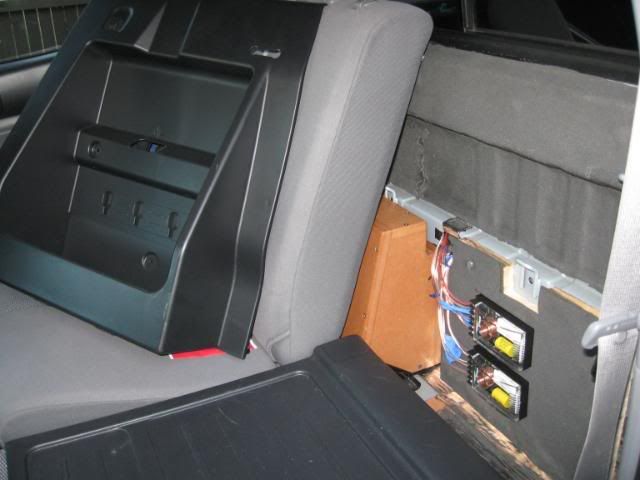 Time to Unscrew the mounting board, re-labeled my speaker wires ( I had some wrong last time ) and unscrewed everything: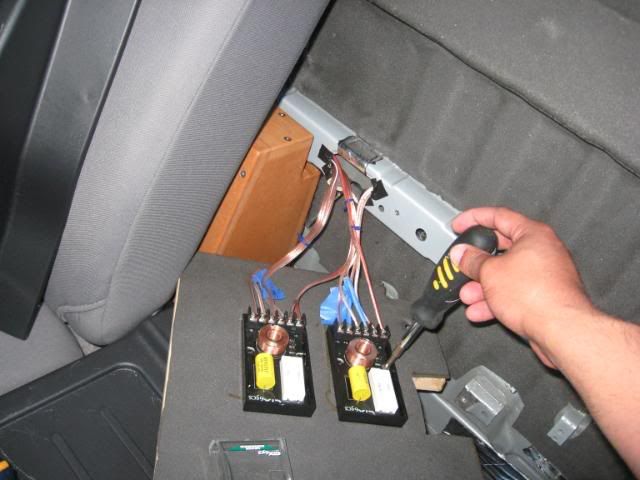 Dry Run to make sure there were no hangups.
I also used this to locate all the spots where the black plastic clipped into the wall.. It makes impressions, then I go back and jam something in there to clear the ensolite.
Dry Run of mounting board making sure drilled screw holes are good.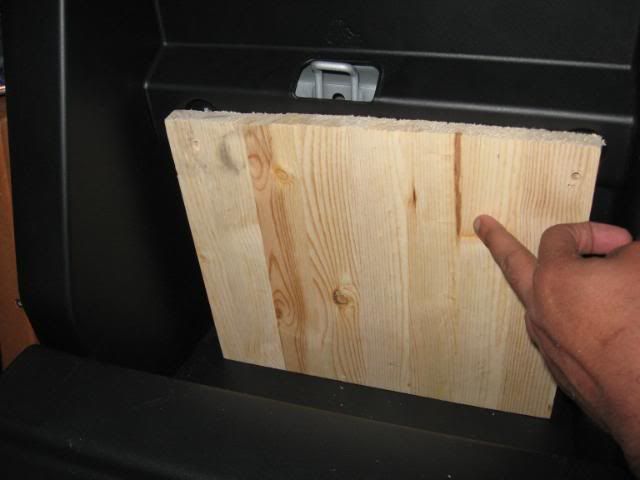 Gave some Ensolite Love to the mounting board:
Gave Some Raamat Love to the black plastic wall...
Applied at logical places where it has gaps or potential vibrations. It's so close to the sub, and I had spare raamat. only single layer at select locations.
Cut a tic-tac-box sized hole for the speaker wire
.
Obviously, I cut the hole right where the cables can enter the box from the hole on the back cable run.
To cut the hole, I drilled a fat hole, then used snips to cut the rectangle out, by bending and snipping till I got what I wanted !
Extra Raamat Love where the speaker wires will come through..
gives them a less violent entry to prevent wire scraping.
Pulled the cables through and placed box for final securing.
IMPORTANT-> At this time, I also screwed in the bottom bracket using the factory screw and washer. I gave everything a bang with my fist to ensure things "clicked" into place and thus eliminate any potential rattle. Screw it in now, because you can't once you place the board in there.
ReConnect the cables to the crossovers.
Very fast since you labeled everything clearly..
***********NOW IS THE TIME TO DO A QUICK AUDIO TEST BEFORE YOU MOUNT !!!!! **********
It's a Wrap. Good Job.