I bought my truck 3 months ago with 7 miles on it. It's the 2009, Silver, 4x4, Double Cab, Long Bed, Hood Scoop, TRD, Tow Package... I couldn't wait to rip out the sound system and put in something awesome. Well, my week long project is finally complete! Thanks to TacoTunes for some great ideas and great products supplied. The setup includes a long list of items... some I purchased on my own, such as headunit, bluetooth, XM, iPod connector, Amps, FatMat... and the rest I purchased from TacoTunes. I was pleasantly surprised to see such great quality and great looking items that I received.
Here is the list of everything installed:
Pioneer AVIC-Z2 HDD Navigation Media Center
Pioneer GEX-P10XM Receiver w/ Nav Traffic
Pioneer CD-IB100II iPod adapter
Pioneer ND-BT1 Bluetooth adapter
Boyo RearView License Plate Camera
PAC SWI-PS steering wheel control unit
Image Dynamics XS65 Components (front doors)
Image Dynamics CTX65 Coaxials (rear doors)
Image Dynamics IDQ D4v3 (sub)
Alpine PDX-4.100
Alpine PDX-1.600
Sub Box with polyfill
Amp Mounting Board ("Tacoma" cutout with blue plexiglass and LED lighting)
Custom Amp Kit (includes power, speaker, RCA wires/fuse block/power distro block/screws, wire connectors, tie wraps)
Custom Speaker mounts
Fat Mat sound dampener
The pictures are pretty much in sequential order so you can see the process of the install. I've also included pics of all the pieces of installed equipment so you can see what I used. Here it goes:
Stock storage bins... those came out with a quickness.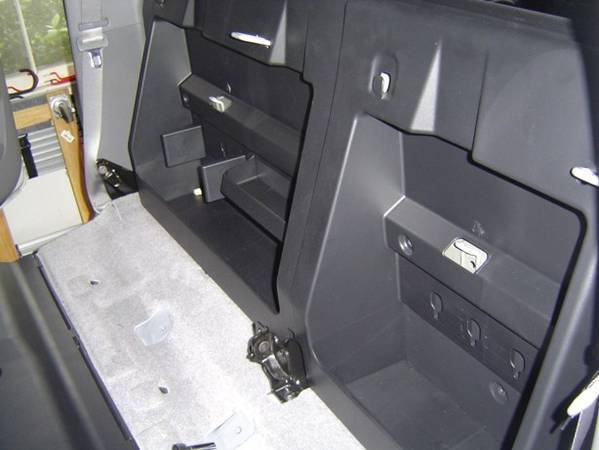 Bare back after everything was pulled.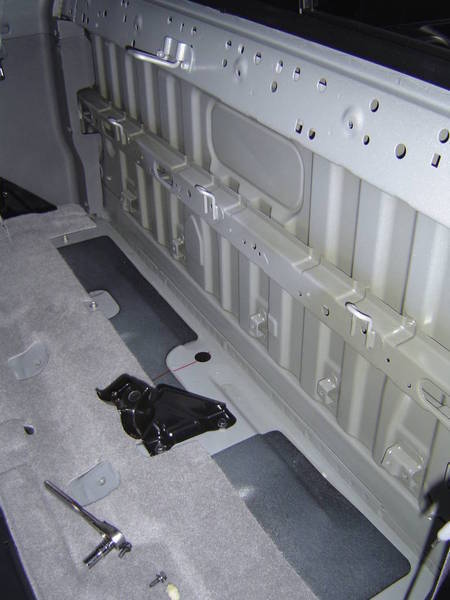 Took my Dremmel, cut the back out of the driver's side compartment as so to make room for the sub box.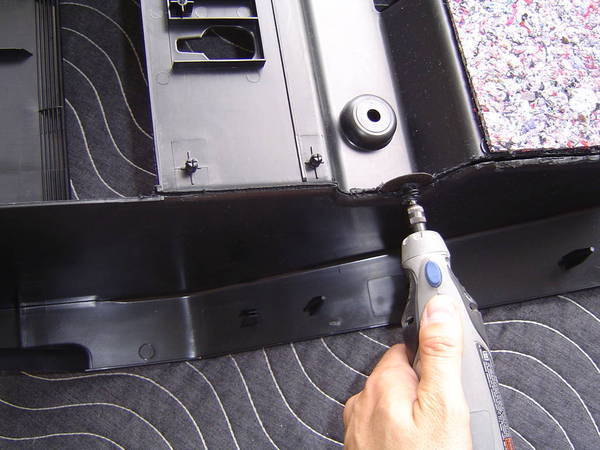 The front looks like this after the two side cuts... then had to cut the top off.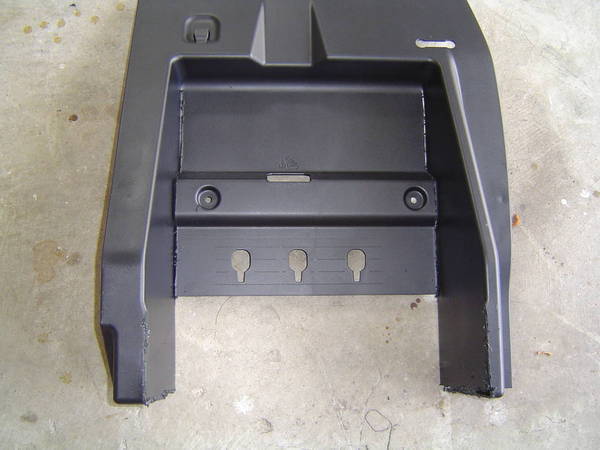 Looks like this...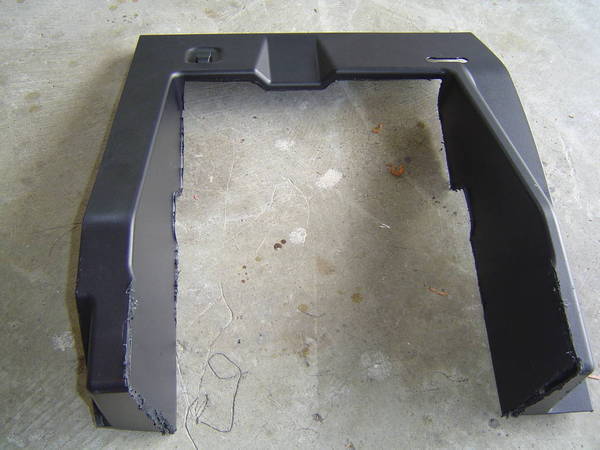 Took the wirebrush attachment and cleaned up the cut plastic for a smoother edge.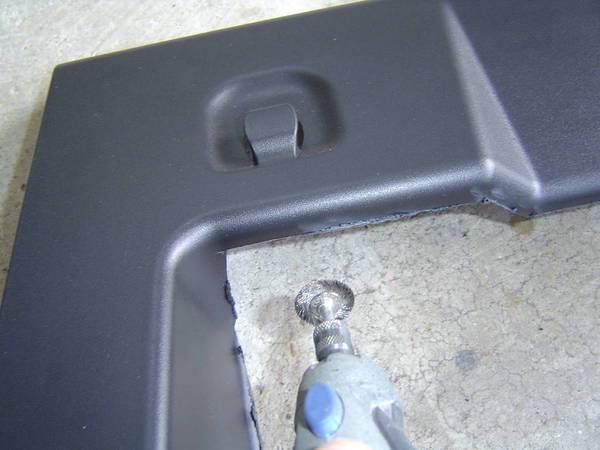 This is it after my local Line-X guy sprayed it. He said the coating stuck right to the plastic with a little sanding and without any primer.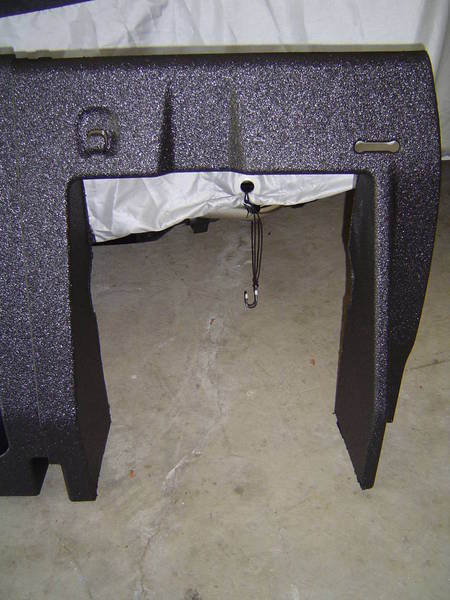 The other compartment... final look. Note, I had to cutout the little tray. There are instructions on how to do this on TacoTunes.com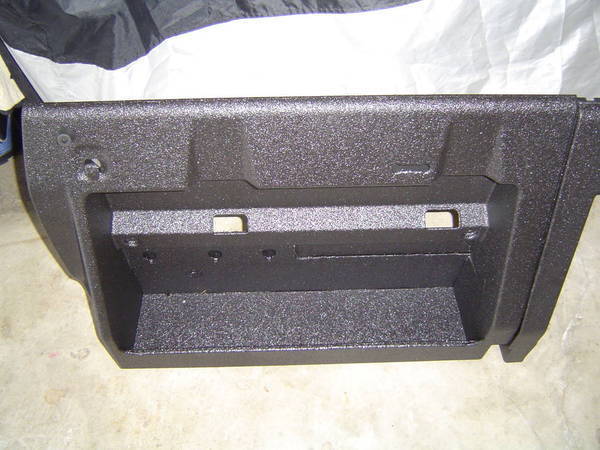 Final product.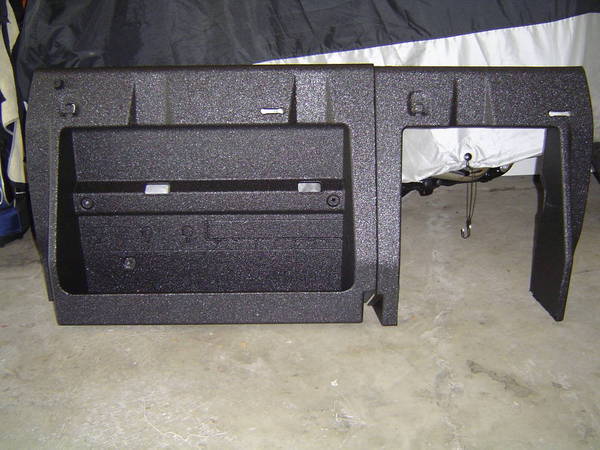 Here's all the stuff going in.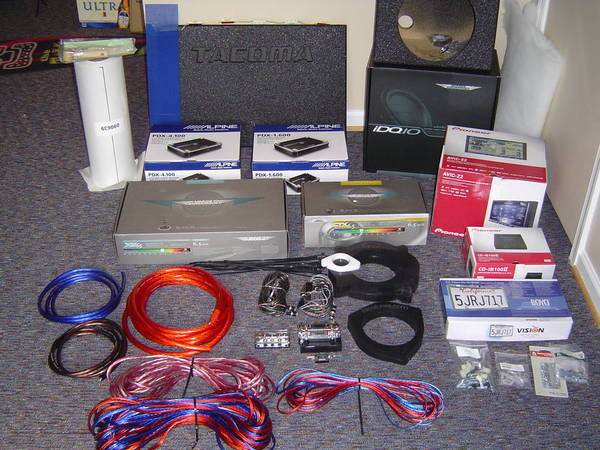 Massive power wire attached to battery!! 20 feet of it... felt like 20 lbs!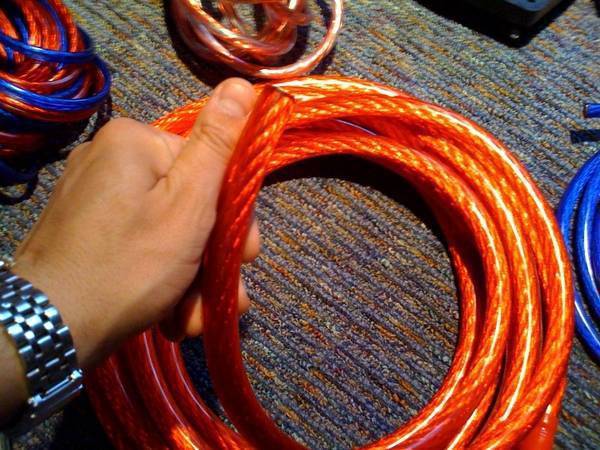 Main power wire is red, blue power wire 4 gauge from the distro block to amps, 4 gauge brown ground wire for amps, and many feet of tweeter wire, speaker wires, and sub wire.
RCA's from HU to amps, fuse block w/ custom engine compartment mount, distro power block, custom speaker mounts for the doors.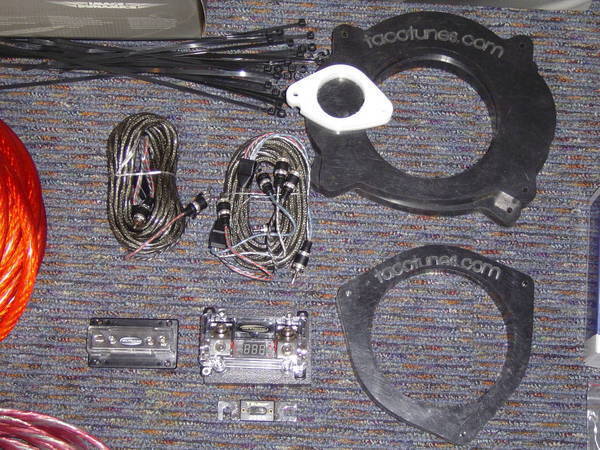 Pioneer AVIC-Z2 Hard Drive Navigation & Media Center, iPod Adapter, and Boyo Backup Cam. Didn't have the boxes for my XM and Bluetooth.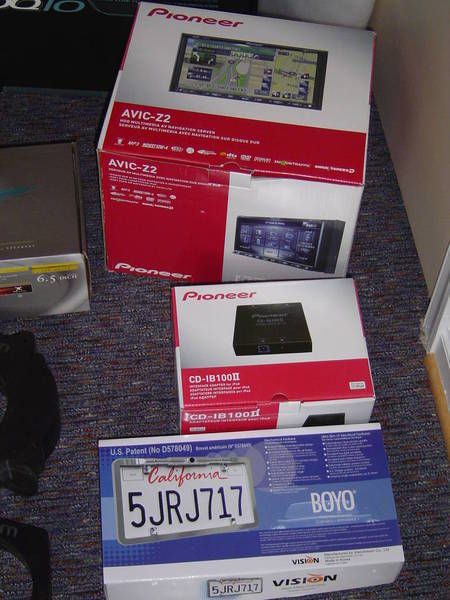 Image Dynamics XS65 Components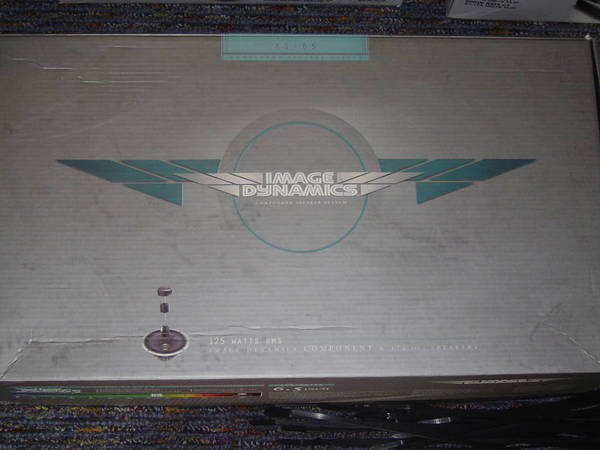 Image Dynamics XS65 Components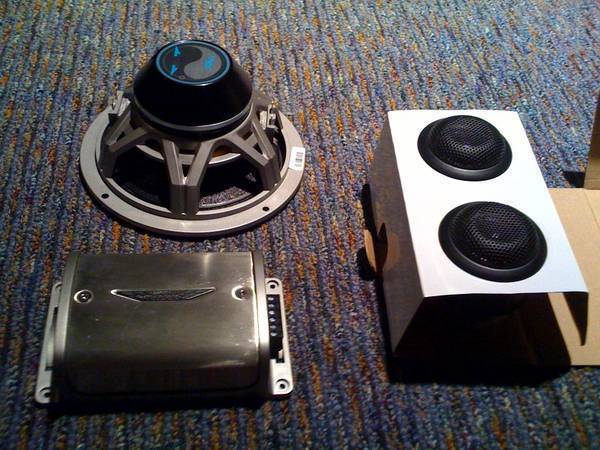 Image Dynamics CTX65 Coaxials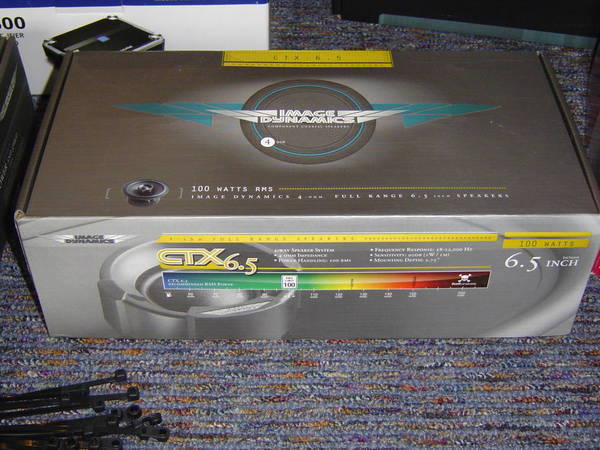 Image Dynamics CTX65 Coaxials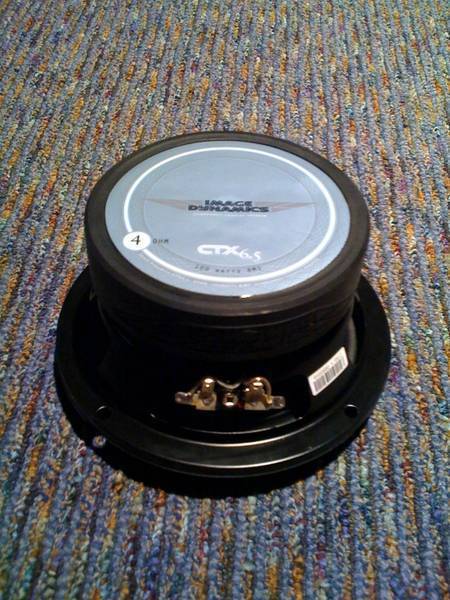 Alpine amps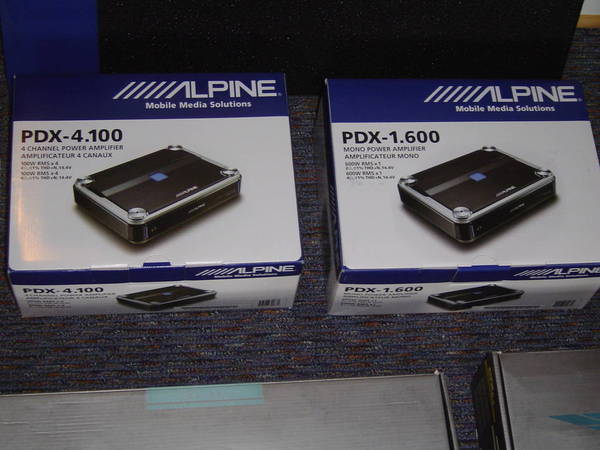 FatMat... great stuff. Got off
Ebay
... 50 sq ft for $80 shipped.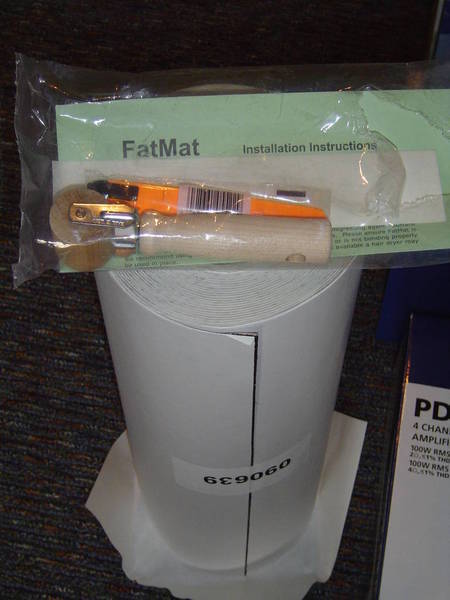 Amp Mounting board and blue plexiglass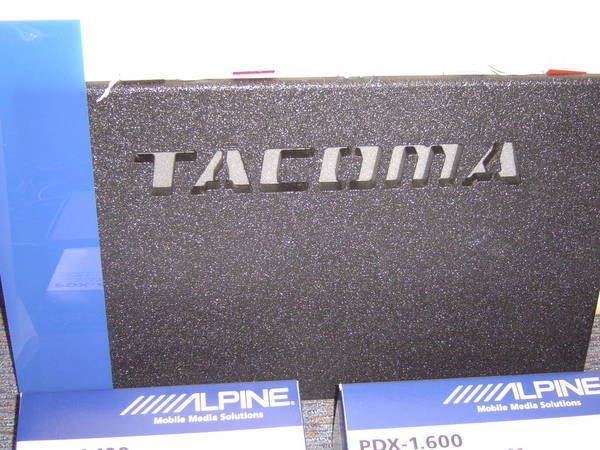 Image Dynamics IDQ D4v3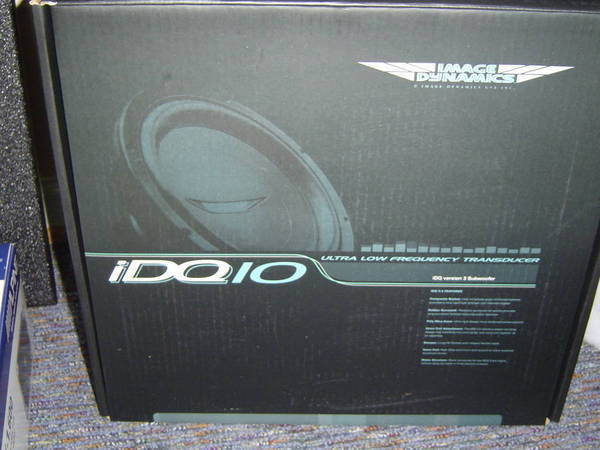 Image Dynamics IDQ D4v3
TacoTunes custom sub box.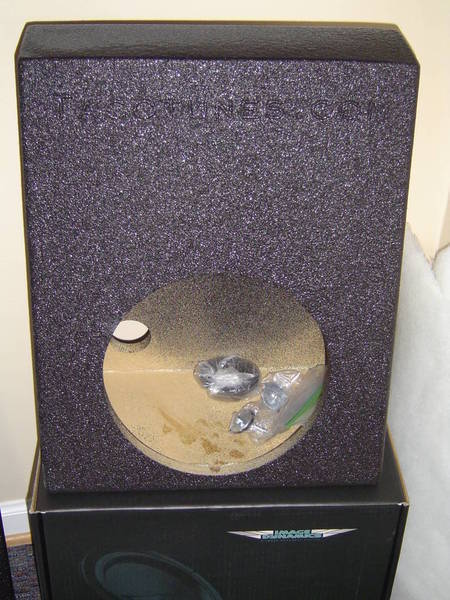 Install started with prying out the temp controls. Again, these instructions can be found on TacoTunes.com. I would recommend using a butter knife. My SOG knife was a bit sharp and can slice right through plastic.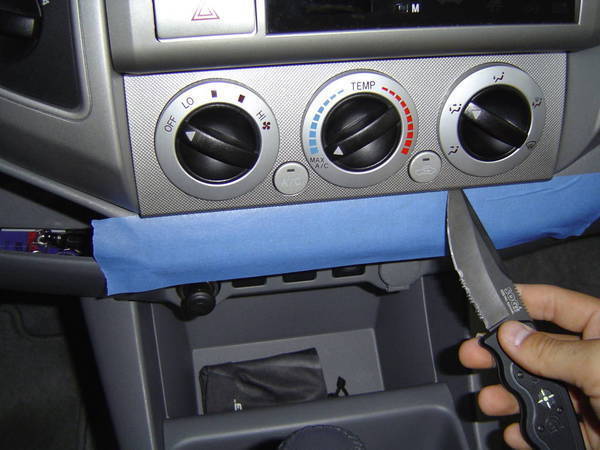 Disconnected the temp controls.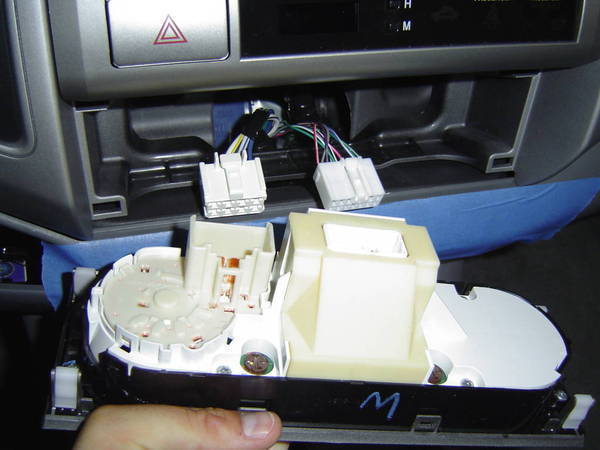 Take out four bolts shown here... then pull head unit straight out.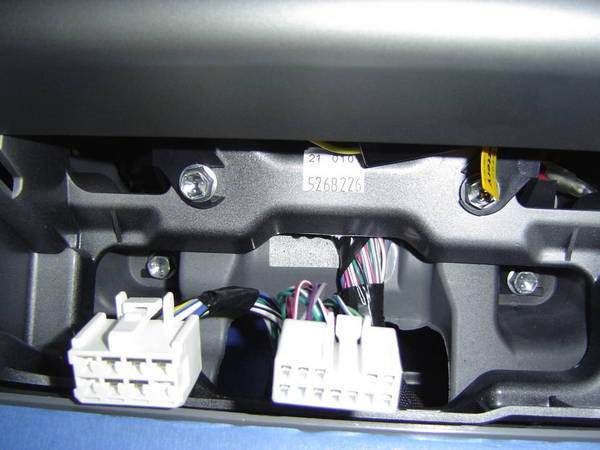 After Wiring the HU, I wired up the PAC steering wheel control unit as shown.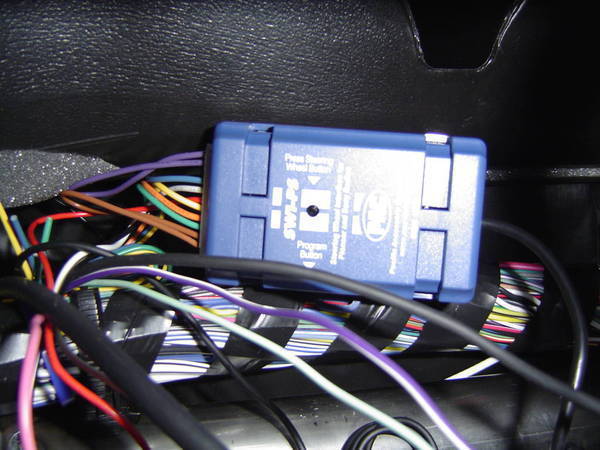 Here are the wires and connector that I tapped into for connections. Some good install and troubleshooting instructions are on this thread:
http://www.tacomaworld.com/forum/audio-video/39681-pioneer-pioneer-avic-f700bt-ipod-connector.html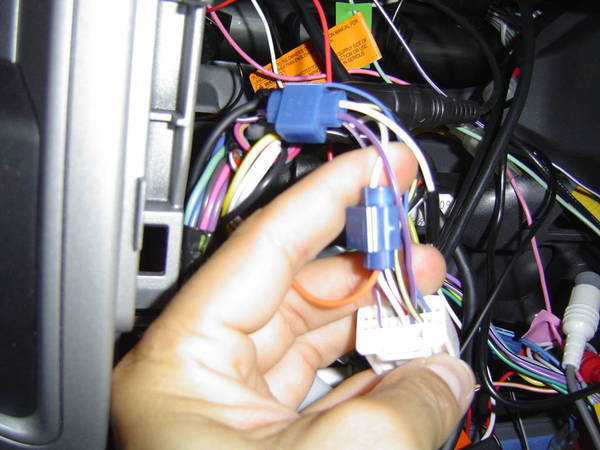 My RCA hookups and amp remote wire connections.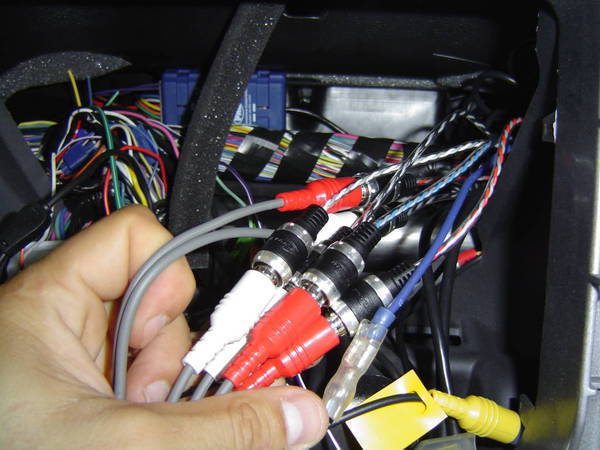 Here is where I tapped into for the Reverse Sensor Wire... It's on this connector... the red wire. This is behind the driver side kick panel.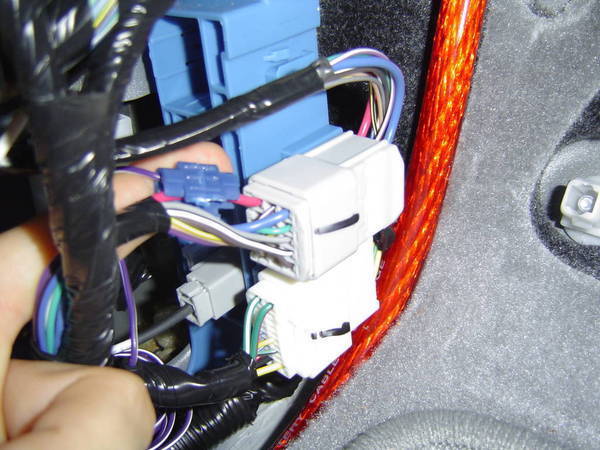 Behind the coin tray, left of the steering wheel... there's your fuse box. I tapped into the black connector here for the Speed Sensor Wire.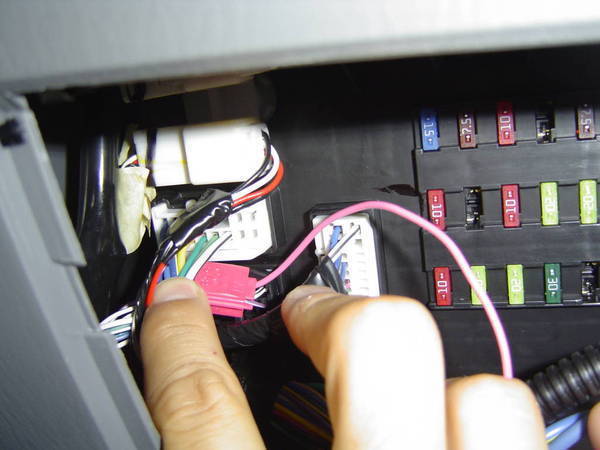 Here's my XM unit. It's mounted to the computer bracket behind the glove box and above the right side kick panel. I used tie wraps. Kindof ghetto, but it worked nicely! Also shown is the TSS-Radio XM antenna wire that connects to the factory antenna... found here:
http://www.tss-radio.com/lexus-shark...er-p-5647.html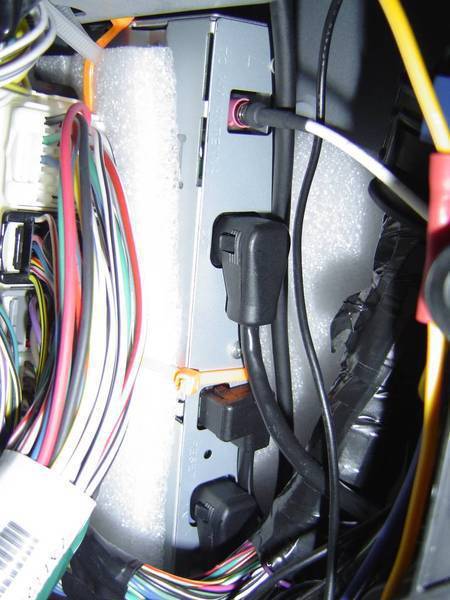 Further back view.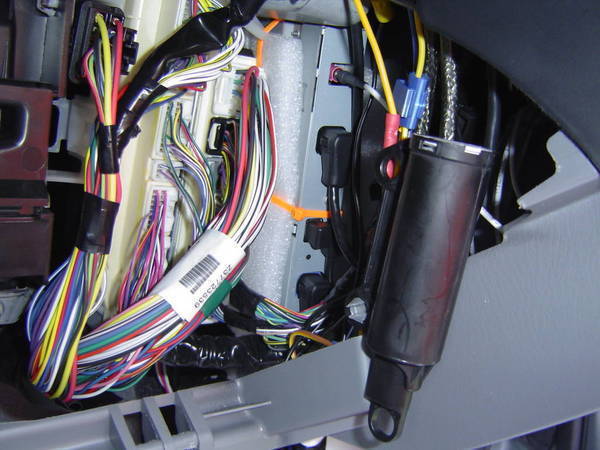 Here is the factory XM antenna connector... behind driver's side kick panel.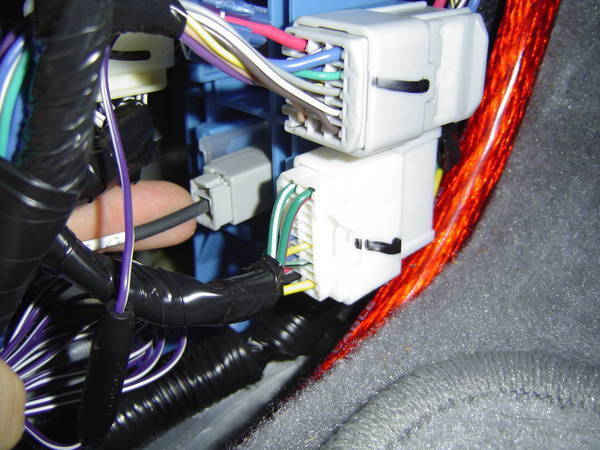 Radios... changing of the guard.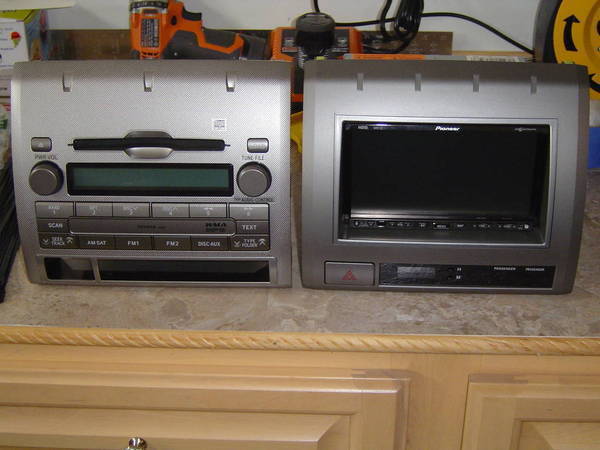 Here's the HU installed... I created a custom background in photoshop.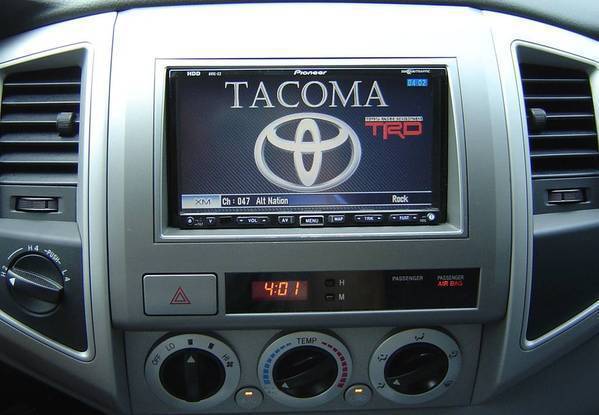 Mounted my bluetooth mic here. No one ever sees it there.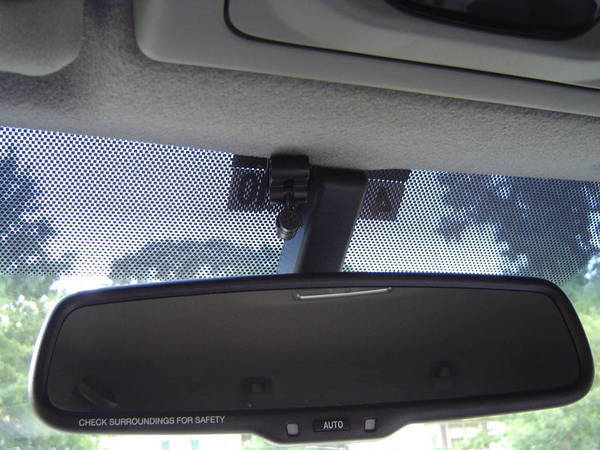 Mounted the bluetooth adapter here, under the cup holder in the center console.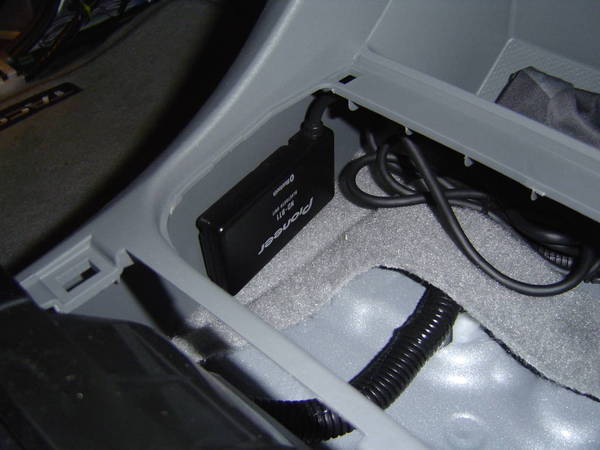 iPod adapter went on the other side.
iPod cable routed here for now. I hook it to my iPhone since that's where I normally keep it.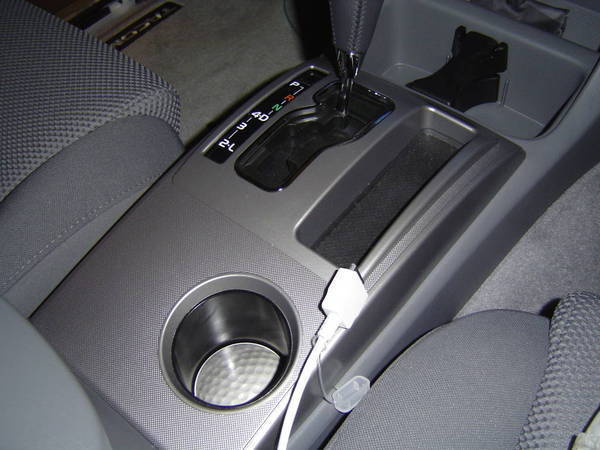 Door work time... disassembly instructions can be found on TacoTunes.com. Left Front Door.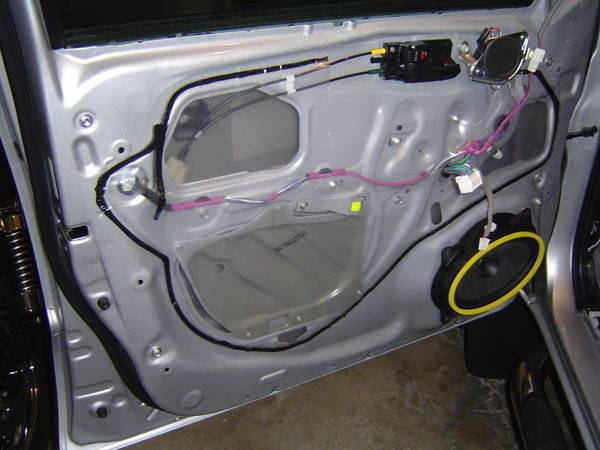 Left Rear Door.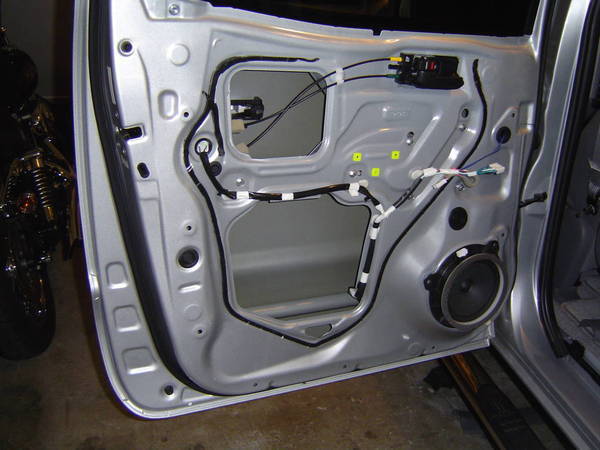 Rear Right Door w/ FatMat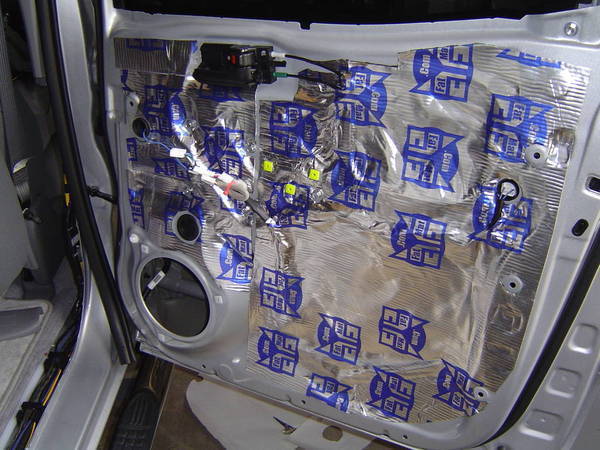 Front Right Door w/ FatMat
Left Front Door w/ tweeter and speaker wire run.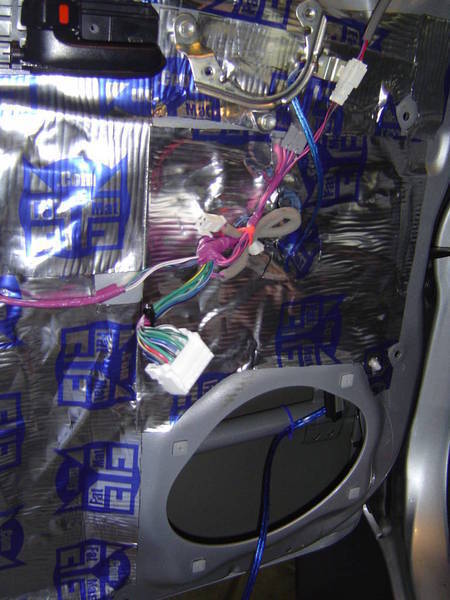 Left Front Door w/ speaker and tweeter mounted and connected.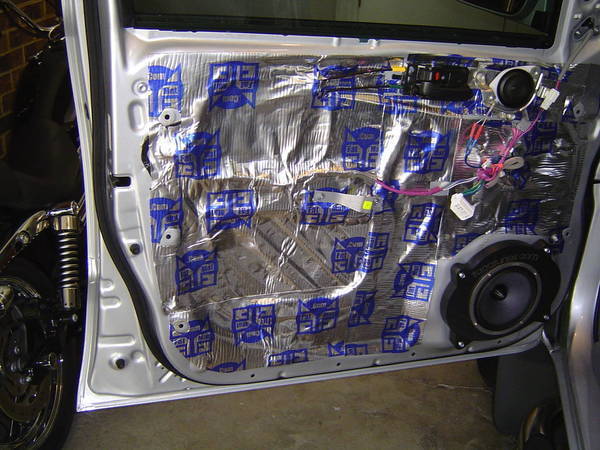 ID XS65 speaker and TacoTunes custom mount.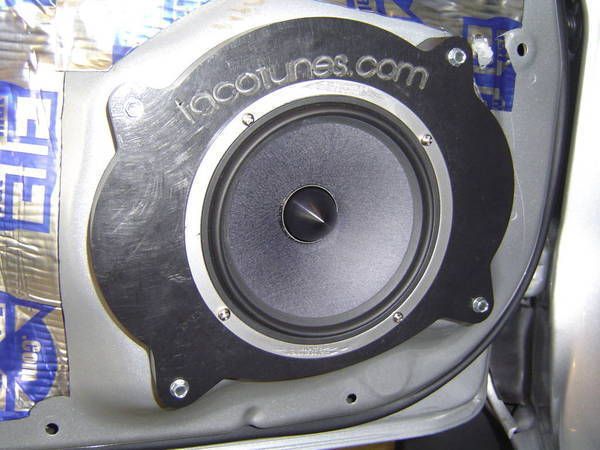 ID XS tweeter and TacoTunes custom mount.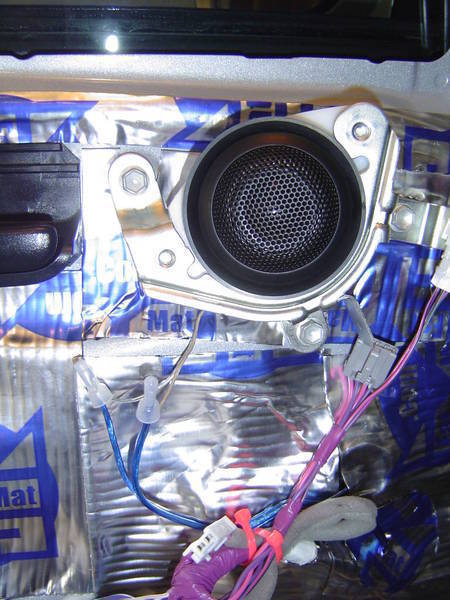 The Right Front speaker and its connections before mounting. Make sure to tie wrap wire down like this so it doesn't interfere with the window when it's down.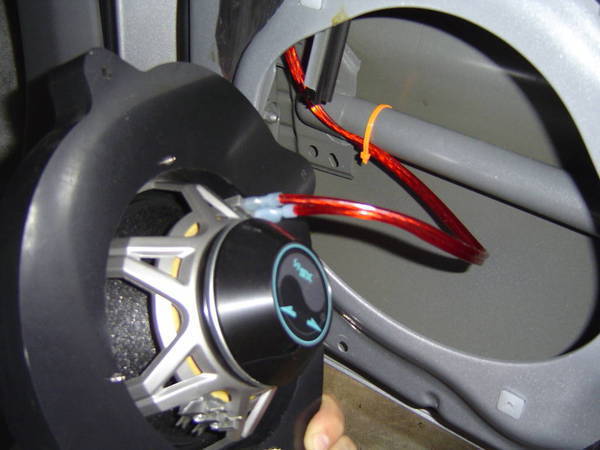 Front Right Door all mounted.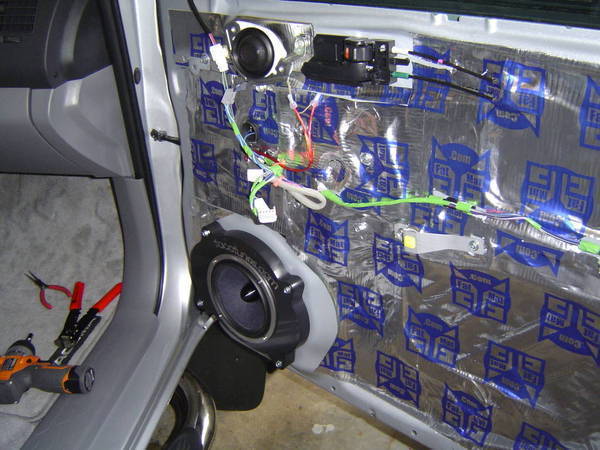 Right Rear Door and ID CTX65.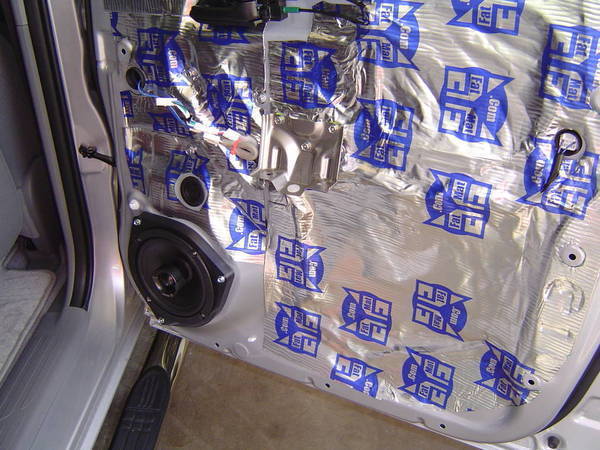 Rear wall... FatMatted.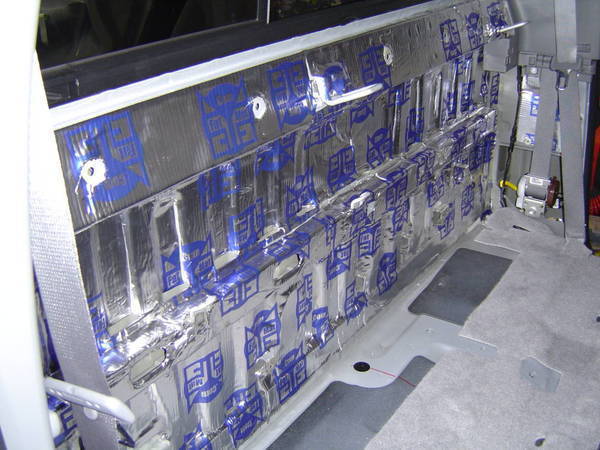 Preparing the massive Power wire for insertion. I hooked mine like a fish and taped it real tight... the sprayed it with lubricant. There was really only one opening to go through. I HIGHLY recommend using a lubricant spray of some sort! Also especially helpful when wiring speaker wire through the door tubes. After sprayed, the wires slip right in, through, and out... like a wet turd. =)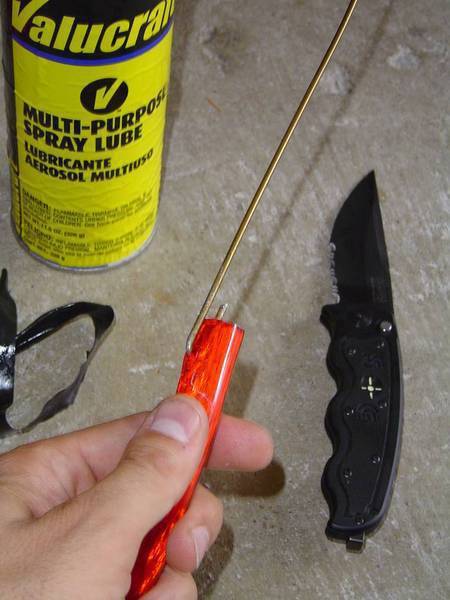 This process was not easy. Kindof like shoving a MK-48 Adcap Missile through a basketball hoop. It's not going to happen without a little force. I'm not gonna lie... there was a little cursing, but I wised up, carefully cut a small slit, and use PLENTY of lube. Sounds so dirty, but just as satisfying in the end. It ended up out right in the end.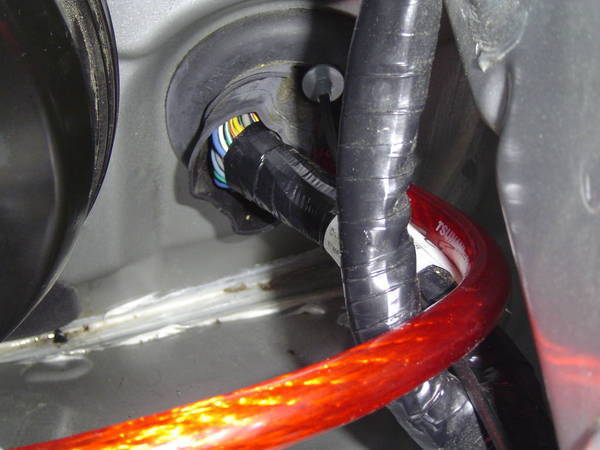 The beast!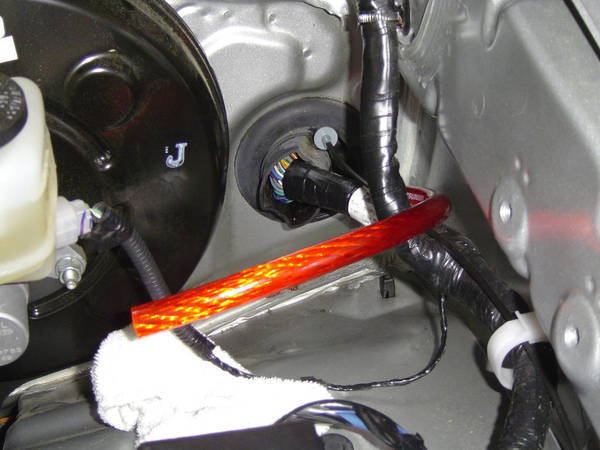 Here's the Fuse Box connected and showing voltage.
Another pic...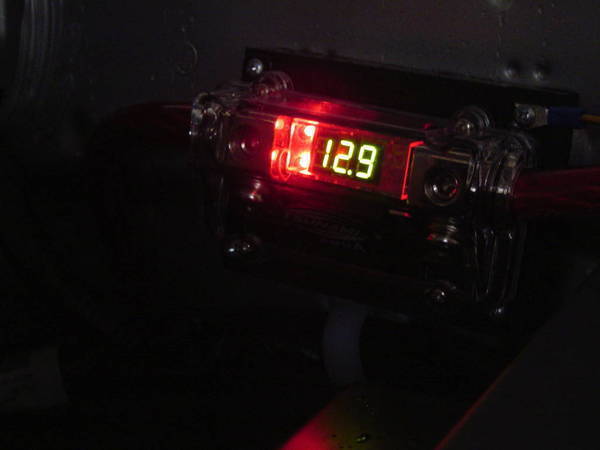 Run through here... BTW, NO... running it next to my speaker wires does not affect my sound in any way. Everything was grounded correctly and those wires are seriously insulated.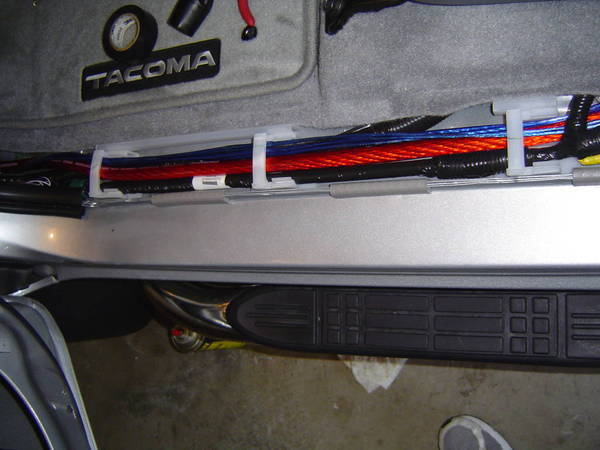 In the back now... drilled some holes and pulled all the wires through.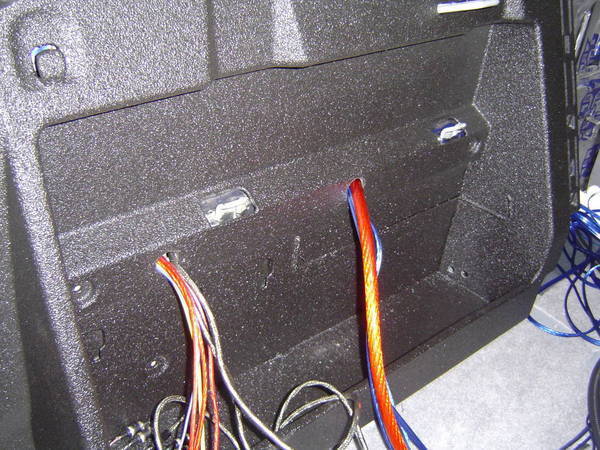 Another pic...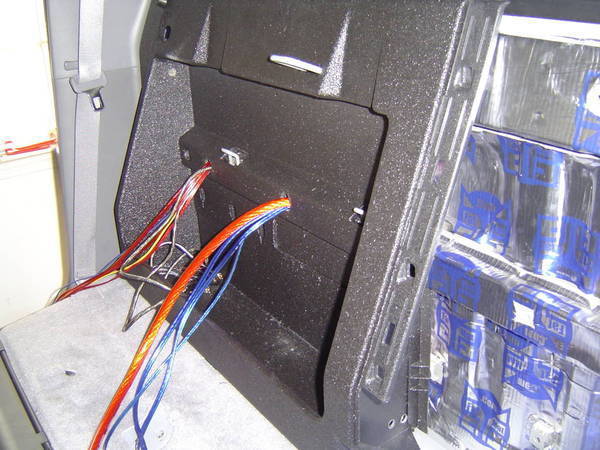 Prepping the amp board for amp installation... pre-drilling holes.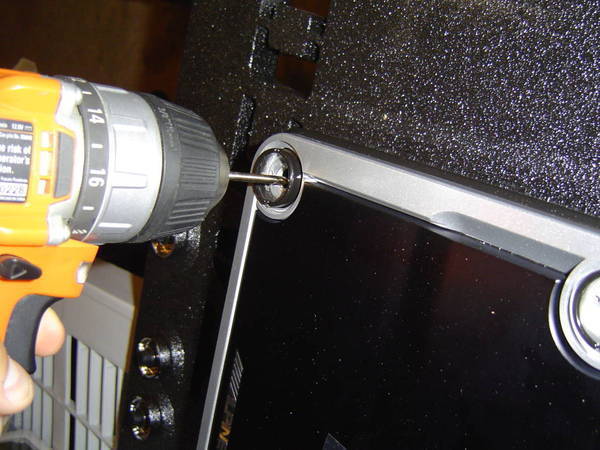 Turning the amp board over... mounted the crossovers from the XS package and power distro block on the back. Also pre-drilled holes for wire insertion to the other side.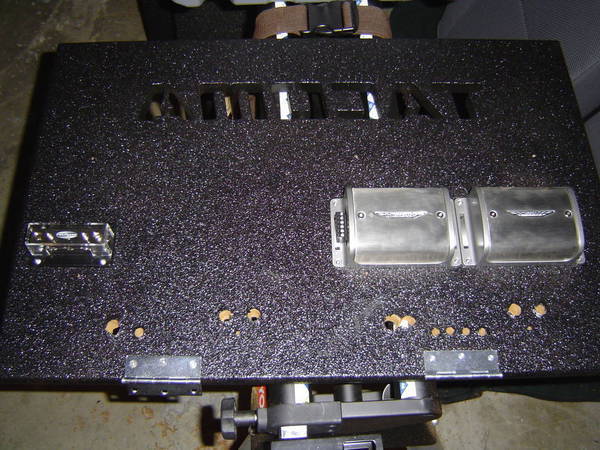 Close up of crossovers. Had to take the covers off to set the correct pins for the speaker setup.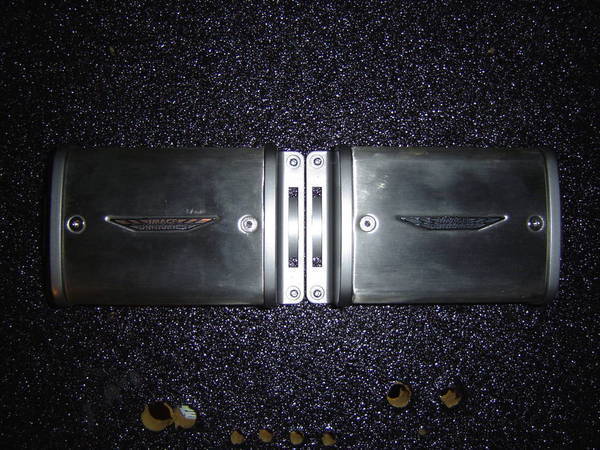 Power Distro Block... 0 Gauge to 4 Gauge.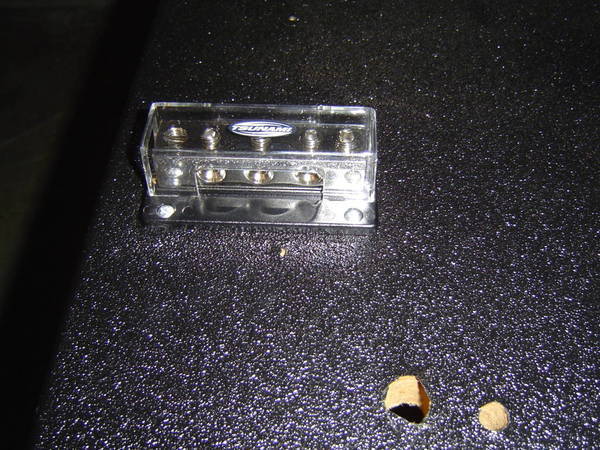 This was in the amp testing stage. I recorded a disk with 10 second clips, one of 1000 hz (for setting gain on 4 channel amp) and the other a 50 hz (for setting gain on single channel sub amp). I had the individual tracks play over and over so I could test the amps and tweek the gain for their respective tones... this is so I'm getting max use of my amps without blowing anything. You can also do this by ear by turning the gain up and listening for distortion and turning back down a little. I just wanted to be a little more precise. I have the formula for finding out these settings if anyone wants it.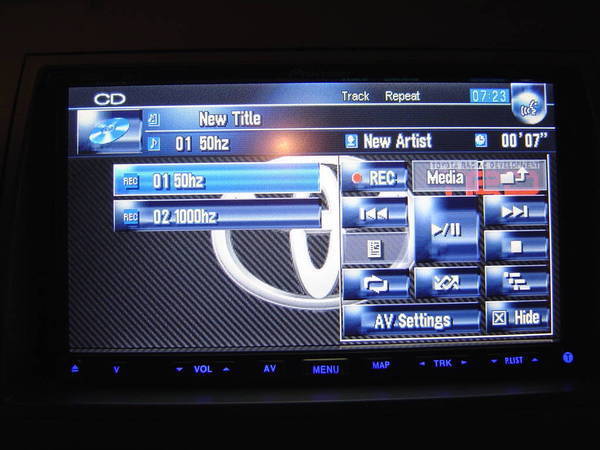 Here's the multimeter hooked up while the tones play and give me a reading.
LED's mounted in the amp box.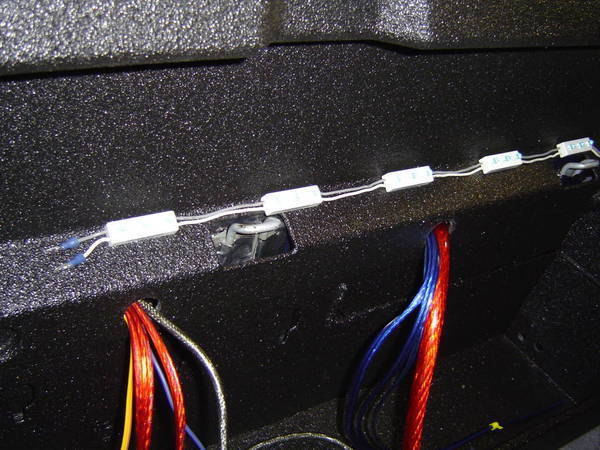 Everything hooked up, ready for amps to be installed and connected.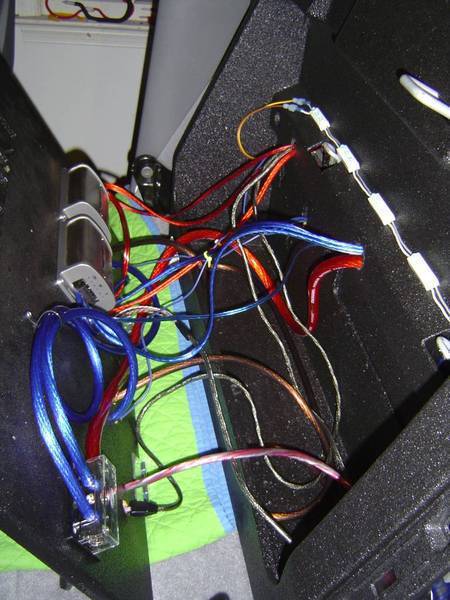 Closer pic...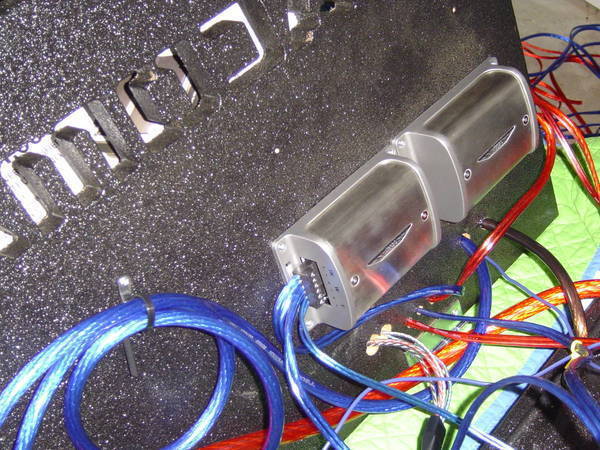 Another view. Note I have tie wraps cut real low on the rear speaker wires. This is so I didn't get them confused with the front speaker wires on their respective sides.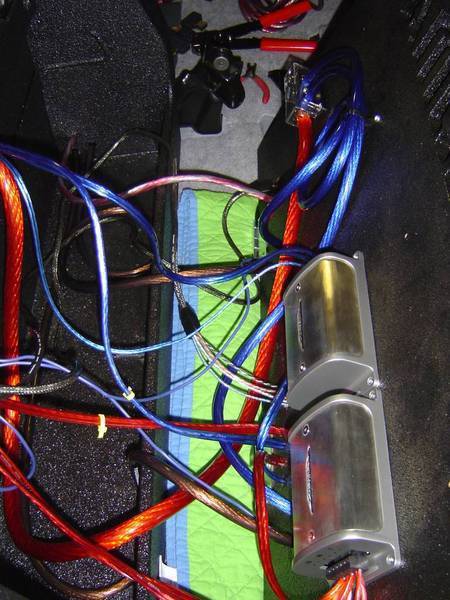 Pulled through, ready for amp install.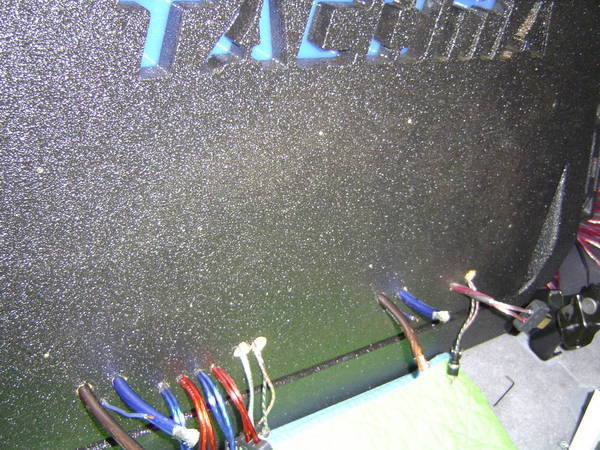 Hooked up... Lit up!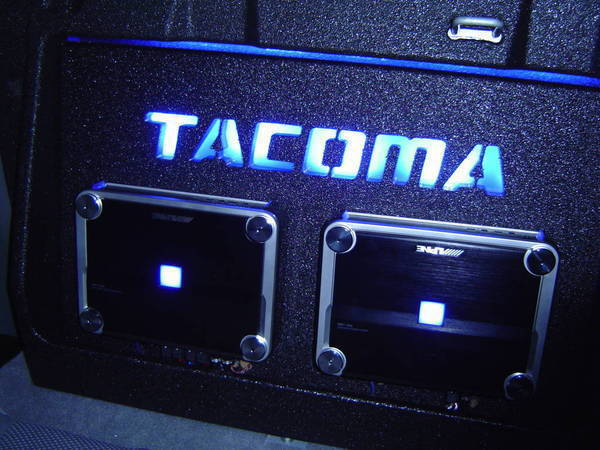 So damn sexy!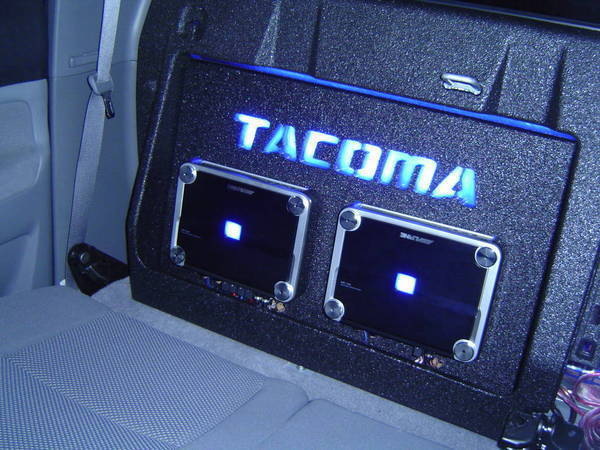 Last piece to the puzzle... installing the sub box to the rear wall and hooking up the sub.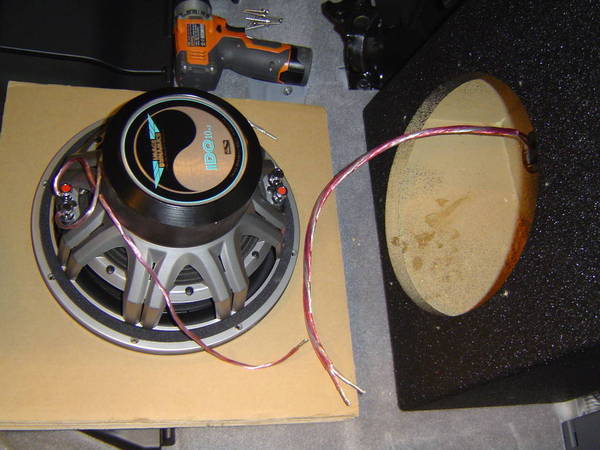 Wired as so...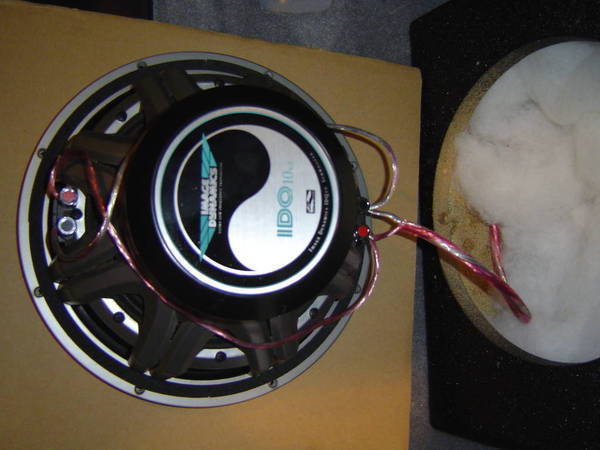 Final product!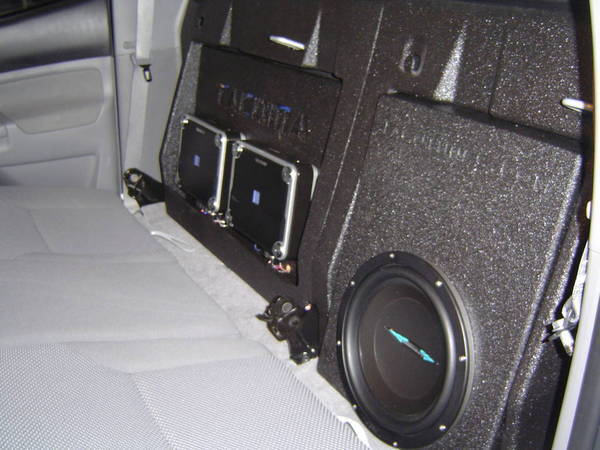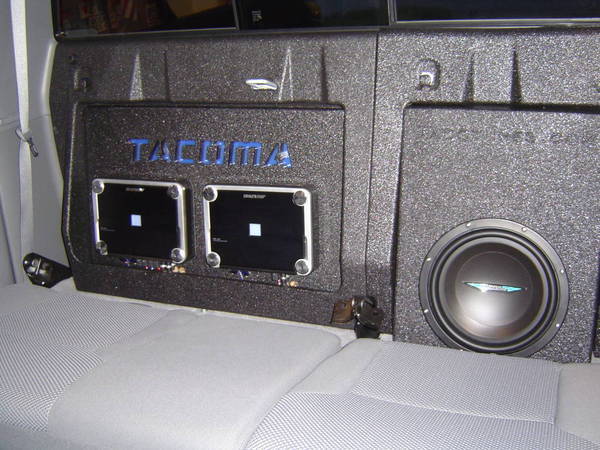 After some tweeking, this system sounds so crystal clear and hits so clean and deep. Thanks to TacoTunes for their assistance. I hope you enjoyed!