This is a BASIC "How To" for installing an upgraded stereo system into a 2nd Generation Tacoma.
I will be editing this "How To" as I get questions and comments. Some of the pictures didn't turn out so well first time around, so I will be adding pictures later on. These pictures are exclusive to the 2nd Generation Tacoma with the standard single CD Player. The 6-disc version is probably the same setup with a larger in-dash unit, but don't quote me on that.
Parts you will need:
Dash Kit
-
Scosche
Dash Kits (Single & Double) are available from tacotunes.com, Best Buy, and can regularly be found on
Ebay
. These kits are a close color match to the factory dash kit, but do not contain the texture that can be found on my 2007. This kit is an either/or kit. You can either have a single DIN (standard height) or a double DIN (obviously, double height).
- Other (reference?) Dash Kit (all-in-one kit) is available from crutchfield.com, Circuit City, and can regularly befound on Ebay. This kit is black. It matches some of the black trim on the dash fairly well. I chose this kit as it is easy to upgrade from a single DIN to a double DIN without having to purchase another kit.
Wiring Harness
- This is used to connect the factory stereo plugs to your after market stereo. This prevents you from having to cut up your stereo wires and possibly cause a short. It also lets you reinstall the factory deck when you want to sell the vehicle (like that will happen). I did not include any pictures of this as it can differ greatly between different stereos units.
New Stereo
This is where I use crutchfield.com to find what fits in my dash. Most aftermarket stereos will fit, but some will not either due to depth or different fit (there are some that are made for GM and DCX vehicles that are not the standard DIN setup). For this install I am putting in a JVC KD-G820. It isn't the most top-of-the-line stereo out there, but it does have a healthy amount of features and an easy to read display.
NO MATTER WHAT - you should check the measurements of your stereo, dash, and dash kit to be sure that the new stereo will fit into your vehicle!!!
Parts you may want:
While you have your dash apart, you may want to think about what else you need to put back there.
IPod/MP3 adapter
- For this install I put a JVC IPod adapter in place that has an interface into my JVC Stereo's CD Changer Port.
This allows me to control and listen to my IPod through my deck instead of messing with the IPod itself.
Digital Radio adapter
This is also a good place to put a Satellite Radio adapter (XM or Sirius) or an HD Radio adapter. I did not do
this. Therefore it is not included in this BASIC install guide. I may put in an HD Radio at a later date.
GPS antenna
I did not do this. Therefore it is not included in this BASIC install guide.
Backup Camera
I did not do this. Therefore it is not included in this BASIC install guide.
I believe that pb2themax has done this.
CD Changer
I did not do this. Therefore it is not included in this BASIC install guide. My IPod adapter pretty much negates this.
Tools you will need:
1 Large Flatblade Screwdriver or Heavy Duty Putty Knife (clean, of course)
1 10mm socket on an extension (you will need to get at least 3 inches into the dash)
1 standard Phillips Screwdriver (for setting up the Dash Kit)
How To...
Remove Climate Controls
First thing you will need to do is remove the Climate Controls. These cover the bolts that hold the factory stereo in place. With a large flat bladed screwdriver or putty knife, you can remove the climate controls without marring the dash or breaking the pins. It is fairly easy to do.
See Picture Below: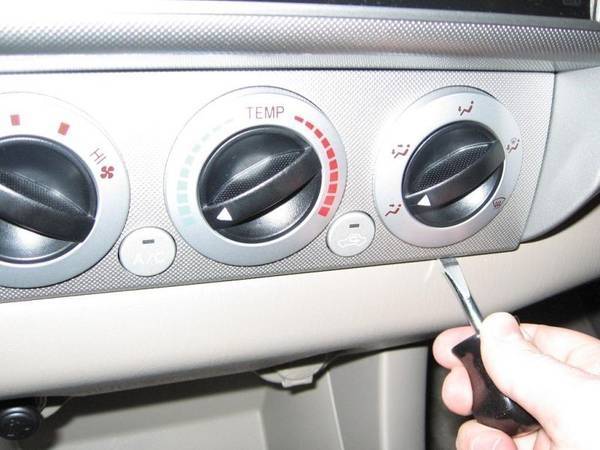 You can remove the panel by pulling outward on bottom once the bottom has be dislodged from the dash. This is what the Control Panel should look like once you have removed it.
See Picture Below: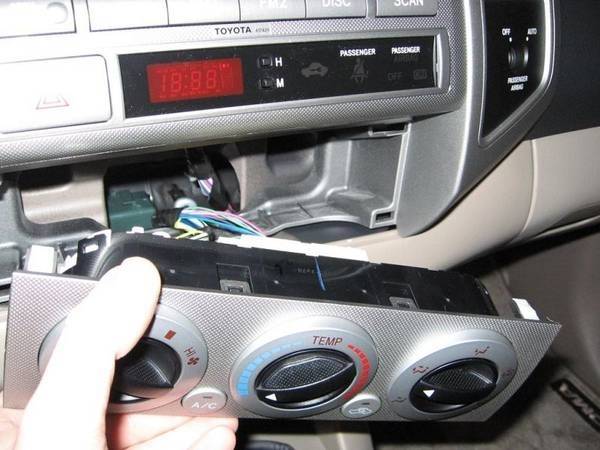 Notice the white tabs on the corners. These are the snap tabs for the dash. These are sturdiest I have ever seen, but they are still breakable, so be careful! The two wiring harnesses into the Climate Control can be removed by pressing on the tabs in the center and pulling straight out. NOTE: all factory wiring harnesses will only go into the device they are designed for. You do not have to worry about plugging in the wrong harness into the wrong unit.
See Picture Below: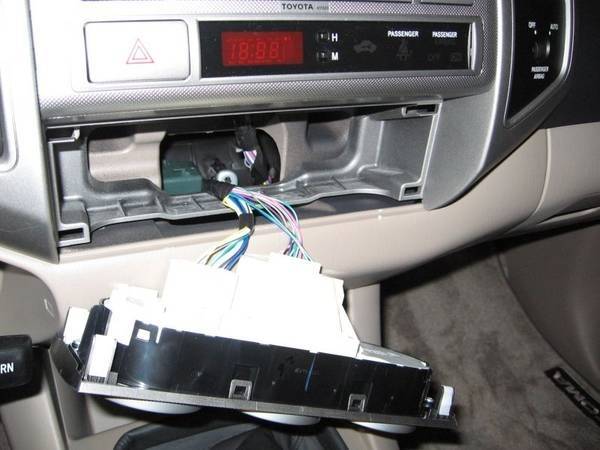 continued on next post...