So my buddy at the coast guard hooked me up with an abandoned Boston Whaler at the stations dock this weekend that's been sitting there for a year. He and some other guys found it floating out along the coast of cape cod on a patrol and towed it back. It drifted all the way up from New York, but who knows how long it was out there for...
Anyway it's just the hull with the mahogany bench and console which I took out because I'm going to make new ones. As far as I can tell it's the 13' Boston Whaler Sport (even though its 14.5' overall) and one of the older models, made sometime around the 60s or 70s. The hull is in pretty much perfect condition, with only one tiny puncture in the hull and needs a new paint job.
As far as the paint job I'm not sure what I want to do, either paint it the original colors, or something different... Like flat black... Or not. Anyway, suggestions would be cool for color schemes, and anything else you guys and girls might think. Also, and I know this is a long shot, if you're in the New England area and have an old outboard motor or know of anyone who needs to get rid of one, let me know!
This thread will slowly develop into a re-build thread for this boat, so I'll get pictures of it and update the thread when I get stuff done!
: this isn't my boat, but it's the same model. Mine is just an empty hull with nothing in it, tomorrow I'm cleaning it up, sanding it, patching the small hole, and getting it ready for paint. I'll probably have enough time to make new mahogany bench seats, console and all that jazz as well!
Thanks for looking!
Update:
Here's some pictures of the hull stripped down. Got what was left of the wood out, and all the other crap as well as a quick power wash.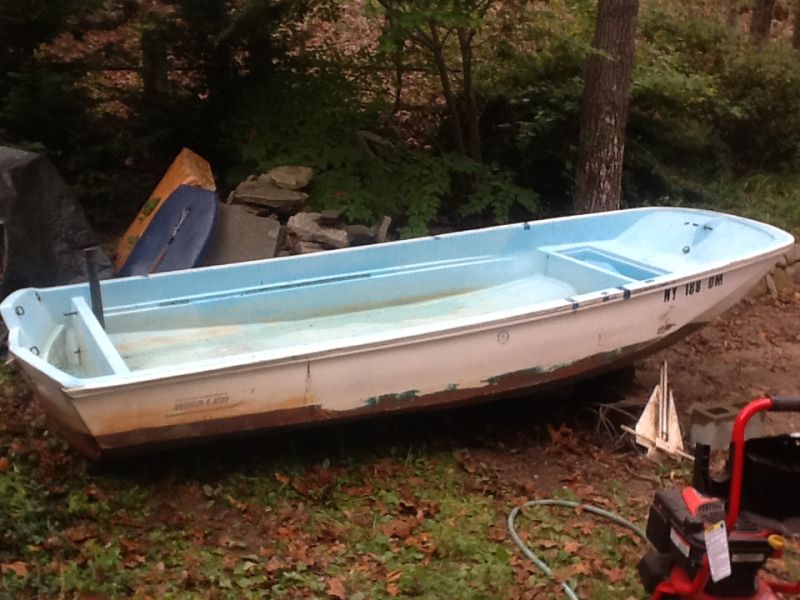 It rained yesterday, and had to help my friend with some fun stuff, so next weekend I'll get some more done!