Last week a few buddies, and I decided to make the trek down to Pompano Beach from Orlando for some trolling, drifting, and vertical jigging action since it it seemed like the weather was finally going to cooperate. This was my third trip down there, and the third time's the charm! Met up at Stan's place at 2am to load up the trailer with an Adventure Island, a Pro Angler 12, an Outback, two Revo 13s, enough tackle to stock a store, and a used car's worth of Mirage Drives. Finally an excuse to utilize the tow package my Taco came with!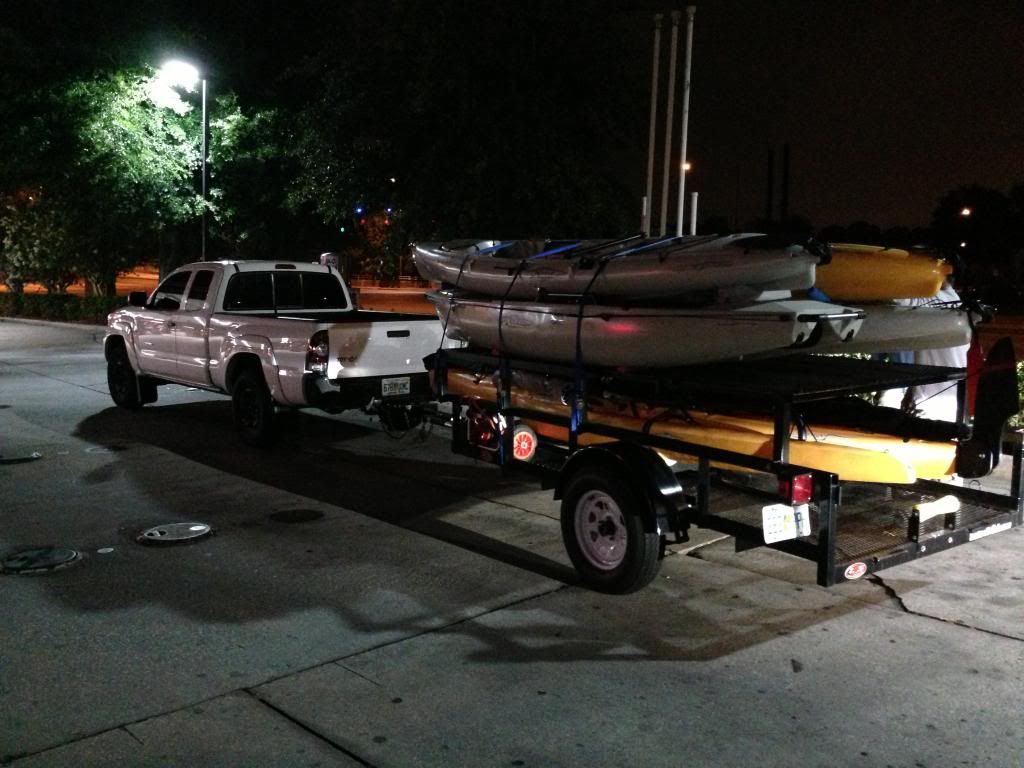 A few hours later, we arrive at the pier to unload all our gear, and what felt like an hour after that, we were finally on the water! Now I knew that conditions would be nice thanks to the magicseaweed and fishweather apps, but I had no idea HOW nice it would be!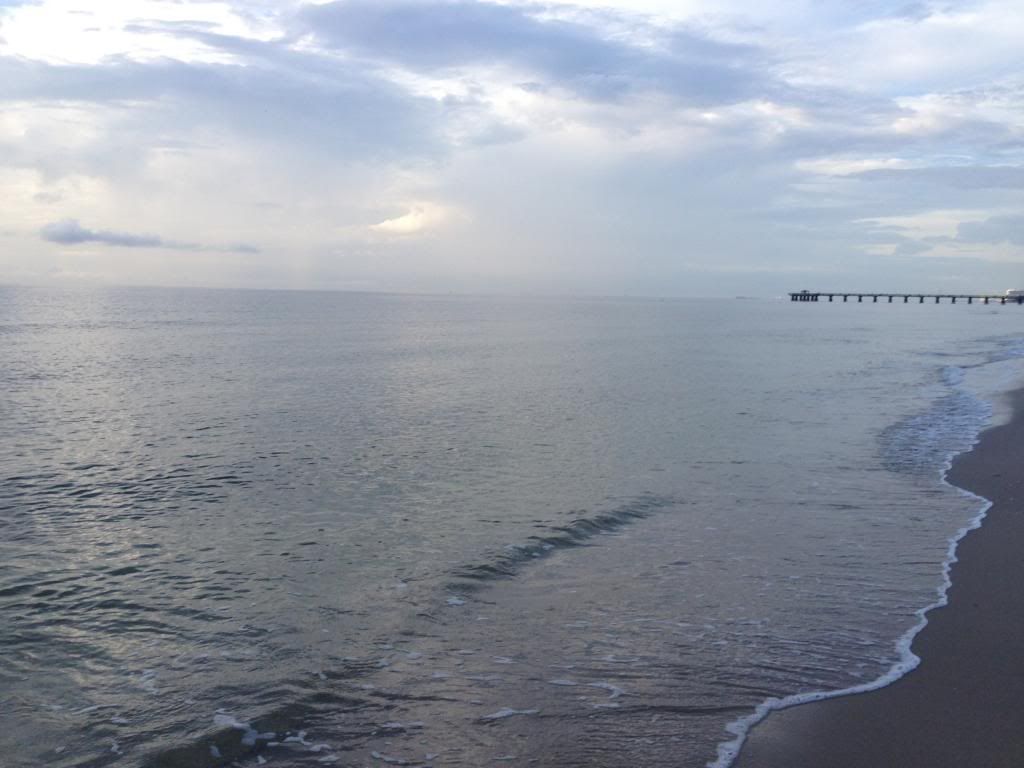 The first two times I was down there, the drift pulled me north pretty hard, so we decided to start paddling (pedaling) south so that we can drift over the wrecks... Figures that the drift this morning would be a south drift and we ended up way off target. Once we we figured out where to go, and got over the first wreck in about 300' of water, down went the jigs. First few drops, Justin pulls up a couple of almacos and bonito, I hook into an almaco and a couple of other fish lost on the way up, and Nick gets into a few jacks as well. By this time, the current changed and we were on a north drift and I drop into the next wreck. After a few yanks up, my Trevala rod immediately doubles over! The drag on my Saragosa 8000 starts going so I crank that sucker down a bit. I make a little bit of ground as my arms are burning from the jigging prior to this, and now fighting this leviathon. After about 10 or so minutes of not making hardly any ground, another guy working the same wreck and watching tells me it may not be an AJ... During the tournament he had an almost hour long fight over the same wreck only to realize that he hooked INTO the wreck itself. I took the chance and opened up my bail only to see the line and my hopes of a 50+lb AJ go limp. Sure enough, I hooked into the wreck! I reeled up my fish-less jig and moved on to another spot to give my arms a bit of a rest.
I catch up to the rest of the guys, and Stan tells us he's going out another few miles to see how the fishing is out there. He rigs up a ballyhoo, lets out his sail, and off he goes, not to be seen til the end of the trip. After a few more hours of fairly uneventful jigs, we make our way back to shore. It's amazing how drastically different the seas were from when we launched in the morning. After pedaling through 2ft waves, I make it to shore and take a bit of a breather while guiding the other guys in... After a smooth reentry by all, Stan tells me "I know how you are, and you're going to be pissed when you see this thing..." He opens up his fishbag to reveal what felt like a 20lb Yellowfin Tuna!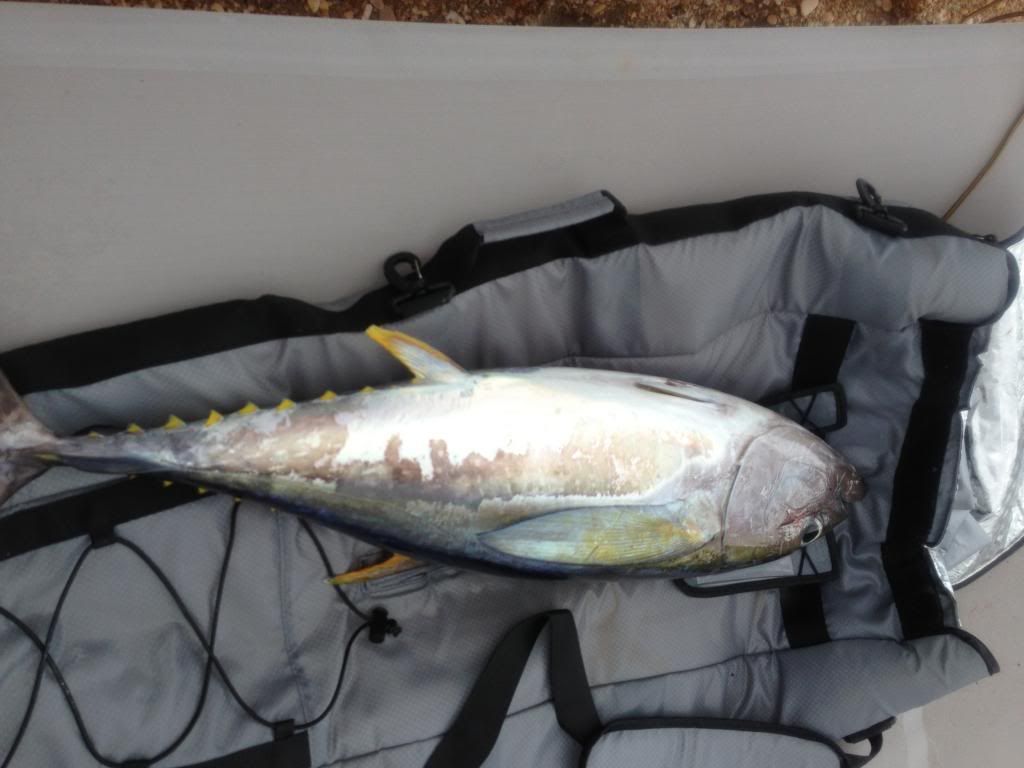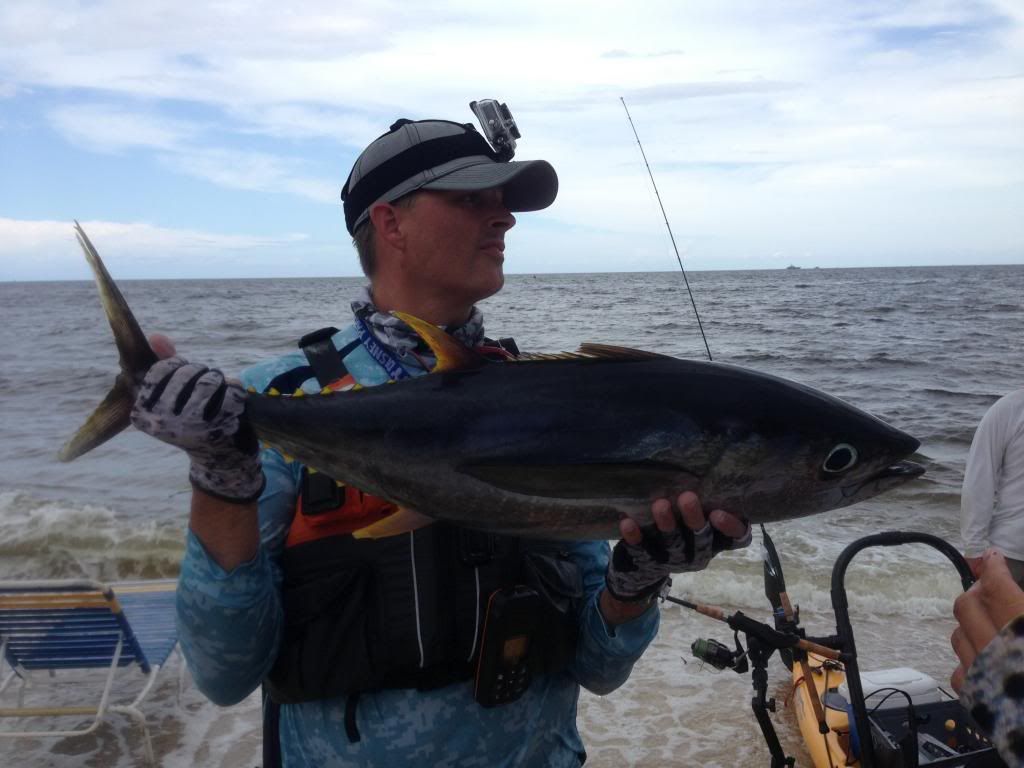 After swapping stories, we drag all the kayaks and gear what felt like a mile of beach. Worst part about fishing in Pompano Beach! An hour or so later, the trucks and trailer were loaded up and we were on our way home. From Ft Pierce all the way up through Orlando, we drove through what felt like a hurricane. I didn't mind it so bad since it was giving the gear a nice freshwater rinse...
Once back and unloaded, Stan was kind enough to share his catch with the rest of us... All in all, it was a great and memorable day on the water with a great group of guys! I'm hoping to make the trip down about once a month, so if there's any kayak fishermen here in Central Florida interested, let's do it!