SOLD
Up for sale is my 06 Suzuki LTR450. Bought it new in December of 2007. I do not have the time to ride it anymore and need to make room in the garage for a bike. It has been garage kept and hasn't been on the track in 2 years. Royal Purple was the only oil used after break in. Quad has never been wrecked. It pains me to let it go but it pains me just as much seeing it in the garage not being used.
Installed parts:
Yoshi throttle body nut
Yoshi Cherry bomb
Pro design K&N intake
Cernics push button start
Pro Armor Nerf bars
Blingstar grab bar with number plate bracket
Tusk Parking brake block off plate
Killswitch
Rockstar graphics
Pro Taper Hand guards
New black seat cover, still have the old blue seat cover. It's still in good shape I just didn't like the color.
Relocated indicator lights from handle bar and added handle bar pad.
Powder Coated Clutch cover done by Conyers Speed World
Douglas wheels front: Powder coated black by Conyers Speed World
Douglas Bead locks rear: Powder coated black from factory...Rare!
ITP tires front: 70% tread left
ITP quad cross tires rear: 40% tread left
Parts: I basically have a bin with parts taken off the bike after I bought it
Stock headlight & choke switch, parking brake assembly, exhaust heat sheild, grab bar, nerf bars, spare front sprocket.
I DO NOT have the headlight and tailight (Taken off and sold the day I brought her home)
Stock front wheels and tires
Stock rear wheels and Razor Cross tires(30% tread left)
LTR450 Camber/Caster Adjustable Top A-Arms
These 4130 Chromoly Upper A-Arms replace the upper stock
A-Arms and allow both Camber and Caster adjustment that you
cannot get with the stock arms. ASR designed this A-Arm to allow
you to adjust the Caster on the bike to get it to turn even better
than it already does! This arm allows you to quicken or slow down
the steering and also allows you to adjust Negative Camber into
the front end so the tire does not roll over in hard turns.
The quad is track ready as she sits. The numbers 767 can be removed without removing the graphics. I placed them on top of the graphics originally.
Price: $3000.00
Please PM me for any questions or more pictures and I will be happy to get them to ya!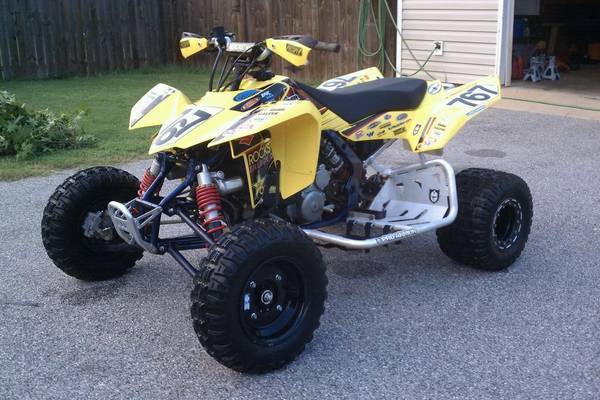 A-Arms