I actually just bought this for myself right before Christmas. It flies great and is pretty easy to learn. It is a starter heli with 4 axis RF remote. It is actually a lot of fun, but I am pretty sure my dog is going to catch it and eat it before long. The battery gives about 6 minutes of flight and takes about 10-15 minutes to fully charge. So I picked up an extra battery when I bought it so that I could fly it fairly constantly. It is pretty durable as I have rubbed some walls and the like and the rotors held up great. I replaced the upper main rotor after the plastic connector for the stabilization linkage cracked. So it is now in like new condition.
I changed out the canopy from the stock yellow to a white and changed the tail to white. I also changed the main rotors to the glow in the dark, but I still have all the stock pieces and will include them. It comes with the battery charger and an extra battery.
I'll post some pics of mine with the new parts this evening. But here is what it looks like for size reference: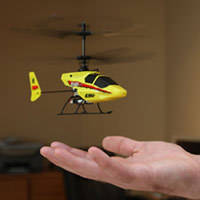 I am flexible on price, but looking for around $150 shipped. Let me know if you are interested. This is the manufacturers website.
http://www.e-fliterc.com/Articles/Ar...ArticleID=1816